It's an unprecedented and incredibly difficult time for restaurants right now. Wanting to highlight local establishments who are keeping food quality high while also keeping its customers and employees as safe as possible during the ongoing COVID-19 crisis, we're going to focus on restaurants that have completely shifted to carryout and/or delivery service in a series we're calling "Carryout Chronicles."
Opened in late 2010 by Wisconsin native Guy Roeseler (who spent years living in Hawaii) and Honolulu transplant David Lau, Ono Kine Grindz (7215 W. North Ave., 414-778-0727) is the region's—if not the state's—premier purveyor of Hawaiian cuisine. Other than the colorful neon signs that spell out the restaurant's name and instruct passersby to "Eat Poke," Ono Kine Grindz doesn't immediately stick out from the abundance of other businesses on perpetually bustling North Avenue in Wauwatosa. Inside, however, the incredible food and the incomparable island atmosphere help distinguish the establishment from all other eateries in the vicinity.
When the pandemic came to the Greater Milwaukee area last March, the decade-old island eatery closed for in-person dining and—despite loose COVID restrictions in Wauwatosa compared to those that have been in place in Milwaukee proper—has relied on takeout and delivery business to stay afloat for 15 months and counting. We've stopped in every few months to stock up on jars of Spicy Chili Crisp throughout 2020 and 2021, but we haven't ordered an actual meal from Ono Kine Grindz since "the before times." That changed this week when we got some takeout in 'Tosa.
Policies And Procedures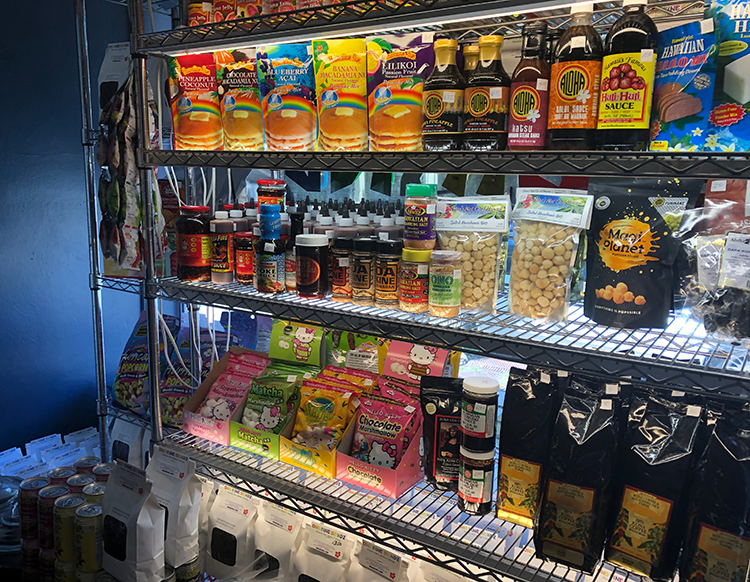 There are a few ways you can enjoy Ono Kine Grindz. You can order fresh-prepared meals to-go (both individual dishes and family meals). There are pre-made frozen foodstuffs and cooler cuisine that can be picked up to enjoy later. And there's even catering available. Similarly, there are a few ways orders can be placed. You can call in, order online, or—in the case of cooler, freezer, and pantry items only—come in anytime to pick them up. Masks are required and contact is limited. Those uncomfortable with entering the business or those who are unable to do so can arrange for curbside pickup. We ordered online and were given a pickup time 30 minutes after the order was placed. We arrived a little early and our order was ready.
Carryout Quality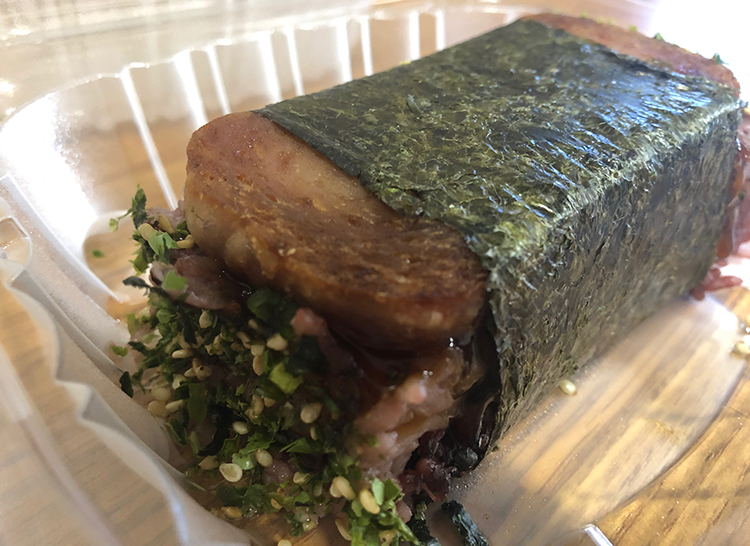 Wanting to indulge in a few different things, we bounced around the menu. We started our meal with some Spam Musubi ($3), a block of sticky purple rice that's topped with savory sauce, a slab of fried Spam and wrapped in Nori to hold the "island kine sushi" together. Admittedly, it's been a while since we've last had Spam, but we really enjoyed this unconventional appetizer.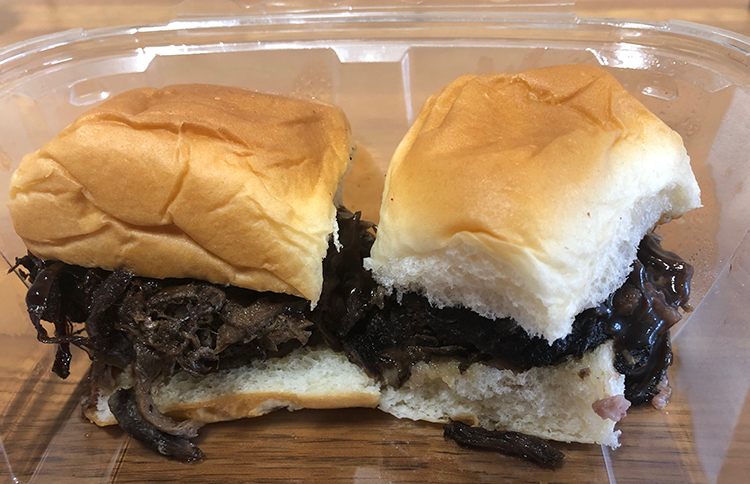 Since we were debating between getting Kalua Pig and Char Sui Chicken as our entree, we decided the best way to have a sampling of both proteins was to get our pork fix with two Kalua Pig BBQ Sliders ($3.50 each, $7 for two). Even after our 15-minute trip back to the office, the sliders stayed warm and held up well. Each one was liberally stacked with smoky and succulent pulled pork that was covered in a tasty barbecue sauce and flanked by pieces of sweet Hawaiian roll.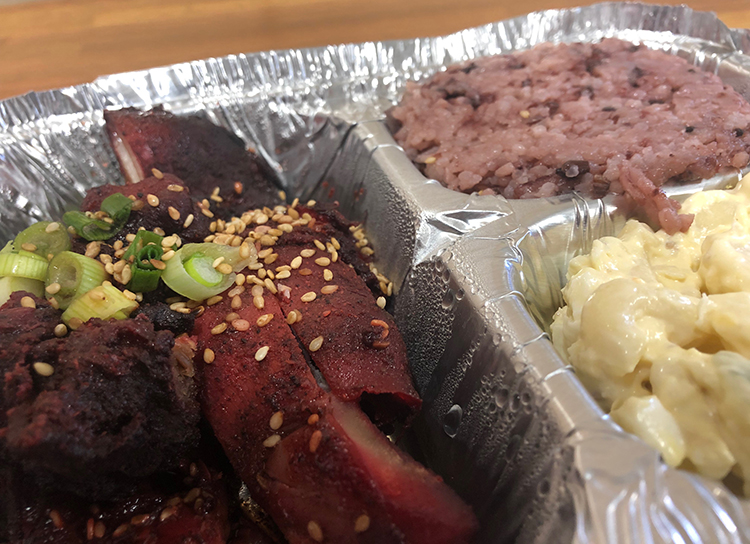 While we were happy we got a taste of Kalua Pig, the star of the meal with the Char Sui Chicken. The Bento Box ($8.50) included a respectable helping of tender five-spice chicken thighs that were grilled to perfection and topped with sesame seeds and diced green onion. All Bento meals also come with delicious and filling purple sticky rice and a choice of a side. We opted for Macaroni-Potato Salad as our side, which was fine, but definitely overshadowed by everything else we ordered. Though we covered a lot of ground with our order, there's a wide range of other Hawaiian delights on the Ono Kine Grindz menu…specifically the Poke, which we've had there before and thoroughly enjoyed.
Other Info
The restaurant is closed Sundays and Mondays (and it shuts down for a few hours between lunch and dinner service on the days the restaurant is open). In addition to the meals they make in house, there are also grocery goods, bags of coffee, island apparel and souvenirs, and even Hawaiian print washable face coverings. There's also a number of Keto-friendly dishes. Whether you're stopping in for a jar of Spicy Chili Crisp, a bulk food order for a long-awaited group gathering, or just a lunch to-go, you can bring a taste of Hawaii home from Ono Kine Grindz.