A few weeks before the start of Summerfest 2016, the Big Gig released a list of new vendors and food items. The announcement didn't quite approach the time-honored ridiculousness of the Wisconsin State Fair's new-food press release—what could?—but it did have some eye-openers. Donut cupcakes? Prime rib chili cheese tater tots? Deep fried old fashioneds? With less than a week remaining in the 49th installment of the "World's Largest Music Festival," we finally got down to the all-important business of eating all the new Summerfest food—as well as those things that are better described as "food items."
Jumbo Filled Cupcakes, Mini Cupcake Samplers, and Donut Cupcakes – Classy Girl Cupcakes ($10)
"Jesus," we said as we were handed our Loaded Cookie Dough Donut Cupcake from Classy Girl Cupcakes. "Yeah," one of the classy girls replied. To contemplate the Loaded Cookie Dough Donut Cupcake is to contemplate everything that is right and wrong about the never-ending cupcake phenomenon and modern life in general. Ten bucks for a cupcake! And it's great! Maybe we missed something, though, because the "donut" portion of the Donut Cupcake was…just another cupcake, albeit one covered in frosting. Good thing the cookie dough middle and the general cupcake-and-cream deliciousness made up for it. Oh, and it's huge. Best enjoyed with 14 shame-free friends.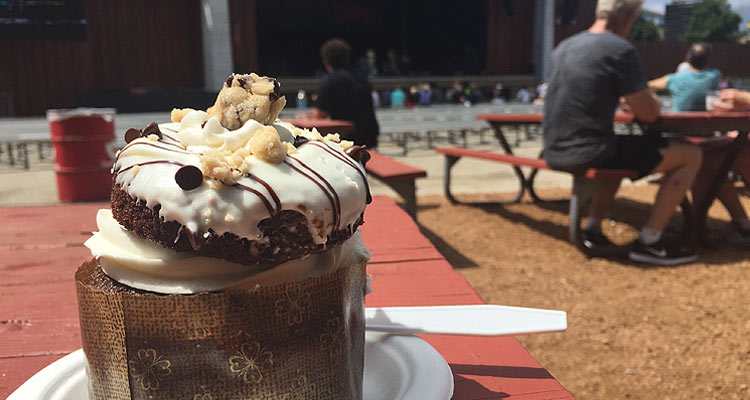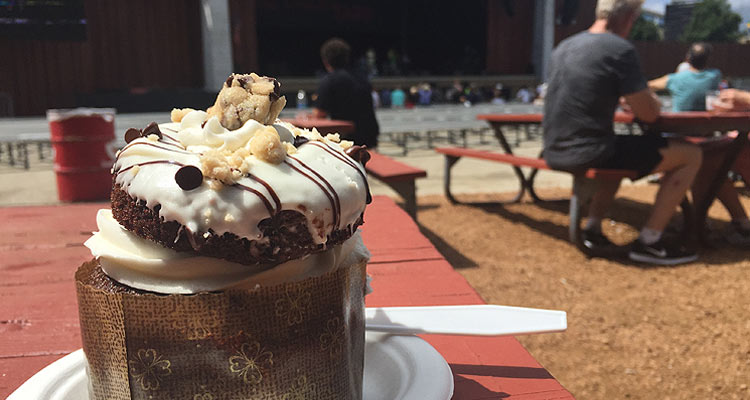 Sriracha Chicken Tacos and Falafel Curry Tacos – Vagabond ($8)
Downtown taco purveyor Vagabond doesn't get a lot of press, which is too bad, since it's food is always agreeably solid and its atmosphere is always agreeably funky. As for Vagabond's new Summerfest items, the Falafel Curry Tacos are agreeably excellent. Light, tasty, fresh and refreshing, a pair of these eye-popping concoctions are a far cry from the more gut-busting food gunk featured throughout the rest of the grounds. Perfect for relaxing in the shade while watching some punk kids messing around on those giant instruments near the south gate.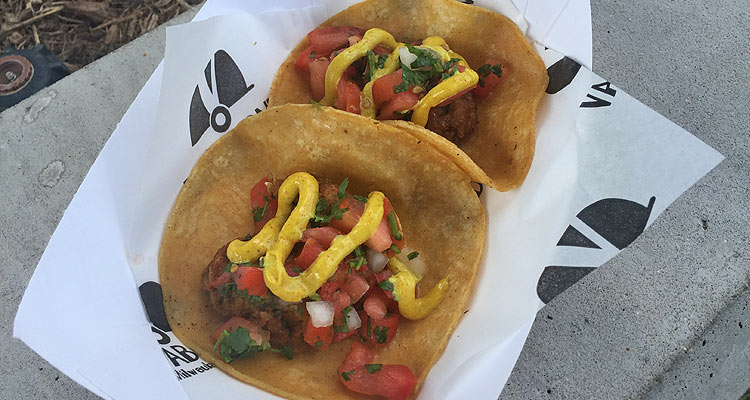 Prime Rib Chili Cheese Tater Tots – Ward's House of Prime ($7)
Another in the "Did we miss something?" category. Yep, there's a giant heap of tater tots drenched in chili and melted cheese, but where's the prime rib? Maybe we overlooked it while Doghouse Flowers were sound-checking on the U.S. Cellular Connection Stage. Maybe we were too busy being tickled pink by that "No diapers" sign by the kiddie splash pad. No matter, this dish is about as Summerfest-y as you can get: big, sloppy, and best eaten with a fork. Tastes like what you'd expect. Good for filling your stomach with something, STAT.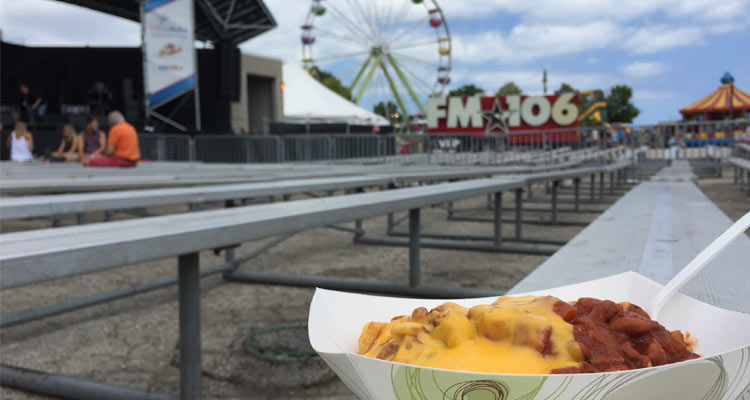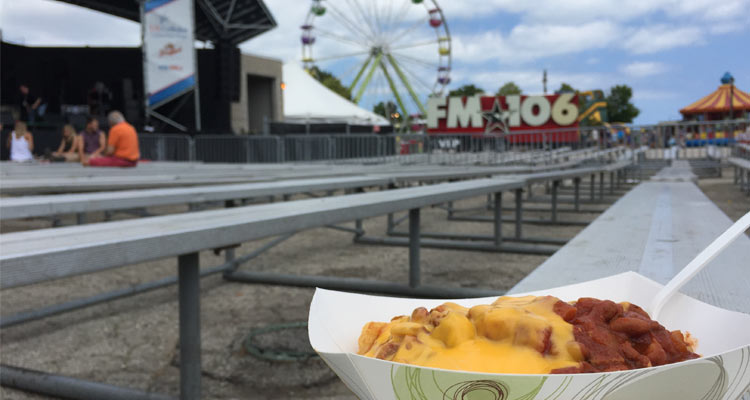 Gnocchi with Gorgonzola Cream Sauce – Louise's Trattoria ($8.50)
"Fine dining" and "Summerfest" may make for strange bedfellows, but this offering from Louise's is a perfect hook-up: delicious, relatively inexpensive, compact and compatible with fest-life. We ordered the chianti braised short rib version of the Gnocchi and Gorgonzola and were blown away by the tender meat, the tangy sauce, and the teenage band playing a Bob Seger cover nearby ("Turn The Page," natch). There's plenty of shaded seating at Louise's, too, though the nearby goth rocks are a fine, if scorching and angst-laden, substitute.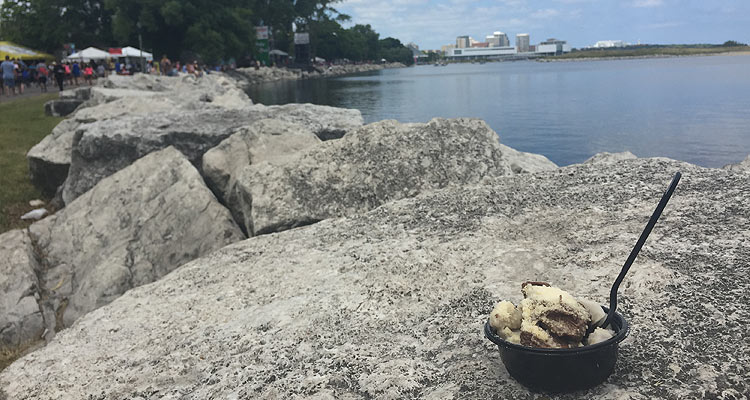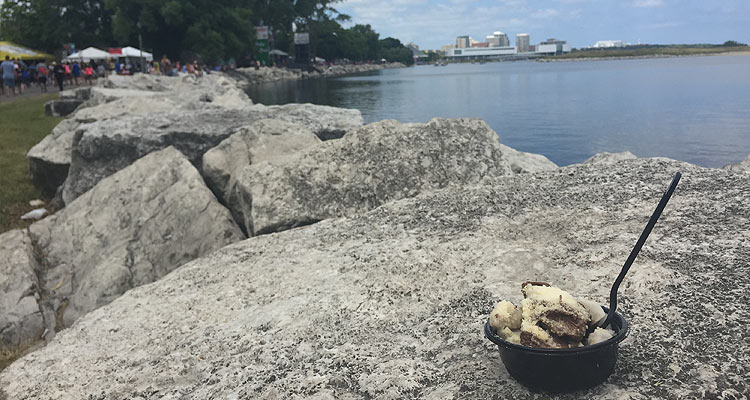 Deep Fried Old Fashioned – Trinity Three Irish Pubs ($6.50)
The undisputed standout of this year's new and line-crossing Summerfest edibles is Trinity's Deep Fried Old Fashioned. To paraphrase Charlton Heston at the end of Planet Of The Apes: They finally did it. You maniacs! You deep fried an old fashioned! Ah, damn you! God damn you all to hell! The item is so infamous that not one, not two, but three random couples asked us if the pink poundcake nightmare was indeed what they thought it was as we were finding a place to scarf it down. Once we did manage to take a bite (at the Johnson Controls World Sound Stage, where Chicago electro-pop outfit Glass Lux was doing its thing), we had a hard time determining if it was nourishment or novelty. So yeah, it's a deep fried orange pound cake stuffed with brandy-flavored cream cheese, drizzled with orange brandy reduction, and topped with bitters whipped cream, an orange, and a maraschino cherry. Like those weird popcorn-flavored Jelly Bellys, it also tastes exactly like the thing it's supposed to be, which is a little unnerving. Best eaten for random photo-op purposes only.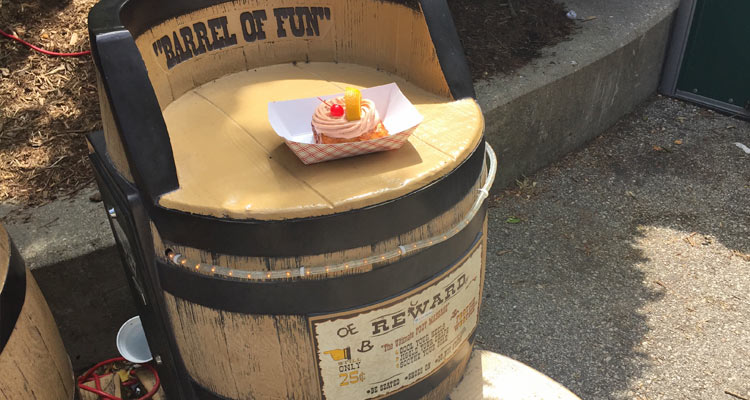 Mac Bottom Pizza – Solo ($7.50)
From the folks who brought you The Original Pizza Cone™ and "Bacon Bottom Pizza" comes this latest 'Za-bomination from the Solo Pizza kiosk. The longstanding Big Gig pizza stand's hedonistic focus on fattening and unconventional slice bottoms extends into this year's festivities with the Mac Bottom Pizza, wherein a viscous amalgam of pepperoni, sausage, diced bacon, partially melted mozzarella, and sodium-rich marinara sauce is slopped atop a deep fried slab of macaroni and cheese. The titular mac steals the show, with its crunchy outer edge that gives way to oily and soft noodles. The pizza sauce has no business being incorporated into the cheesy one-two punch and the bacon is overkill, but when you're eating your recommended daily allotment of fat grams while listening to Taped Music alone in JoJo's Martini Lounge on a Wednesday, you aren't exactly in a position to be telling people how to do things, are you?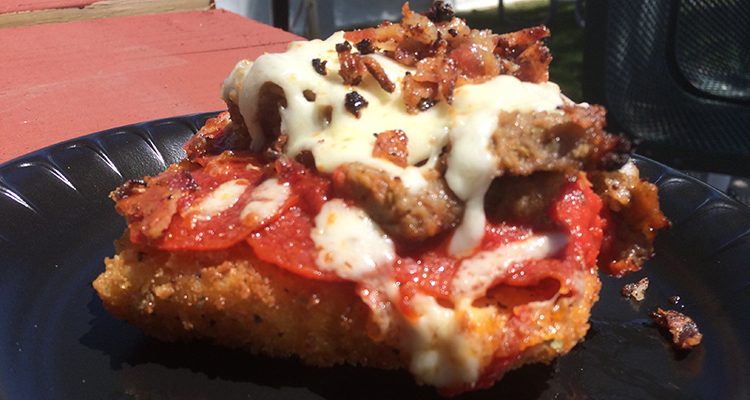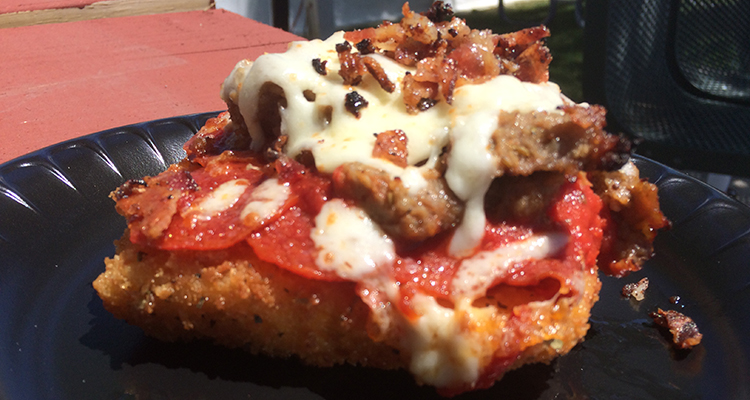 Buffalo Chicken Egg Rolls – AJ Bombers ($6.75)
Not much to report here, as AJ Bombers' Buffalo Chicken Egg Rolls are exactly what's promised on the tin: deep fried egg rolls stuffed with chunks and shreds of buffalo chicken. Tasty, dense, worth it. Best enjoyed while watching a hard rock cover band scorch its way through "Every Rose Has Its Thorn," which seems to happen a lot during the 1-2 p.m. hour.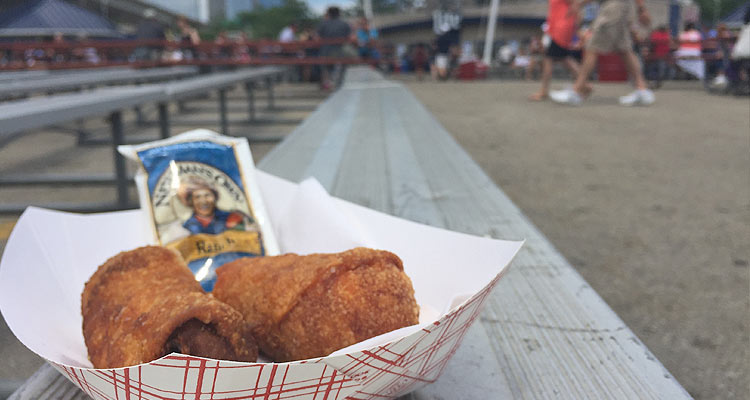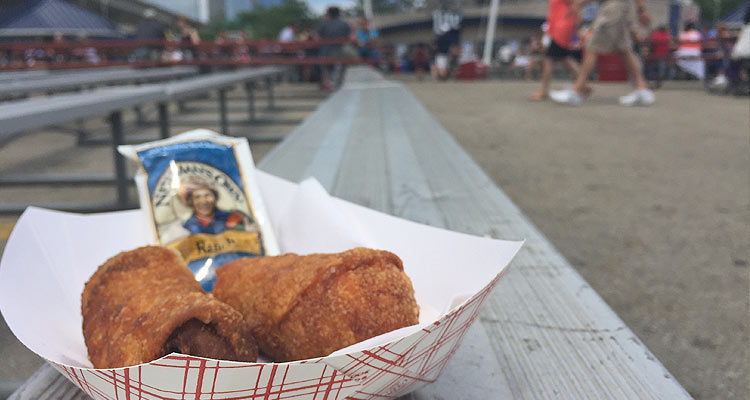 Pesto Pepperoni Burger – Pitch's & Miss Katie's Diner ($8.25)
Oh, Miss Katie's. Home of no-nonsense greasy-spoon food, servers that call you "hun," and those placards that tell you where President Clinton and Michelle Obama sat and enjoyed their meals. A Marquette staple, an all-city destination. We love you. We also love your Pesto Pepperoni Burger, which, like you, gets the job done with little or no fuss. Two ronis top a mozzarella-covered burger. A thin layer of pesto lurks beneath. A cup of marinara sauce sits to the side, waiting. Somewhere, perhaps on at the BMO Harris Pavilion, a band PLAYS SOME SKYNYRD before introducing an original song thusly: "I wrote this song when I was 11 years old! It's about my past, present, and future! It's called 'Blues Child'! Are you ready, Summerfest?!" Ready, indeed.