"My excellence at parkour might be unexpected / At the age of 58, it comes as quite a surprise." So sings John Flansburgh on the title track to They Might Be Giants' new album, I Like Fun. It's a typically oddball song from the beloved oddball veterans, but, unlike so many TMBG songs, Flans isn't exactly singing in character: he really is 58 (or will be in a few months, anyway). Yes, the two core members of They Might Be Giants—Flansburgh and John Linnell—are pushing 60. Good lord. How did this happen?
Mortality and the unending march of time both got shout-outs during the alternative legends' terrific two-hour, two-set show Friday night at Pabst Theater. "Everybody knows how this goes, so let's get over it / And let's get this over with," sang Linnell on show opener "Let's Get This Over With." A grim assessment, but this being a They Might Be Giants song, one done up in an impossibly upbeat hand-clap-heavy tune. Later, in second-set opener "Older," Linnell cut to the chase. "You're older than you've ever been / And now you're even older / And now you're older still."
So yeah. We all get old and die. But who cares when They Might Be Giants are still around, still making great records, and still delighting clever junior-high students and clever junior-high students at heart? Friday's show was billed as something new—an expanded lineup of musicians, a spontaneous set list—but the sizable crowd was treated to plenty of familiar sights and sounds: There was Linnell—coffee in hand and switching between an effects-laden keyboard, an accordion, and a contra-alto clarinet—belting out fan-favorites like "Ana Ng" and "Particle Man." There was Flansburgh—playing the guitar-wielding rock star to Linnell's bemused college professor—turning in terrific performances of "Twisting" and "New York City." There was the full band—guitarist Dan Miller, bassist Danny Weinkauf, and drummer Marty Beller—taking old two-man ditties like "Hey, Mr. DJ, I Thought You Said We Had A Deal" and the immortal "Birdhouse In Your Soul" and turning them into full-fledged fist-pumping anthems.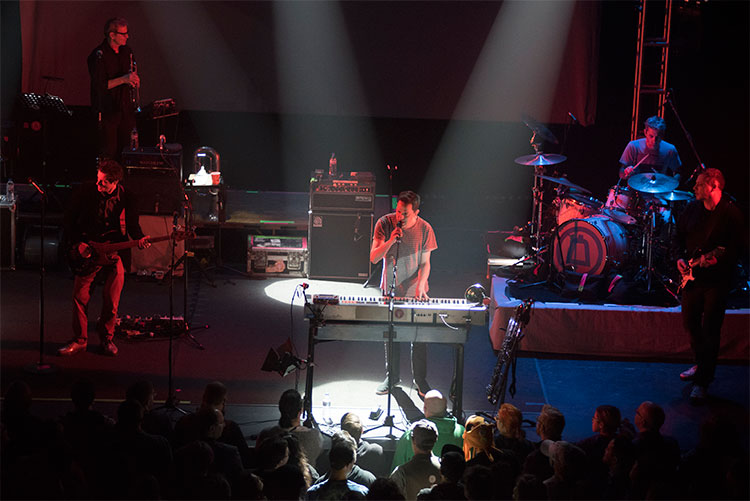 Happily, the new was as strong as the old. The excellent I Like Fun, TMBG's 20th studio effort, was well represented with "Let's Get This Over With," "All Time What," "I Left My Body" (the group's best single in years), "This Microphone," the title track, and "Mrs. Bluebeard." Trumpet player Curt Ramm (Nile Rogers, Bruce Springsteen) served as the show's secret weapon, adding brassy color to songs like "Your Racist Friend" and "Istanbul (Not Constantinople)." The two-set structure, meanwhile, was an interesting if somewhat muted experiment: Dubbing the second set "Quiet Storm" (complete with hilariously subtle lightning-storm projections and sound effects), a pared-down They Might Be Giants initially focused on acoustic numbers like "Tippecanoe And Tyler Too" and "Self Called Nowhere," but soon kicked back into full-band mode.
One of the joys of a They Might Be Giants show is the back-and-forth banter between the Johns, and Friday's outing didn't disappoint. The infamous Milwaukee/Modjeska show of 1992—in which the stage collapsed under the weight of dozens of over-eager fans—garnered a few mentions ("The greatest gift Milwaukee ever gave us was not ending our careers"), as did extended riffs on the Pabst's Beethoven and Wagner busts duking it out in the ring (with the nearby Bronze Fonz serving as referee). And where else but a They Might Giants show will you hear between-song chatter about Netflix documentaries, Joseph Stalin as a "chocolatier," and eating cheesecake dangerously close to showtime? Also, Linnell went to Mader's earlier in the day and liked the decor. And they played that Destiny's Child cover, "Bills, Bills, Bills," that they did for The A.V. Club a few years ago.
Early on in the night, the Johns joked about keeping their "competitive edge" (in Friday's case, that competitive edge was plugging in their keyboards). More than 30 years into a singular career, They Might Be Giants' competitive edge is simple: in defiance of the march of time, keep going. Keep making new songs, keep playing old songs, and keep amusing listeners predisposed to liking songs about, say, shoehorns with teeth. "They're going to tow you if they think you're abandoned," sings Linnell on the glorious new "I Left My Body." "You got to act like you're not abandoned." They Might Be Giants are in no danger of getting towed any time soon.
Let's Get This Over With
Damn Good Times
Ana Ng
Your Racist Friend
Hey, Mr. DJ, I Thought You Said We Had A Deal
All Time What
Whistling In The Dark
Underwater Woman
I Left My Body
The Mesopotamians
This Microphone
Bills, Bills, Bills (Destiny's Child cover)
Older
I Like Fun
Tippecanoe And Tyler Too
The Famous Polka
Self Called Nowhere
Istanbul (Not Constantinople)
Wicked Little Critta
Twisting
Mrs. Bluebeard
New York City (Cub cover)
When Will You Die?
Particle Man
Birdhouse In Your Soul
The Guitar
Shoehorn With Teeth
Dr. Worm