Despite Milwaukee's heavily German heritage, many of the city's Teutonic restaurants—including John Ernst Café and Karl Ratzsch's—have closed. Mader's, however, isn't going anywhere.
Kristin Mader, manager and daughter of owner Victor Mader, attributes the restaurant's staying power to her family's enthusiasm in preserving a Milwaukee dining staple. "In our family, everyone has been keenly interested in it," she says.
Lots of family members work together in running the restaurant, ensuring the customers are served tasty German cuisine in the same building Kristin's grandfather, Charles Mader, opened in 1902 on what is now Old World Third Street, after he emigrated from Germany in the late 1800s.
Opened before automobiles, air conditioning, and other modern conveniences, Mader's originally began as a tavern, serving loads of beer to fellow German immigrants, according to the restaurant's website. After Prohibition started in 1920, Charles' wife, Celia, started preparing and serving sauerbratern, wiener schnitzel, and other traditional German dishes. They were a big hit with patrons and continue to be until this day.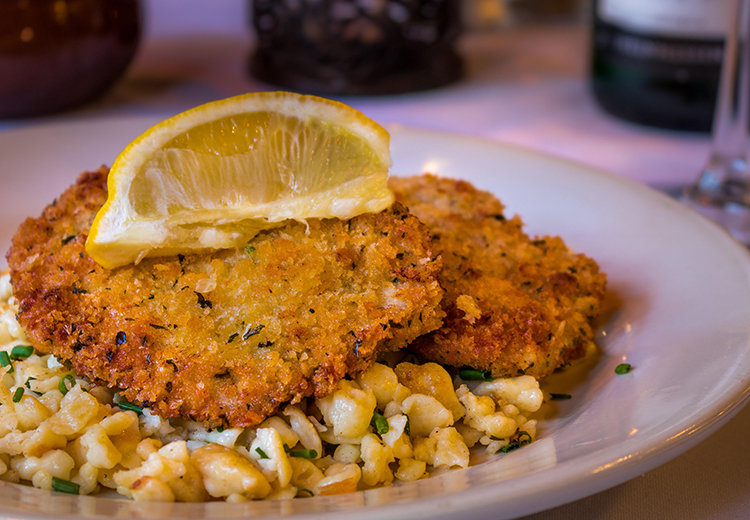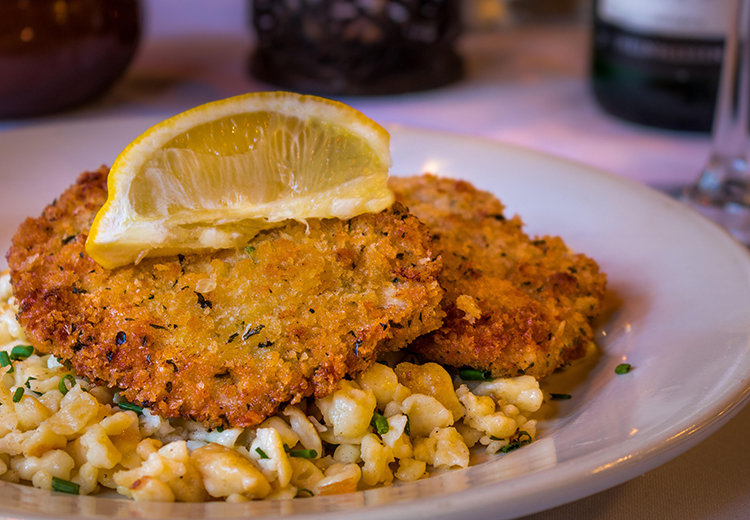 Kristin Mader says the restaurant attracts a good mix of older and younger people. "People come because their grandparents brought them here," Mader says.
Mader's proximity to the BMO Harris Bradley Center, Turner Hall, and Milwaukee School of Engineering also draws a mix of college students and people in town for sporting events and concerts.
The restaurant's dark wood, stained glass, low lighting, and Teutonic knight motif is both a tribute to Teutonic culture and an architectural jewel of Milwaukee. Waitstaff, dressed in dirndls and lederhosen, make you feel you're dining in 19th-century Germany.
The restaurant has possibly served more celebrities than any other in Milwaukee. Photos of presidents, actors, and musicians dining line the back walls, a testament to Mader's popularity. Past patrons have included Boris Karloff, Frank Sinatra, John F. Kennedy, Kanye West, Def Leppard, Alfred Hitchcock, and more.
Kristin recalls how race car driver Mario Andretti and actor Paul Newman, who were close friends, would travel all the way from Indiana to Milwaukee after the Indy 500 every year, just to eat at Mader's. They even had a favorite table. She also remembers meeting President Gerald Ford when she was a child. She's happy to take patrons on a tour of the restaurant.
"I love taking them around and talking about different things to see," she says.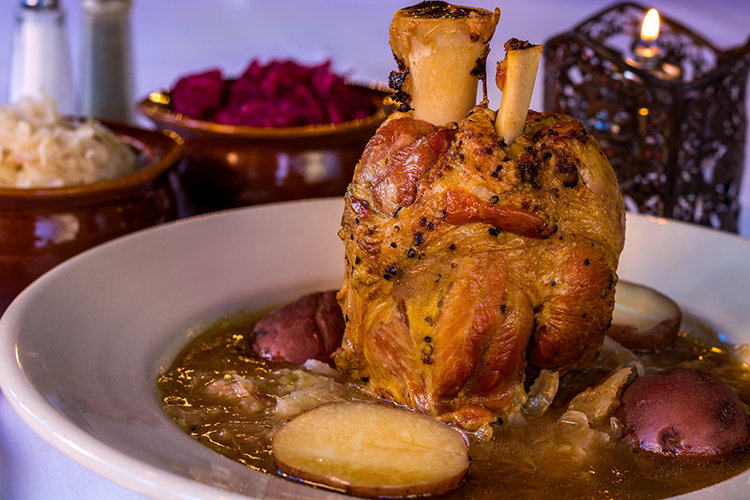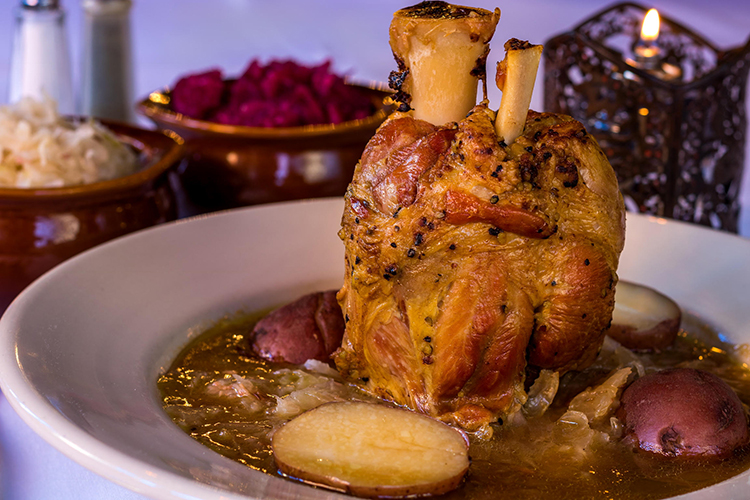 Meat lovers will rejoice at Mader's menu options. Roast pork shank (listed on the website's menu as "the number-one favorite for over 100 years), Reinischer sauerbraten and wiener schnitzel, remain as popular as ever. For customers who can't make up their mind, a German sampler is a good choice. "You get to try everything," Mader says.
Newer menu options, such as Reuben rolls—egg rolls filled with corned beef, sauerkraut and cheese and covered in Dijon mustard—are also crowd favorites.
Although food options are mostly meat-dominated, the restaurant does offer a vegetarian spätzle (spinach, tomato, carmelized onion, Swiss mornay and more) and various meatless appetizers such as potato pancakes with applesauce and baked onion soup with Swiss cheese. Your sweet tooth will also be satisfied by Mader's black forest cake. Drizzled with chocolate and accented with cherries, it's pretty to look at and even better to eat. Apfelstrudel, German chocolate cake, and schaumtorte are other classic dessert favorites and a great way to conclude a meal.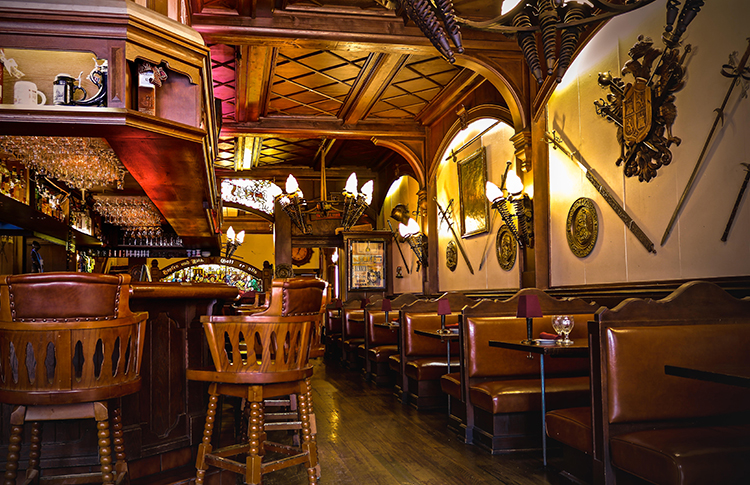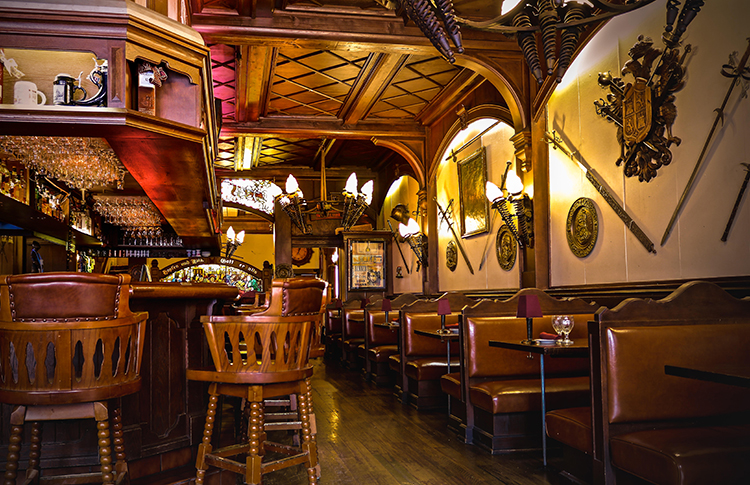 If you just want to tip a few back, the Knights Bar is the perfect place to meet friends for a happy hour or before a concert or Bucks game. Try a local brew, a German beer on tap, or a specialty cocktail. The hundred-year-old Old Fashioned, a Milwaukee staple, is the most requested, but the drink menu includes other throwbacks such as the Moscow Mule, the Rusty Nail, and the German Sidecar.
For a bar snack, nothing beats the giant pretzel, which can fit into a pizza box. "It's a two-to-four-person pretzel," Mader says.
The restaurant has undergone two renovations, including a second-floor addition in 1977, which is now a private dining room, and a complete restaurant remodel in 1988, when the Burg Halle dining room opened. However, the traditional German character has been well-preserved. Mader says the restaurant is due for another renovation, which will likely take place in January 2019. Much of the renovation will focus on Knight's Bar, but the ambience isn't expected to change much.
"It's a real delicate balance—you don't want to change what people like," she says.
Although places such as Mader's have been in Milwaukee for a number of years, people shouldn't take them for granted.
"Things come and go in Milwaukee, but people get wildly upset when something closes when they're used to it being there," Mader says. "Support your local institutions."
[All photos courtesy of Alex Weber]