At this point, it might be easier to tell you what great local bands Kevin DeMars hasn't been in. The Milwaukee multi-instrumentalist's past and present body of work as a guitarist and drummer includes output in bands like Soup Moat, Kate Moths, Stock Options, Foreign Lawns, Mother Orchis, Lamb's Legs, Pink Trilliums, Lisa Frank, and Disguised As Birds. He's even contributed drum parts to some Guerrilla Ghost and Tron Jovi songs. Beyond that bevy of bands he's been part of in recent years, DeMars also has a lesser-known solo vehicle called Vectors Of Resonant Prescients.
DeMars describes the project as "a collection of [his] random spare time recordings." Up to this point, Vectors Of Resonant Prescients releases have included self-described "rough sketches" of songs and some arrangements he initially intended to be demos for Foreign Lawns material. However, in the throes of cabin fever brought on by a combination of the perennially-taxing Wisconsin winter and the twelfth month of an ongoing pandemic, DeMars left town for a few days in February 2021 and set out with the intention of returning with a completed album.
"The release itself was largely a pandemic goal and getaway that I could scratch off my list," DeMars tells Milwaukee Record. "[I felt] the need to escape my work from home in isolation environment by briefly replacing it with creative work from a different home."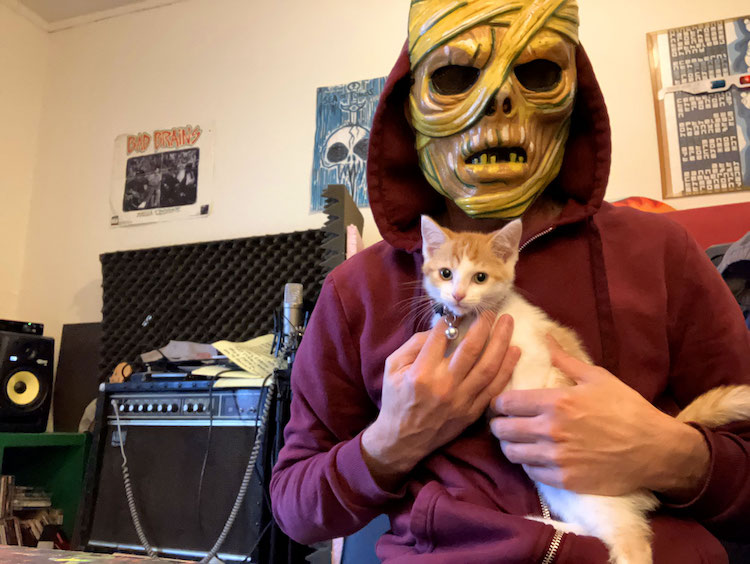 That "different home" was what DeMars refers to as an "idyllic and pretty winter" rental in Sheboygan Falls, where he set up recording equipment, took out an acoustic guitar, and unplugged from the world for three days. Between some 5-degree hikes and other moments of relaxation, DeMars tracked 13 songs from the wintertime escape as he watched people ice skating and snowmobiling out the window of his makeshift recording studio. When it came time to check out on February 11, 2021, DeMars had recorded an album.
Microfiche is the end product of that therapeutic artistic retreat. DeMars' serenity is evident throughout the instrumental release that's rife with delicate finger-picking on soothing-yet-intricate songs. If the world is moving too fast and modern day atrocities have (justifiably) depleted your spirit, take about 35 minutes out of your day to relax, reflect, and embark on an aural getaway with Vectors Of Resonant Prescients by way of Microfiche.
The album was mixed and mastered by Nicholas Elert (and assembled for CD format by Justin Perkins at Mystery Room Mastering). It will be released digitally and on compact disc (via Triple Eye Industries) on Friday, July 1. Before the album comes out, listen to Microfiche in its entirety below.