It's an unprecedented and incredibly difficult time for restaurants right now. Wanting to highlight local establishments who are keeping food quality high while also keeping its customers and employees as safe as possible during the ongoing COVID-19 crisis, we're going to focus on restaurants that have completely shifted to carryout and/or delivery service in a series we're calling "Carryout Chronicles."
Sherman Phoenix (3536 W. Fond du Lac Ave., 262-228-6021) opened in the heart of the Sherman Park neighborhood in late 2018. However, the community hub's story actually starts more than two years earlier. In the summer of 2016, the response to a fatal police shooting left a BMO Harris Bank building with fire damage and brought even more strain to a city that was already considered to be among the country's most segregated. In the subsequent months, a group headed by developer Juli Kaufmann and The Juice Kitchen owner JoAnne Johnson-Sabir sought to bring opportunity, commerce, and a sense of healing to the neighborhood in the form of a vibrant marketplace with a focus on, to quote the Sherman Phoenix's "Vision" page, "small businesses-of-color." After ample renovations and restoration work, funding from a variety of community organizations, and countless hours of work to complete the $3.5 million project, a Phoenix was able to triumphantly rise from actual ashes.
By the end of 2019, the multi-level space was home to 27 tenants, ranging from barbers and beauticians to art galleries and counselors to retailers and a yoga studio. Of course, much of the sprawling marketplace also hosts food purveyors. When navigating the winding hallways of the building, customers can get their coffee fix and Rise & Grind Cafe, satiate their sweet tooth at Purple Door Ice Cream and Confectionately Yours bakery, grab some wings from Buffalo Boss and procure a pizza from Sauce & Spice, and pick up snacks for later from Funky Fresh Spring Rolls and Lush Popcorn. Though Sherman Phoenix was prepared to offer something for almost any taste, the site—like so many other businesses out there—was not exactly prepared for a pandemic.
Last March, the COVID-19 crisis caused Sherman Phoenix to close for a few months. Thanks to a "six-figure" gift from an anonymous donor, expenses in the pandemic's early months were covered. Sherman Park also launched a fundraising campaign at that point to help the marketplace and its tenants weather the storm. Now more than a year later, Sherman Phoenix is open again, but eating on-site is prohibited and all of its restaurants and food retailers have completely shifted to carryout. Craving a few things at the same time AND wanting to support some Black-owned establishments during Milwaukee Black Restaurant Week (April 12-18!), we dropped by Sherman Phoenix to get some food to-go.
Policies And Procedures
As noted above, every restaurant is currently operating in a carryout-only capacity. Masks are required, and there's a container near the main entryway with face coverings for those who don't have one handy. Hand sanitizer is abundantly available and virtually every stand we saw is outfitted with plexiglass and other amenities for limited-contact transactions. Curbside pickup is offered by some businesses upon request as well.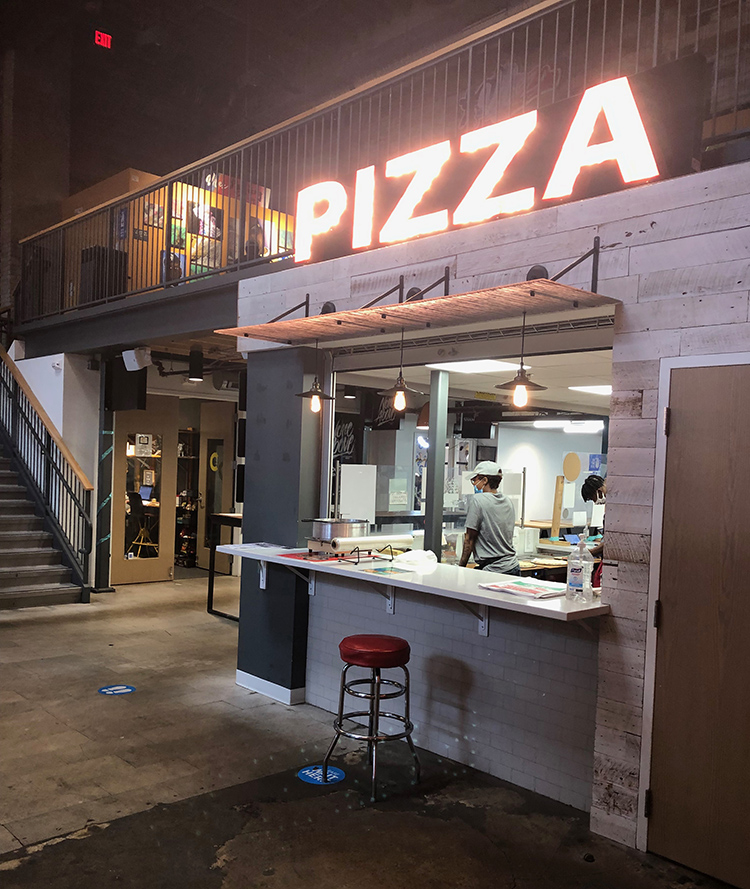 We opted for in-person ordering earlier this week and, after taking a lap around the place to see what was open and what looked especially appetizing to us that particular day, we stopped at Sauce & Spice to place our first of three food orders.
Carryout Quality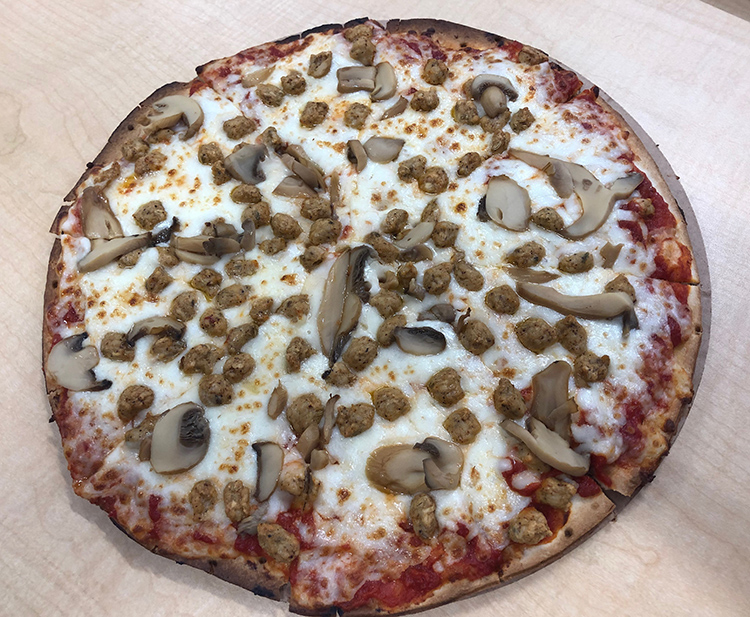 The pizzeria makes Milwaukee "tavern style" pizzas to order. Plain cheese pizzas are $7.25. Two topping pizzas are $8.25 and pizzas with three to five toppings are $9.25. We went with a simple chicken sausage and mushroom pizza, which came out piping hot and piled high with spiced sausage pieces, canned mushrooms, and oodles of tangy sauce and fresh mozzarella cheese in less than 10 minutes.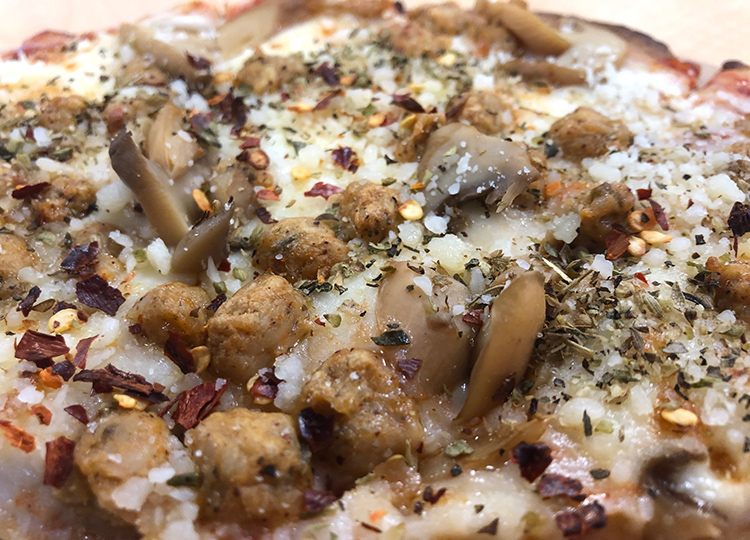 They also threw in containers of crushed red pepper, Parmesan, and an Italian herb blend. Once we got it home, we spread all of those things pretty liberally on the pizza to bring an already classic and tasty Milwaukee pizza to another level.
While we waited for our pizza to be baked and packaged, we stopped by some of the booths in the middle of Sherman Phoenix's main hall. There, we bought a jar of spicy dill pickles ($6) from Scales Family Farm. The jar was packed with thick and crunchy cucumber medallions that were submerged in a bold and flavorful brine that was rife with fresh dill, hot peppers, and whole cloves of garlic. We say "was" because the jar is almost gone already.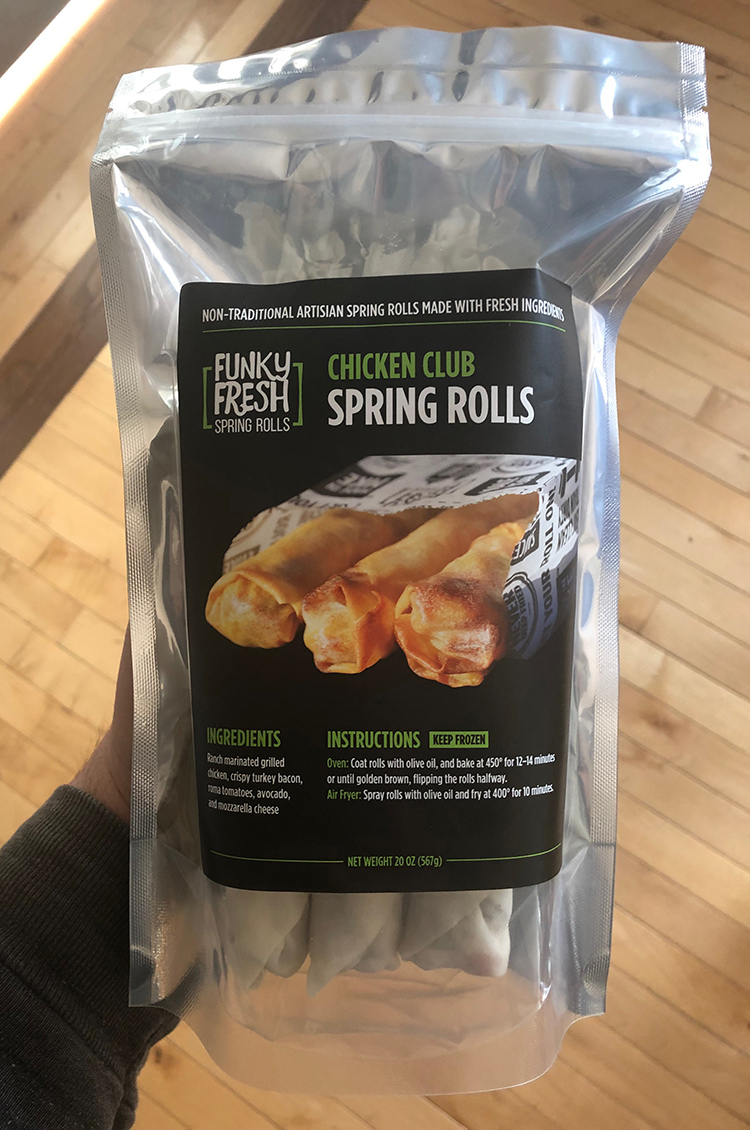 Though we were hankering for some wings from Buffalo Boss, a mixture of a long line during our lunchtime visit and the realization we already had a whole pizza in our possession brought us to the Funky Fresh Spring Rolls kiosk instead. Fresh-made rolls are available, but we opted to delay our enjoyment and get a bag of six frozen rolls ($14) to have for dinner. Our Chicken Club rolls were long, tightly-wrapped wontons absolutely stuffed with tender pieces of marinated chicken, diced turkey bacon and tomatoes, avocado, and mozzarella cheese. When combined with "Boom Boom" sauce, a spicy mayo—one of five sauce options, these home baked delicacies were nothing short of excellent, and two was enough to hold us over. If Chicken Club isn't our thing, check out the full list of Funky Fresh flavors (including some vegan options).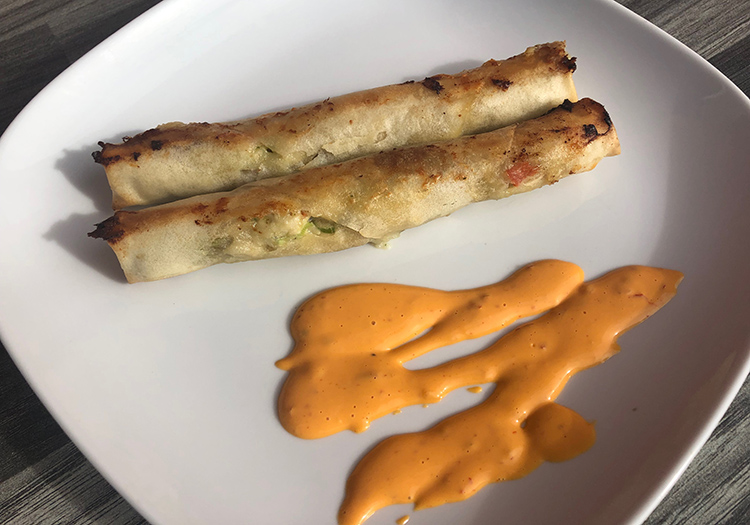 Other Info
Beyond letting you know the marketplace is closed Sundays and Mondays, we don't really know what else there is to say. Sherman Phoenix is the heartwarming end to a chain of events that reverberated through Milwaukee and far beyond. Sherman Phoenix is also the beginning of something new, something special, something healing, and something that offers both opportunity and economic returns for countless people in the community. Support local business. Support Black-owned local businesses. Support Sherman Phoenix. We're all in this together, and "together we will rise."