Depending on which news sources you follow, Milwaukee is going through either a "renaissance" or a "reinvention." Or maybe it's a "reboot" or a "reimagining," like that crappy Tim Burton version of Planet Of The Apes. However you want to define it, it's safe to say that Milwaukee is currently building a lot of new and wonderful things.
• You know that big surface parking lot on the west side of Water Street, when you're leaving Downtown and heading south into the Third Ward? Kind of right across the street from the Milwaukee Public Market? Along the Milwaukee River? Well HOLY CRAP THERE'S GONNA BE A GIANT HIGH-RISE APARTMENT BUILDING THERE SOON.
Yes, initial plans call for a [deep breath] 32-floor, 295-unit, 405-parking-space, 365-foot, $140 million luxury apartment tower to be built at the Third Ward's northern entrance. "This is a golden opportunity to mark what is probably the most prominent entry to the neighborhood," said Devon Patterson, principal at the project's architect. Are there any similarly sized buildings in the neighborhood? NOT REALLY.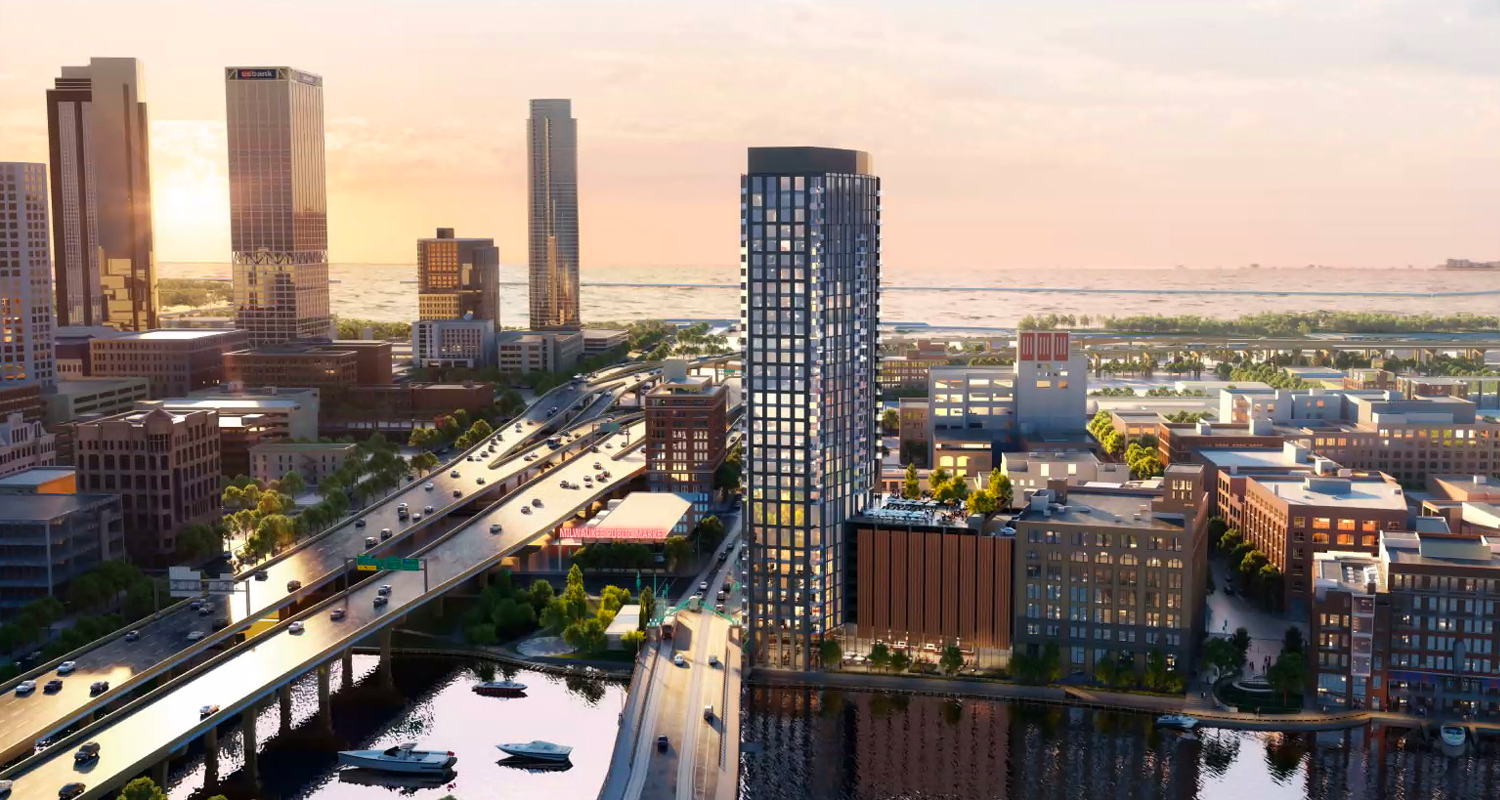 The Historic Third Ward Architectural Review Board voted 6-1 "to approve the building's height, mass and concept." Assuming all goes well with future approvals and whatnot, the project could break ground in 2022. [Milwaukee Journal Sentinel]
• Milwaukee Tool closed on the vacant office building at 501 W. Michigan St. that will serve as its new downtown home. Final price: $7.9 million. Milwaukee Tool is set to receive $12.1 million in city subsidies for its initial move. [Milwaukee Business Journal]
• After 80 years on Capitol Drive, WTMJ Radio will pack its bags and move to The Avenue in downtown Milwaukee. Studios for Newsradio 620 WTMJ, along with 94.5 ESPN, 540 ESPN, and 101.7 The Truth will occupy a prime spot on the first floor, next to the soon-to-be-opened 3rd Street Market Hall. (Staff for the stations will occupy a spot on the second floor as well.) "The broadcast studios for the stations, operated by Good Karma Brands LLC, will include a window view where show hosts such as Gene Mueller, Steve 'Homer' True and Melanie Ricks can be seen," says the Journal Sentinel. So, um, get excited for this incredible "activation" of space that used to be open to the public but now isn't, we guess. [Milwaukee Journal Sentinel]
• Construction has begun on that two-story commercial/apartment building on the corner of Brady and Marshall. The building is the work of Three Leaf Development, which is the real estate firm of Milwaukee Bucks guard Pat Connaughton. [Urban Milwaukee]
• Bay View's popular Hue Restaurant is moving. Owners Cat Tran and Mark Nielsen are remodeling the former Sven's Cafe (also in Bay View) and transforming it into a two-story "new home base which will house both the restaurant and a commercial kitchen space for Hue's Asian Kitchen food truck and SquareMeal, the brand's frozen ready-to-cook meal service." [OnMilwaukee]
• Developer Tonda Thompson is taking a vacant three-story building at 128 E. Burleigh St. and turning it into the home of her new business, Valor Creative Collective. The building will house a wood shop and a photography and videography studio. [Urban Milwaukee]
• The long-planned $420 million expansion/renovation of the downtown Wisconsin Center looks pretty neat. [OnMilwaukee]
• And what did we learn this week? Well, they're always building something. Isn't that right, old song from my old band?
Exclusive articles, podcasts, and more. Support Milwaukee Record on Patreon.
---
RELATED ARTICLES
• Full "New And Wonderful Things" (formerly called "New Sh*t") archives