I had never really noticed Mitchell Gallery of Flight when flying in and out of General Mitchell International Airport. My normal pre-flight pattern usually includes checking in for my flight, checking my bag, and then darting straight to the security checkpoint before sitting next to my gate and waiting, trying to take my mind off the fact I have to fly. Admittedly, I would sometimes notice the sign for the Mitchell Gallery of Flight when I was meeting my family after landing, but I also see other signs in the main concourse. I never really visited any of the physical shops in the center concourse, but that was probably because I was just happy to not be in the air.
Recently, I was sitting in the observation area at the airport, watching the planes land and take off. I was finding some serenity, but then I glanced over and saw a sign encouraging people to visit the Mitchell Gallery of Flight. What the hell. Why not? Though I didn't bother visiting that night, I made a note to actually see what on earth it could be soon. On a Sunday afternoon not long after, I drove down to the airport with someone bold enough to accompany me on a self-assigned field trip to this strange gallery, which seemed like the most ridiculous reason to drive all the way to the airport and pay for parking. After entering the terminal, we walked straight to the unassuming museum in the main concourse, occupying what ultimately looks like a storefront similar to the ones selling cheeseheads and overpriced romance novels.
We started walking around the small space generously called a gallery, immediately noticing the large model airplanes and zeppelins hanging from the ceiling. On the left of the museum's entrance was a display case on the life of General Billy Mitchell, the namesake of the airport—for those of you who, like me, had no idea who General Mitchell was. The display case highlights Mitchell's storied career in the United States Army as a pilot prior to the creation of the Air Force. The case also briefly details Mitchell being court-martialed for what was viewed as "insubordination" at the time. Allegedly, he antagonized several army leaders with arguments in favor of using air power in military missions.
I continued to move around the museum and noticed cases commemorating interesting tidbits about the history of flight in Milwaukee County. Next to the display case on Mitchell was a replica of an Airbus that had landed at Mitchell Airport. On a far wall was an entire display devoted to Charles Lindbergh's visit to Milwaukee, complete with some cool memorabilia given to those who attended the event. There were also coins from different travelers who had come through the airport, although we noticed there were some labels missing. On the far wall were the old logos for the airlines that once served the airport.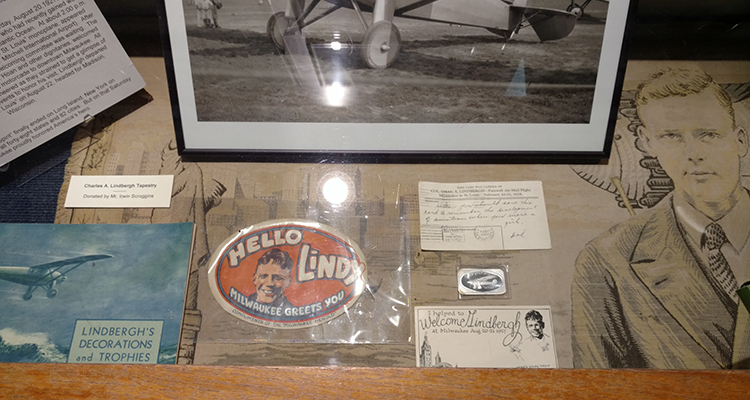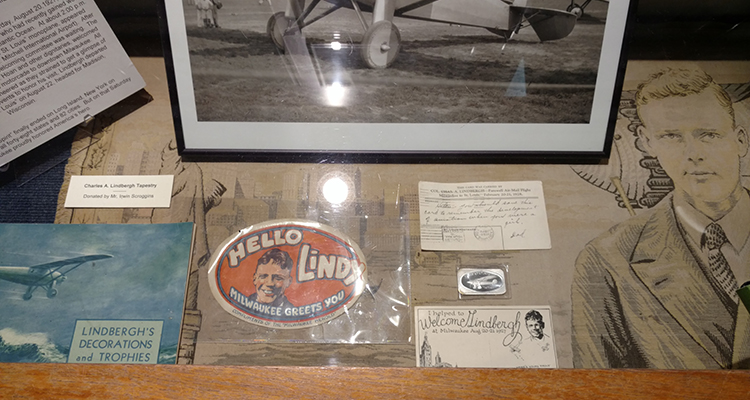 This little nook of what's technically considered an international airport provided a nice little history lesson, complete with pictures of the first Milwaukee County Airport, which was basically just a farmhouse with a runway. The information on the history of the airport went into how the grounds were used as a camp for German prisoners of war during World War II, which made me feel slightly uneasy to know Milwaukee had housed such a camp. In the center of the Mitchell Gallery of Flight is a scale replica of the old terminal for the airport, featuring tiny buses and travelers.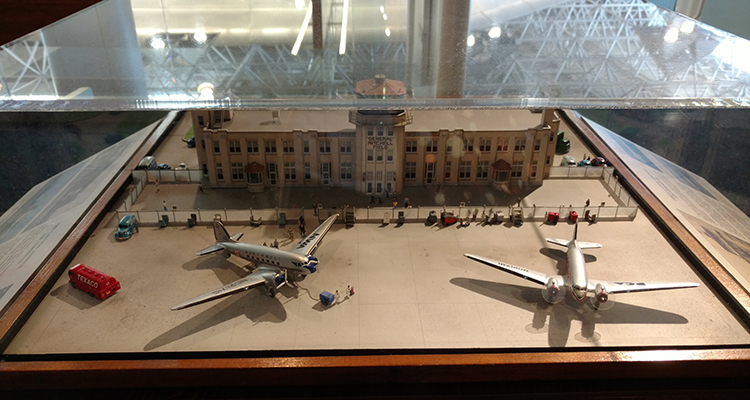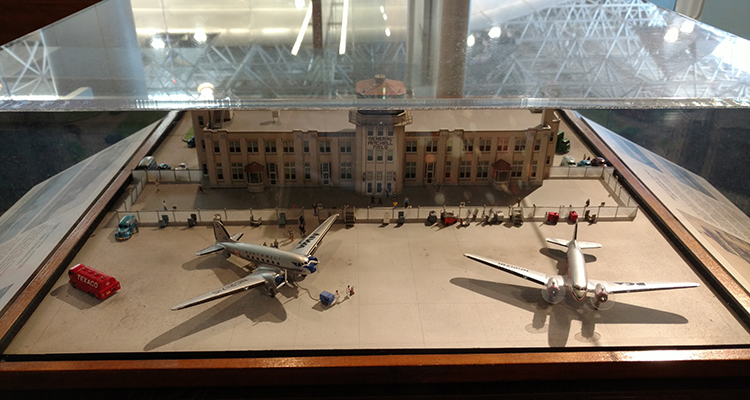 As I continued to walk around, I started to notice a recurring theme of the Mitchell Gallery of Flight. The museum serves as a bit of a shrine to failing or dead businesses. Yes, Mitchell's court-martial-caliber ire likely played at least a small role in the formation of the Air Force, and it's pretty cool how Lindbergh—once regarded as one of the world's most famous men—visited Milwaukee, but this museum would like to kindly remind you of the two airlines that used to serve Milwaukee, but have subsequently merged with other airlines.
Although they're not next to each other, you can't help but notice how there are two cases on the history of AirTran and Midwest Airlines. Midwest Airlines, I learned, provided regional service that aimed to have a bit of a luxury feel before adding low-cost regional flights and eventually folding. AirTran, which I was familiar with, having moved to Milwaukee during the phasing out of AirTran after its acquisition by Southwest, operated for a shorter period of time than Midwest, but offered more destinations. The cases featured scale replica models of the planes flown by those airlines, as well as old in-flight magazines for Midwest Airlines, and acknowledged how both airlines had ceased operations. This is more of a reflection of the airline industry and how increased costs have led to new deals. At some point, the cases will likely serve as a way to teach kids of what airline travel used to be like.
After learning about James Lovell and St. Mary's Hospital's contribution to medical experiments in space, I rejoined my boyfriend, who pointed to the model of one of the first commercial planes, which was equipped with wicker chairs and no seat belts. Soon, we walked out of the Mitchell Gallery of Flight and headed back to the car, briefly discussing the museum before moving the conversation to commercial air travel in general. We drove away after paying $2 for our parking.
I never would have anticipated this nondescript place I've routinely walked past on my way from the ticket counter to the security line would actually end up being pretty interesting. Of course, you have to go to the airport to see it. This seems like a bit of a hassle to warrant another visit for that reason alone, but I made a note that the next time I'm at the airport waiting for my flight, maybe I would pop into the Mitchell Gallery of Flight and read more on Milwaukeeans and their contributions to aviation history. Maybe you should, too, or risk killing another hour at Chili's Too.