There is little awareness of the presence of royalty driving to and through Kenosha. The journey to Wisconsin's only White Castle (11730 75th St., 262-857-2500) is littered with billboards propagating an ongoing chicken sandwich war by every major fast-food brand, along with roadside declarations that stores are in fact "OPEN" and they are selling "CHEESE" and/or "ANTIQUES." Not one billboard or exit sign, however, makes travelers aware that a world's first fast-food chain is just a few exits away.
On March 10, 2021, White Castle celebrated 100 years of serving tiny hamburgers (dubbed "sliders"). The chain was founded in 1921 by Billy Ingram and Walter Anderson in Wichita, Kansas. White Castle has had a knack for keeping things relatively uniform over the past century, always focusing on their two-inch square of beef, sharp pickles, a smattering of onions, and a choice of cheese.
To celebrate White Castle's birthday month, I made a pilgrimage down I-43 to the state's only location.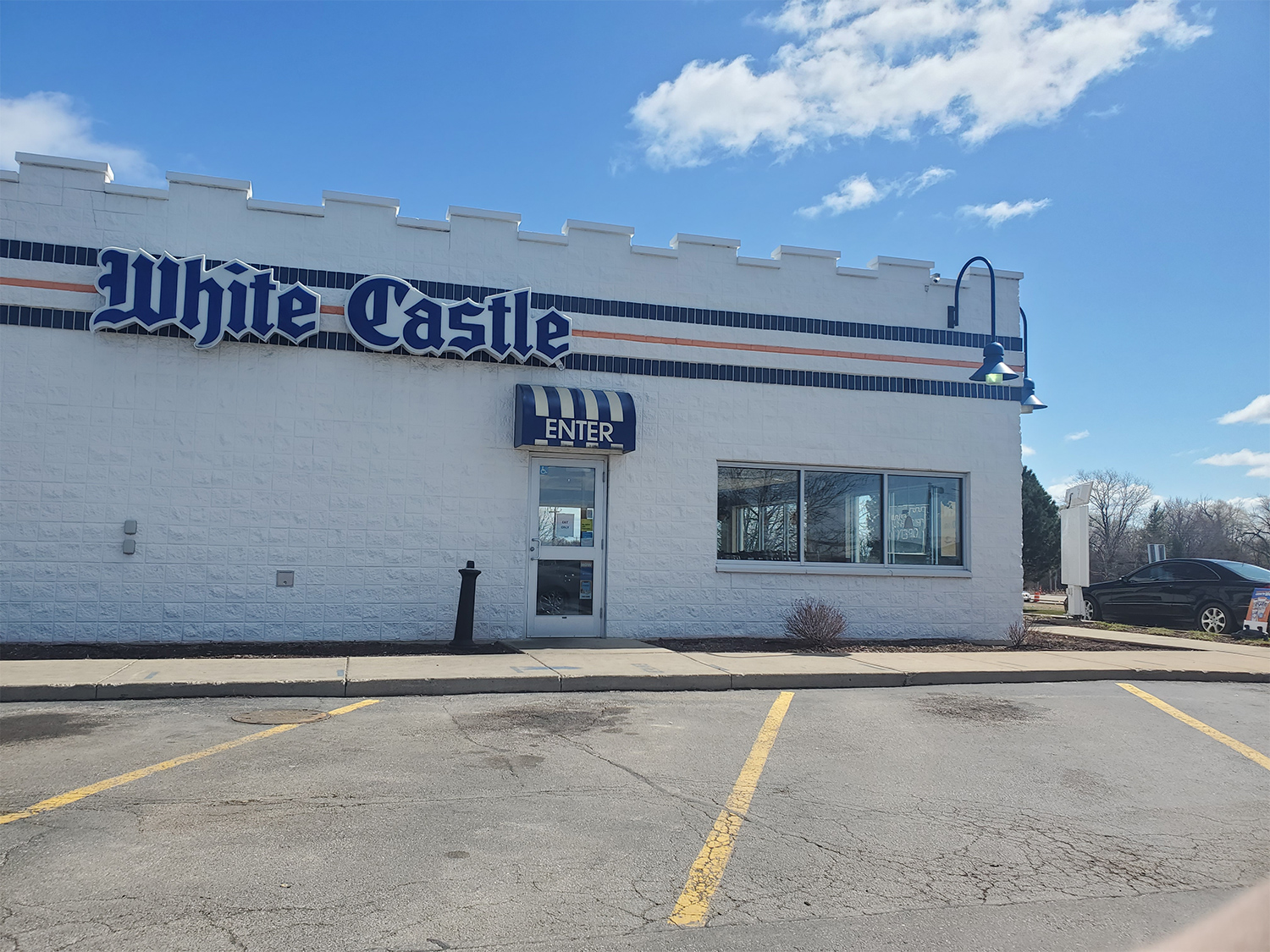 Castle 82 of Kenosha has been in operation for more than two decades, according to the Chicago Regional Director of Restaurant Operations John Whitaker. The Wisconsin location is the northernmost castle, making it a prime spot for folks around the region to trek to. The prospect of another Wisconsin location is possible, but all based on the growth of the Chicago region.
"As the Chicago region expands, we're expanding outward," says Whitaker. "I think there's an opportunity in the future that we'll go further into Wisconsin."
Whitaker says the brand is planning more birthday-based activities throughout the year, including birthday-cake flavored cake-pops, a celebratory anniversary mug, a uniform update in collaboration with New York fashion designer Telfar, and augmented reality soda cups which provide glimpses into the history of the midwest slider chain.
Kenosha's White Castle is nestled behind a combination Dunkin' Donuts/Shell gas station, sitting in the shadow of a Woodman's, at a massive intersection of Wisconsin State Highway 50 and Interstate 94/41. Without future knowledge or Google-assisted directions, one would be prone to missing the location. This was not the case for myself or the hoards of other hungry folks.
There were at least six other cars in the drive-thru line ahead of me when I arrived, a very common site for nearly any fast-food chain throughout COVID-19. The wait was not long, but one car got tired of sitting and went roaming for greasier pastures. When we pulled up to the menu board, the drive-thru operator said there were at least 150 burgers ahead of us and it would be a 15-minute wait for our food. It would be five minutes until he could even take our order.
Patrons would surely turn tail and run if any other burger chain plopped along a highway told them there were 150 burgers ahead of them, but this hardly registered as a problem for the slider kings. Our order was taken less than five minutes later, and my wife and I settled on a number eight, which features 10 sliders, a sack (yes, a sack) of chicken rings, and fries. We have terrible forethought and decided that tacking on an additional 10 sliders would quench our depravity. I wanted to be a little adventurous as I hadn't been to a White Castle in a few years, and I opted to try an Impossible Slider with American cheese and the chicken and waffles slider.
The steamy bag of burgers was a welcome sight, but we both felt the sense of awe and wonder leave us after making our way through two or so sliders. White Castle is very good at what they do, there's no denying that. Very few places have the level of consistency White Castle does, but the problem we found was our slider-soaked memories harkened to a better time, one that did not involve us sitting in a parking lot swallowing burgers by the handful and staring slack-jawed at a bustling highway.
We both reminisced on the South Wabash Avenue White Castle in Chicago, which shares an alleyway with Reggie's Rock Club, a prominent metal and punk venue in the city. White Castle is best shared post-concert, drenched in sweat, parked in a dicey alleyway—not in the light of day on a warm Sunday afternoon. This realization left us somewhat empty, albeit not our stomachs, and I tried to find joy in my two alternative sliders.
The better of the two non-traditional sliders was the chicken and waffle. The chicken was your average fast-food fried chicken, nestled between slightly dry waffles acting as buns. The slider played on the tastebuds of diner food but lacked a punch.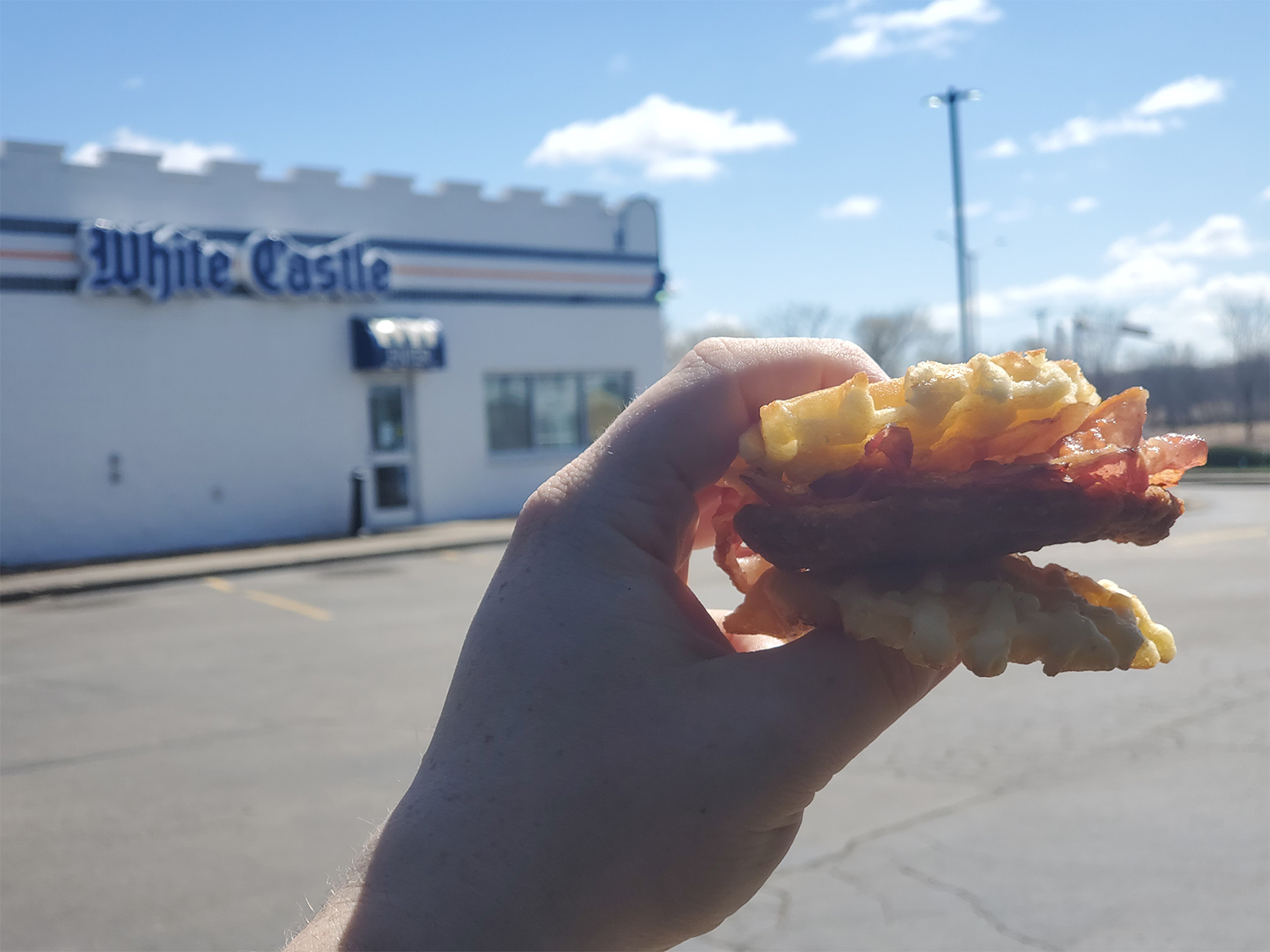 The Impossible Slider, however, was one of the worst things I've ever eaten. I'm generally a fan of plant-based meat concoctions and have even found that I prefer Burger King's Impossible Whopper to the normal Whopper, which is saying a lot as I believe I'm one of the few people on this planet who actually enjoys their trademark sloppy Whopper.
The Impossible Slider had a somewhat sickly taste to it, was oddly wet, and I could only make it through a little over a bite. This was disappointing, but I found solace in the surprisingly good chicken rings.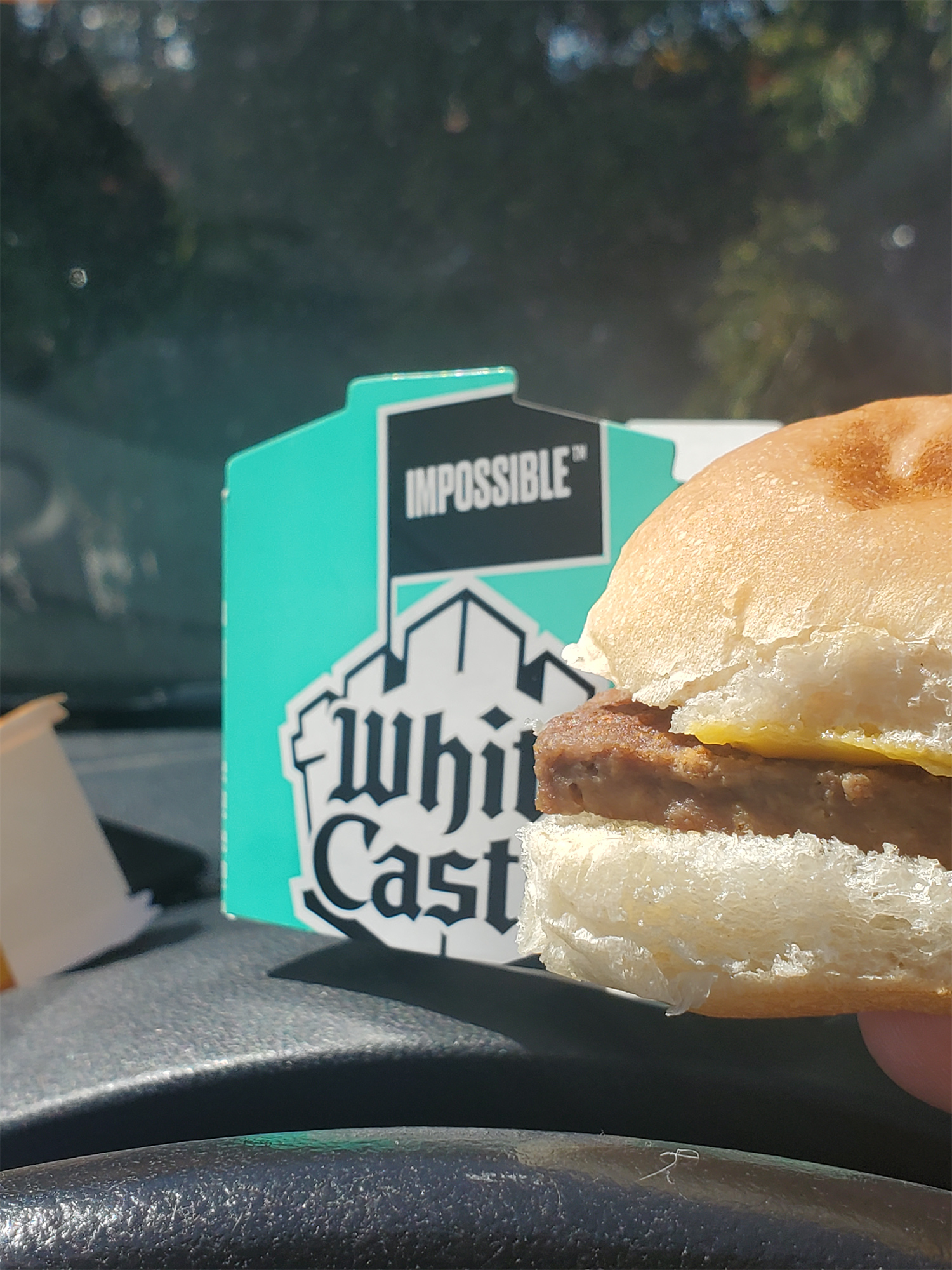 It was around this time we noticed that the additional 10 sliders we ordered were not in the bag. I am not one to bother workers or even complain at restaurants, and this was not going to be the exception. By the time we noticed, the line of cars was back out of the parking lot. The Kenosha location is closed on the inside, so the $9.90 we would either receive in a refund or slider-based payment was not worth our time stuck in a drive-thru and/or adding more stress to the slammed workers. They're working at a fast-food restaurant in a pandemic, so cut them a break for sliders-sake.
When I arrived back home, I remembered I had a chance to continue the festivities with Coca-Cola-based augmented reality. Gripping a large soda in my hand, I peered into White Castle's virtual history, which was a fun, somewhat glitchy, affair. White Castle is marking a monumental milestone this year, but the trip left more to be desired. I can't blame the Castle though—we've had some good times together and I, too, would be a little off my game at 100 years old.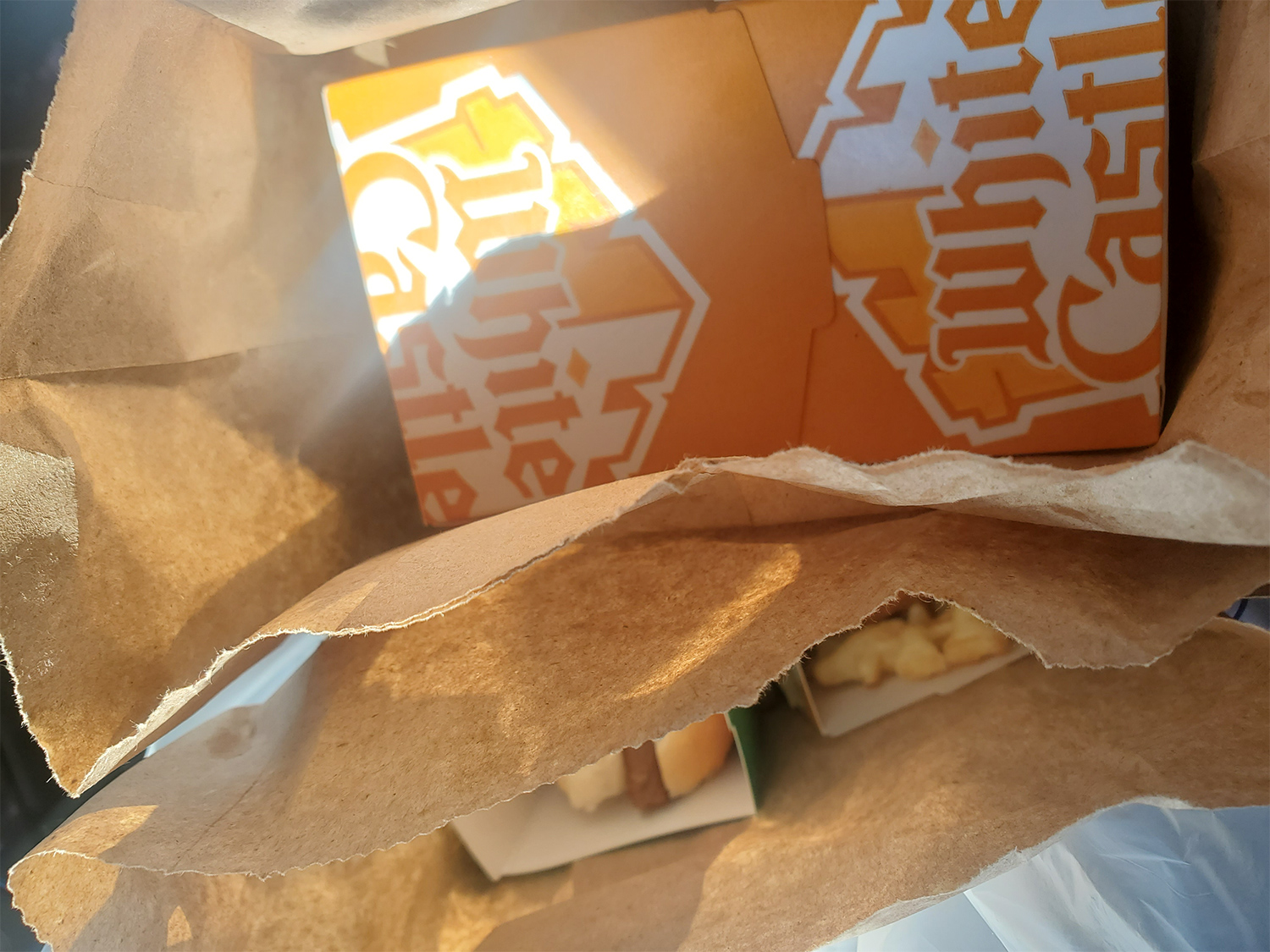 Exclusive articles, podcasts, and more. Support Milwaukee Record on Patreon.
---
RELATED ARTICLES
• We ate, ranked every menu item at Wisconsin's only White Castle
• Wisconsin's only White Castle now has a vegan slider and it's actually pretty awesome