Caleb Westphal hasn't missed a Friday fish fry since 2013. Follow along with his never-ending adventures here.
As long as there is one upright man, as long as there is one compassionate woman, the contagion may spread and the scene is not desolate. Hope is the thing that is left to us, in a bad time. I shall get up Sunday morning and wind the clock, as a contribution to order and steadfastness.

Sailors have an expression about the weather: they say, the weather is a great bluffer. I guess the same is true of our human society—things can look dark, then a break shows in the clouds, and all is changed, sometimes rather suddenly. It is quite obvious that the human race has made a queer mess of life on this planet. But as a people we probably harbor seeds of goodness that have lain for a long time waiting to sprout when the conditions are right. Man's curiosity, his relentlessness, his inventiveness, his ingenuity have led him into deep trouble. We can only hope that these same traits will enable him to claw his way out.

Hang on to your hat. Hang on to your hope. And wind the clock, for tomorrow is another day.

-E.B. White
March 30, 1973
Beer. Guns. Fish frys. They are ubiquitous throughout Wisconsin. We drink beer at baseball games, at weddings, in taverns just because, and at any other social gathering we can make an excuse for it. Large and small breweries dot the state. We bundle up in blaze orange each November and sit out in the cold with rifles and shotguns, waiting for white-tailed deer to walk by. We eat fish frys in supper clubs, family restaurants, taverns, bowling alleys, church basements, and at Culver's restaurants (so I've heard). Fish frys are found in small towns and big cities; they are in the Red parts of the state and they are in the Blue.
Beer. Guns. Fish frys. One of my great-grandfathers worked at the Miller Brewing Company plant for a short period of time in the early 1940s, moving to Milwaukee with his wife and two small daughters from New London to take the job. About a quarter century later, then back in New London, he came home late from his job serving beer in a bar, stuck a shotgun to his head, and pulled the trigger. He was 52. Some of my first fish frys were likely with his eldest daughter, my grandmother, at Kinker's Corners, a now-shuttered establishment that was located at the northeast corner of Van Dyne Road and Kinker Road in the Town of Friendship, just to the northwest of Fond du Lac. Bless her heart.
This week's senseless shooting at Molson Coors has saddened our city, and my heart is with all of those directly affected. Although it is vital that we are all involved in taking on the specter of gun violence, there are others better suited to speak on the issue than I, and it is not my role to do so here—I'm here to write about fish. And yet, I couldn't just jump into another week of fish writing without acknowledging what had transpired. Although I hold no answers, there is one thing I am sure of, and that is we must not let such tragedy temper our way of life or paralyze us as a community. So, I, for one, will go out on Friday night and get a fish fry, as a contribution to order and steadfastness.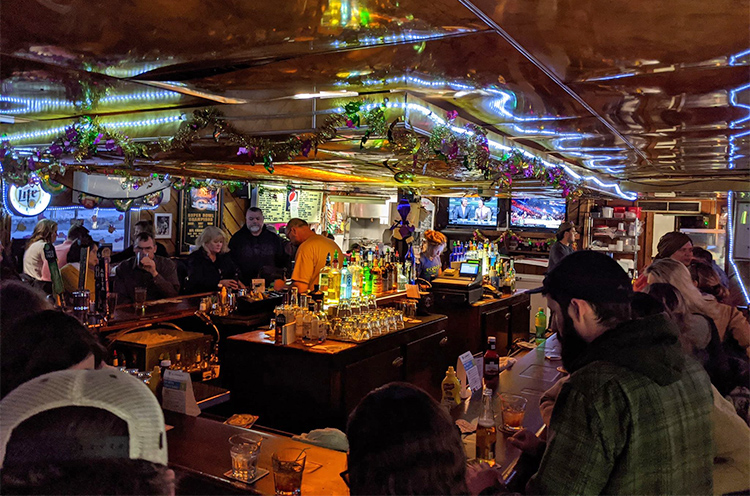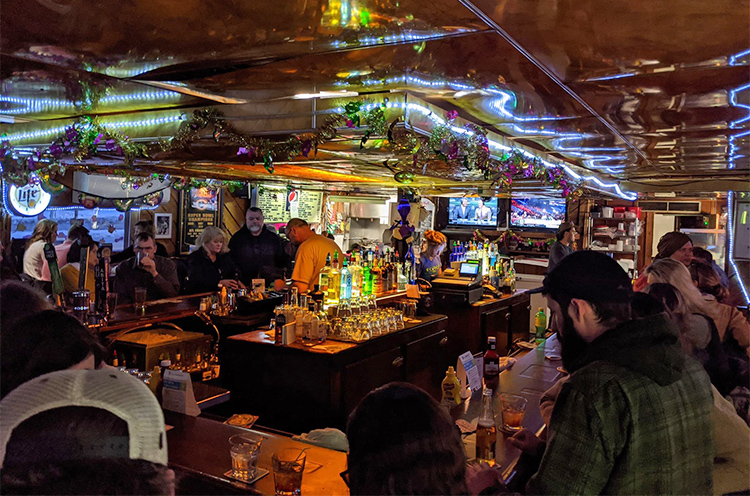 Last Friday, this steadfastness brought me to Madison. I was playing a show in the city with Devils Teeth, and figured in order to make things easier on myself, I'd just get a fish fry there before heading to the venue. I decided on Villa Tap (2302 Packers Ave., 608-244-9627), a place highly spoken of by Mike Seidel of Madison Fish Fry. As his positive reflections of the establishment largely appear to be on account of their freshwater fish offerings, it was my aim to either order perch or bluegill, if they had them. I went in knowing that we are currently dealing with a shortage of perch and didn't know what to expect.
My companions and I arrived at around 5:50. Whereas there was a notebook to register in at the location of my previous fish fry, here there was a large piece of yellow paper taped to a white board where names were written with a marker. There were 14 tables ahead of us when we signed in, and we prepared to hunker down for a bit.
The uncovered section of the white board next to the sign-in paper alerted diners that walleye, cod, and shrimp were available for the evening. This contrasted with Villa Tap's usual Friday menu, which lists the following: Canadian lake perch ($16.25), Icelandic cod ($14.25), jumbo shrimp ($17.25), Canadian walleye ($15.50), and bluegill ($14.75). Each comes with a choice of baked potato or french fries. The baked potato can usually be ordered "loaded" for an extra $1.50, but that option was not available on this particular Friday. The Friday night specials are served from 4:30-9:30, and there also is a Friday lunch special available from 11:00-2:00, which consists of either a "Friday fish fillet" ($7.25) or a two piece cod meal ($10).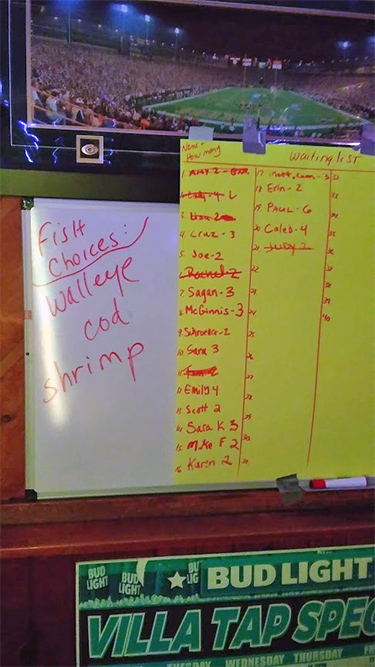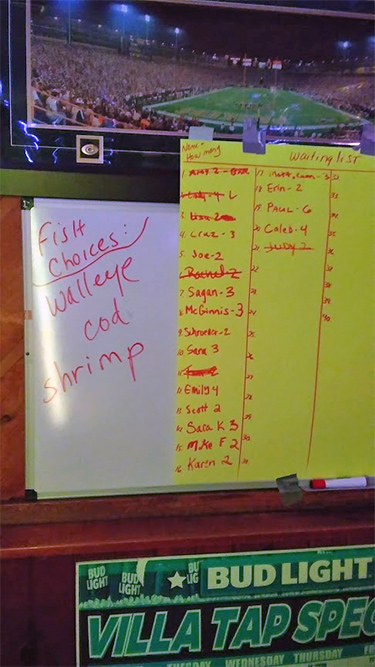 There are only twelve tables in Villa Tap: four of them are along the bar, and the other eight are booths in an adjacent, dimly lit dining room. Patrons who can find a spot at the large, three-sided bar, which seats about 30, can also eat there. The place was packed, with people standing around the perimeter of the bar, and spilling into the dining area. Some leaned on a pool table there, which also held menus, silverware, and some bins of water. We found a spot in a nook in a small back corner room that had gambling games and a popcorn machine.
While waiting, I sipped an Old Fashioned. Muddled, with no garnish, there wasn't anything flashy about it, but it served the occasion. A voice boomed throughout the building when the next table was up, and it could even be heard where we were situated, although it was hard to decipher exactly what was being said. Throughout the wait I periodically walked up to the sheet to see how close we were getting. I also glanced over to the small area behind the bar where the fish was being prepared. Even if there had been more seating, the kitchen was running at full capacity, and the workers were keeping up as quickly as the fryers would allow.
At 7:23, we were seated at one of the tables next to the bar, and I put an order in for the cod with french fries. It would be more than another half an hour before our meals arrived, but in the meantime we were brought rolls and coleslaw. The rolls were of the wheat variety, pre-cut, and soft. The slaw was served in a dish and bathed in the lightest of cream, with big chunks of crunchy green cabbage, teasings of carrots and red cabbage, and a dusting of black pepper.
When the plates of fish arrived, I was surprised to find the randomness at which they were assembled. My plate had three pieces of fish of a somewhat smaller size, which allowed the french fries to be very visible. In contrast, my cousin was given four pieces that were all about the size of chicken thighs, which largely buried the fries underneath them. Perhaps the randomness of it can be viewed in a positive light, showing that nothing is regimented at Villa Tap. I thought it was quite hilarious, but I can imagine some would have taken issue with it.
A distinct flavor permeated the tartar and breading. The tartar had a sweetness to it that seemed to come from relish, but it was unlike other tartars I've had, and I couldn't quite pinpoint what made it tick. The breading sat well on the fish. It was crunchy, but not overly so, and it was on the saltier end, but in a balanced way, and had a blend of seasoning. As for the fish itself, it flaked somewhat well, but fell a little short in both texture and flavor, reminding me a bit of the consistency of whitefish. There wasn't anything extraordinary about the french fries. They barely had any salt, and they didn't have much spunk. Still, they were better than some others I've had over the past month.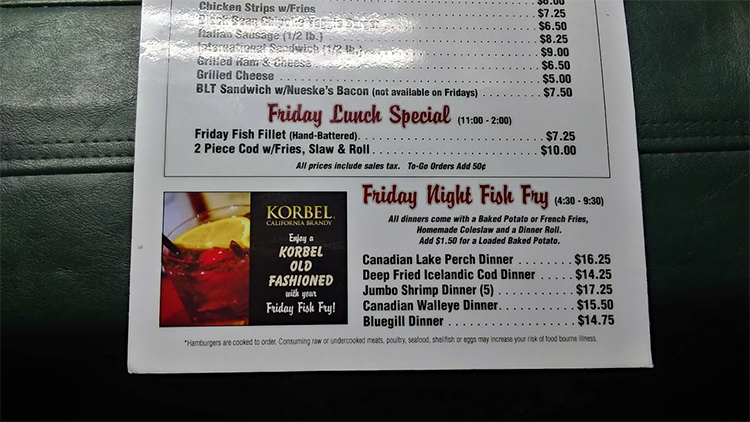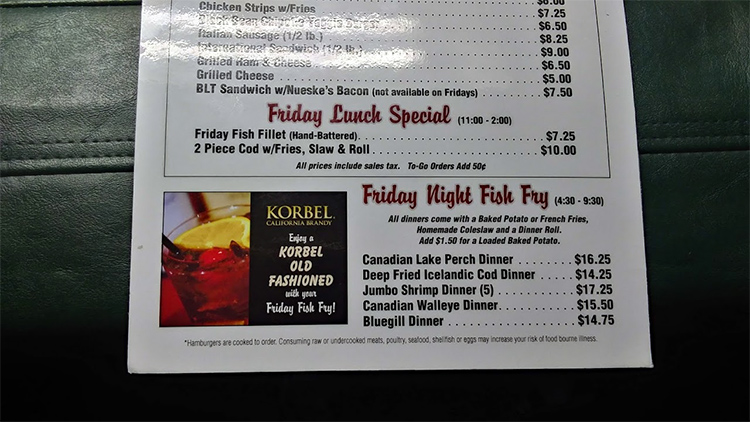 Should I have gone with the walleye? Should I have held off on Villa Tap until I knew they would have perch available? I suppose both of those are possible. The experience was enjoyable, but it didn't quite reach the level of memorable. And by the time we headed out it was 8:28, which pushed the total time spent there past two-and-a-half hours.
But that really doesn't bother me too much. Waiting around for a fish fry helps bring some normalcy. It is the Rock of Gibraltar in a chaotic world. It is the constant that I will forever welcome. Things may feel difficult, but I will go out on a Friday night and get a fish fry, as a contribution to order and steadfastness. Hang on to your hat. Hang on to your hope. And get a fish fry, for tomorrow is another day.
Takeaways: Pick up a marker and put your name on the board; there is a shortage of perch, but sometimes bluegill is just as hard to find; there are only twelve tables; the wait was over two hours; the worker who called everyone's table also seated us and took our drink and food orders and pretty much seemed to be making the whole place run; they have a Saturday meat raffle; have a roll and some slaw while you wait; some people get more cod than others; distinct breading and tartar; wind the clock.