Caleb Westphal hasn't missed a Friday fish fry since 2013. Follow along with his never-ending adventures here.
What happens in Wisconsin when Valentine's Day falls on a Friday? In my mind, all the high-end restaurants are empty and all the lovers are sharing fish frys at taverns. True love isn't built with high-dollar spending. It's built with shared traditions and memories—two things inextricably linked to the weekly eating of a Friday night fish fry. Still, as I planned out where to go this past week, I really didn't know what I would find. Would there be fewer people out for fish than usual, or would there be more? Would the type of restaurant I chose make a difference? I stopped worrying when I found a place that sounded like it had the best name ever to dine alone on Valentine's Day: Lone Star Tavern (W204N11912 Goldendale Rd., Germantown, 262-628-1484).
It was about 4:45 p.m. when I swung the heavy wooden door open and gazed at a new world. I suppose I felt a similar sense of awe as Dorothy did when she opened the door to a Technicolored Land of Oz, but with one difference: she found she was no longer home, and I felt like I had returned to mine. That is, of course, if you define "home" as a place that is stuck in time and elicits the best memories of your childhood—especially the ones that have to do with fish frys. As far as I could tell, I had just opened the door to 1992 (okay, except for those pesky new televisions). I stepped inside the timelessness, insulating myself from the outside world.
The building itself dates to the 19th century. In the 1840s, Bavarians settled the area near what is now the intersection of Freistadt Road and Goldendale Road. There they founded Goldenthal, which later became known as Goldendale, and is now part of Germantown. George Regenfuss opened a brewery there, and to its west was built the Regenfuss hotel, which became a stopping point for travelers going between Milwaukee and West Bend. The hotel eventually became the George H. Schuster Buffet, a grocery business and tavern. In 1946, Edward and Florence Wing took it over and renamed it the Lone Star Tavern.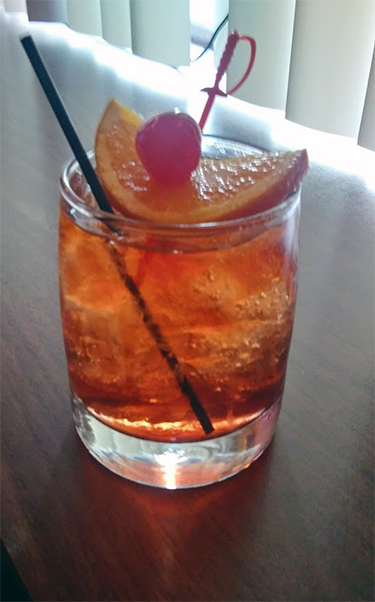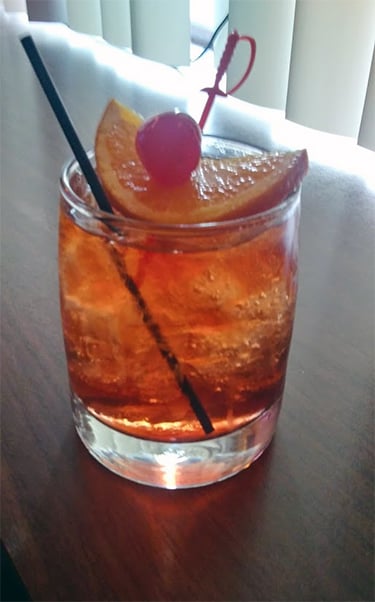 Upon entering, I found my way to the end of the bar, where an open spiral notebook with "Welcome to the Lone Star" written at its top greeted me. After adding my name to the list of people waiting for a table, I looked up to find a bartender ready to take my drink order. "Brandy Old Fashioned Sweet" is all I needed to say. Talk about efficiency.
All the seats at the bar were filled, as were most of those around the two tables in the center of the room, so I found a spot to stand next to a window by the door. As I waited for my table, I slowly sipped my drink. It was non-muddled and well-balanced, and topped with a fresh, thin orange slice and a cherry.
I took in the sights and sounds. A picture of a horse, a horseshoe, some black and white photographs of the building's past, and a picture of the birthplace of John Wayne hung on the wall. Four small lights hanging from above the bar and a few beer signs provided most of the light of the somewhat dimly lit room. Five casino games and a CD jukebox could also be found.
Well over half of the people looked to be of retirement age, and a lot of them appeared to be with their sweethearts. But it didn't seem like they were out to eat because it was Valentine's Day. It seemed more like this was something they did every week anyway. "I can't remember which is which. I think that's the sour," one older gentleman said to his wife, as he walked by me with two Old Fashioneds. Another older man beamed as he told a group of people a few decades his junior about his early dates with his wife, back when he had a '62 Chevy convertible.
Two menus are on the wall behind the bar, one of which lists the Friday specials. The specials are served from 4 to 9:30 p.m. and consist of baby pike ($13.75), haddock ($13), baked cod ($11.25), breaded cod ($11), fried chicken ($9.50), fried or stuffed shrimp ($10.75), pike sandwich ($7), and the Fritz ($16.25), which includes baby pike, shrimp, and cod. Perch is usually on the menu instead of pike, but the Lone Star's supplier currently has a shortage. The potato options are french fries, homemade German potato salad, and non-homemade potato pancakes.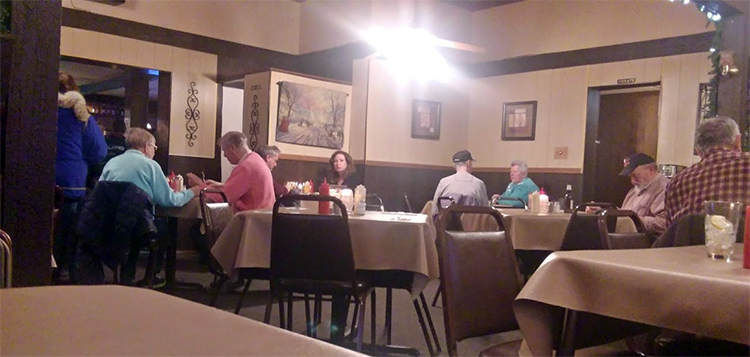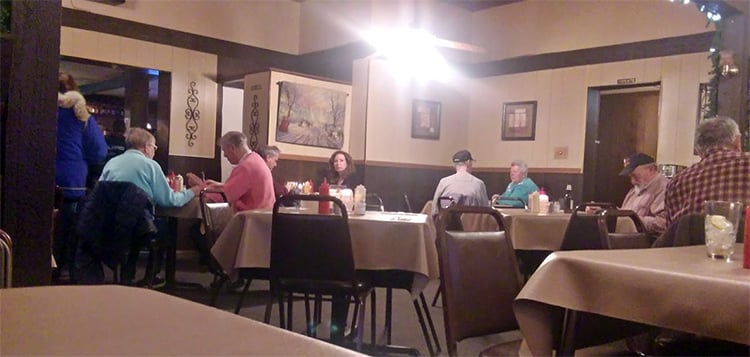 There is no light-up pager system at the Lone Star Tavern, and there isn't even someone yelling out names. When a table opens up for you in the dining room, someone will find you and take your order. At about 5:25 p.m., I put in my order for the Fritz with the German potato salad. I was told I could take my seat right away or could wait until the food was ready. I chose the former.
As I waited for my food to arrive, the person who had taken my order asked if I had been there before, and seemed to be a little curious about why I was there alone. I decided I'd let them know who I was, but not until after I had finished my meal and paid. They told me that the Lone Star Tavern sourced their perch from a small place out of Sheboygan that gets it from Lake Erie. As there has been a perch shortage, they haven't gotten any since October, but they anticipate they should have some again by April. I was told that they didn't want to start serving an inferior perch in its place and lower their standard. I ended up sitting at the table for just over a half an hour before the food arrived.
The plate came with two pieces of thinly sliced Italian bread, not much larger than silver dollars, that were joined together with butter. The coleslaw was crunchy and fresh, having been lightly tossed with vinegar. Topped with part of a hard boiled egg and sprinkled with paprika, the German potato salad was authentic. In general, I'm not even that big of a fan of this variety of potato salad, and I mainly went with it because I didn't want french fries for a third week in a row, nor did I want potato pancakes that weren't homemade. I also was in Germantown, so it just made sense.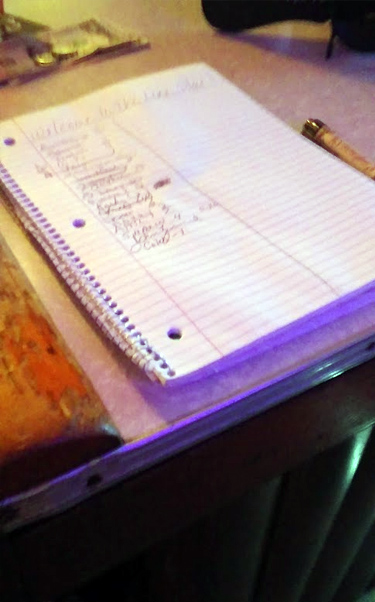 The plate also came with three jumbo shrimp, three pieces of baby pike, and one piece of cod. The shrimp were not unlike many other breaded shrimp that you'll find at restaurants, and were accompanied with drawn butter and cocktail sauce. The pike and cod were hand breaded in a thin and light cornmeal-based breading. The breading had a bit of flavor on its own, but also allowed the flavor of the fish to come through. The piece of cod was rather small, but was still of high quality, being thick and meaty. The pike was an excellent substitute for the perch. It was both similar in size and taste as lake perch, although its flavor wasn't as robust as perch often is. Nonetheless, it is a great stand-in for the time being. The tartar was in a bottle on the table. It was thick and a little sweet, but it almost seemed like the sweetness was coming from something besides relish (although relish was present). I suppose this is all in my head, but it seemed like it had a hint of caramel to it.
The only thing I can be critical of with this fish fry besides my usual gripe about the lack of homemade pancakes is I wanted MORE. There was such a buildup for the meal: the Old Fashioned, the wait in the barroom, and the wait in the dining room—and just like that it was over faster than fireworks on the Fourth of July. Judging from photos I found online, this isn't always the case, and people sometimes get much larger portion sizes. The fish was approaching excellence, but I felt like I was just getting into it when it was gone.
There was just one thing I had to do before I left. On my way out, I found the person who I had talked to earlier and told them who I was. They said I should come back when they have their perch again, and I told them I'd like to make it back sometime in the summer. In the weeks until then, I'll just keep eating fish frys. And you should too. Don't only go out for a fish fry on Valentine's Day. Enjoy a time-honored tradition and sustain your love year round.
Takeaways: This place is so old school that you write your name in a notebook; they also are cash only; you may have to wait a bit for a table; high quality breading and fish; they put thought into where they get their fish from and there are a variety of options; German potato salad in Germantown, but no homemade potato pancakes; I enjoyed both the ambiance and the food, but was still a little hungry.