Caleb Westphal hasn't missed a Friday fish fry since 2013. Follow along with his never-ending adventures here.
A framed still shot of Orson Welles in The Third Man hangs in the second floor dining area at The Wicked Hop (345 N. Broadway, 414-223-0345), the bar and restaurant located in the four-story brick building on the southwest corner of N. Broadway and E St. Paul Avenue. Elsewhere inside can be found a handbill for Murder, He Says, starring Fred MacMurray; both a framed photograph of Spencer Tracy, and a large poster for The Old Man And The Sea, which Tracy starred in in 1958; a spotlighted photograph of Gene Wilder looking dapper as Willy Wonka; and a framed poster for the film The Kentucky Fried Movie—which should have been titled The Fish Fried Movie—which was written by David Zucker, Jerry Zucker, and Jim Abrahams, who would later mastermind Airplane! and The Naked Gun. Harry Houdini and other film stars are also represented with artifacts.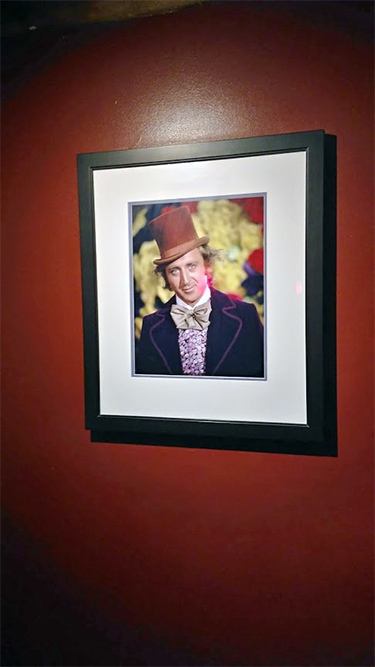 What do these stars all have in common? First, they all have Wisconsin roots. Welles was born in Kenosha. MacMurray spent his youth in Madison and Beaver Dam before going to college in Waukesha. Tracy and Wilder were born in and grew up in Milwaukee. The Zucker brothers and Abrahams grew up in Shorewood. Second, there is a good chance that all of them ate a fish fry at some point. Sure, some of the stars came of age in the earliest years of the 20th century, before the Friday fish fry tradition fully took hold in the state, and perhaps not all of them grew up in families where it was part of their cultural tradition. But I need to believe that by spending time in Wisconsin they all at least came across a Friday fish fry. And just for that, they all deserve to have their pictures hanging on a wall in a restaurant. It was here, with them gazing down on me, that I ate a fish fry this past Friday, along with local music superfan Shea Frevele.
According to the October 30, 1983, edition of The Milwaukee Journal, the building The Wicked Hop calls home was built in 1875 for the Jewett & Sherman Company, in the location where the Baltic House Hotel once stood. This was at a time when Broadway was Main Street and St. Paul Avenue was Detroit Street. (The assessor's office website says the building was "built about 1885.") On the night of October 28, 1892, a fire started less than two blocks away at the Union Oil and Paint Company warehouse, 323 N. Water St. Wind from the west blew and spread the fire east towards the lake, destroying 440 buildings in a 16-block area of the Third Ward. But the Jewett & Sherman Company building was somehow spared. Jewett & Sherman moved out of the location in the early 1920s. By some irony, their new location burned down in 1967. Even more coincidental, that fire was across the street from a place I got fish about three months ago.
After the Jewett & Sherman Company left the Third Ward, the building joined many other warehouses in the vicinity that sold fruits and vegetables to restaurants and grocers. The area was known as Commission Row, and the building became known as the Produce Exchange Building. Over the following few decades, it was home to produce companies such as M. D'Amore & Sons Company, D. Harkavy Company, and the Badger Produce Company. Other types of businesses followed in the 1950s, '60s, and '70s. It may have fought off flames in 1892, but the building experienced a five-alarm fire in 1979. The damage was so bad that the building was condemned by a city inspector. But instead of being leveled, it was renovated in a few years time, and became the home to various businesses.
The Wicked Hop opened in 2004, being named for a term in baseball, while also giving a nod to the hops in beer. They are probably best known for their Bloody Marys, which have been voted one of the best—if not the best—in the city on multiple occasions by various publications. Being that I've never heard anything about their fish fry, I was intrigued. And since it had been quite a while since I'd gotten a fish fry in the Third Ward, it seemed like the right time to go.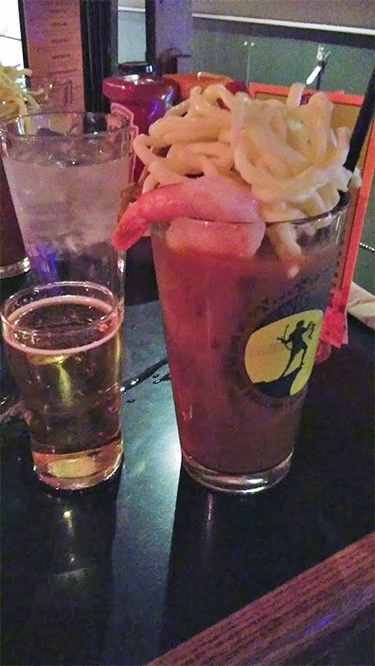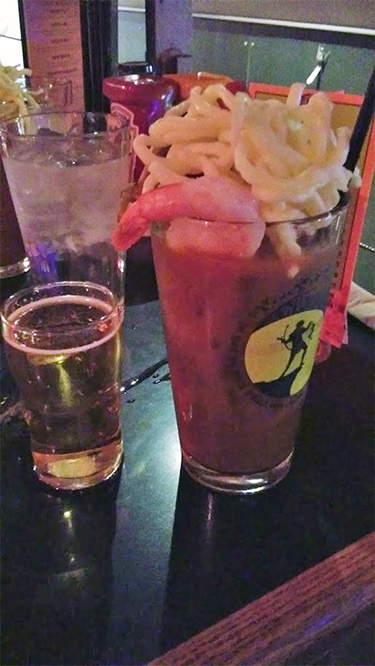 Shea and I arrived around 5:15 p.m. and were immediately seated in the upstairs dining area which overlooks the bar. We ordered drinks, and would you believe it, but I skipped my usual Old Fashioned for a Bloody Mary ($11). Don't worry, it came with a beer chaser, so Wisconsin never left my mind. The drink was loaded with a small pickle, an olive, a mushroom, a hot stick, whip string cheese, and a piece of shrimp. The only thing missing from it was a piece of fried fish. Note to The Wicked Hop: Add a piece of fried fish to your Bloody Mary.
Fish frys are served from 11 a.m. until 11 p.m., while supplies last. The Friday menu consists of breaded cod ($12), broiled cod ($13), pretzel-crusted lake perch ($15), pretzel-crusted bluegill ($15), cod sandwich ($10), lake perch sandwich ($11), bluegill sandwich ($11), and baja fish tacos ($14, lunch only). Each come with a choice of skinny fries, homemade potato pancakes, or, for those really living on the edge, cottage cheese. I ordered the breaded cod with pancakes. I also ordered a cup of clam chowder. I was then informed that they do not sell cups of clam chowder, they only sell bowls. I looked from my server to my heaping Bloody Mary. "Do I really need a bowl of chowder with this drink that is like a meal unto itself?" I pondered. Yes, I did.
The chowder came out lickety-split. It was thinner and on the soupier side, with smaller tidbits of ingredients, except for some larger squares of potatoes. I kept thinking it had a spiciness to it, but that was probably just the Bloody Mary messing with my taste buds. Overall, it was a rather standard chowder, not standing out but also not being disappointing. I saw my fish fry coming out of the kitchen and making its way towards the stairs, so I quickly finished up the chowder, and timed its end with the arrival of the fish.
The bread was a half piece of marbled rye. Thick and soft, it was some of the best rye bread I've had in months, and must have come from an artisan bakery instead of from a bag from a grocery store. The coleslaw was at the higher end of creaminess, and was pretty much all green cabbage, except for some carrot slices and a smidgen of red cabbage. It came in a cup bigger than your usual small cup, but it was still a cup.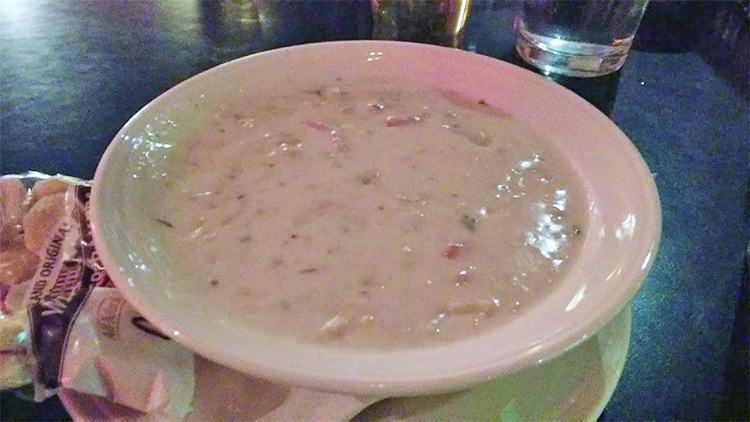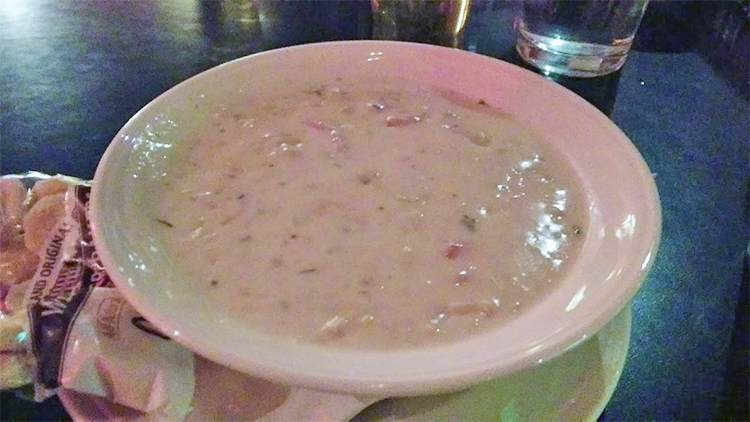 The potato pancakes were smaller in circumference, but thick. They were hearty, and replete with bits of green herbs, perhaps including parsley. The pieces of cod were not full-length fillets, but instead were large chunks of assorted sizes, consisting of adequate cuts of meat. They were covered with a delectable panko-like breading, which was mild in flavor but bursting in texture. The tartar was of a thinner consistency, with a sweeter, crunchy relish that was reminiscent of bread and butter pickles.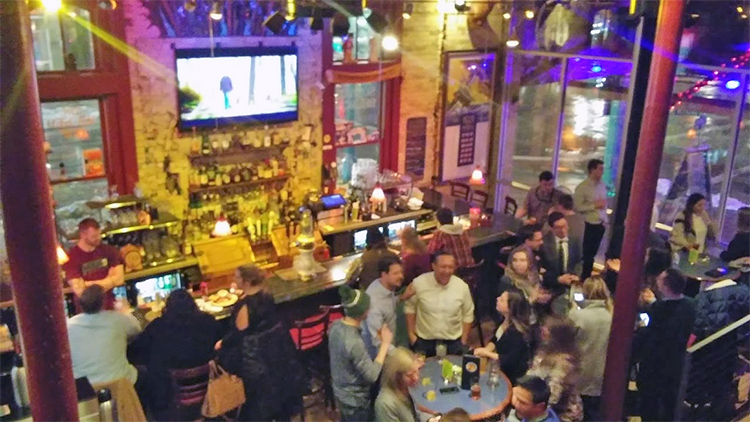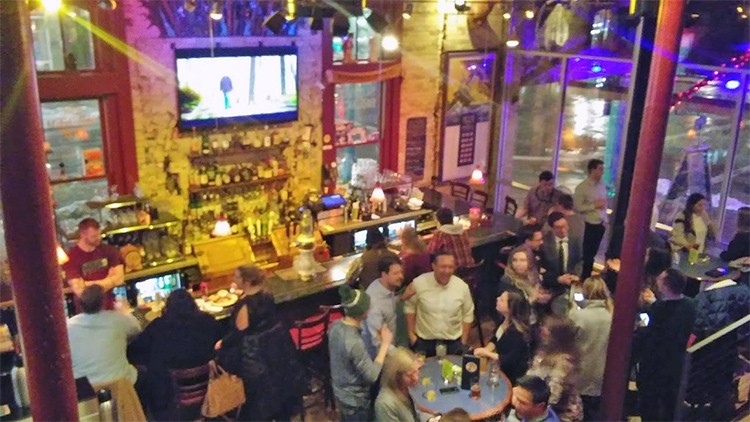 A fish fry isn't the first thing that comes to mind when I think of The Wicked Hop, but that doesn't mean that they don't know how to do one. The bread, fish, and potato pancakes all had their merits. It's not a fish fry that I'd say is a must, but if you find yourself in the Third Ward on a Friday night, you likely won't be disappointed by it. The neighborhood is often viewed as being a little on the pricier side, but at $12—just one dollar more than a Bloody Mary—the cod fish fry is accessible to anyone. That's something we should all get behind.
Takeaways: You can eat a fish fry next to some pictures of movie stars who probably also ate fish frys; the building survived the 1892 fire but almost didn't make it through a 1979 fire; if you are seated on the second floor you can easily look down and judge all the people not eating fish frys—I only saw one person eating fish down there; the bread was soft and thick; unique and appetizing breading on the cod; the perch and bluegill are pretzel crusted; you can't get chowder in a cup but you can get it in a bowl; there is a lot of stuff in the Bloody Marys, but a piece of fried fish should be added—at least on Fridays; we were in and out of the restaurant in about 45 minutes.