Caleb Westphal hasn't missed a Friday fish fry since 2013. Follow along with his never-ending adventures here.
On the evening of Tuesday May 2, 1967, a tanker truck carrying 6,5000 gallons of gas toppled over as it turned onto W. Florida Street from S. 1st Street. Its driver flew through the windshield, and somehow managed to run to safety as the tanker burst into flames. Gasoline that had spilled onto the street burned, and flames climbed the Jewett & Sherman Company building, a six-story food processing plant located on the northwest corner of the intersection.
Meanwhile, across the street to the east, Louis and Charline Terzan, owners and operators of Terzan's Tavern, 338 S. 1st St., scrambled to get out of their establishment. Flames were licking the road outside of their front door. Louis later recalled that Charline had exclaimed, "My God, oh, God, let's get out of here before we're burned to death." With the path beyond the front door obstructed, they went out the side door and began running down the street, away from the fire. Charline collapsed. She had suffered a heart attack. Within a half an hour she was dead.
It took more than 200 firefighters eight hours to squelch the fire, which caused $4 million dollars worth of damage, completely destroying the Jewett & Sherman Company building. As for the tavern, its windows were blown out and its side was scorched. Louis sued on account of his wife's death, and was awarded $65,000, with Texaco and the driver of the tanker being found negligent.
Louis and Charline, who were married in 1929, had run Terzan's since taking it over from Louis's parents, Frank and Stella, in the late 1930s. The elder Terzans had operated it since before Prohibition—going back to a time when 338 S. 1st St. was 198 Clinton Street. Louis continued to operate the tavern after his wife's death. After being sold in 1981, the building became home to End of the Line, and over the following decades it housed Smugglers, Marlin's, and Slim McGinn's. Since 2011, it has been home to O'Lydia's Bar and Grill (338 S. 1st St.; 414-271-7546).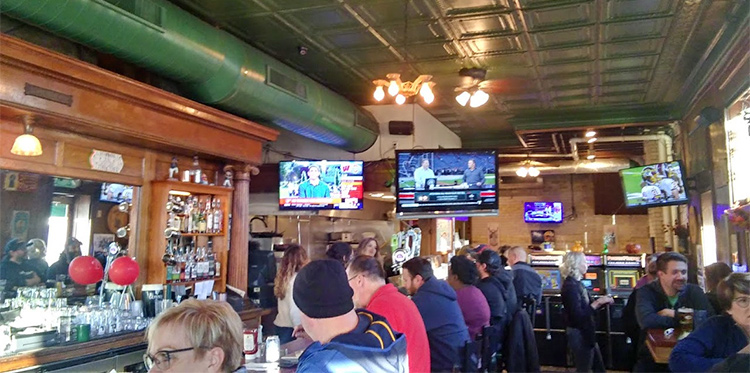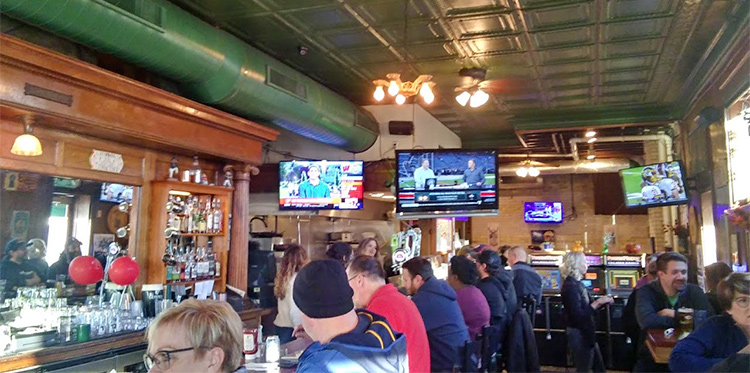 An aim to get a fish fry within Milwaukee's city limits is essentially how I settled on going to O'Lydia's this past Friday. I'm aware that most of the fish frys I've been eating in recent months have been outside of the city limits, and with the closing of Fritz's, I began to reflect on what places in Milwaukee either have the best fish frys, or can be considered to be reliable fish fry mainstays. Packing House, Klinger's East, and Lakefront Brewery all come to mind, although I don't have a definitive answer to my mind's wonderings on the topic—the search is never over, the work is never done. I thought perhaps O'Lydia's might fall into one of the aforementioned categories, but I hadn't gotten a fish fry there since April 25, 2014, my 17th consecutive fish fry, and couldn't remember what they all offered. It seemed I was due a return visit.
It was shortly after 4 p.m. when I arrived, and I was immediately seated in a booth in the main dining area. I ignored the drink specials—$3 rail drinks, $3 tap beer, and $2 Pabst Blue Ribbon cans—and ordered a Brandy Old Fashioned Sweet. When my drink arrived, I put in an order for the combo fry, which includes shrimp, bluegill, perch, and cod. I also ordered a cup of clam chowder. The other seafood options available at O'Lydia's are broiled or fried cod ($10 for 2 piece/$12 for 3 piece/$14 for 4 piece), broiled or fried perch ($13), panko crusted bluegill ($12), fried shrimp ($14), and cod sandwiches ($10 and served with a side).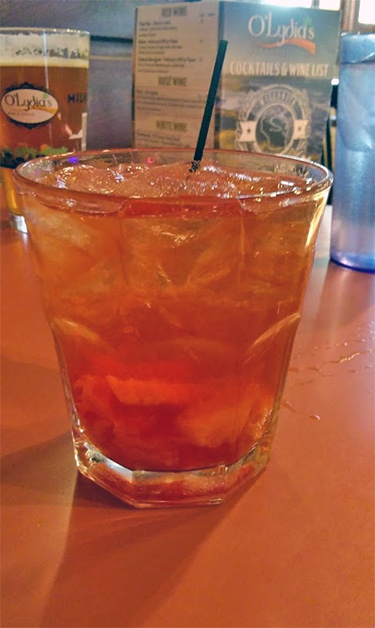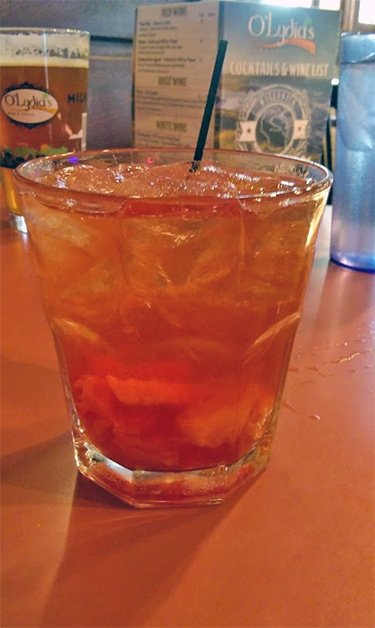 The non-garnished Old Fashioned was bitters forward, with chunks of orange and cherries at its bottom that looked like they had been muddled with a vengeance. There was a moderate amount of booze in the drink, but it seemed to lack something, perhaps just needing a little bit more fizz.
Everything came out rather quickly, which can probably be attributed to it having been relatively early in the evening. The salient characteristics of the clam chowder were the presence of bacon, as well as its orangish hue, on account of an abundance of carrots. Potatoes were also present, as were clams, of course. O'Lydia's serves many types of foods, but one can't help but think of Irish-American foods like corned beef being on the menu. The thick and hearty bacon-filled chowder felt like it had an Irish-inspired tinge to it. It was rich, but not too flavorful, and it was comforting, in a meat-and-potatoes kind of way. Before it was gone, the rest of the meal came out.
The plate had a huge mound of seafood on it. Although the menu said I was supposed to get three shrimp, two pieces of bluegill, one piece of perch, and one piece of cod, I received five shrimp, two bluegill, four perch, and two cod. Strangely, my fish-fry-friend for the evening, Dan Wolff of Dead Horses, who had also ordered the combo fry, received three shrimp, two bluegill, three perch, and one piece of cod. After looking at the differences between our two plates he mused, half tongue-in-cheek, "You know what…they know who you are."
The shrimp, cod, and perch were all covered with a light breading. The breading wasn't particularly flavorful, but had a texture of moderate quality. It seemed to best fit the shrimp, which were large and flavorful. The cod pieces were of average quality, not quite being the flaky, white fillets that I look for. The perch was a step up, but still didn't really pop. Its inherent flavor was middling, and the breading didn't do much to enhance it. The fish to set the highest bar was the bluegill. Its panko breading had a delectable texture and held perfectly on it. The fish itself had a balanced flavor that complemented the breading well. The tartar was made with very small pieces of sweet relish, and the flavor of dill was prominent.
Instead of the usual two potato pancakes, the meal came with one. Although some green seasonings were evident, the pancake was rather mild in flavor. Upon cutting it open, its texture was found to be stringy, not unlike a hash brown. Overall it was a solid effort, although I could have gone for a second one. The green cabbage of the coleslaw was enhanced with plenty of red cabbage and carrot. The meal also came with two, smaller half-pieces of extremely light rye bread, which I could hardly tell were rye.
We were in an out of O'Lydia's in about a half-hour's time, and the place seemed like it was just starting to fill up as we left. So what's the verdict? Could O'Lydia's be put on a list of the best fish frys within the city limits? Probably not, although it does have some redeeming qualities, namely, the wide variety of fish on its combo fry, generous portion sizes, and its panko crusted bluegill. Could O'Lydia's be put on a list of reliable fish fry mainstays in Milwaukee? With a warm atmosphere, multiple fish fry options, and a building that has weathered the sands of time and a gasoline tanker fire, answering this second question in the affirmative seems more plausible. Still, I don't think O'Lydia's quite reaches the mark, at least not yet. You could always go in and judge for yourself. A fish fry always does a body good.
Takeaways: heavily muddled Old Fashioned; hearty, meat-and-potatoes clam chowder; multiple fish options, and you can try all the types of fish at once if you order the combo fry; fast and friendly service; high marks for the bluegill and shrimp; I wanted more quality from the cod pieces; the lightest rye bread; two-cabbages-and-a-carrot slaw; if you go early you should get your food in no time; for some reason I was given more food than the menu said I was going to get.