Caleb Westphal hasn't missed a Friday fish fry since 2013. Follow along with his never-ending adventures here.
Mt. Horeb and Oshkosh are two Wisconsin cities I've driven through where I've had to traverse a fair amount of roundabouts. The ones in Mt. Horeb are so emblematic of the city, apparently, that The Onion wrote about them, and the ones in Oshkosh have confused the hell out of people there. Milwaukee isn't without its own roundabouts, either. There's that one next to Conejito's, that one in the Brewery District with a sculptural welcome sign, and that one tucked away in the Menomonee Valley that someone probably uses.
Whenever I come up to a roundabout, I make sure there aren't any pedestrians crossing or any vehicles coming from the left, and then I hold my breath, gun it, and hope someone doesn't come flying around the circle at me before I've made my escape. With a great deal of mental energy spent on focusing while at a roundabout, there isn't much room left in my mind to think about the important things in life, like fish frys. Lucky for me or anyone else coming from the east towards one particular roundabout in Muskego on a Friday, there is no need to go into panic mode and drive through it—there is a quick exit before it to a place with a fish fry: TJ's Roundabout (S102W19570 Kelsey Dr., Muskego, 262-679-7461).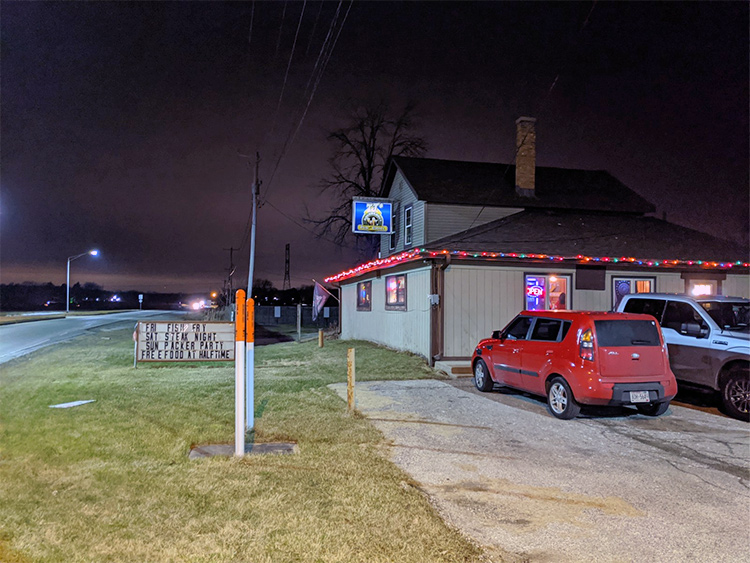 Located at the northeast side of the roundabout at Kelsey Drive and Racine Avenue, a few miles south of the heart of Muskego, TJ's Roundabout is an archetypal Wisconsin tavern and restaurant—it isn't a dive, but it isn't a fine-dining establishment, either. A front room holds a half-dozen or so high top tables, which diners can grab at will. A bar, which seats close to 20, is situated on the west wall, starting in the front room and extending to the back of the building. A lever-action gun and a television hang behind it, and gambling machines and a large spinning wheel are adjacent to it, dotting the edges of the back walls. A cozy dining room with seating for around 30 or 35 is located at the back of the east side of the building. From there diners have a view of the open kitchen, where on this particular evening three people could be seen diligently working.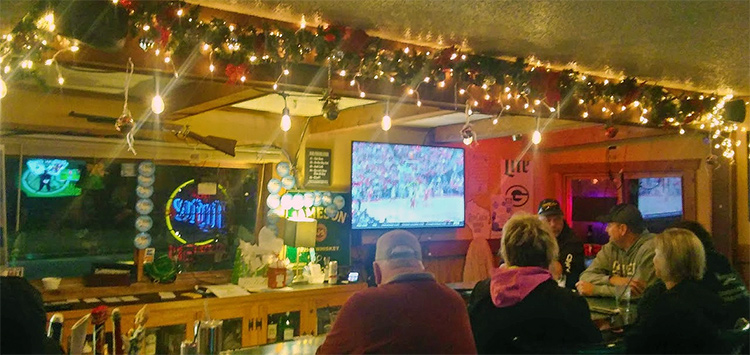 I put in my name for my group near the dining room, and was told it would be about a 15 to 20 minute wait. We headed to the bar area to grab some drinks. My Old Fashioned was non-muddled, generously poured with brandy, and topped with cherries. After about 20 minutes or so, we were told our table was ready.
The Friday menu consists of cod ($9.25 for two pieces/ $10.75 for three pieces/ $2 for additional pieces), lake perch ($13.95/ $4 for additional pieces), bluegill ($12.95/ $3 for additional pieces), walleye ($14.95 for two pieces/ $4 for additional pieces), a seafood platter ($16.95, consisting of cod, perch, walleye, and bluegill), smothered baked cod ($12.95, comes with sautéed mushrooms, onions, and pepper jack cheese), a fish sandwich ($9.25, two pieces of cod in a bun, comes with fries and slaw), and seafood bisque ($4 for cup, $5.50 for bowl). The fish dinners come with french fries, but for a dollar extra the fries can be swapped for a baked potato, potato pancakes (not homemade), sour cream and chive fries, onion rings, or tater tots. I ordered the seafood platter with fries and a cup of seafood bisque.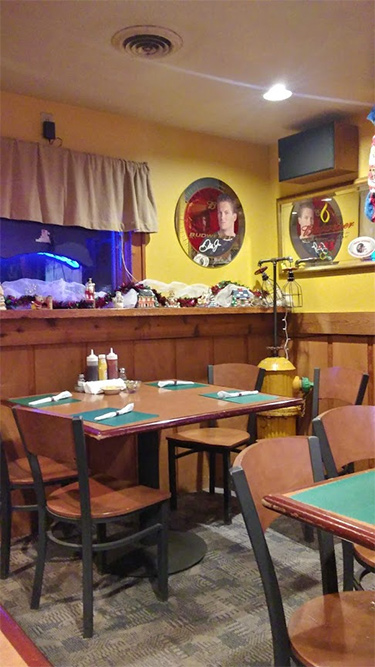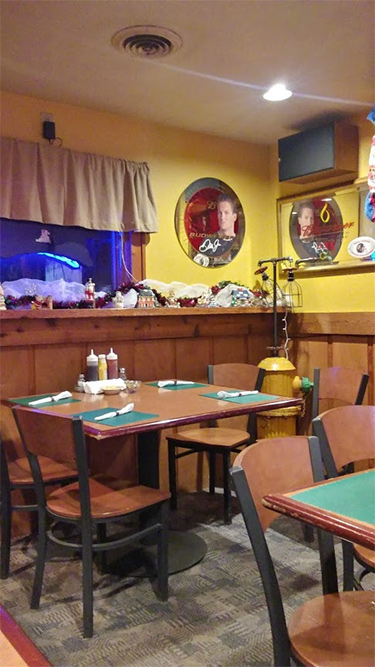 It wasn't long before a humongous cup—which in some circles might have been considered a bowl—of bisque arrived. Smooth and flavorful, it checked off every box except one: the added seafood consisted entirely of imitation crab. Now, 10-year-old me loved imitation crab cooked with butter or chilled in a pasta salad (okay, 33-year-old me still does), but I could have gone for some other varieties of seafood here, such as shrimp or lobster. Still, imitation or not, I thoroughly enjoyed the bisque.
The seafood platter came with a piece each of cod, perch, and walleye, and with two pieces of bluegill. All of the fish had the same coating: a thin, light breading that was textured a bit on account of what appeared to be cornmeal. It leaned towards the saltier side, but not too much so, and was rather neutral in flavor otherwise.
As for the fish itself, the bluegill was rich in flavor and smaller in size; the cod had an average flakiness, but wasn't particularly memorable either way; the satisfactory-sized walleye fillet seemed mild at first bite, but a robustness came through as I spent more time with it; and the perch was larger, meatier, and less flavorful than yellow perch I'm accustomed to. I didn't ask where it was sourced from, but it was labeled on the menu as "lake perch." Of all the fish, the bluegill was the most satisfying. A contrast of sweetness and tartness gave the tartar its life. It had no paucity of relish in it, but room was also made for dill, as well as for another spice, which appeared to be celery seed.
French fries, coleslaw, and rye bread rounded out the meal. The fries were skinny, looking like almost any fast-food fries you've ever had, although they weren't overly salted like those sometimes are, and there was an abundance of them. Besides a smidgen of carrot, the slaw consisted almost entirely of cabbage. Being that it also only had a light cream, the cabbage flavor came through strong, giving the slaw a pungency. The rye bread was a soft, half-slice of the marbled variety.
As we were finishing up, our server brought us some small boxes just in case we wanted to take any of our food home. This was a new concept to me, and I decided to try it out with some of the fries and the walleye (I ate both as soon as I got home). While leaving the restaurant, I looked for traffic and crossed to the center of the roundabout. Some roundabouts are confusing and some have sculptural welcome signs, but not too many are located next to places that serve a fish fry. I had to pause and take in the moment.
Takeaways: Various fish options including a seafood platter with four types of fish; lots of potato options, but no homemade potato pancakes; bisque with crab, but no chowder with clam; satisfying bluegill; large and meaty, but not very flavorful perch; pungent slaw; if you aren't sure how to navigate a roundabout, here is some information from the Wisconsin Department of Transportation on how to do so; if you aren't sure where to get a fish fry, here are some of the best places around Milwaukee to do so.