In three short months, Miller Park will be Miller Park no longer. It'll be American Family Field, which is fine, and it'll have a new logo, which is definitely a logo.
So how to pay tribute to the soon-to-be-former Miller Park? And how to do it during the Milwaukee Brewers' 50th anniversary? One Philadelphia artist has struck on a novel way: by rendering the ballpark in a "word art picture" that is "meticulously handwritten with the names of all 919 Brewers dating back to 1969." It's like a giant and unruly word jumble, except in the shape of Miller Park and with the words "Nyjer Morgan" hiding in some guy's head.
"The name will be changing soon, so I wanted to create a tribute piece so fans will remember this stadium as Miller Park for years to come," says self-described "word artist" Dan Duffy in a press release. "I wanted to keep the nostalgia alive with this artwork, while also showing off the iconic retractable roof. Just writing the names reminded me how many greats played in Milwaukee: Robin Yount, Paul Molitor, and of course, Christian Yelich."
The press release notes that "Duffy spent roughly 100 hours on all facets of this piece including research, sketching, writing, and
coloring," and we believe it.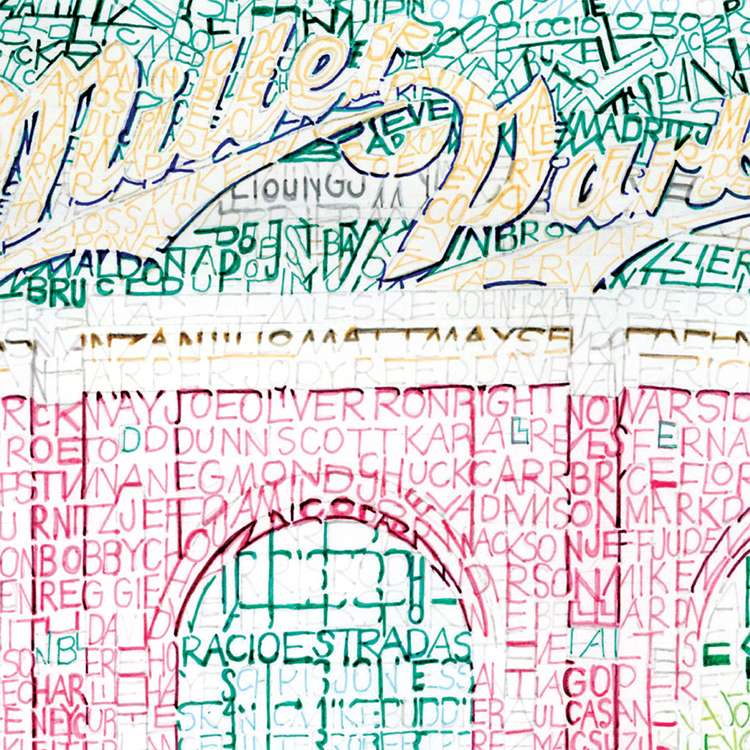 Unframed 16″ x 20″ prints are available for $49.99. Framed 22″ x 26″ prints are available for $224.99. (The original piece will put you back $5,000.) Oh, and a portion of proceeds will go to the Midwest Athletes Against Childhood Cancer—a.k.a. the MACC fund.
Honk when you find Moose Haas! (And click for a larger view.)