Caleb Westphal hasn't missed a Friday fish fry since 2013. Follow along with his never-ending adventures here.
You've probably seen its sign peeking over the west side of I-43 just north of Milwaukee. You've maybe even spotted an oversized beer stein atop a giant blue base—which apparently is the #2 best oversized Milwaukee beverage display—just a few feet from it. But have you ever tried to get to it, the Bavarian Bierhaus (700 W. Lexington Blvd. 414-236-7000), without using a GPS or first looking at directions? Unless you know that only one road leads to the place, and that you need to get on it on the east side of the highway and head west under the highway, you'll probably find yourself weaving through Lincoln Park, being taunted by the glowing sign poking through the trees, which you just can't seem to get to. You might even get flashbacks of a similar, but scarier situation, when you almost died while inadvertently driving into China Lights: Panda Mania. Eventually you'll find your way, and will come upon a massive parking lot, the sign and stein, and the Bavarian Bierhaus itself.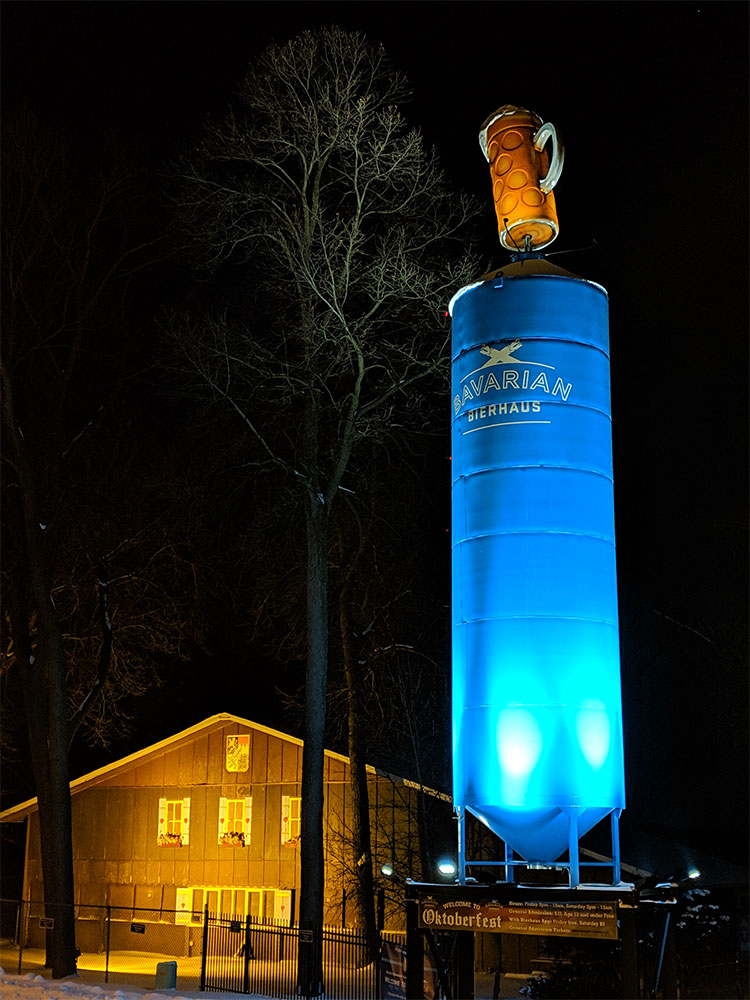 The Bavarian Bierhaus has been open since 2016, and has a brewery, a bierhall, and other indoor and outdoor areas where gemütlichkeit can flourish. From the building's completion in 1968 until 2011 it was the Bavarian Inn, the place that served as the clubhouse of the United German Societies of Milwaukee. Five groups made up the United German Societies of Milwaukee, including two dancing clubs, a singing club, a fraternal club, and the Bavarian Soccer Club. Prior to 1968, the United German Societies of Milwaukee were known as the United Bavarian Societies, and from 1944 until 1968 their clubhouse was on North Port Washington Road, directly east of the Bavarian Bierhaus, where a La Quinta Inn and Suites now stands. Today, the Bavarian Soccer Club is still on the Bavarian Bierhaus campus, as is Heidelberg Park, where a giant Oktoberfest is held each year.
Last week's fish fry may have been in a church, but with a high cathedral ceiling, the bierhall of the Bavarian Bierhaus sure looks the part of one. It also is reminiscent of Lakefront Brewery, although it wasn't quite as loud, likely because it wasn't as packed as Lakefront usually is on a Friday night, there wasn't a live polka band (although there was a stage for one), and there was some acoustic paneling. Long tables with backed benches fill the middle of the room, with smaller tables on the two sides. On one end sits the brewery and a bar. On the other end is a small stage and a giant television that looks like a parlor wall from Fahrenheit 451.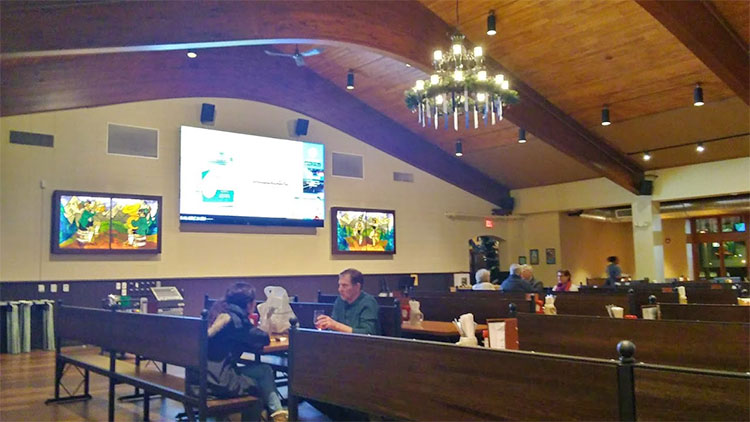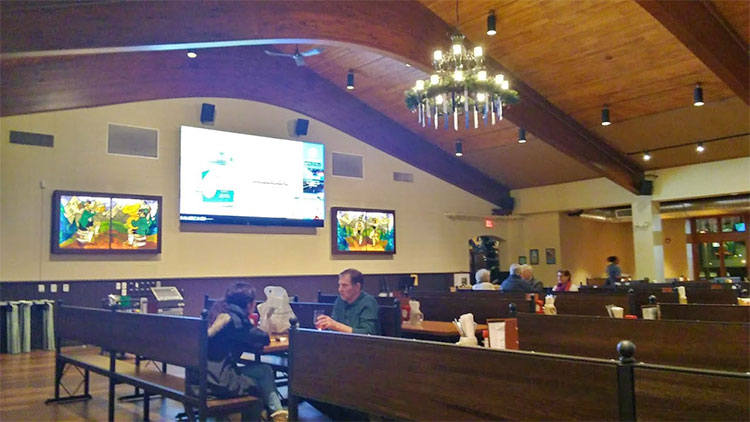 My friend and I were seated at one of the smaller tables, and started looking over the menus. I was in a real bind. Was I supposed to get my usual Old Fashioned, or was I supposed to go straight to the beer because I was in a bierhall and brewery? After twisting and turning for a few minutes, I ordered the Old Fashioned, knowing there would still be plenty of beer available after it. The Bavarian Bierhaus has just one fried fish option: three piece beer battered cod for $16. Before 3 p.m. it is only $13, and the cod can be ordered baked for $17. Potato options are french fries or a potato pancake. Clam Chowder is available in a bowl ($6) or cup ($4). I ordered the beer battered cod with the potato pancake, and a cup of chowder.
The Old Fashioned was made with a German brandy called Dujardin. It was very lightly muddled, and pretty standard, probably not being worth its $7 price tag. The fish came out very quickly, making it to the table before the chowder. I asked my server about the chowder, and they brought it out. It was very stew-like, with the usual suspects of clam, celery, and potato, and was a little on the bland side. Nonetheless, it was chowder, and I could have eaten multiple cups of it.
The fish fry was neatly presented on a plate. The beer batter on the fish was pretty typical, with not too much flavor to it. The fish itself was of high quality, being made up of hearty, flaky white morsels. The tartar had a little bit of a lemony zing to it, but wasn't too exciting overall. Two adequate half slices of light marbled rye were included, which were matched with two butter packets. The coleslaw was creamy, but not overly so, which allowed it to sit on the plate without being in its own container. It was primarily made up of white cabbage, and had a lighter flavor to it.
The highlight of the meal was the potato pancake, which sat underneath the fish and bread. It was really thin, but large in circumference. It didn't seem to have many spices, and I didn't detect any onion, but despite this it approached excellence. I attribute this in part to the care that was taken in cooking it. The browned edges and the softer middle area provided a contrast of flavors that complemented each other. To top it off, it came with commendable chunky applesauce.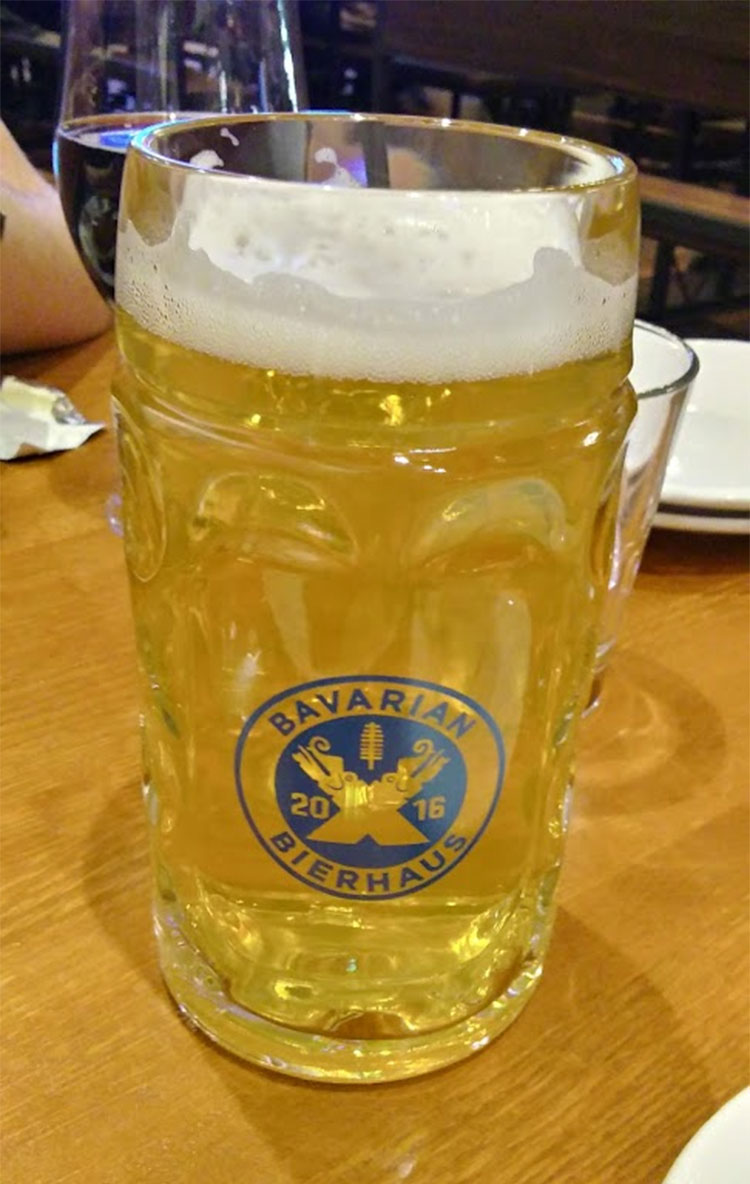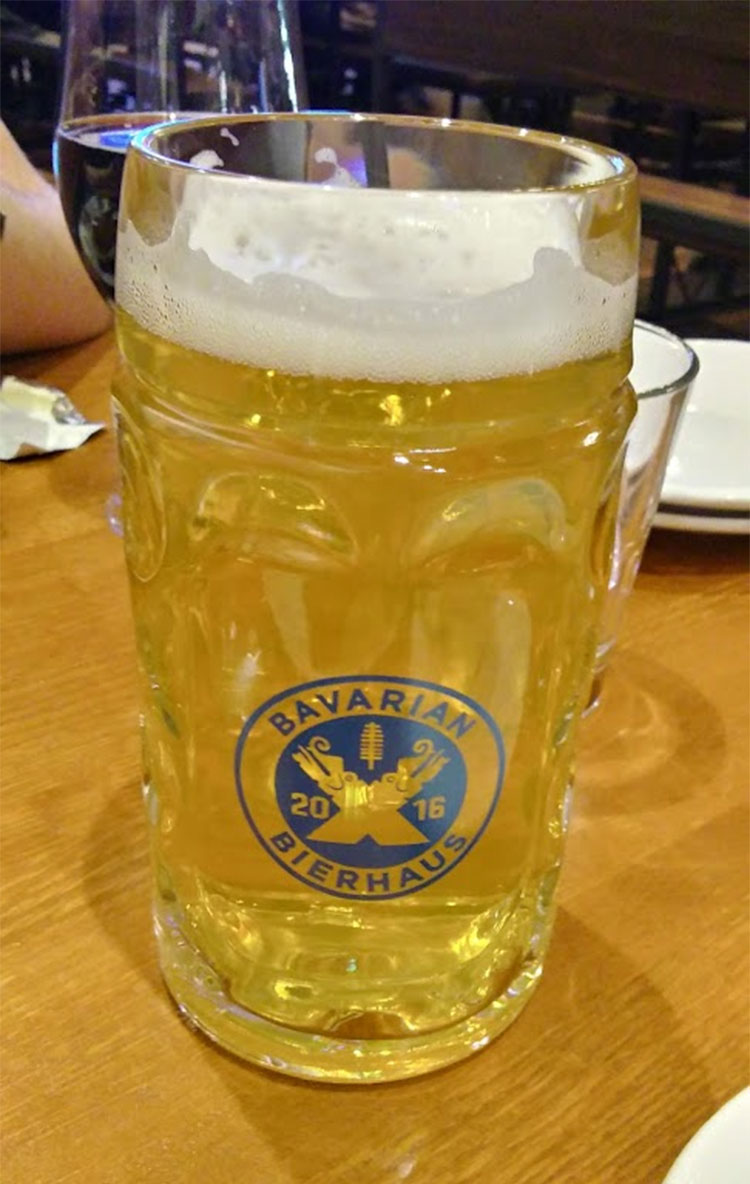 I took down a half liter of their Anvil Polka Pils with the fish fry, and fittingly, polka music could be faintly heard coming from overhead. My friend reminded me I wasn't driving, which convinced me to order a second half liter. With temperatures hovering around zero outside, I decided to switch to the Baltic Porter. It braced me, and I stepped out into the Wisconsin winter with a belly of beer and a fish fry twinkle in my eye.
Takeaways: The Bavarian Bierhaus is on the west side of Highway 43, but you can only get to it from the east side of Highway 43; beer stein in the sky; it's a brewery and they give tours on Fridays; food seemed a bit overpriced for what you get; fish was acceptable but no fireworks; pancake approached excellence; Betty Ford once attended the Oktoberfest here, and Ronald Reagan made a stop at it exactly eight years to the day later.