Caleb Westphal hasn't missed a Friday fish fry since 2013. Follow along with his never-ending adventures here.
As I neared the host's stand, I quickly scanned the room, looking for an open table or a spot at the bar. None could be seen, so it seemed necessary to put in my name. But when I spoke, I didn't say my name, but instead blurted out an alias, the first time I have done so. It's not that I have grandiose delusions and think that anyone gives a shit that I am eating fish every week, really. It's just that anonymity keeps my nerves at ease and allows me to actually enjoy my Friday fish fry, which is the birthright of every Wisconsinite. Anyway, putting a name in turned out to be pointless, because a spot opened up at the bar in about a minute, and I just decided to sit there instead of waiting for a table.
Located on the corner of 84th Street and Lisbon Avenue in the Nash Park neighborhood, within a mile radius of both Schneider's Food & Drinks and Gard's, Kam's Thistle & Shamrock (3430 N. 84th St., 414-871-3977) has been open since early 2015. It is in a building that houses some apartments and a few other businesses, including Kam's Corner Tap, which opened in 2010. The name comes from Jeff and Carey Young Kamermayer, who own the restaurant along with Jakub and Miriam Lepold (the Lepolds also own the whole building). From at least the late 1960s until about 1989 the space housed the Ole Lamp Inn, and in the following years it was home to the Loose Connection, the New Lamp Inn, Mixers, and Pete's Pizza. Kam's has been on my radar for a few years, and I always figured I'd get to it at some point. With only 1,941 Friday's left to work with, now seemed as good of a time as ever to check it out.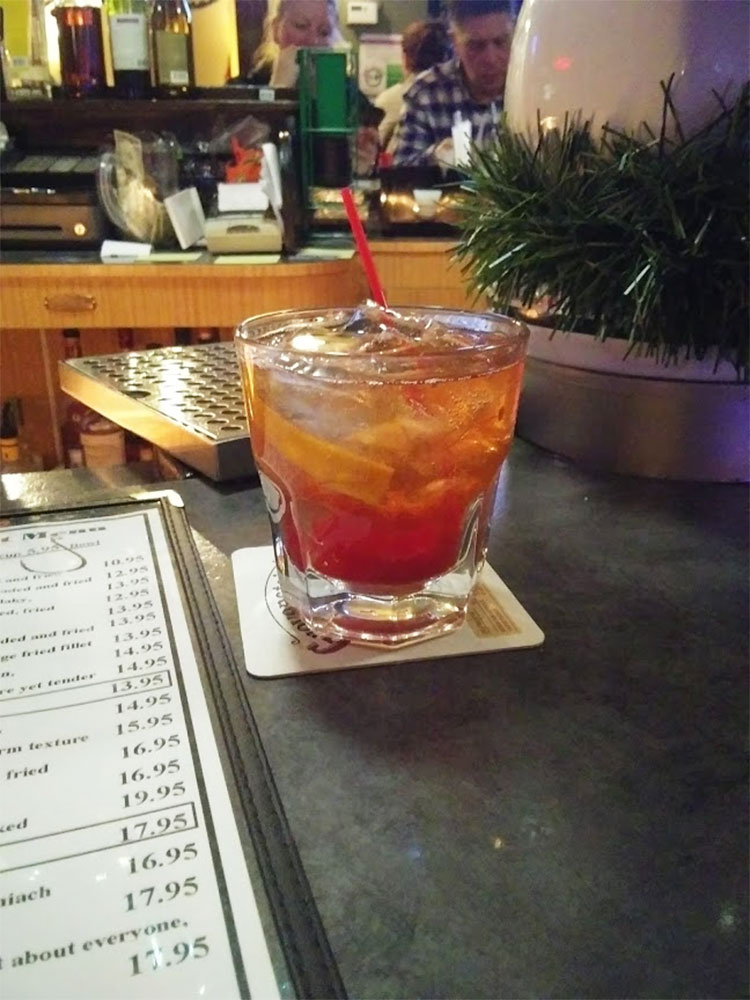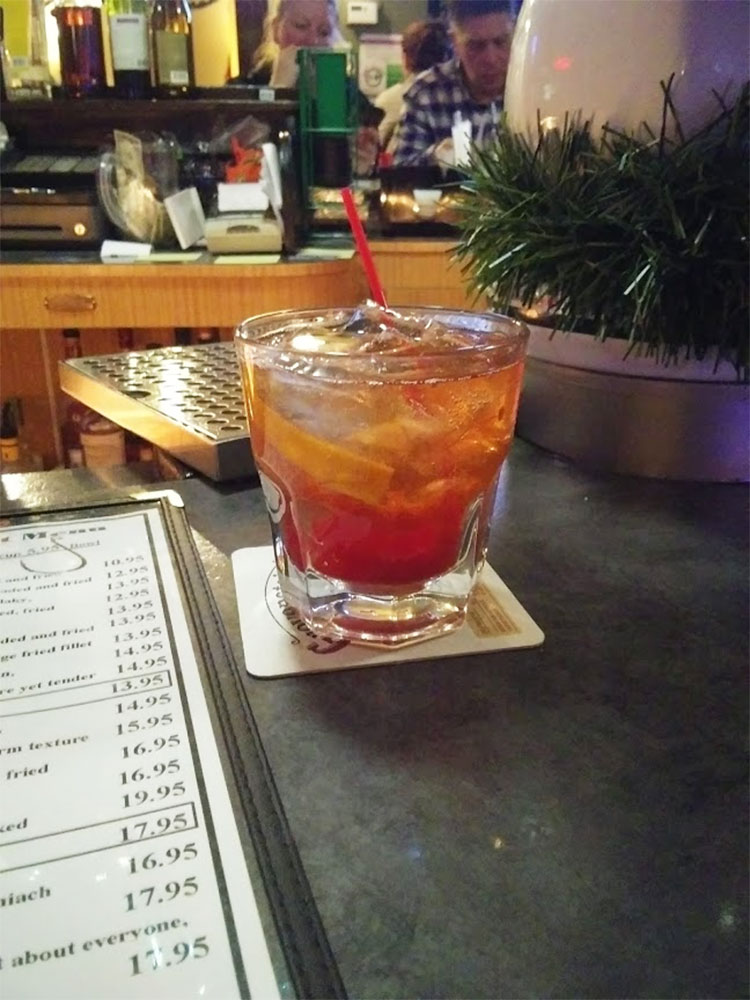 After ordering an Old Fashioned, I started digging into the menu. Kam's claims to have "Milwaukee's biggest variety of fish," and if by this they mean Friday fish options, they may be correct, although I can't say for sure. The first fish section of the Friday night menu listed pollock ($10.95), cod loin ($12.95), baked cod (13.95), haddock ($12.95), smelt ($13.95), catfish ($13.95), baked catfish (14.95), and northern pike ($14.95). A combo, where a half order of two of these fish options is included, was $13.95. The second fish section of the Friday night menu listed grouper ($14.95), baked grouper ($15.95), blue gill ($16.95), lake perch ($16.95), and baked or deep fried walleye ($19.95). A premium combo, where a half order of two of these fish options is included, was $17.95.
Wait, there's more! The third fish section of the menu listed salmon ($16.95), barramundi $17.95), and red snapper ($17.95). Shrimp ($13.95) was also on the Friday night menu, as was seafood chowder ($3.95 cup/$5.95 bowl). I thought that was it, and maybe it was, but when I compared the print menu to what they had online, the online menu also had rainbow trout ($16.95), flounder ($16.95), mahi mahi ($17.95), and arapaima ($19.95).
I asked if I could make a combo out of a fish from the first section and a fish from the second section and was told I could. (I thought perhaps the price would be $15.95—the midpoint of the price of the two combo prices—but I was charged the premium combo price.) I chose cod loins and perch, and requested potato pancakes and seafood chowder. The other potato options that were available were french fries, baked potato, "thistle chips," and loaded baked potato (add $2.50).
I was asked if I wanted the chowder out before the rest of the meal, and I said I did, but everything ended up being brought at the same time. The bartender offered to take the chowder off of my bill when she noticed this had happened, but I waved off the suggestion as it was really no big deal, and everything had been brought out pretty quickly anyway. Comprised of shrimp, scallops, and clams, with lots of carrots and seasoning, the chowder was outstanding. It was served with a warm garlic-flavored roll, which made it even better.
Five pieces of perch and two cod loins came with the fish fry. The perch had a thin, flaky breading, which had an elasticity to it, allowing it to be pulled away from the fish a bit while still staying intact. The flavor of the breading was pretty light, as was the flavor of the fillets. The cod loins were thick and of high quality; the breading was not very crispy, and was light in flavor like the perch breading was. A tartar sauce that really packed a punch could have livened up the mild-flavored fish, but there was wasn't anything too striking about it.
The potato pancakes were soft and a little moist, and almost melted in my mouth. There wasn't anything too out of the ordinary about their flavor, but overall they were a fine effort. The coleslaw had perhaps a little more black pepper and red cabbage than usual, but otherwise was pretty run of the mill. The marble rye bread was fine, but I couldn't stop thinking about how good the garlic roll was the whole time, and really just wished I had another one of those.
Kam's Thistle & Shamrock has a few things going for it. For one, they have many fish options, giving diners plenty to choose from. Second, for a place that serves fried food, they are very health conscious. They avoid using high fructose corn syrup, they make their food from scratch, and they use monounsaturated-rich "100% high-oleic canola oil," "real butter – no margarine," and "Sherpa Pink Himalayan Salt." There were even some microgreens scattered on top of my fish. The many fish options and freshness of the ingredients are probably two of the main reasons why the place was so packed when I was there. From the way it seemed, Kam's may very well be the hub of their neighborhood. But if you don't live in the neighborhood yourself, I doubt you'd regret making the drive.
Takeaways: around a million or so fish options; fresh food made from scratch; a place to get a fish fry if you want to pretend fish frys are healthy; excellent seafood chowder complemented with a top-notch roll; high-quality, mild flavored fish; there's a "combo" and a "premium combo" but no explanation on the menu on how to order a mid-grade combo, but you can do it; there's a bar in the same building as a bar; the menu says that when you order smelt you get "approximately 17-20" of them, and I can just imagine that one dude who gets 16 and complains.