Some places come and go, while some places become icons. Mandatory Milwaukee is all about the latter. Join us as we revisit beloved and well-worn local staples with fresh eyes, and explore how they might figure in the city's future. This week: Milwaukee Day!
Like all good things, Milwaukee Day began as a lark. Sometime around 2010, a group of friends realized that the city's area code—414—lined up nicely with April 14 (a.k.a. 4/14). It was an in-joke at first—the first few Milwaukee Days were little more than people tweeting goofy Milwaukee facts—but the homegrown holiday soon took on a life of its own. Businesses concocted Milwaukee Day deals. The mayor issued a Milwaukee Day proclamation. "Milwaukee Day" was a clue on Jeopardy! Even in the Pandemic Year of 2020, Milwaukee Day—or 414 Day if you prefer—was a perfect time to celebrate, give back, and revel in the city's shared experiences.
Milwaukee Day 2021 is no different. You can find handy lists of things going on—both in-person and virtually—HERE, HERE, and HERE. Below, you'll find a few of the things we'll be checking out. Happy Milwaukee Day, Milwaukee!
MUSIC!
Beginning at 5:30 p.m., the Virtually Live Milwaukee Day concert will give you a sweet, sweet taste of that thing we once called "live music." Broadcast "live" from The Cooperage, the show will feature performances from Hughes Family Band, Mo City, Dramatic Lovers (beaming in from X-Ray Arcade), NilexNile, Emmitt James, Jayk, HorseForce, and Milwaukee Day MVP Mark Waldoch. Tune in HERE for all the action.
HISTORY!
From April 14-17, Historic Milwaukee will offer $4.14 deals on a bevy of swell items. Those neighborhood posters that are usually $10 each? They're only $4.14. Magnets of our socialist mayors that are usually $5 each? Yep, $4.14. "We are always thrilled to share our love of Milwaukee on 414 Day," says HMI Executive Director Stacy Swadish. Check out everything HERE.
JOURNALISM!
Maybe we're biased, but Milwaukee journalism is great, and you should absolutely, 100% support it if you can. One of the best local sites out there, Urban Milwaukee, is currently offering yearly memberships for only $4.14 a month. (Like MAD Magazine said: Cheap!) Subscriptions to Dan Shafer's indispensable Recombobulation Area are currently 50% off. A full 12-issue year of Milwaukee Magazine is only $4.14. Digital subscriptions to the Milwaukee Journal Sentinel, meanwhile, are $1 a month for six months. A lousy buck!
BEER AND VACCINES!
Have you gotten your first, second, or only vaccine shot? If not, you totally should. If you have, stop by Nomad World Pub from 4:14 to 10 p.m., show your vax card, and get up to two free 14-ounce cups of 414® Beer from 414® Milwaukee. Official 414® Milwaukee merch will be available, too, done up in the style of the 414® Flag currently hanging over City Hall.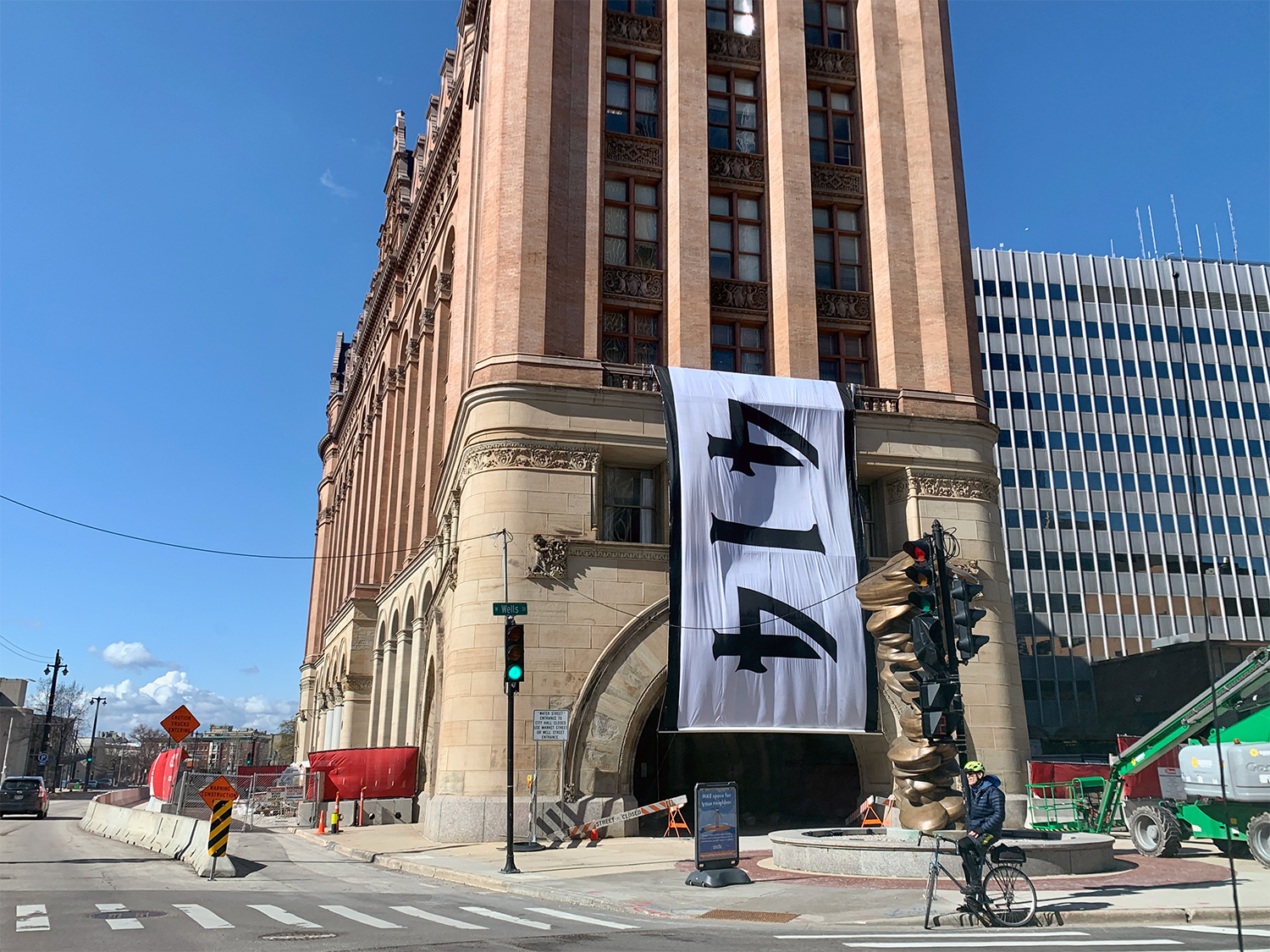 GHOSTS!
Gothic Milwaukee will host a free walking tour beginning at 7 p.m. in Cathedral Square. Details are as follows:
Rules: This is a ticketed, MASKED event. You will be required to wear a mask that covers your mouth and nose for the entire tour.

Get Your Tickets: Send an email to [email protected] with the subject line 414 Day Tickets to claim a pair of tickets.

We are keeping the group small and safe. Tickets are first come, first served until the tickets are gone.
COMMUNITY!
What do yoga, Milwaukee music, and helping out a local public charter school have in common? They're all part of Healium Hot Yoga's 414/MKE DAY Livestream Vinyasa Flow event. From the Facebook description:
Join Sarah at Healium Hot Yoga on 4/14, MKE Day for a Donation-based livestream of a one hour Vinyasa Flow yoga class! We will be jamming to a playlist of Milwaukee musicians (past and present) while moving our bodies for strength and flexibility. The Spotify playlist will be included in the Livestream email link. Students will receive the Livestream link about 20 minutes before class starts. Be sure to check your Spam folder!

Can't make it at 9:00 a.m.? We've got you covered! A recording of the class will be sent at Noon on 4/14 and will be available through 4/15 to everyone who registers.

Pay what you can! A portion of the proceeds will benefit Escuela Verde, a public charter school authorized by the Common Council of the City of Milwaukee, operated by TransCenter for Youth. The school grounds its learning practices on the EdVisions Project-Based Learning model. Escuela Verde is designed to support students interested in sustainability, student-led learning, and restorative justice.
Also: It's still Milwaukee Black Restaurant Week. Check out these places:
Also also: Milwaukee's first Black- and Brown-owned plant shop, Maranta, opens today. Check it out at 1739 N. Dr. Martin Luther King Jr. Drive:
Also also also: For the past 319 days, Peoples Revolution Milwaukee has organized marches and other events to protest police brutality in Milwaukee, Wisconsin, and the United States. Today will be Day 320. Find out what's happening HERE.