Some places come and go, while some places become icons. Mandatory Milwaukee is all about the latter. Join us as we revisit beloved and well-worn local staples with fresh eyes, and explore how they might figure in the city's future.
The plight of the independent bookstore in the 21st century needs little explanation. Threatened first by giant chain stores more interested in selling coffee and DVDs than books, and now under fire from online retailers and digital downloads, mom-and-pop book shops have never been more endangered. And yet, despite the oft-lauded "disruption"—and in some cases, because of it—independent bookstores have survived. Milwaukee's Downtown Books (full name: Downtown Books Bought & Sold) is one of those survivors.
That survivor status didn't come easy. Opened in 1991 by Keith Pajot (a former employee of the now-shuttered Renaissance Books), the used bookstore bounced around between several downtown locations before eventually kicking back and settling in at 327 E. Wisconsin Ave. There, Downtown Books established itself as a cluttered, rambling, and utterly charming cathedral to the printed word. And comic books. And magazines. And weird VHS tapes. And cats. A 2010 A.V. Club Milwaukee piece described it thusly:
Featuring nearly three stories of books, magazines, and free-roaming cats, the oft-overlooked gem is both a valuable resource and something of a daunting labyrinth—dozens of closet-sized rooms, dead ends, and roped-off areas all but guarantee a full afternoon of browsing for adventurous shoppers.
But progress, in the guise of a new Milwaukee Marriott Downtown, came knocking in 2011, and Downtown Books was forced to find a new home. (Walk by its former location today and you're greeted by upscale eatery Millioke and a Starbucks.) Following some moving drama that found the business briefly splitting into three locations, the flagship store eventually resettled at its current digs at 624 N. Broadway—just around the corner from its previous home. Though only about a fifth the size of that store, Downtown Books 2.0 somehow manages to cram many of its previous analogue charms into its new, relatively small package.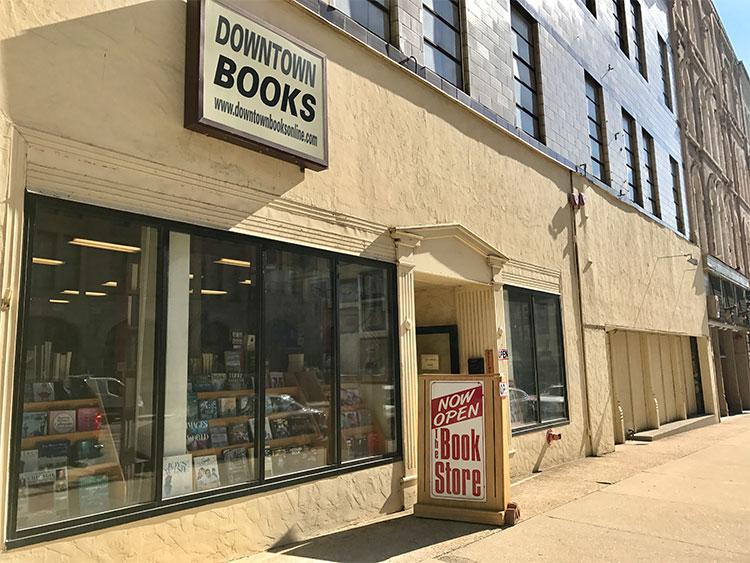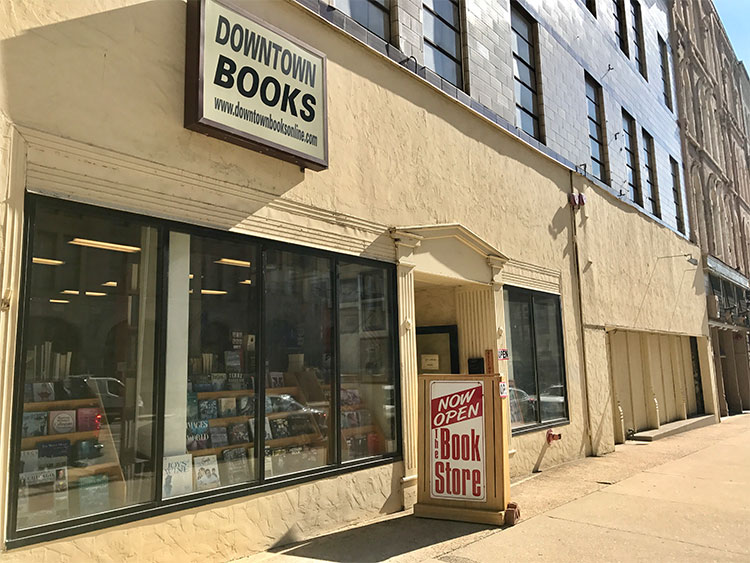 Really, the similarities between the Wisconsin Avenue Downtown Books and the Broadway Downtown Books are uncanny. The endless rows of towering, overstuffed shelves—stocked with everything from literary fiction, sci-fi, and romance to U.S. history, true crime, and psychology remain intact. As always, they're littered with crates of even more books (Star Trek novels seem to be popular crate-dwellers), ladders and step stools for nabbing top-shelf treasures, and enough strange turns and baffling dead ends to make one of those "escape rooms" everyone does these days blush. Thankfully, everything is neatly organized for easy browsing, though the sheer amount of stuff can keep you searching for hours.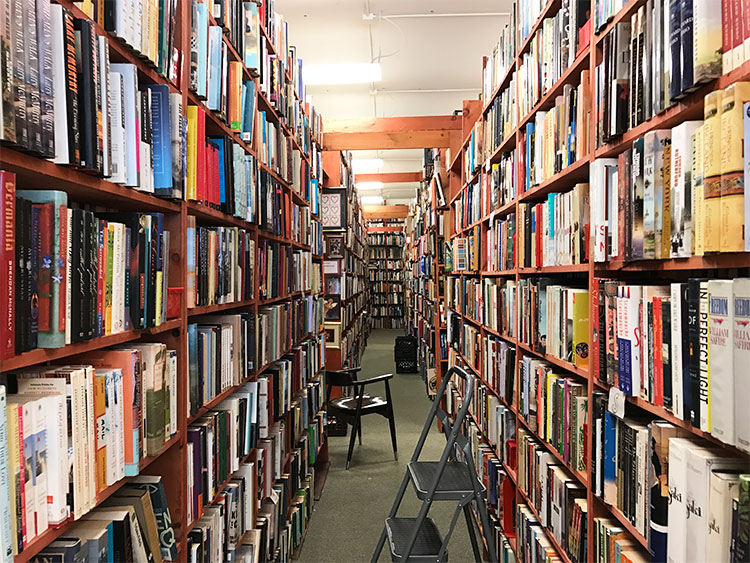 Shelves upon shelves of comic books, DVDs, CDs, VHS tapes, and 99-cent cassettes dominate the front of the store, offering frazzled lunch-hour shoppers a quick and easy way to pick up, say, a random MAD Magazine, a VHS box set of Lonesome Dove (plenty of westerns on the bookshelves, too), or a gently used cassette of the early works of polka master Frank Yankovic (no relation to Al).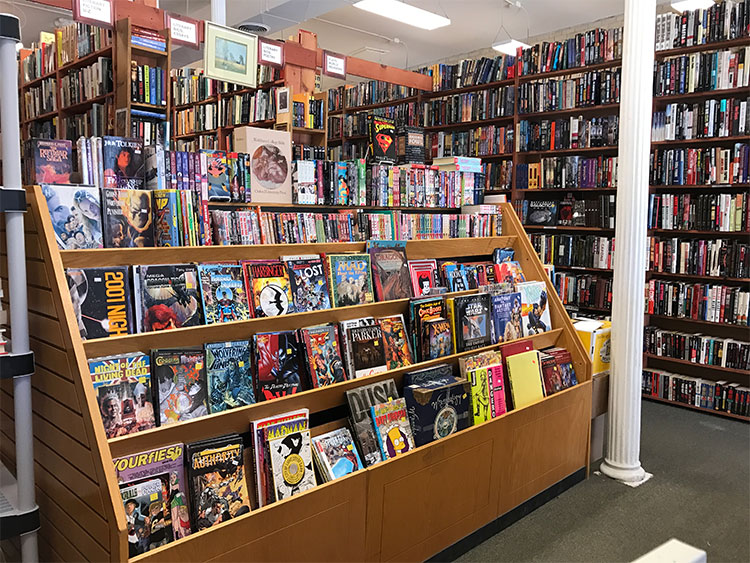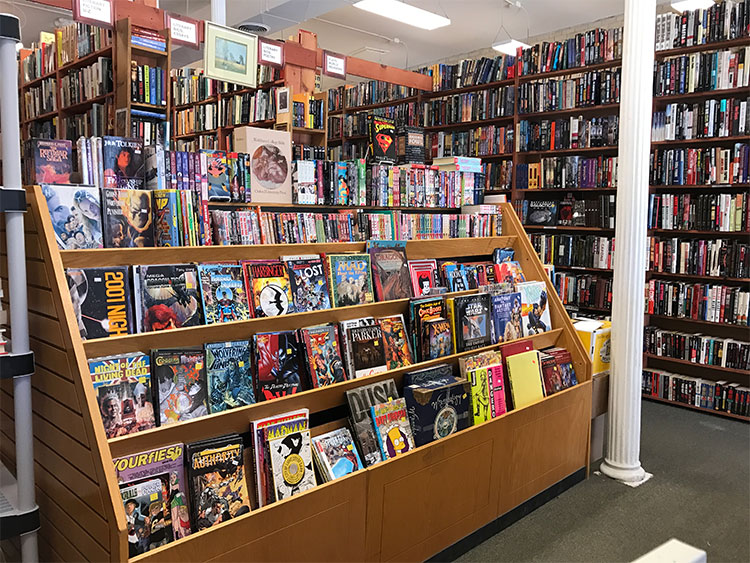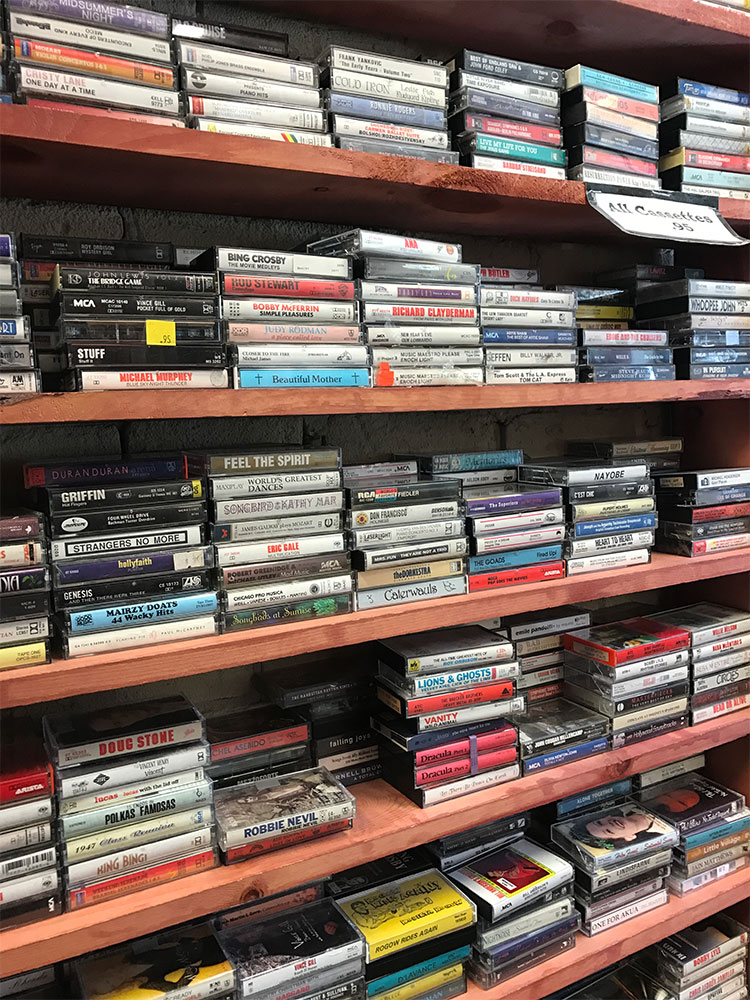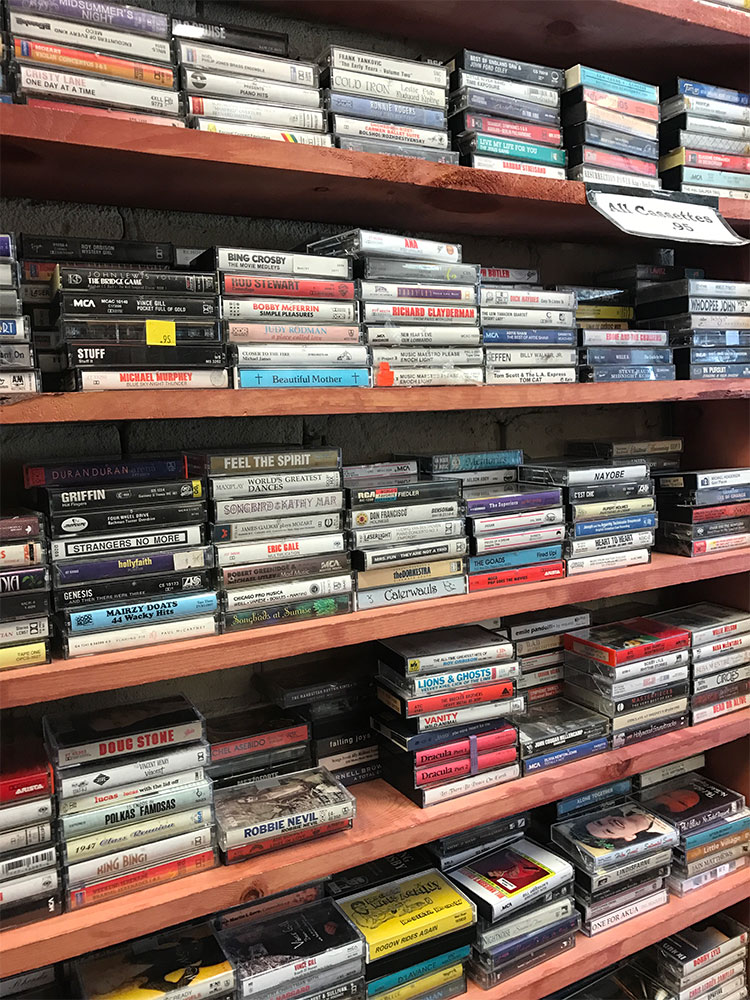 Though there's no longer a second floor (or that weird nook of even weirder stuff between floors), the odd little rooms from the Wisconsin Avenue Downtown Books have made the move, too. Snake your way to the back of the store and you'll find a small enclave of "esoteric" books dealing with such time-honored baloney as UFOs, ESP, and those sweet Time Life "Mysteries Of The Unknown" tomes. Across the way is another small room dedicated to music books; nearby is an employees-only bathroom complete with two kitty litter boxes.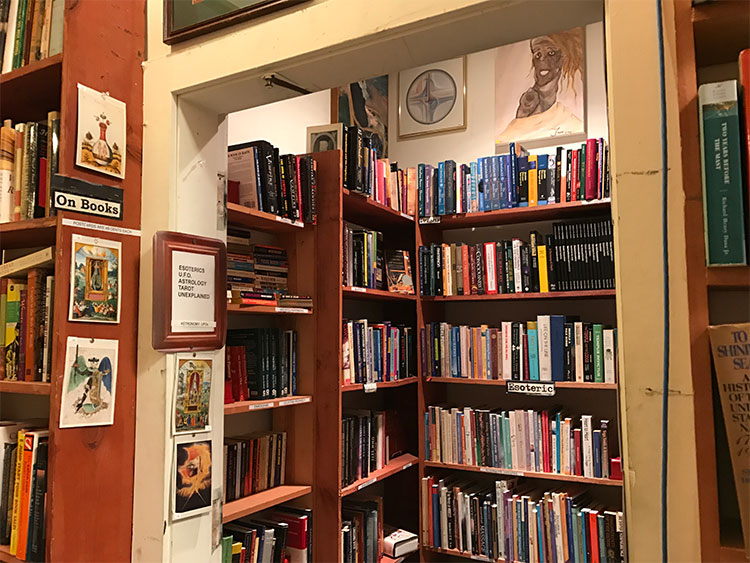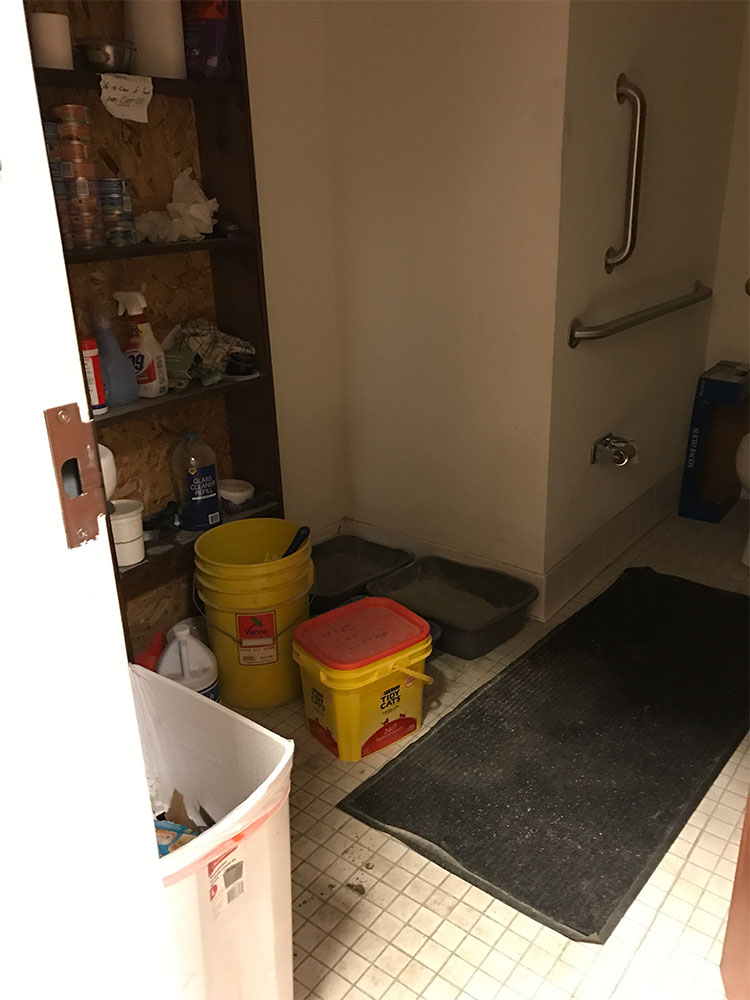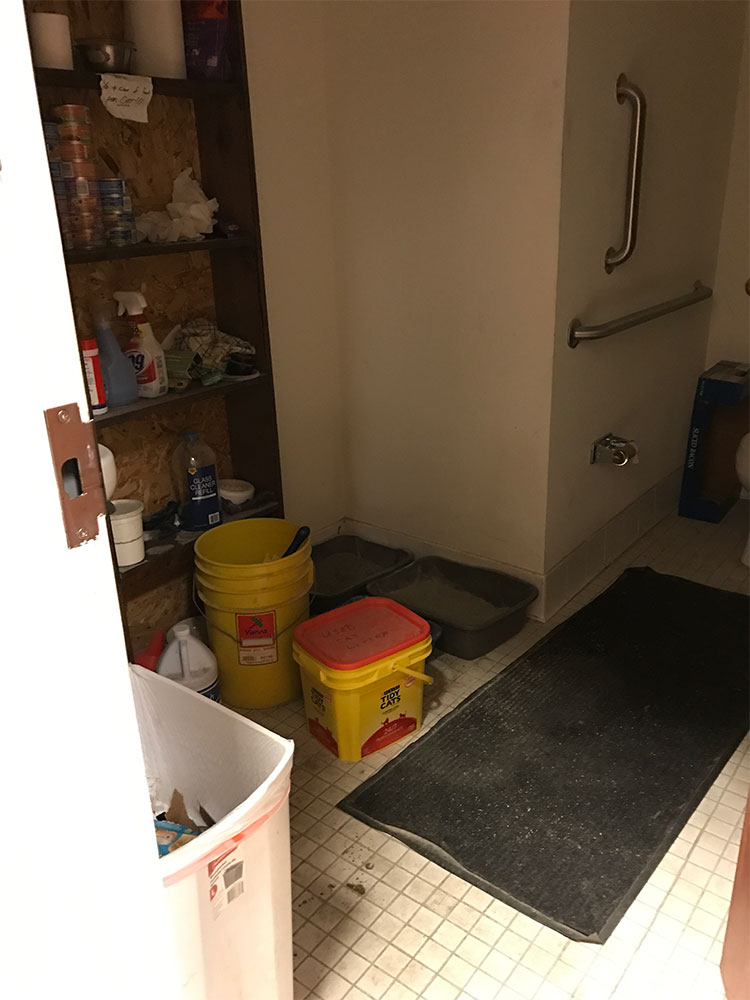 Oh yeah, the cats. Prowl Downtown Books' aisles long enough and you're sure to run into either Milo or Merlin, the store's resident felines. Like most cats, they don't really give a shit that you're there, but their presence is soothing nonetheless.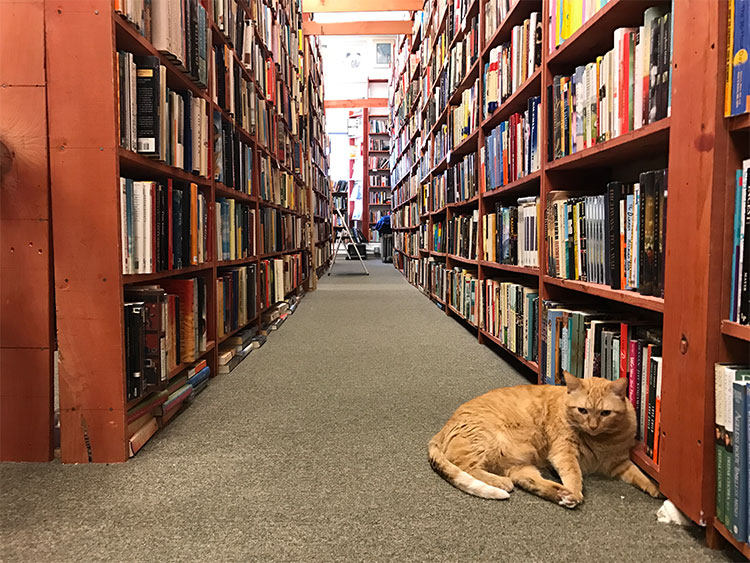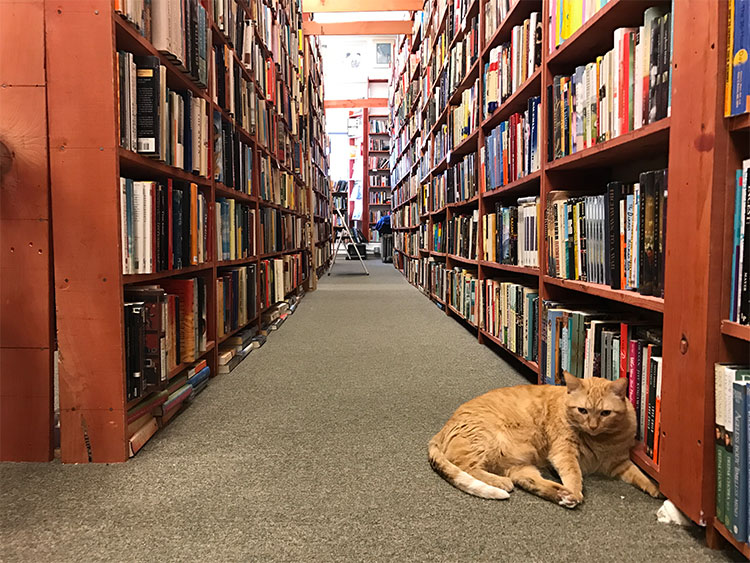 Downtown Books maintains an online presence these days, selling books on eBay and Amazon. It comes with the 21st century territory, and it's likely one of the reasons the business remains, well, in business. "That's probably the saving grace," Pajot told Urban Milwaukee in 2015. "It would be difficult for me to stay in business today, or especially at the level I'm at, [without] being online."
Still, beyond Downtown Books' ability to adapt, there's something even more heartening about the fact that its offline pleasures remain a part of the ever-changing downtown Milwaukee landscape. New businesses, new hotels, and new distractions may be popping up every day, but the smell of used books, the comfort of the physical, and the prospect of losing yourself in a piece of Milwaukee history are only a few doors away.