Depending on which news sources you follow, Milwaukee is going through either a "renaissance" or a "reinvention." Or maybe it's a "reboot" or a "reimagining," like that crappy Tim Burton version of Planet Of The Apes. However you want to define it, it's safe to say that Milwaukee is currently building a lot of new and wonderful things.
• The fog is getting thicker, and Saz's Hospitality Group at 838 S. 2nd Street is getting laaaaarger. Saz's plans to build a two-story, outdoor event venue in an adjacent, 14,280-square-foot lot. The venue would boast a first-level bar, a second-level deck, a fenced-in patio, and a 17-stall parking structure. According to a zoning application: "The property being developed is comprised of 2 empty surface lots that have been an eyesore in the community for a number of years. Saz's is putting significant investment into its beautification." [Urban Milwaukee]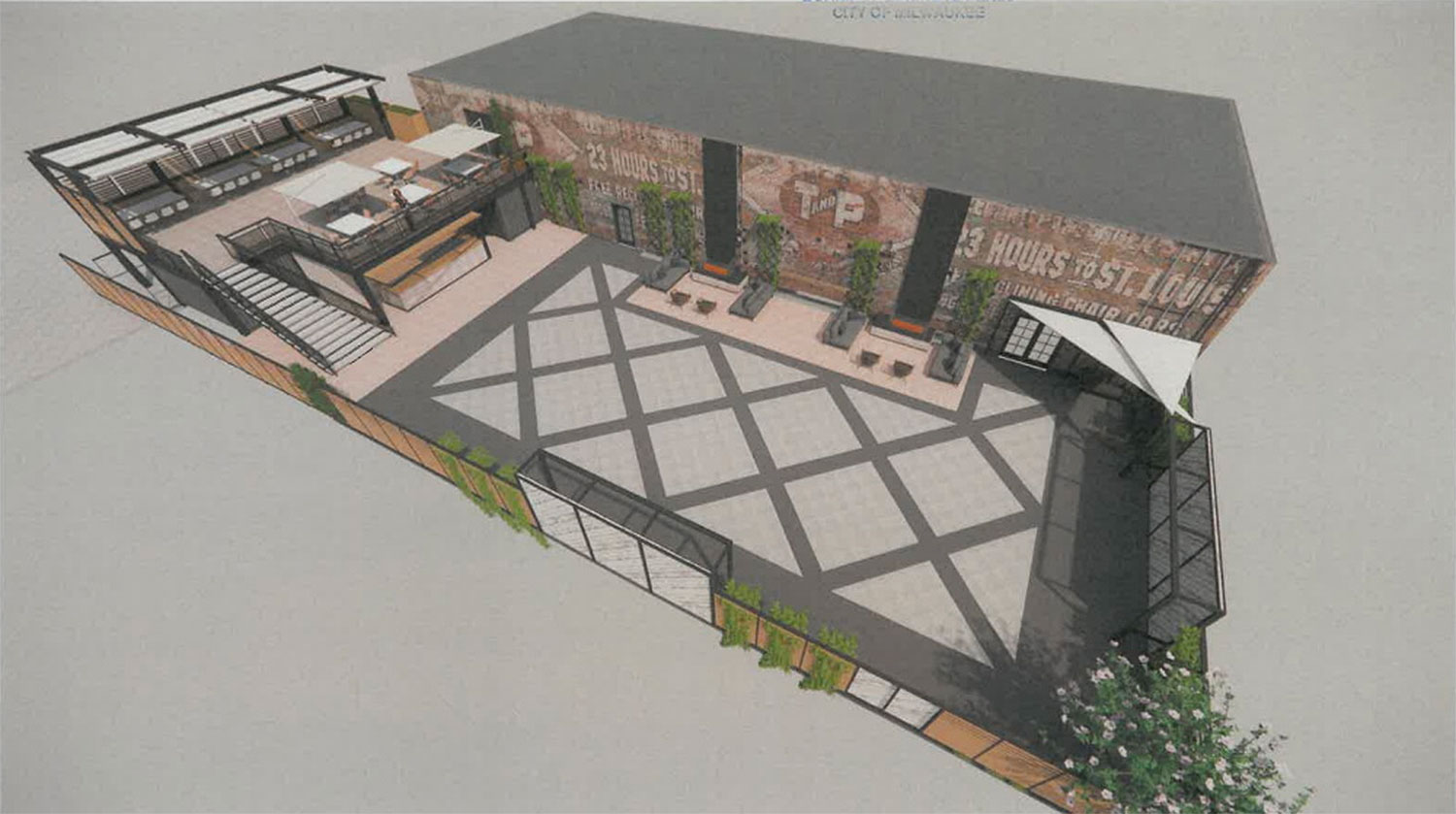 • THE SAGA OF NORTHRIDGE MALL CONTINUES. Yes, a judge recently upheld a previous order to demolish the long-abandoned (yet YouTube-friendly) mall, and yes, China-based owner U.S. Black Spruce Enterprises Inc. is once again appealing and blocking that order. [Milwaukee Journal Sentinel]
• Oh, and get this: THE MALL IS CURRENTLY LISTED AS "FOR SALE," AND IS BEING CALLED A "PRIME REDEVELOPMENT OPPORTUNITY." [Milwaukee Business Journal]
• Fiserv Inc. is moving its global headquarters to Downtown Milwaukee, leasing 144,000 square feet of space in the old Boston Store building on the corner of W. Wisconsin Avenue and N. Vel R. Phillips Avenue. In exchange for Fiserv bringing at least 780 employees to the space, the city will give Fiserv a cool $7 million. (The state will kick in some money, too.) An additional $4.6 million city subsidy will fund a host of nearby projects, "including the development of a plaza honoring a Wisconsin civil rights leader [Phillips], traffic calming improvements to W. Michigan St., and improvements to Zeidler Union Square." [Urban Milwaukee, and don't you forget it ]
"Exclusive" says another publication, publishing a similar story a day after Urban Milwaukee. https://t.co/r5L5nmFHTZ

— Jeramey Jannene (@compujeramey) November 5, 2022
• The developers who are planning to convert the 110-year-old Saints Peter & Paul Parish school building on the East Side into a "wed and breakfast" venue are looking for someone to operate the thing. [Milwaukee Business Journal]
• Rule Enterprises LLC is set to buy a two-acre city-owned lot at 200 E. Greenfield Ave. and build some mixed-income apartments there. [Milwaukee Business Journal]
• One-hundred-twenty affordable homes are coming to the city's King Park neighborhood. [Urban Milwaukee]
• Milwaukee's beloved Kooky Cooky House will be at Bayshore this year, November 18 – December 23. [OnMilwaukee]
• Ivanhoe Place, a.k.a. the East Side street between Hooligan's and Crossroads Collective, could become a public plaza. [Milwaukee Record]
• The Common Council recently gave an all-but-final approval for those FPC Live concert venues in the Deer District. [Milwaukee Record]
• Design plans have been unveiled for that big Harbor District Riverwalk project. [Press release]
• Fromm Nieman Brands is planning a big Foxtown Brewery development (which includes a dog park!) for a vacant Third Ward riverfront site. [Press release]
• And what did we learn this week? Well, they're always building something. Isn't that right, old song from my old band?
Exclusive articles, podcasts, and more. Support Milwaukee Record on Patreon.
---
RELATED ARTICLES
• Full "New And Wonderful Things" (formerly called "New Sh*t") archives