With talk still bubbling about partially closing Brady Street to vehicular traffic, another East Side street could soon become a traffic-less public plaza: Ivanhoe Place. Specifically, a half-block of East Ivanhoe Place between Farwell and Prospect avenues. You know, that little street that runs between Hooligan's and Crossroads Collective (and the Sip & Purr Cat Cafe). That one.
According to the Milwaukee Journal Sentinel, only the west half of the block would be converted into a public plaza; the east half would be changed from one-way traffic to two-way traffic in order to maintain access to the drive-thru of the bank (Educators Credit Union) and the parking garage of those new-ish apartments (the old Prospect Mall).
The public plaza is just one part of a $3.9 million plan to bring traffic calming and infrastructure improvements to the stretch of North Avenue between Humboldt Boulevard and Prospect Avenue. The cash would come from a newly created tax incremental financing district covering three upcoming North Avenue developments. Those developments are a four-story, 56-unit apartment building on the site of the long-closed RC's Beer Garden and Buddha Lounge; a 17-unit apartment building planned for a two-story industrial building at 1617-1633 E. North Ave.; and whatever will eventually occupy the site of the recently demolished Judge's Irish Pub.
The overall plan also includes similar traffic calming and infrastructure improvements for the area surrounding the recently announced Fiserv, Inc. headquarters in Downtown Milwaukee.
Mayor Cavalier Johnson announced the plan on Thursday. It will require approval from the Joint Review Board, the Redevelopment Authority of the City of Milwaukee, and the Milwaukee Common Council.
"My administration is utilizing the tools and resources at our disposal to combat reckless driving, improve public safety, boost economic development, and enhance accessibility and inclusivity for people walking, biking, and gathering in every corner of Milwaukee," Johnson said in a press release. "We know that investing in neighborhood commercial corridors and public plazas can create jobs, promote public safety, support small businesses, and grow the population—all major priorities of mine. These new tax incremental financing investments will work towards all of those goals."
"This is one more part of Mayor Johnson's continued efforts to utilize City of Milwaukee tools and resources to combat reckless driving, improve public safety, and enhance accessibility and inclusivity for people walking, biking, and gathering in Milwaukee," reads a press release related to the plan. "To date, $18.4 million in approved TIF investments have been deployed for public infrastructure projects that are addressing reckless driving and improving multimodal transportation throughout Milwaukee."
East Siders got a taste of what a closed Ivanhoe Place would look like at the 2022 Summer Soulstice Music Festival, when the street was the site of a stage and various vendors.
"North Avenue is a central commercial corridor that is critical to the East Side's commercial and residential vibrancy. It traverses through neighborhoods where many Milwaukeeans live, work, and play," said David Smulyan, Executive Director of the East Side BID # 20, in a press release. "We, as a BID, believe that the initial streetscape improvements on North Avenue can serve as a catalyst for additional improvements all along the avenue. We have seen in the United States and around the world that local businesses thrive in pedestrian and bike friendly areas. The business and commercial property owners and residents in the BID are eager to see infrastructure improvements that enhance traffic safety and create new public spaces. We strongly believe that these improvements will have a positive impact on our business district and the surrounding community."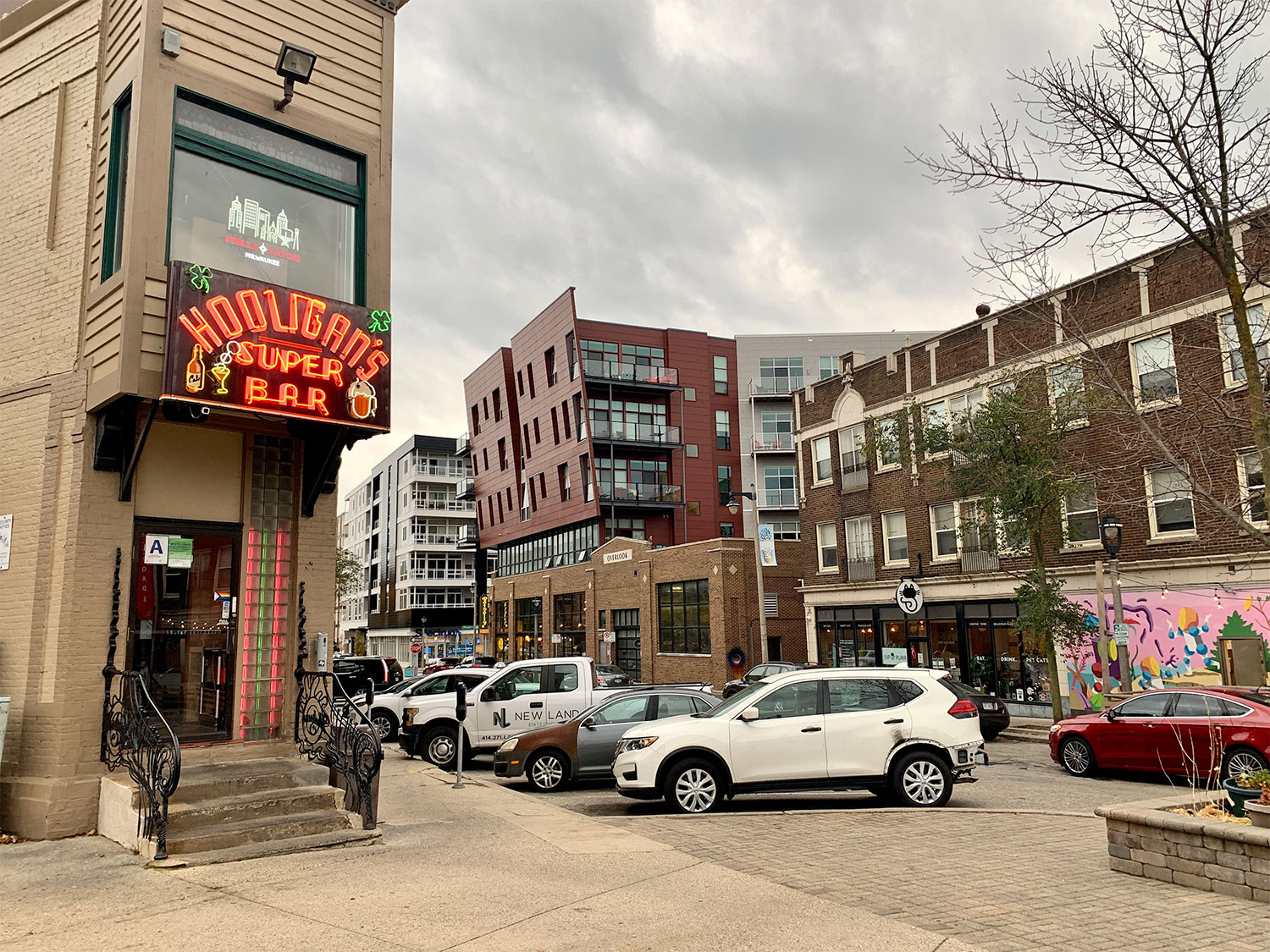 Exclusive articles, podcasts, and more. Support Milwaukee Record on Patreon.
---
RELATED ARTICLES
• Witness the last call of Judge's Irish Pub on the East Side
• Following recent tragedies, Brady Street BID will "look at options for pedestrianizing Brady Street"
• Relive a slice of the 2022 Summer Soulstice Music Festival with these photos