Caleb Westphal hasn't missed a Friday night fish fry since 2013. Follow along with his never-ending adventures here.
"There it is!" I exclaimed, as Milwaukee Elks Lodge #46 (5555 Good Hope Rd., 414-353-2900) came into view. But it wasn't really the lodge that caught my attention. I was instead mesmerized by a glowing elk statue. With minimal lighting outside of the lodge, and the few other nearby signs being lackluster, it was up to the giant zinc elk—which had "Fish Fry Friday" on the marquee underneath it—to guide the car into the parking lot.
Built and presented to the city in 1901, the same year the Elks Lodge held a Grand Lodge convention in Milwaukee for the first time, the elk statue has meandered around the city during its 117 years of existence. It was first set atop a fountain in Juneau Park, where it stood until 1927. It was then installed on a pedestal in front of the Elks Lodge's new home, the "Wonder Lodge," on East Wisconsin Avenue. This building was knocked down in the early 1970s (it was near where the Northwestern Mutual Tower and Commons now stands), and a new Elks Lodge was built on Good Hope Road. The elk statue followed, where it now shines like a lighthouse for weary travelers in search of a port with a fish fry.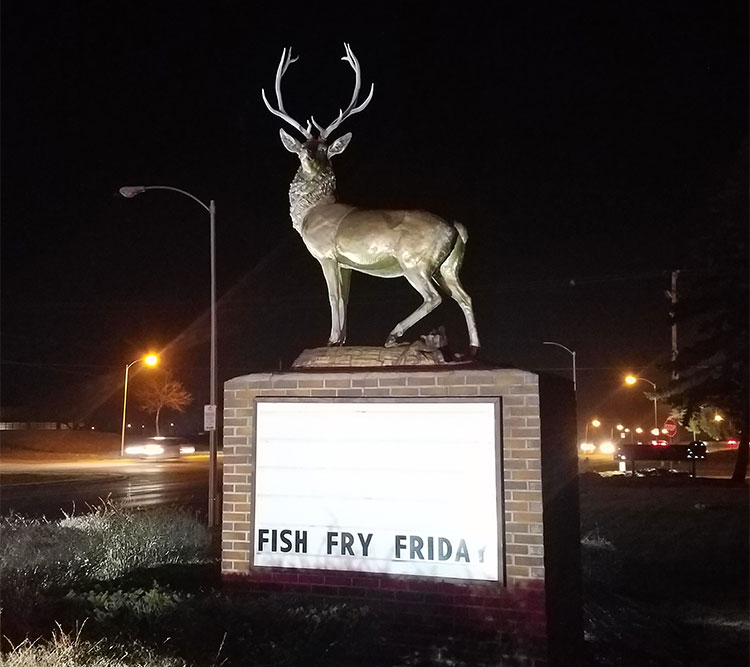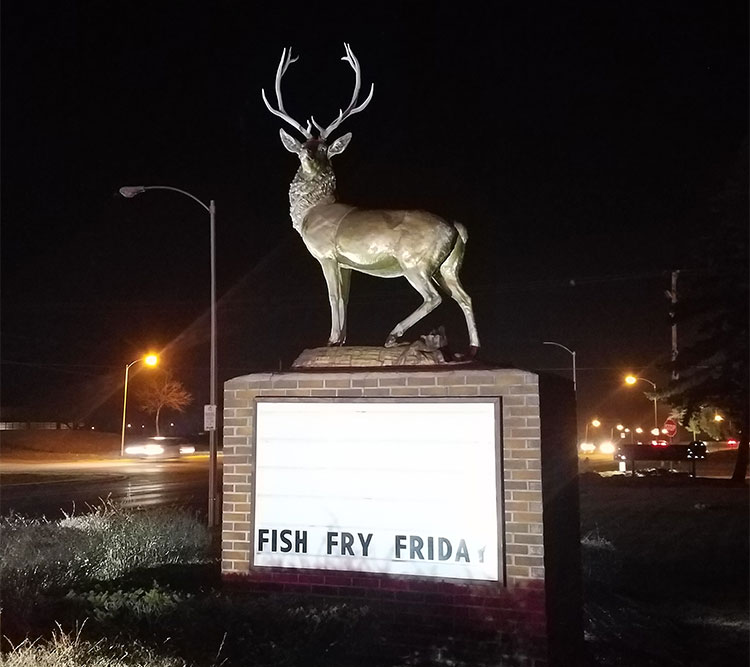 The Elks Lodge, formally known as the Benevolent and Protective Order of Elks, was formed in New York City in 1868. The Milwaukee chapter is the oldest in the state and was the 46th started in the country, being founded in May 1886. There are now close to 2,000 lodges. According to the group's website, "The Order spends more than $80,000,000 every year for benevolent, educational and patriotic community-minded programs in such fields as benefitting special needs children, sponsoring Elks National Foundation scholarships, scouting, athletic teams, veterans' works, a national 'Hoop Shoot' free-throw contest involving more than 3 million children, physical and occupational therapy programs and patriotic programs." Not mentioned is that their lodges often serve fish fries.
The history of the Elks Lodge isn't without low points, however. It wasn't until the mid-1970s that a "whites only" clause was removed from their constitution (although the Milwaukee chapter voted to remove it before the national organization did). It turns out they also currently have a religious litmus test of sorts, so unbelievers need not apply. I was ignorant of the specifics of these issues before I showed up for fish, but I think they are worth mentioning.
The Elks Lodge's dimly lit parking lot is mirrored by a similarly dim online presence when it comes to fish frys, so I really didn't know what to expect when I got there. There are no weekly posts about fish frys on their Facebook page, and no mention of fish frys on their associated catering page. But I did find the phrase "All you can eat Fish Fry" on one webpage, and that was enough for me to take a chance.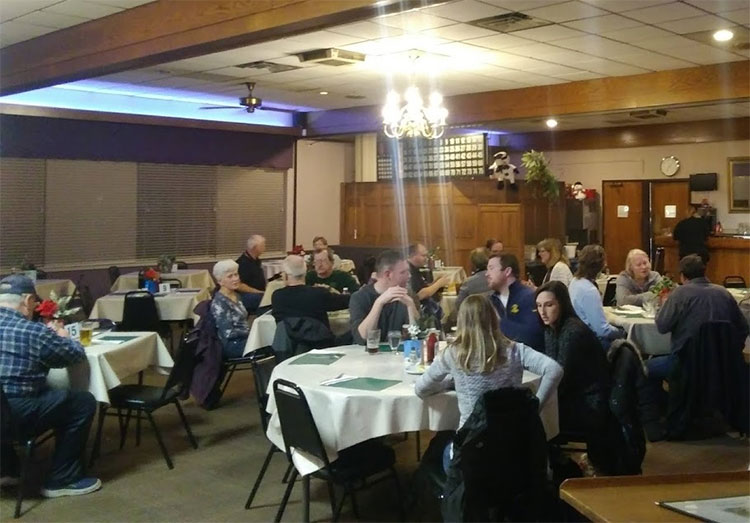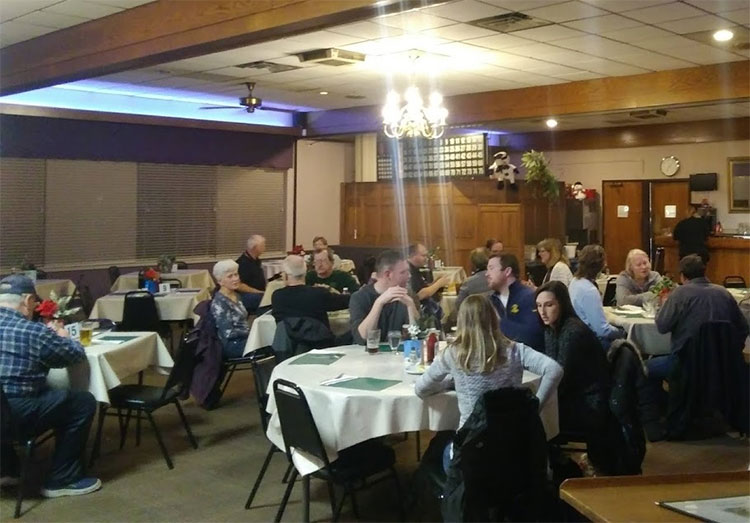 My expectations grew after sitting down in the large dining hall and looking over the menu. Fish options include Alaskan pollack ($9.95 all-you-can-eat), beer battered cod ($10.95), poor man's lobster ($10.95), and lake perch ($12.75). Senior and child fish frys are also available, and homemade clam chowder is only $3 for a bowl and $2 for a cup. Naturally, I went with the AYCE, a cup of chowder, and an Old Fashioned. Potato pancakes are available for an extra dollar, but as they aren't homemade, I went with fries.
The chowder had a thinner consistency and a great flavor, which probably could have been made even better with a little more clam, as it was a little on the lighter side. Shreds of carrot and a small amount of potatoes could also be found, as could a lot of corn, which really made the whole thing pop. Although I've had better chowder, I am hard-pressed to remember a time I've had chowder this good for $2 a cup.
The fish had a high quality beer batter; it was a little sweet and almost melted in my mouth. The fish morsels were of a satisfactory quality, and any imperfections they may have had seemed to be covered up by the superb batter. The first plate had six or so smaller pieces of fish on it, and I was brought about a half order when I asked for more. There was nothing remarkable about the tartar—it was a little on the lighter side and got the job done. The thicker straight cut fries were mildly above average in taste and texture, the marble rye was a little on the dry side, and the coleslaw was creamy and typical, but also noticeably at room temperature.
Overall, the fish fry at the Milwaukee Elks Lodge was enjoyable, which can mainly be attributed to the fish. High quality all-you-can-eat fish for under $10 should always be noted. With a few small tweaks to the bread and coleslaw, the addition of homemade pancakes, and a slight improvement in service (it seemed to take forever to get a beer, to get more fish, and to get the bill), this fish fry could end up in the recommended column.
Takeaways: There is a giant 117 year old elk statue outside of the place and it has its own Wikipedia page; great prices; high quality fish; solid homemade chowder; okay fries, slaw, and bread; they had ice cream sundaes for $3.50 but I did not have one; playing bingo seems to be a big deal here.