After a long, cold, and baseball-less six months, America's pastime is officially back in Wisconsin as the Milwaukee Brewers play their home opener at Miller Park today. This lovely day has become nothing short of an unofficial Milwaukee holiday, as the first contest of a 162-game marathon signals a return of tailgating, hearing Bob Uecker's voice on a nightly basis, and settling for MGD when the beer guy runs out of High Life in the 7th inning. Though the excitement for the 2015 Brewers season is definitely still there, most rational fans also realize the team had an especially quiet offseason and essentially held its place in the middle of the NL Central pecking order, as most other division rivals added valuable pieces in free agency and via trade.
Instead of rehashing statistics and projections from popular sports pundits and reputable baseball resources (most of which predict the Brew Crew will finish third or forth in the Central and miss the playoffs), we asked Milwaukee native, former O.J. Simpson house guest, and one of the most famous Brewers fans out there, Kato Kaelin, to help us preview the 2015 Milwaukee Brewers season.
Of course, he didn't respond to our request. So we decided to do the next best thing—sift through the various Brewers takes on the actor/answer-on-Trivial-Pursuit-'90s-edition/knee-jerk fan's Twitter account and guess how he must feel about this year's team.
He loves the Adam Lind trade
Nobody hated Marco Estrada more in 2014 than Kaelin. Thus, despite seeing no positive mention of Lind when Estrada was dealt to Toronto (by General Manager Doug Melvin, not Ron Roenicke) in exchange for the middling first baseman, Kato has to love that his biggest scapegoat of last season is out of the country and in the American League.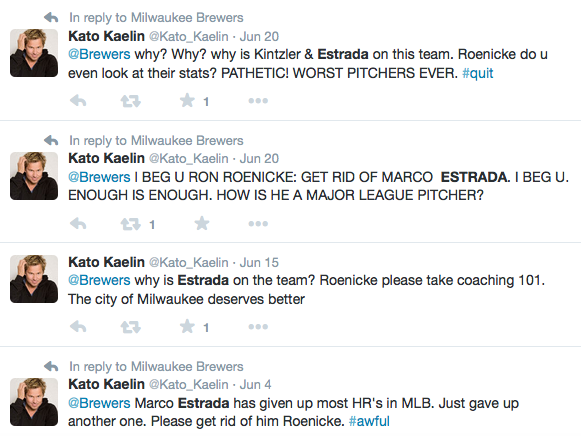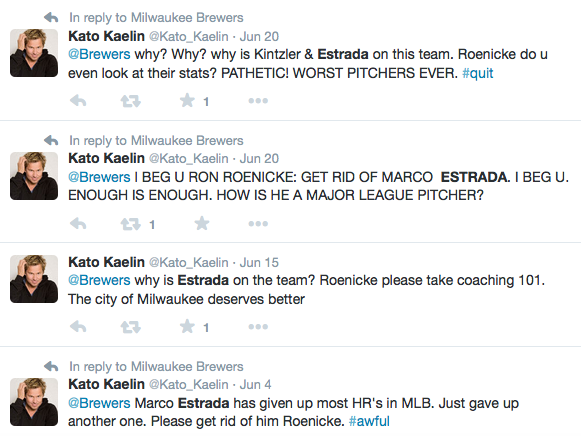 He's in favor of the Yovani Gallardo trade
After eight seasons and a lifetime 3.69 ERA in a Brewers uniform, Milwaukee traded its longtime ace to the Texas Rangers in January to avoid paying his $14M salary and make a belated investment in the team's future in the process. Kaelin was too busy calling eventual MVP Aaron Rodgers a "FOOL" on Twitter following the crushing Packers NFC Championship loss to comment on the Gallardo trade the night it happened, but he didn't mince characters about Yo during last season's Brewers collapse. Like Estrada, he must be happy Gallardo is gone for good.



Roenicke should've tried to trade for Clayton Kershaw…or somebody who could "be a Kershaw on our team"
Kaelin is absolutely right to be disappointed in the Brewers' lack of a three-time Cy Young winner and reigning National League MVP who is coming off the single best season a pitcher has seen in baseball's modern era. You idiot, Roenicke!



He's, uh…skeptical about re-signing K-Rod
With no true closer in its midst, the Brewers front office (again, Melvin and not Roenicke) decided to re-sign veteran reliever Francisco Rodriguez—and his 348 lifetime saves—on March 14. The late-winter transaction will find K-Rod retaining the closer role in which he racked up 44 saves, posted a 3.04 ERA, and earned an All-Star appearance in 2014. Despite not being the ideal off-the-field option of most fans, considering the utter lack of a 9th-inning arm on the roster and Frankie's track record, the move was met with a collective "Yeah, I guess that makes sense" by the majority of Brewers nation. Kato Kaelin disagreed and, in the process, debuted the #warmbeer hashtag we're totally going to use every time K-Rod falters this season.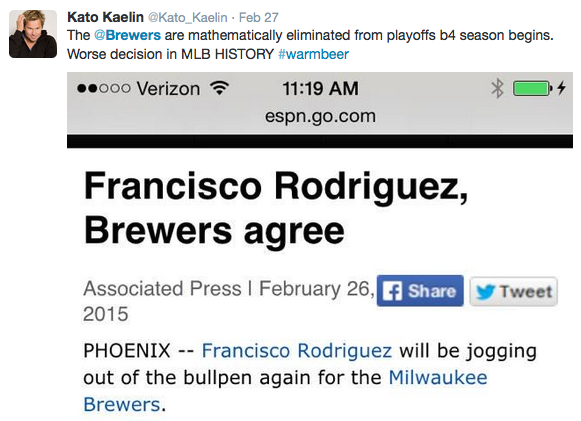 Apparently math isn't in Milwaukee's favor
We're not exactly Sabermetrics experts, but this can't be possible yet. Can it? We know it wasn't possible March 20.



The 2015 Milwaukee Brewers squad is comparable to Rocky!
Oh. This isn't a good thing.




Though this season could very well have all the makings of being #WarmBeer, we're just excited Brewers baseball is back, and we look forward to watching Kato Kaelin overreact on a pitch-by-pitch basis every step of the way. Play ball!