What the fuck did you do last weekend?
Milwaukee's nightlife was vibrant as hell by the time June's first Friday rolled around. Close to 50 bars, restaurants, cafes, and retail shops in one neighborhood transformed into sure-as-shit art galleries for Bay View Gallery Night. As the artsy occurrence took over the neighborhood, Okka Fest wedged itself into the few remaining Bay View nooks. Meanwhile, festival season officially started in grand fashion, as thousands flocked to the Summerfest grounds all weekend long to enjoy PrideFest. Saturday night, Faux Fir said farewell to Milwaukee with a final show at the (still new) Company Brewing. The Milwaukee Bucks hosted a block party and uniform unveiling ceremony at Schlitz Park. Let's not forget Saturday's Beer Barons' World Of Beer Festival, Friday's Jazz Fest, the first installment of Bay View Art In The Park, Sprecher's roving beer garden, nearby Wauwatosa's latest Scottish Fest, and the abundance of other entertaining shit happening in and around the city.
I bet you're literally shivering in anticipation to know what I—a person who was called a "tastemaker" in a meeting once—did this weekend. Since you're likely not the co-founder of one of the city's premier entertainment, cultural, and Bar Rescue-related publications, and you might not have your fingers affixed to the pulse of Milwaukee night life quite as firmly as I do, you probably didn't even realize that I've yet to mention the biggest kahuna of them all. Last weekend (and even before that, actually), Milwaukee was in the throes of a very specific mania that was dedicated to honoring and celebrating the big two in the world of decorative craft accents. That's right, bitches…I went to the motherfucking Bead & Button Show.
Since its humble origins during the 20th century's final year, the annual event has swiftly transformed from small trade show to "the largest consumer bead show event in the world." Hosted by Bead & Button Magazine, which is the crown jewel of Waukesha-based Kalmbach Publishing Company's line of hobby-based periodicals (suck it, American Snowmobiler!), the Bead & Button Show is now undeniably huge. This year's show and show-related occurrences started way back on May 27 and have run every day since, until finally wrapping up this evening. For those scoring at home, that's 13 goddamn days. Holy shit. It's like crafting Coachella. No, it's like Summerfest and Bonnaroo had a lovechild and fostered its interest in the decorative arts. Whatever it was, I had to go. Friday afternoon, while the rest of you fucks were probably off doing something cooler, I went downtown and took a lap around the sprawling, three-story convention. Here's what I saw.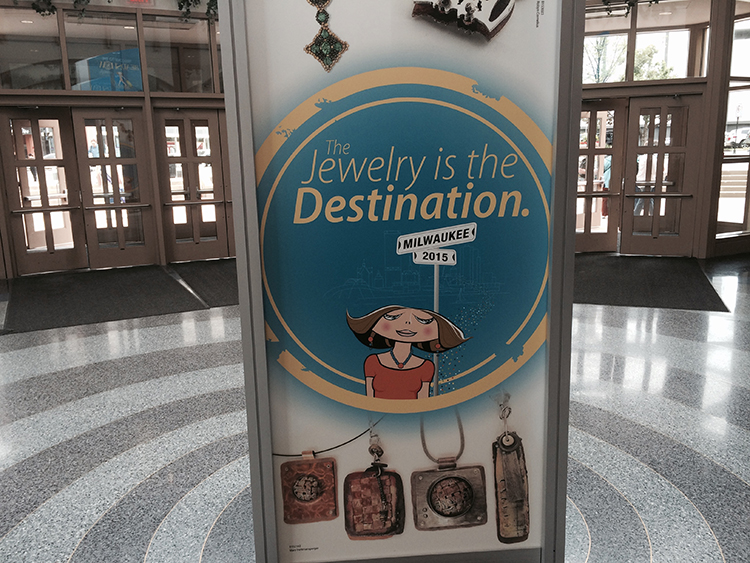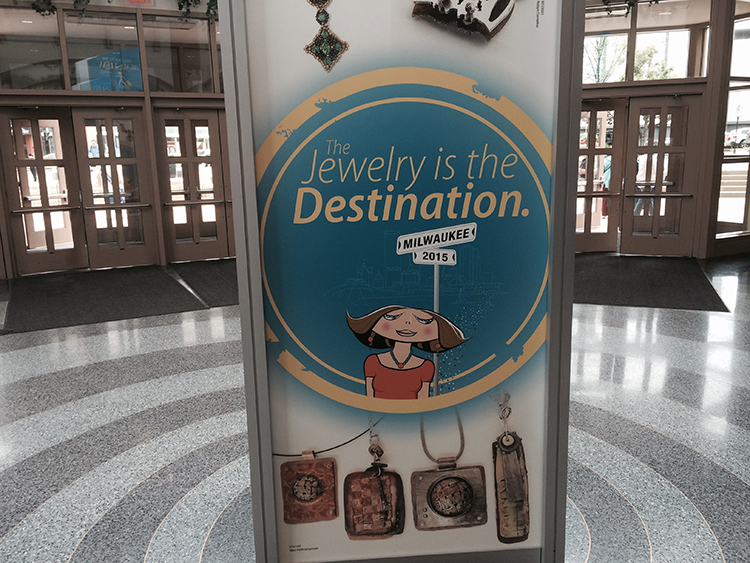 Entering the Wisconsin Center Friday afternoon, there was no dispute as to whether I was in the right place. The convention center was abuzz with security guards, guests, as well as grandiose posters and banners touting the event. "The Jewelry is the Destination." one such display in the foyer read. By that logic, beads and buttons were the journey and I was ready to thread my way through it all. The majority of the ground floor was rife with conference rooms-turned-workshops for an array of general classes. Honesty time: I know fuck-all about beads and buttons, but if I wasn't on a mission to see this shit from top to bottom, I surely could've picked up some tips at some of the (700-plus) day-long tutorial stations that ranged from "Polymer Techniques: Imprint and Stamp" (a Julie Picarello-run session that was very well attended at 3:30 p.m.), "Try-A-Tri-Bead Bracelet," and "Charmed I'm Sure." Wait a second! The term "charm" can apply to bracelets, and "Charmed I'm sure" is a common phrase. Bead puns. That's hilarious. I quickly realized these dudes liked to party and this would KNOT be your typical bead and button show. See what I mean?!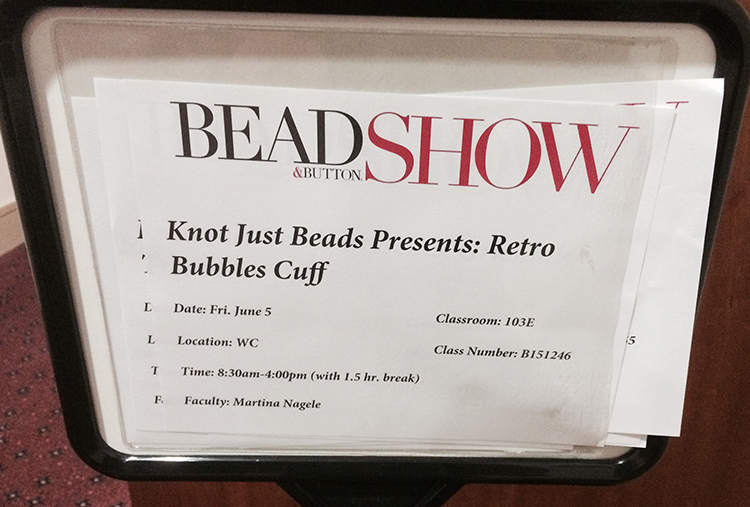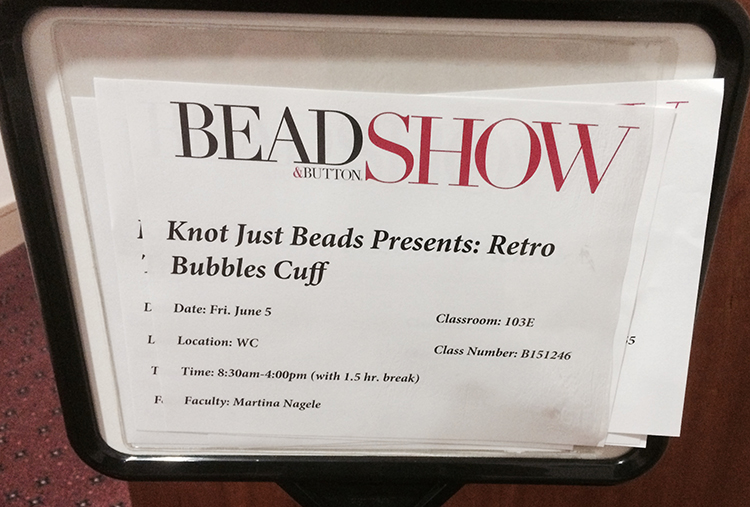 Some 15 minutes into my travels, I still hadn't seen another guy at the show, excluding instructors and a security guard who seemed concerned to see a disheveled-looking 30-year-old with a notebook. Once I hit the second floor, I started seeing other men, including some of the most dejected-looking guys I've ever witnessed, lackadaisically rolling luggage from the check-in area towards their specific hotel's skywalk as their beaming spouses excitedly surveyed the show. Later on, I would see a few dozen men who seemed more enthusiastic about the event (whether working or there for leisure), but I couldn't help but grin at the sight of devoted husbands being all-but dragged to Milwaukee against their will for a weekend of extreme beading and buttoning. Somewhere, an According To Jim writer was laughing.
As far as the women in attendance, the demographics ran the gamut from young women in their early 20s and (usually) up. The vast majority were over 40. One thing they all seemed to share was a look of confusion regarding why the fuck I was there. I was beginning to wonder the same thing. Each floor had a "Scooter Rental Area" sign placed prominently in the concourse. Laugh if you want, but it's just a testament to 1. How well the organizers know their guests, 2. How truly spacious the event is. I opted to stay on my feet, though, as I breezed past the silent auction area and the Make 'N' Take station and rode the escalator to the third floor to take stock of the Artisan Jewelry Marketplace, which opened just hours earlier. Though classes, meet and greets, camps, and shit like "Lampworking Madness" were happening every day, the three-day marketplace and its 300-plus vendors crammed into an unthinkably large ballroom were decidedly the main event.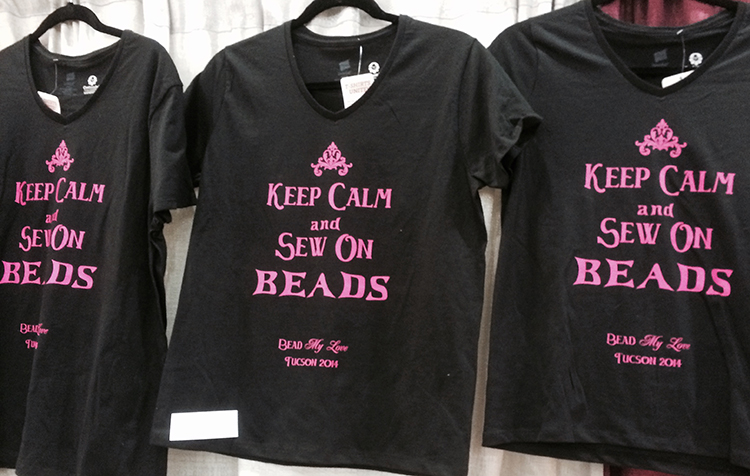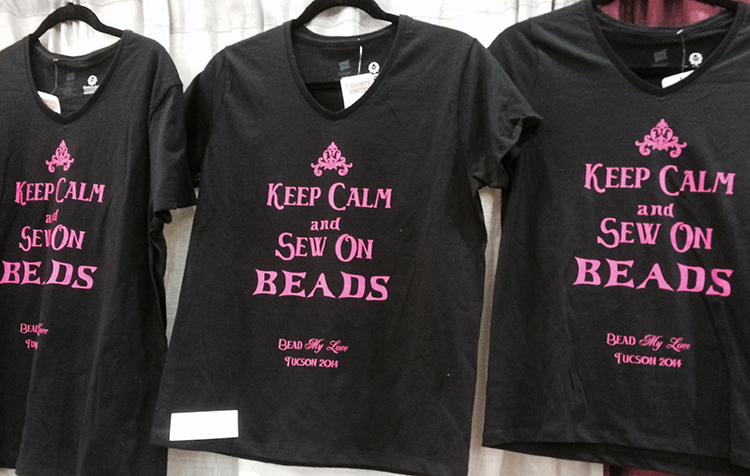 Beneath the fluorescent convention hall lighting in the airplane hangar-sized conference room sat an array of booths overflowing with beads, jewels, handmade buttons, crafting tools, polishing solutions, completed work for sale (including a morbid tapestry entitled "Death Touches Us All"), and bead-themed apparel. On a related note, I think it's safe to say that the stupid "Keep Calm and ___" movement is officially over now. Amid the chaos and commotion, I saw the crown jewel of the event. There she was, Anie, self-proclaimed "Inventor, Entrepreneur, and TV Personality." The frequent guest on DIY Network and JTV (both of which are apparently television networks) was on site to show off her JoolTool, "the most innovative polishing & sharpening system," in person. I, a regular piece of shit civilian, was mere feet away from a master jeweler.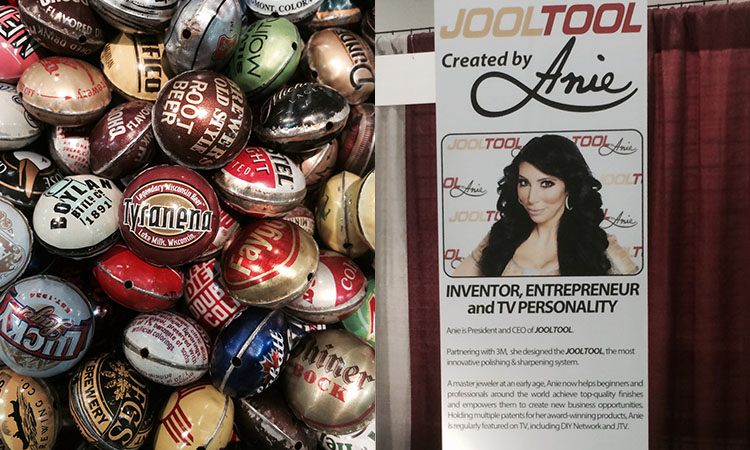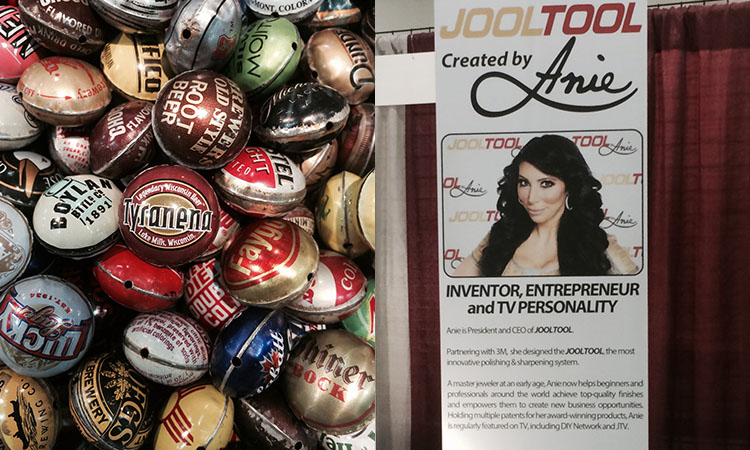 Twenty feet from stardom—I mean, at least in the all-too-specific realm of gemstone polishing and finishing—and, more importantly, with my parking meter on the verge of expiration, I decided I couldn't stay another minute. All things considered, the Bead & Button Show was not for me. I mean, like, not for me at all. That said, I think it's genuinely awesome that so many people from all over the country (perhaps all over the world) harbor such intense passion for such a pinpointed interest, and that for 13 days every spring, Milwaukee of all place is the common thread that connects all these thousands of bead and button enthusiasts together.