When we last visited Var in June, the Bay View artistic hub was breaking in the new stage in its Hide House-adjacent gallery and studio with occasional acoustic performances and comedy showcases. As suitable as the site was for especially small events and to serve as studio space for a limited amount of artists, the growing group of creatives, limited square footage, and difficulty people had finding the place all coalesced this fall, and prompted the owners to uproot the thriving young southeast Milwaukee gallery in favor of a larger place on the high-traffic Second Street in the heart of Walker's Point.
"The [previous] building wasn't really able to sustain any more of a build out," Var co-owner Josh Hintz says. "It just ended up as something that wasn't growing as quickly as we are, or at least as far as we felt we were."
After a considerable amount of searching, Hintz and partner Renée Navis (both 2012 MIAD graduates) settled on a former foundry at 643 S. Second Street that had sat vacant for more than two years.
"I wanted to be on this street. I've worked in this neighborhood a bunch, and I really fell in love with it," Navis, a former INdustri Cafe bartender and current Prodigal craft cocktail connoisseur says.
Her background tending bar will also come in handy at Var's modestly stocked and very generously priced bar (which Hintz constructed himself), with offerings ranging from the $8 Old Fashioned and $6 bourbon cocktails to a $3 pint of Sprecher amber and $2 cans of PBR. In terms of price, amenities, and the utter absence of pomp, this isn't your usual art gallery.
"Our major goal is just to have a way to bridge public interaction with a place they wouldn't go otherwise that has a comfortable space to sit, have a drink, look at artwork, and be close to the artistic process."
For many of the works displayed in Var's public gallery, the artistic process behind their creation resides in the various studios situated near the rear of the building. At the moment, 15 artists—including Hintz, who majored in sculpture and drawing, as well as Navis, a drawing major and science minor—share studio space in the expansive establishment, with mediums that vary from painting and illustration, photography, and even furniture making. There's also a separate area that will be used for ceramics workshops, printmaking labs, and metal working. Presently, Var can take on up to 22 artists. However, the duo intends to install a drop ceiling to allow for 10 more artists in the near future.
"Maybe a year from now, when we're starting to feel comfortable, then we'll rip everything back down," Hintz says, laughing.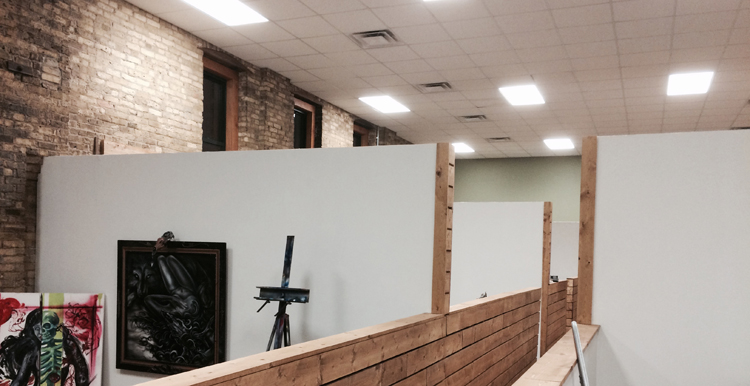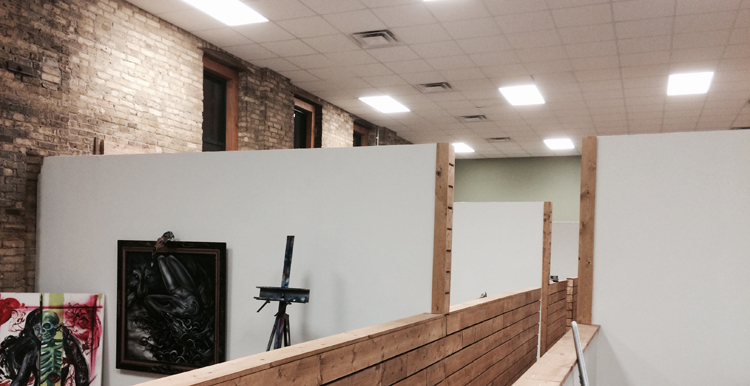 Now that the updated and uprooted Var is (almost) fully operational, the duo in charge of the creative collective is focused on utilizing its centralized and bustling location in its new neighborhood to the fullest. The gorgeous wooden stage Hintz made from reclaimed pallets was transported across town and reassembled in a room with much better visibility than before. Zoned for 49 patrons, the gallery will display work publicly Thursdays through Saturdays and Mondays each week, in addition to hosting unplugged musical acts and occasional comedy shows. Tonight marks Var's grand opening, which includes cocktails, every artist in the collective displaying pieces, and musical accompaniment by James Sauer from Ladders.
The idea to move and expand was ambitious for the young artists-turned-gallery owners. Implementing the relocation was taxing, but with Var Gallery & Studios ready to open its doors to the public and bare its walls to the Walker's Point thoroughfare, Hintz and Navis know they made the right decision.
"There were some stressful points, but we're pretty confident in the fact that we took this very slow in the beginning," Hintz says. "We started with a very small model and saw that it worked. So coming into a space like this, we went on the right path to make sure we weren't going to fail."
With a proven blueprint in place, growth seems inevitable to this duo and the artists who lend their support. With room to expand and the potential for exponentially more visibility, Var Gallery has effectively painted itself into the ever-developing Walker's Point landscape. And it looks good.