It's a new year and we should all be feeling optimistic and carefree, so let's just get this over with: As you may or mercifully may not have heard, former Milwaukee County Sheriff David A. Clarke Jr. is currently in full edgelord mode, wearily tweeting about giving the LYING LIB MEDIA a TASTE OF THEIR OWN BLOOD because LYING LIBS HILLARY OBAMA TRUMP FAKE NEWS MAGA LIBS or whatever the fuck. (Read the whole dumb story here.) Clarke, who resigned from his post as sheriff back in August 2017, has garnered plenty of headlines (including this one!) from his latest paint-by-the-numbers tantrum, though one tweet may have gone too far. No, not the one he deleted because Twitter briefly locked his account; one that peeved '90s-band-turned-'10s-meme Smash Mouth.
"I keep warning the LYING LIB MEDIA and their liberal goons NOT TO POKE THE DOG because I BITE BACK," Clarke grunted and then subsequently tweeted on New Year's Eve. "They continue to think I will take their DRIVE-BY HIT SMEARS lying down. I WASN'T BUILT TO BACK DOWN. They are not used to THIS conservative's style of SMASH-MOUTH POLITICS #MAGA." Bold words from a man who once…wait…hold on…DID SOME…BODY SAY SMASH MOUTH?
"Yo dude WTF!" tweeted Smash Mouth the same day. "You could have gone with Sugar Ray Politics, or No Doubt Politics, or Alien Ant Farm Politics, or Goo Goo Dolls Politics, or Spin Doctors Politics,….or,….." Ha. You see, it's a bunch of other '90s bands. Nicely done, Smash Mouth.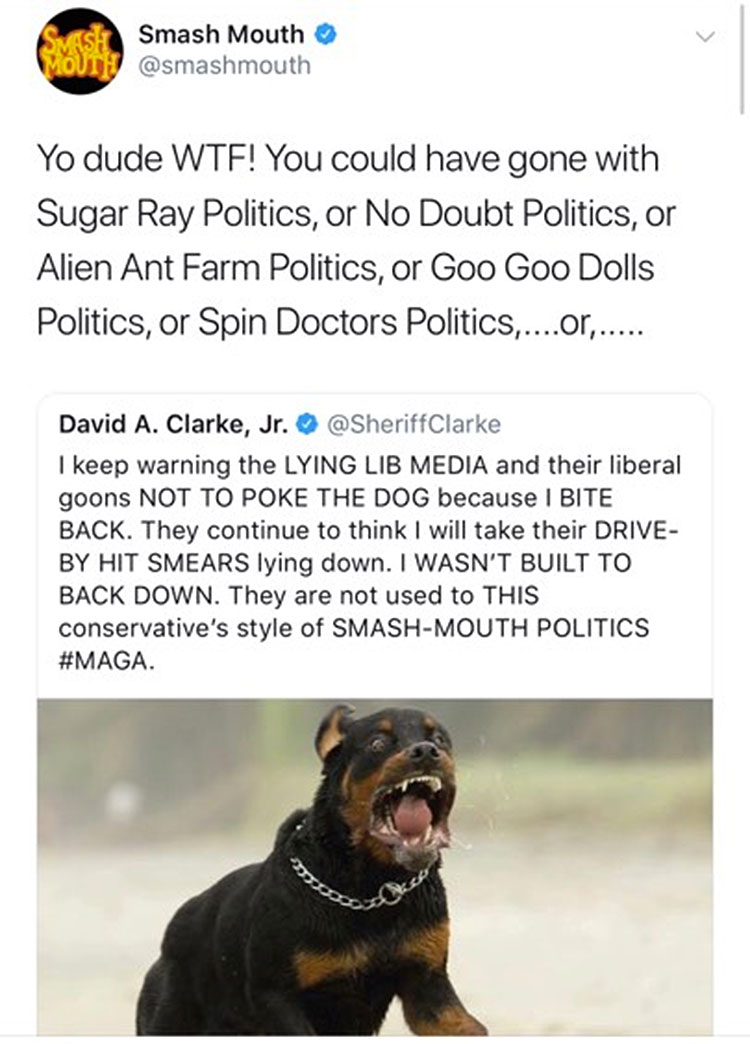 And there you have it. The second day of the year and already a story about someone who blocked us on Twitter (Clarke), and someone who briefly blocked us on Twitter but then changed their mind (Smash Mouth). This year is gonna suck. [h/t Sammy Arechar]