By this point, many of you have surely heard of Milwaukie, Oregon. Some might also be aware there's another Milwaukee in North Carolina. And who could forget there's a South Milwaukee—a Milwaukee County city that, while located south of the city named in its suffix, does not actually touch Milwaukee proper. There are a few imitators out there (or more likely, places that just happen to have a similar name), but none of them can compare to the greatness of Milwaukee, Wisconsin.
Earlier this week, Milwaukee PBS producer Scottie Lee Meyers tweeted about another Milwaukee wannabe that caught our attention. This time, it appears as if the name similarity was actually intentional. Allegedly, the city of Zilwaukee, Michigan was named with the direct intention of fooling immigrants and other non-Midwestern passersby to come to the Saginaw County city instead of the somewhat-similar-sounding Wisconsin industrial hub.
As the story goes, brothers Daniel and Soloman Johnson moved to the Saginaw Valley from New York to open a saw mill in 1848. Wanting to attract workers to the new locale, town leaders apparently resorted to the unorthodox and underhanded tactic when it came time to name their settlement. In 1854, Zilwaukee Township was formed. Despite kinda-sorta sounding like the Wisconsin place that officially became a city eight years earlier, it's safe to say the plan to trick people into moving there did not work. Zilwaukee's population peaked at about 2,200 residents at its height in 1980. In subsequent decades, the population has continued to dip. Currently an estimated 1,500 people call Zilwaukee home.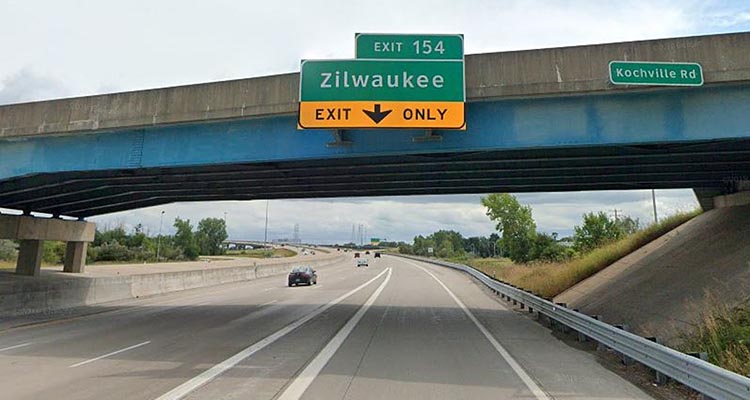 Even though we'll travel to Michigan to eat at the world's last Hot 'n Now location, go to a Big Boy, and—true to this article's theme—even spend a day in a city simply because it sounds like "Sheboygan," we'll honestly probably never make our way to Zilwaukee. Rather than driving approximately 400 miles to explore Zilwaukee, drive on its semi-celebrated bridge, or attend Zilwaukee Bridgefest, we just rounded up a bunch of YouTube videos that give you a glimpse of the city. Enjoy?
That should about do it! After seeing those videos, hopefully you don't regret your decision to live in Milwaukee instead of Zilwaukee. Personally, we'll still take Milwaukee any day.
Unrelated: Here's a picture of a sign for a Wisconsin place called "Packwaukee" that we passed on the way to our sister's cabin last summer. Go Packwaukee Go.