Between beloved and well-established local staples and a steady wave of new bars and restaurants popping up in and around Milwaukee almost every week, worthwhile dining and drinking gems can occasionally get lost in the shuffle. With Tucked Away, Milwaukee Record digs deep with the hope of unearthing some of these gems.
If you drive around Milwaukee long enough, you're bound to find an abundance of businesses with signs and marquees claiming to be "the best" in some capacity. Avalon Theater says its popcorn is the city's best. Over on the East Side, Rochambo has deemed its Irish Coffee to be Milwaukee's finest, and a couple miles up the road, Gee Williker's has declared its jukebox to be the greatest in Riverwest…and in the world. Those are just a few of the examples that come to mind. These types of assertions are both unfounded and found quite often. In a city as geographically vast and economically dense as Milwaukee, it's natural to take these testimonials rooted in personal pride with a grain of salt.
Over on Layton Avenue—within walking distance of Oakland Gyros' southside offshoot that claims to have Milwaukee's best Greek food—is Pho Hai Tuyet (204 W. Layton Ave., 414-231-3201). There, on the sun-battered sign that's planted in a weedy, cracked parking lot in front of a dingy building, passersby will see yet another bold claim: "BEST SANDWICH SOLD HERE!" While the Vietnamese restaurant's marketing strategy (or lack thereof) of saying it's the best at something specific doesn't drastically differ from the approach of the various other local establishments brazenly throwing claims into the wind, there's one notable difference. Pho Hai Tuyet's might actually be true.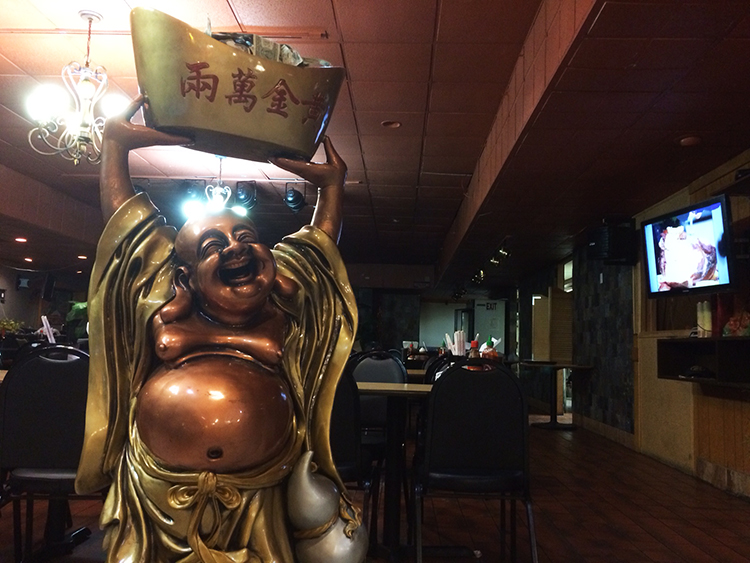 The space: We'd driven by Pho Hai Tuyet dozens upon dozens of times in the past, whether en route to other restaurants (shout out to Kim's Thai!) or simply traveling down the airport-adjacent causeway on our way through town. Admittedly, other than perhaps pondering if the weathered edifice in the oft-deserted parking lot was still open, we never really thought too much about the place. After enough high praise from respected chefs and service industry professionals (who shall remain nameless to protect them from blowback for letting a mere civilian know about this gem), we decided set Pho Hai Tuyet's outer appearance aside and venture inside.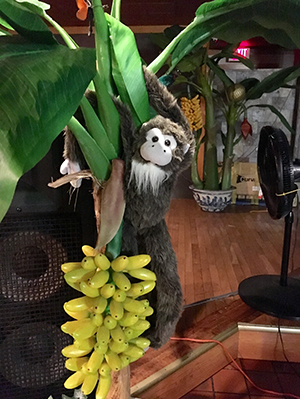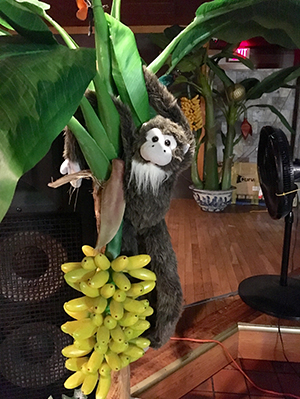 Past the (initially) confusing maze of interior doors, we entered the restaurant near dinner hour. It was empty, save for an employee sitting alone at a table and rolling silverware while watching an infomercial. Noticing us, she set down her work and sprung into action, leading us to one of the many vacant tables in the dining room. In all honesty, the interior seemed to fit the outside: the white and brown tile floor hosted about 20 Formica tables surrounded by stackable black padded chairs.
On one end of the restaurant, a smiling metal Buddha greets customers as he hoists a basket of dollars above his head. Nearby, an empty fish tank is either an odd piece of decor or possibly a holdover from an ill-fated attempt to sell fresh crustaceans in years past. The other end of the dining room give way to a small stage, which surely comes in handy when Pho Hai Tuyet hosts private parties, weddings, and (we're told) karaoke. If that flowery description doesn't do it for you, delivery or carry out are also available. In fact, a few people came to the otherwise-empty restaurant to pick up their meals to enjoy places without stuffed primates hanging around. Nobody else stayed to dine in, though.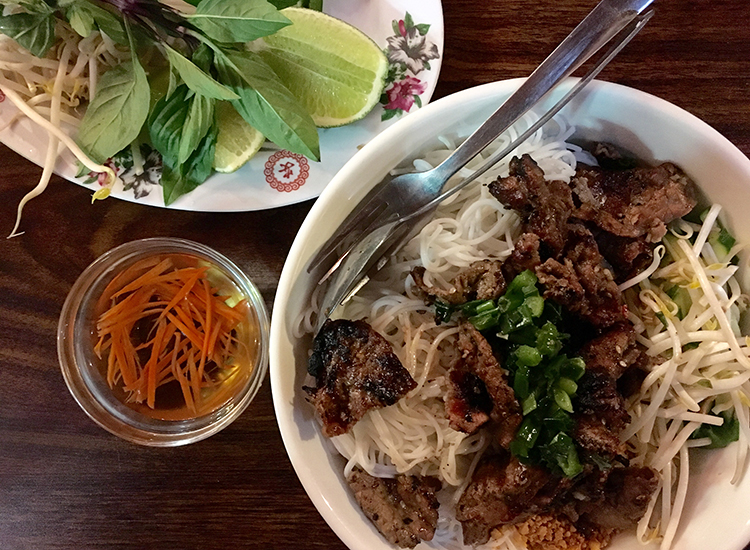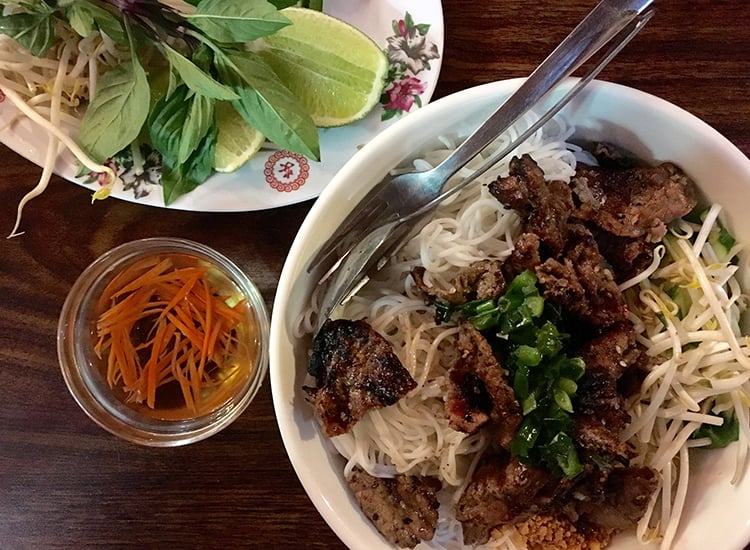 Milwaukee Record's food: We criticize the restaurant's presentation, but when the food is this good, it really doesn't matter where you're eating it. As we sipped a bottle of beer, our server went back into the kitchen and prepared an array of eats. Our tour of Vietnam started with an order of Bun Thit Nuong ($9.50), a heaping bowl of cold rice vermicelli noodles, peppers, sprouts, and green onion topped with tender pieces of charred beef. The grilled meal and cool noodles coalesced into a homey treat. Though large and satisfying enough for a meal (and leftovers), we pushed on. With winter now in full swing and figuring it was in the business' name, we moved on to Pho Ga ($8.50), which was an equally abundant amalgam of rice noodles, spiced broth, green onion, and succulent strips of tasty chicken. Both dishes were served with a platter of bean sprouts, basil, jalapenos, and lime wedges. With those fresh accents and a few spoonfuls of chili paste, we were suddenly warm and comfortable sitting there in our own private restaurant. We wondered if it got any better than this. And then we had the Banh Mi.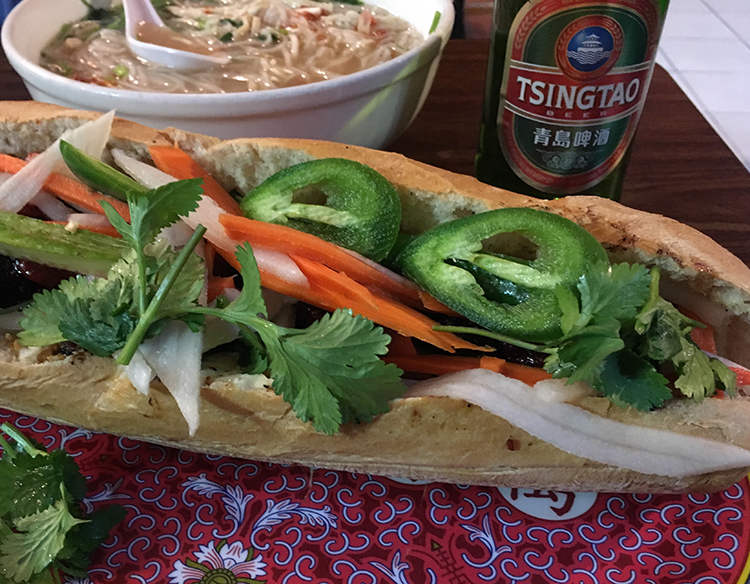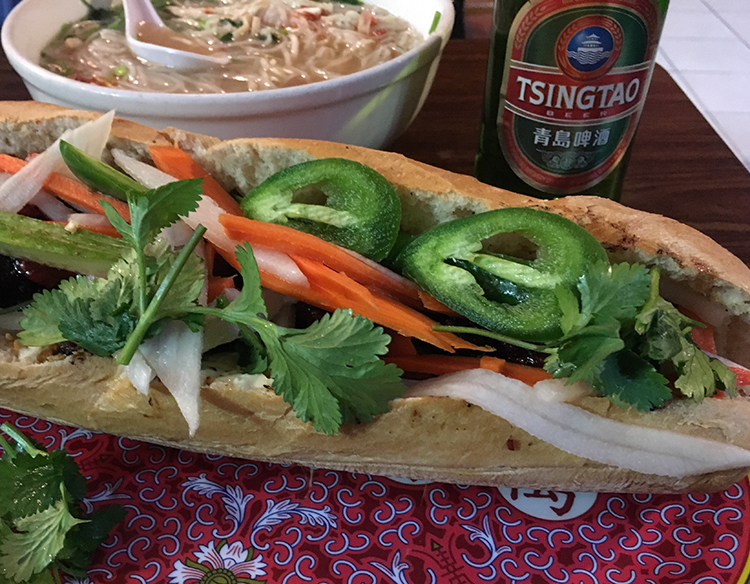 We never would have guessed Pho Hai Tuyet would be home to easily one of the top three sandwiches we've ever eaten. Also, we say "one of the top three sandwiches" instead of "the best goddamn sandwich" because there have to be a couple amazing sandwiches we're forgetting, right? Maybe not! The Banh Mi Thit Nuong ($9) looks like your typical Banh Mi, but crammed into a piece of French bread and covered with fresh vegetables are morsels of meaty magic. Sure, the fluffy and lightly-crisped baguette, the subtle smear of creamy sauce, and the crunchy kick of cilantro, raw jalapenos, daikon radish, and pickled carrots were excellent. But the pork was the show-stopper. The smoky charred outsides were cut with the savory red sauce that permeated every crevice of impossibly tender meat. We were in hog heaven, which quickly turned into a Twilight Zone-like hell once we were hit with the realization our sandwich was almost gone.
The verdict: We left Pho Hai Tuyet feeling as fat, happy, and rich as the Buddha statue we'd walked past. We're eager to return again (and again). There's not always truth in advertising, but this is one time you won't be misled. "Best sandwich sold here!" Agreed.