More than a decade ago, a group of friends realized Milwaukee's 414 area code had a striking resemblance to the numerals in April 14 (or 4/14) and decided to turn that coincidence into a full-blown local holiday. Since its unlikely outset, Milwaukee Day has resulted in an official mayoral proclamation, a ceremonial first pitch before a Brewers game, an abundance of civic-centered specials offered by area businesses, a wide-reaching hashtag, a cameo on 'Jeopardy!,' and a holiday-themed beer.
The holiday has also become a day to celebrate local music, the wealth of music and comedy venues, and the creative spirit that helps make Milwaukee a special place to call home. To help you celebrate Thursday's Milwaukee Day festivities to the best of your ability, Milwaukee Record has rounded up a ton of events, specials, and more that will make the latest civic celebration one for the ages.
Milwaukee Day Events
Milwaukee Day Showcase: Fox Face + Shle Berry, Devils Teeth @ Company Brewing
Join Milwaukee Record at Company Brewing on Thursday, April 14 to celebrate Milwaukee Day with a loaded lineup of local entertainers. We've done our part by assembling an all-star cast of Milwaukee bands. Performers include Fox Face, Shle Berry, and Devils Teeth. Company's Milwaukee Style Lager will be available. We'll also have some new T-shirts and Fungible Tokens (not pogs!) available for purchase.
Milwaukee Day 2022: Group Of The Altos + You Win !!!, Gold Steps, The Andys @ The Cooperage
The fine folks at The Cooperage are celebrating the city in grand fashion this April 14 with its Milwaukee Day 2022 show. Group Of The Altos will serve as the headliner in an all-too-rare outing, with You Win !!! and Gold Steps rounding out the loaded lineup. The Andys (a DJ duo composed of Andrew Menchal and Milwaukee Day co-founder Andy Silverman) will spin what we can only assume will be an entirely local batch of songs between sets.
414 Day: Klassik + Diet Lite, Fun Summit Bass Team, West Nile Crows, Dora Diamond @ Cactus Club
This Milwaukee Day, Cactus Club will be showcasing an eclectic and impressive group of local artists. The incomparable Klassik headlines an 18+ "414 Day" show that also features Diet Lite, Funk Summit Bass Team, West Nile Crows, and Dora Diamond.
Bad Cop / Bad Cop + Drakulas, Fea @ X-Ray Arcade
It may be Milwaukee Day and all, but there's also a great show with absolutely no local ties happening in Cudahy on April 14. Fat Wreck Chords' own Bad Cop / Bad Cop will return to X-Ray Arcade to head up an outstanding bill that also features Drakulas (an Austin-based band featuring members of Rise Against, Hagfish, and Riverboat Gamblers) and Fea out of San Antonio.
Dave Stone @ The Laughing Tap
Veteran comedian, voiceover actor, and The Boogie Monster podcast co-host Dave Stone returns to The Laughing Tap to headline a one-night residency at the Walker's Point club that just so happens to coincide with Milwaukee Day. While there's little in the way of local affiliation, this is sure to be an awesome event happening in Milwaukee…on Milwaukee Day, so it counts!
An Evening With Guerrilla Ghost & Spoy @ Best Place At The Historic Pabst Brewery
This week's installment of Breaking & Entering's "An Evening With" concert series features Milwaukee industrial hip-hop mainstays Guerrilla Ghost performing a wealth of new material on the eve of releasing its latest album, Hell Is Empty And All The Devils Are Here. Spoy opens this $5 show at Best Place.
'In The Park With Olmsted: A Vision For Milwaukee' Opening Reception @ Villa Terrace Decorative Arts Museum
April 14 marks the opening reception of Villa Terrace's In the Park with Olmsted: A Vision for Milwaukee, an exhibition that documents and honors the life and work of Frederick Law Olmsted (a.k.a. "The Father of American Landscape Architecture"). The exhibition runs through September 25, but Thursday's event features a curator talk with Annemarie Sawkins with remarks by Anne "Dede" Neal Petri, President and CEO of the National Association for Olmsted Parks. There will also be hor d'oeuvres and a cash bar available.
Milwaukee Brewers Home Opener @ American Family Field
The Brew Crew will take on the hated Cardinals during the team's 2022 home opener. In honor of the holiday, the first pitch will be at 4:14 p.m.
CopyWrite Magazine's 414 Day InstaMeet @ MARN
CopyWrite Magazine's April 14 InstaMeet event will bring together photographers, designers, stylists, models, and other creatives to produce content that expresses the beauty and pride of Milwaukee. It will also be an opportunity to showcase MARN, a lesser-known "Art + Culture Hub" at 191 N. Broadway.
Good Land Nocino and Banana Brandy dual release @ Great Lakes Distillery
As part of Great Lakes Distillery's month-long celebration of all things Milwaukee, they will be releasing two brand new products on Milwaukee Day: Good Land Nocinco (made with Wisconsin grown black walnuts) and the world's first Bottled In Bond Banana Brandy. Stop by the Walker's Point tasting room to sample both new products. Crumbles Confectionary will have banana and walnut cookies made using both spirits available on Thursday. Local craft mixers will also be on special.
Heard Space's 414 Kind Of Holiday Show (Virtual Event)
If you're looking for a way to celebrate virtually this year, the Heard Space creative collective has you covered with its 414 Kind Of Holiday Show. According to organizers, this Milwaukee Day happening will be "examining 414 Day and celebrating Milwaukee. The story unfolds over a very unproductive Heard Space meeting which leads to an in-depth exploration of what is a 'Milwaukee Hater' and what exactly makes this city so good."
4/14 Milwaukee Day @ Ray's Wine & Spirits
Sure, it's in Wauwatosa, but Ray's Wine & Spirits is still going all out for Milwaukee Day. From 1-4 p.m., Milwaukee's own Enlightened Brewing will be pouring in-store samples. Meanwhile, Sweet Smoke BBQ will be making its "world debut" by serving sandwiches on Ray's patio starting at 2 p.m. (until they sell out of food). Ray's Growler Gallery will be opening at 2 p.m. and will give some attention to some other Milwaukee Brewers when they show the home opener in the bar.
Glass Cannon Live! @ Turner Hall
While it has nothing to do with Milwaukee (aside from taking place at one of the city's best and most historic venues), Glass Cannon podcast's live show promises "an adventure full of imagination, absurd hilarity, and tragedy." It seems like as good of a way as any to celebrate April 14 in Milwaukee.
Chicago Farmer And The Fieldnotes + The Sapsuckers @ The Back Room @ Colectivo
Though it seems a tad sacrilegious to see a performer with the name "Chicago" in their name on Milwaukee Day, we'll make an exception for Chicago Farmer, who will headline an April 14 outing at The Back Room @ Colectivo. The Sapsuckers will open things up.
Milwaukee Music DJ Spin @ Boone & Crockett
Local musician, mathematician, Pedal Tavern driver, and occasional Milwaukee Record contributor Corey Baumann will be manning the turntables at Boone & Crockett this Thursday night (and into the wee hours of Friday morning). From 9 p.m. to close, he'll be playing exclusively Milwaukee-based bands and artists.
414 Day @ Elwood's Liquor & Tap
Elwood's 414 Day event has a lot of different elements. Instead of listing everything for you, we invite you to check out this poster.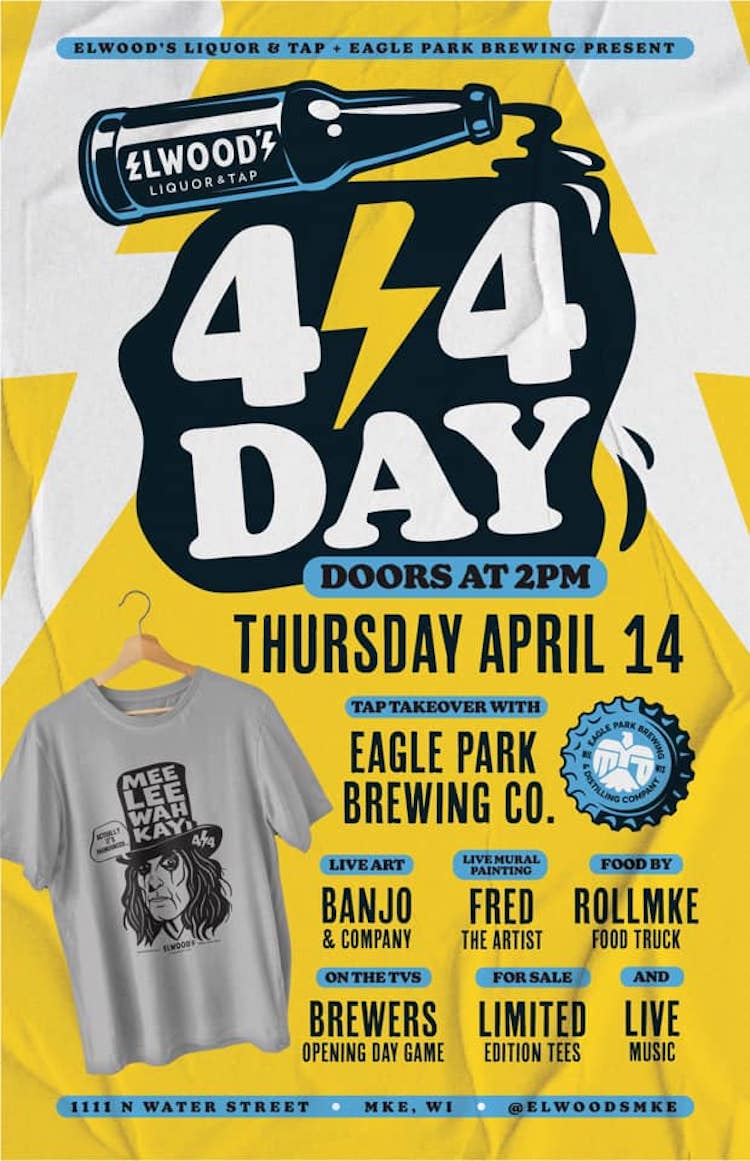 Milwaukee Day Specials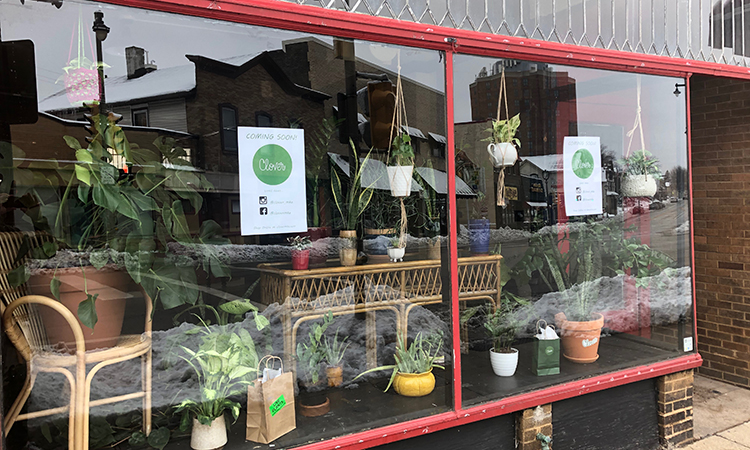 Clover Milwaukee
Bay View plant retailer Clover Milwaukee will be offering a Milwaukee Day special which features a 14% discount on all items and a free mini plant with every purchase from 11 a.m. to 7 p.m. on Thursday.
Bounce Milwaukee
The eternally great Bounce Milwaukee is offering and "Everything 4 $14" special. Pay for Bounce admission ($14) and get a free upgrade to "Everything Admission," which includes unlimited laser tag and rock climbing ($27 value).
Harley-Davidson Museum
This April 14, Harley-Davidson Museum is offering discounted admission of just $4.14 (for tickets purchased online in advance).
Historic Milwaukee
During its three-day "414 Day Celebration" (which starts April 14 and runs through April 16), Historic Milwaukee will offer discounted merchandise, new products, a food drive, and a free lecture. Just as they've done for past Milwaukee Days, all 38 posters in the "Neighborhood Poster" series will be available for just $4.14 apiece (marked down from $10). Stop by the downtown shop or order online!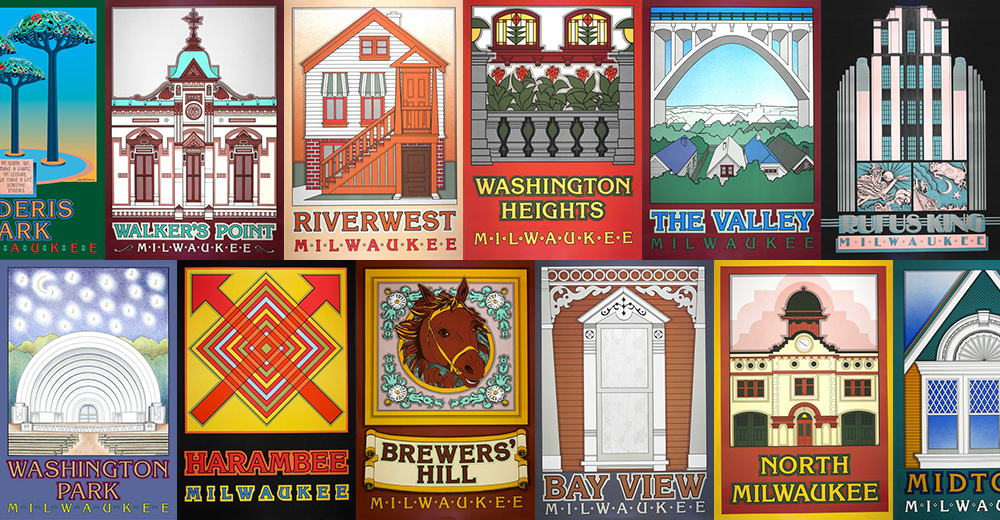 The Recombobulation Area
Not to be confused with those iconic signs at General Mitchell International Airport, "The Recombobulation Area" is also the name of Dan Shafer's brilliant, indispensable Milwaukee political opinion column on Substack. If you're not already doing so, you should subscribe. Subscriptions will be available for a 41.4% discount on Milwaukee Day.
Semolina MKE
In honor of both Milwaukee Day and the Brewers home opener, Bay View pasta shop Semolina MKE will be selling special blue and yellow busiate this Thursday.
Sprecher Brewery
This Thursday, Sprecher Brewery will offer special $4.14 pricing for all brewery tours to celebrate Milwaukee Day. The family-friendly tours offer up to four craft beers (for guests 21 or older, of course) and unlimited samplings of craft sodas and Sprecher's award-winning root beer for guests of all ages. The tour is about 45 minutes. You may book day-of at the brewery, but tour spots are first come, first served, so booking in advance is recommended.
UW Credit Union
Anyone who visits a Milwaukee-area UW Credit Union branch this Thursday will get a free sugar cookie while supplies last. Though the UW-Milwaukee campus location is the only branch in Milwaukee proper, locations in Bayshore, West Allis, Wauwatosa, Waukesha, Mayfair, Franklin, and New Berlin will also offer this extra sweet Milwaukee Day special.
Milwaukee Record
Since Milwaukee Day is coming up (and because we have a bunch of 'em left), we're marking our Milwaukee Record "Fungible Token" sets down from $5 (plus $1.50 shipping) to a flat $4.14 with free shipping. Each order will also come with some free stickers. Or buy a shirt online between now and April 14 and we'll throw in a free set of five Fungible Tokens…which are NOT just pogs we're calling something else, okay?!