About a decade ago, a group of friends realized Milwaukee's 414 area code had a striking resemblance to the numerals in April 14 (or 4/14) and decided to turn that coincidence into a full-blown local holiday. Since its unlikely outset, Milwaukee Day has resulted in an official mayoral proclamation, a ceremonial first pitch before a Brewers game, an abundance of civic-centered specials offered by area businesses, a wide-reaching hashtag, a cameo on 'Jeopardy!,' and a holiday-themed beer (now in tallboy form).
The holiday has also become a day to celebrate local music, the wealth of music and comedy venues, and the creative spirit that helps make Milwaukee a special place to call home. To help you celebrate this weekend's Milwaukee Day festivities to the best of your ability, Milwaukee Record has rounded up a ton of events, specials, and more that will make the latest civic celebration one for the ages.
Platinum Boys + Klassik, Joseph Huber, Lauryl Sulfate & Her Ladies Of Leisure, and Kavon Cortez-Jones @ The Cooperage
Join Milwaukee Record at The Cooperage to celebrate Milwaukee Day with an eclectic lineup of local entertainers. We've done our part by assembling an all-star cast of some of the city's finest musicians. Performers include Platinum Boys, Klassik, Joseph Huber, Lauryl Sulfate and her Ladies of Leisure, and host/poet Kavon Cortez Jones. On top of the music and poetry, we'll also have yard games on The Cooperage's patio for your enjoyment. The show—sponsored by Miller High Life, Pedal Tavern, Nail Bar Milwaukee, and Cactus Club—will also host booths from some local non-profit organizations.
The Milwaukee Anthology reading @ Boswell Book Company
Editor Justin Kern rounded up more than 50 contributors—including our own Matt Wild and a handful of past and current Milwaukee Record contributors—to chronicle "hope and hurt in one of America's toughest ZIP codes" with a wide range of humorous, touching, powerful, and immensely interesting essays about things that make Milwaukee unlike anyplace else. Boswell Book Company will celebrate the book's release and the city it honors with a Milwaukee Day reading that will include Kern and some of the anthology's writers.
Direct Hit! + Rational Anthem, and '83 Wolfpack @ X-Ray Arcade
After X-Ray Arcade's Milwaukee Day Brunch Trivia is through, the Cudahy club will play host to one of Milwaukee's biggest and best bands. X-Ray co-owner Nick Woods and the rest of his Direct Hit! bandmates will take to their home stage to headline a holiday show with Iowa's (by way of Florida's) Rational Anthem and '83 Wolfpack from Minneapolis.
Tigernite + Midwest Death Rattle, and Beach Static @ Pabst Milwaukee Brewery & Taproom
The fine folks at Breaking & Entering have put together quite an impressive Milwaukee Day show. Show up at Pabst Milwaukee Brewery for an early afternoon show featuring Tigernite, a rare performance from Midwest Death Rattle, and an opening set by Beach Static. We highly recommend hitting this up, then making you way to The Cooperage.
MKExpanded with Genesis Renji, Camb, Nile, and more @ Cactus Club
Over at Cactus Club, the latest installment of MKExpanded will bring a stacked batch of hip-hop acts to the Bay View bar. Celebrate Milwaukee with some of the city's best rappers, including Genesis Renji, Camb, Nile, and many more.
Keg Stand Up @ Lakefront Brewery
Our friends at Milwaukee Comedy are huge supporters of the local stand-up scene. It's even in their name. Perhaps the crown jewel of their menagerie of showcases is their monthly Keg Stand Up show at Lakefront Brewery, which brings hundreds of people to the brewery to watch some of the city's (and the Midwest's) up-and-coming comic talents. This month's installment just so happens to fall on Milwaukee Day, but few things are more Milwaukee than beer and locally-sourced laughs. Add an order of Lakefront's famous cheese curds, and there's simply nothing more Milwaukee. Oh, and earlier in the day (until 5 p.m.), Lakefront will also offer two-for-one pints at Lakefront Brewery Beer Hall in honor of the holiday.
Milwaukee SunDay FunDay @ The Bottle
The Bottle typically puts together an impressive show for Milwaukee Day. This year is no different, as the Walker's Point bar is set to host a FREE (21+) show that includes Size 5's, 5 O'Clock Charlie, Rockabilly Rebels, Lack Of Reason, Magnetic Minds, The DUIs, and Faux Fiction. The price is right and there's absolutely nothing wrong with that lineup.
39th annual WAMI Awards @ Turner Hall
Who's got WAMI fever? In February, the folks behind the Wisconsin Area Music Industry awards unveiled the nominees for their 39th annual shindig, set for Sunday, April 14 at Turner Hall Ballroom. Covering everything from artist/album/song of the year (whole lotta Milwaukee here, including Lex Allen, Field Report, and more) to best polka and tribute act (THE PRINCE EXPERIENCE WITH GABRIEL SANCHEZ), the nominees are sure to delight, entertain, and occasionally confound. It wouldn't be the WAMIs any other way.
Milwaukee Day Party @ Rogues Gallery
Rogues Gallery is getting in on the holiday fun with daylong drink specials, exclusive new Milwaukee Day shirts, a free pig roast, Milwaukee-themed tattoos from Horseshoe Tattoo, live music from Keanan And The Rippers, and music by local DJs.
Historic Mitchell Street Cleanup (with after party @ Highbury Pub)
It's great to get out and celebrate the city, but you also have the opportunity to help improve Milwaukee in the process. Starting at noon, people are encouraged to take part in cleaning up Historic Mitchell Street. If you're feeling the need to make a positive (and immediate) change to help a portion of Milwaukee on its special day, the cleanup starts at noon. After that, Highbury Pub will host an after party with accompanying sounds by Cell and DJ Loop.
Daikaiju + Cherokee Astro @ Quarters Rock 'N' Roll Palace
It has absolutely nothing to do with Milwaukee, but it's Daikaiju! Fans of great music and an even greater live show (oftentimes involving fire) should definitely consider this one.
4/14 Day with Vennture Brewing Co. and Classic Slice @ The Sugar Maple
Spend your afternoon (2 p.m. to 5 p.m.) with THREE great local business, as The Sugar Maple will have five Vennture Brewing Co. beers on hand this Sunday. Better yet, each Vennture beer purchased will come with a free slice of Classic Slice Pizza.
Milwaukee Makers Market @ Discovery World
Support area artists, crafters, and makers at Milwaukee Makers Market. Locally made (and oftentimes locally-themed) items will be for sale on Milwaukee's lakefront. Bring the whole family!
MKE Local Market @ Third Branch Creative Studio
In other local maker news, Third Branch Creative Studios will host more than 20 area vendors who will take part in a Milwaukee Day pop-up. Drift MKE will also be on-site, and there will be a raffle basket giveaway to help raise funds for Milwaukee Rescue Mission.
Midwest Gaming Classic @ Wisconsin Center
In 2001, two guys started a small show "to celebrate the Atari Jaguar" at a Boy Scout Service Center that drew about 100 gaming enthusiasts. Since that unheralded outset, the event—which was later named Midwest Gaming Classic—has ballooned in popularity and has taken over virtually every square inch of the Brookfield Sheraton for three days every April. After more than 10,000 gamers, pinball nuts, tabletop competitors, and cosplayers milled around the suburban hotel in 2017, the organizers made the bold decision to bring the Classic to downtown Milwaukee last year. The move to the Wisconsin Center gives Midwest Gaming Classic more than double the space, which means there's more room for game play, vendors, and entertainment. It's the same MGC you know and love, except there much more of it and its way closer to home. Sunday marks the convention's final day, but it'll be running from 10 a.m. to 5 p.m.
Roxie Beane and The Nightinjails @ Walker's Pint
If you find yourself in Walker's Point on April 14, consider stopping by neighborhood staple, Walker's Pint, and taking in some tunes from Roxie Beane and The Nightinjails. Miller Lite tallboys will be on special for only $2.50.
Milwaukee Day Specials
Harley-Davidson Museum
Spend part of Milwaukee Day with a local point of pride. On Sunday, Harley-Davidson Museum will offer admission for $4.14, some special $4.14 souvenirs at the gift shop, and great holiday specials (including $4.14 cheeseburgers) at Motor Bar & Restaurant all day long.
Too Much Metal "414" pint glass release @ Good City Brewing (East Side)
Score a cool Bucks-themed "414" pint glass from Too Much Metal and a beer from Good City Brewing for a cool $10.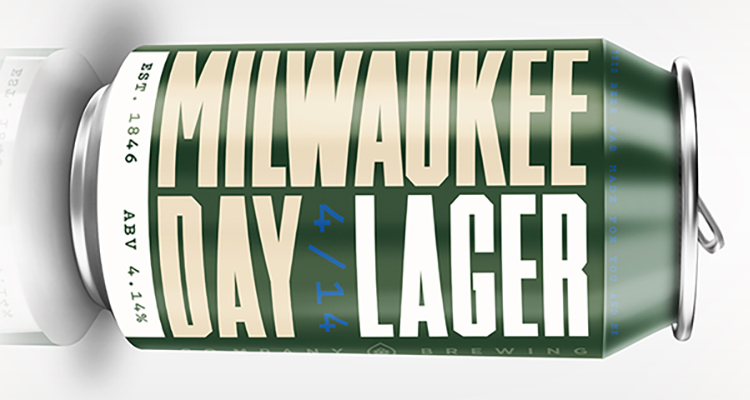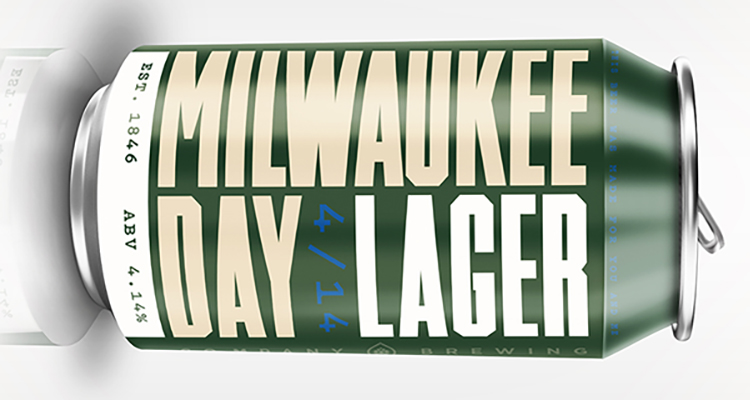 Company Brewing
In more official Milwaukee Day beer news, Company Brewing brought back its outstanding Milwaukee Day Lager. If you want to get some local spirit inside of you this weekend, you can either attend the Riverwest brewery's show on Saturday night (into the wee hours of Milwaukee Day proper) or you can enjoy a 4.14 percent ABV Milwaukee Day Lager in can or draft form at Company Brewing, Burnhearts, Sunrise Foods, Downer Wine & Spirits, Sanford, Cactus Club, Outpost Natural Foods, Ray's Wine, Iron Gate BBQ, Tonic Tavern, Transfer Pizza, Snack Boys, Comet Cafe, Brew City MKE, Discount Liquor, Engine Co. No. 3, Fuel Cafe 5th St., Merriment Social, Birch + Butcher, Hi-Hat Garage, The Cooperage, Outpost Natural Foods (four locations), hree Cellars (Menomonee Falls), Beans & Barley, Anodyne Coffee (Walker's Point Roastery), Crafty Cow (Bay View), Celesta Restaurant, and more!
Milwaukee Brewing Company
Speaking of beer, Milwaukee Brewing Company will release its barrel-aged Gin O-Gii beer at its spanking new (and gorgeous) headquarters.
Great Lakes Distillery
Over at Great Lakes Distillery, MKE Brewing's Gin O-Gii (aged in Great Lakes barrels) will be also be on tap. Additionally, Great Lakes will be releasing its new Good Land Coffee Liqueur (which uses Valentine coffee) and offering free tours to anyone who's bold enough to dress up like Wayne's World characters for some reason.
Milwaukee Magazine
This Milwaukee Day, you can score a one-year Milwaukee Magazine subscription for just $4.14. If you're doing the math at home, that's less than 35 cents per issue!
Shred415
The East Side fitness center will host a free community class that starts at 4:14. You can also stay after class to undo your workout with happy hour drinks and snacks.
Milwaukee Community Acupuncture
We wholeheartedly recommend Milwaukee Community Acupuncture. The Bay View wellness center is affordable as it is, but in honor of Milwaukee Day, they're offering a $65 special that's good for five-sessions. You can either stop in on Sunday or call to take advantage of this tremendous offer.
Milwaukee Record
We're selling Milwaukee Record pint glasses for $4.14 and we'll have less than a dozen of our limited edition Milwaukee Record Flag shirts available for purchase at our Milwaukee Day Showcase at The Cooperage. It's the only place either product will be available, so don't miss your chance to get the glass and the shirt while supplies last.