Okay, so you already know that your Milwaukee Bucks dropped Game 1 of the 2021 NBA Finals against the Phoenix Suns Tuesday night 105-118. But pretend you don't already know that. Pretend it's still Tuesday night and that the Bucks still have a shot. Pretend the game is just about to begin, and that this minute-by-minute report of all the steamy Watch Party action both inside Fiserv Forum and outside at the Deer District is proceeding in real time. Got it? Okay, good. GO BUCKS.
7:20 p.m. I arrive at Fiserv Forum with a spring in my step and a feeling of goodwill for my fellow Milwaukeeans in my heart. The Bucks are in the Finals! We're all in this together! We're obviously going to win! People are streaming into the Deer District by the hundreds; incredibly, in an age of insufferable security theater, the only security here seems to be "Fiserv employee and/or cop vaguely eyes you up as you pass through one of two entrance tents on the south end of the plaza." The day's previously sweltering temperature has dropped about 10 degrees and everyone is looking and feeling great. THIS IS HISTORY IN THE MAKING. LET'S DO THIS.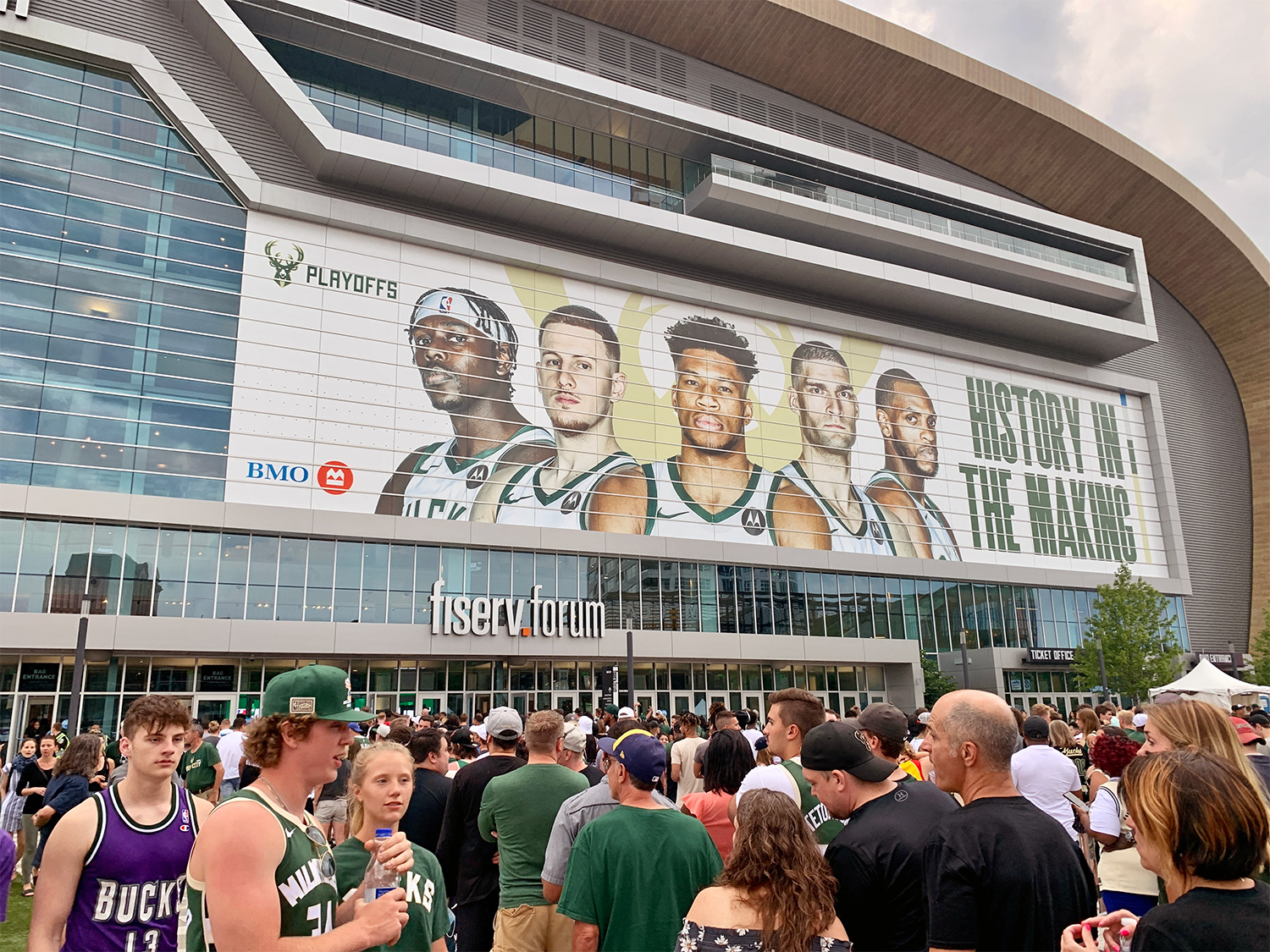 7:22 p.m. It takes me all of two minutes before I spot FOX6 anchor and Milwaukee Treasure Ted Perry. He's taking a selfie with a guy who has a telescopic basketball hoop strapped to his back or something. Should I say hi to Ted? No, best to melt into the crowd and take this T-Perry sighting as the good omen it obviously is.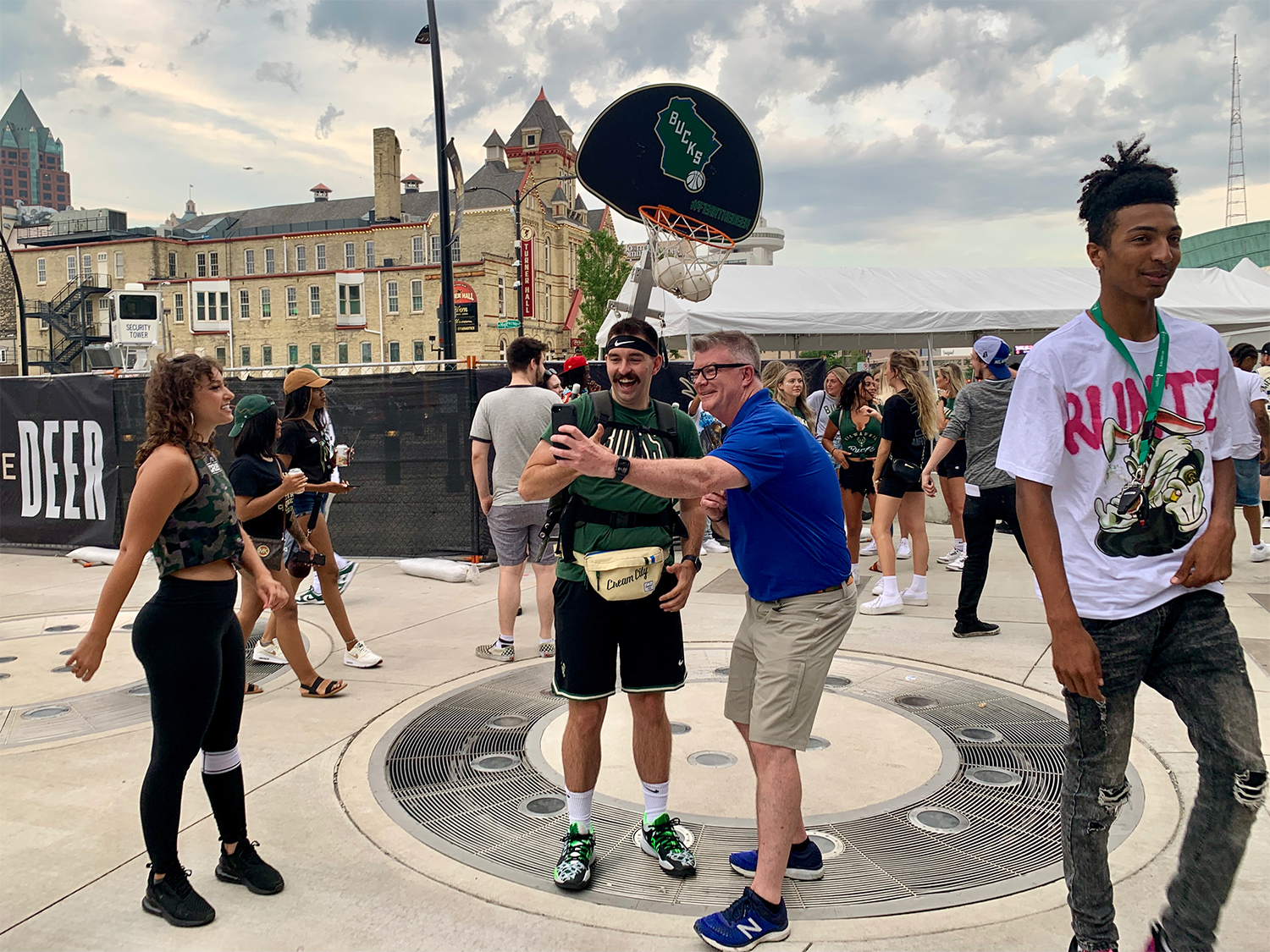 7:31 p.m. So the Deer District is divided into three general sections for these Watch Parties. A giant screen and a DJ stage (the latter home to another Milwaukee Treasure, DJ Shawna) dominate the north side of the plaza. This is where all the main action/vaping takes place. Another big screen is located in the alley between the Mecca sports bar and Uncle Buck's/the shuttered Punch Bowl Social. A third, recently added screen is on the faaaaaaar south end of a rough gravel lot where the Bradley Center used to be. Even when things get crazy packed, there's plenty of room to get away from the crowds and catch your breath. Fiserv folks do a terrific job of keeping walking lanes open for as long as humanly possible. All in all, it's a terrifically run operation and an absolute blast.
7:34 p.m. The crowd bursts into applause upon learning that—holy shit—Giannis Antetokounmpo is expected to play in tonight's game! This tweet says it all:
The Bucks trainer to Giannis before Game 1 #NBAFinals https://t.co/ryHqxgQrhS pic.twitter.com/L6aGuNujqs

— Matt Paige (@MatthewPaige24) July 7, 2021
7:44 p.m. Okay, it's getting a little windy so it's time to head inside and watch the game on Fiserv's "state-of-the-art Daktronics scoreboard." Did I mention I was doing that? Yeah, I'm doing that. Tickets for the indoor Watch Parties (for away games only, obviously) are $10. This will be the first time I've been inside Fiserv Forum since I saw The Black Keys and Modest Mouse on—good grief—October 4, 2019. Ha, there was a Stereolab show across the street at Turner Hall that same night, and a lot of my friends gave me shit for choosing The Black Keys over Stereolab. I STAND BY MY CHOICE.
7:48 p.m. My e-ticket says that masks are absolutely required inside Fiserv Forum, but, um, maybe half the folks here are actually masked up. Whatever. I'm fully vaxxed and I'm still so tired of being angry. I wear my mask while I order a Blue Moon ($7.43) and take my seat.
8:04 p.m. The Bucks offered 10,000 tickets for this indoor Watch Party, and, I dunno, I guess there are about 10,000 people here. I'm kind of bad with crowd sizes. Anyway, we're all essentially watching TV together and we're on our feet for the National Anthem. This is great.
8:10 p.m. AND HERE WE GO. GO BUCKS.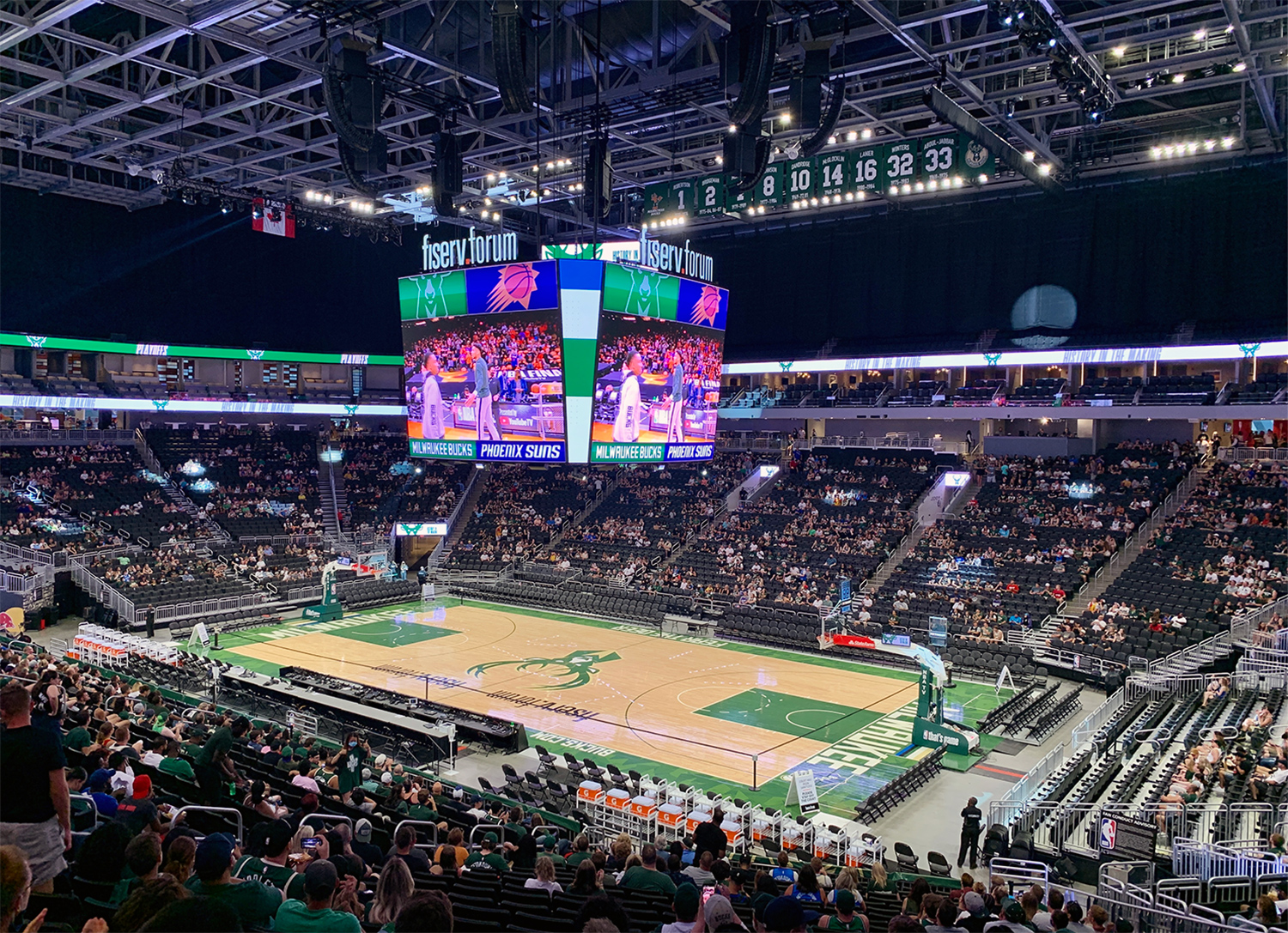 8:16 p.m. The game has been a solid back-and-forth so far. Giannis is looking good! It's fun cheering along with the rest of the "home" crowd, but it's a little bizarre hearing the Phoenix "away" crowd cheer their team on the big screen. Also, that thing where they count before Giannis' free throws is so annoying and stupid.
8:24 p.m. Aaaaaand they replay the clip of Giannis' injury—a clip I've been avoiding ever since it happened. Ugh. That stuff gives me the creeps.
8:38 p.m. It's the end of the first quarter and it's 26-30. Good game! The woman sitting next to me has been an absolute delight, offering up commentary like "STAY IN THE PAINT," "C'MON BUCKS," and "AHHHHHH." We both agree Giannis looks good out there, but the fact that he's playing so soon after his injury makes us nervous.
8:50 p.m. It's a commercial break and the Bucks are down by 7 and some guy is standing up and pumping up the crowd. A few minutes later, this happens:
9:06 p.m. Well, it's the half and the Bucks are down 49-57. Have they ever had the lead? I forget. Another thing I forget: Although most of the concession stands inside Fiserv Forum appear to be open, the food, at least, requires you to order ahead on your phone. With two Blue Moons already in me, I don't have time for that noise. Let's go back outside!
9:20 p.m. Gosh, it's getting cold. The area immediately outside the arena is full-ish, but, again, there's still plenty of room to move. Like I said before, this is where the main action is at. The crowd has subtly changed, however, from "die-hard Bucks fans" to "21-year-olds hanging out and being seen, like high schoolers do at high school football games." The Mecca alley is tightly packed with slightly older folks who are really into the game, and the Bradley Center gravel lot wasteland is indeed a gravel lot wasteland. I decide I'm officially "gravel lot wasteland" years old.
9:42 p.m. I'm feeling a little peckish so it's time for some food. There's an "MKEat On The Go" food truck on the plaza, which features "a taste of Milwaukee curated by the chefs at Fiserv Forum." That curation includes a Klement's brat or a Klement's hot dog. I choose a brat, which sets me back a measly $8. The score is 65-78. Two young women pass by, gingerly escorting a third, clearly inebriated young woman who is inexplicably topless.
9:49 p.m. It's the end of the third quarter and it's 75-92. People are leaving. I'm watching the game in the gravel lot. There's something kind of dystopian, kind of apocalyptic about the whole thing. Standing in the footprint of a fallen giant, surrounded by the ghosts of past Bucks players and past Admirals players and past attendees of Jon Bon Jovi concerts. It feels like the end of the world. The brat is pretty good, though, and it comes with chips.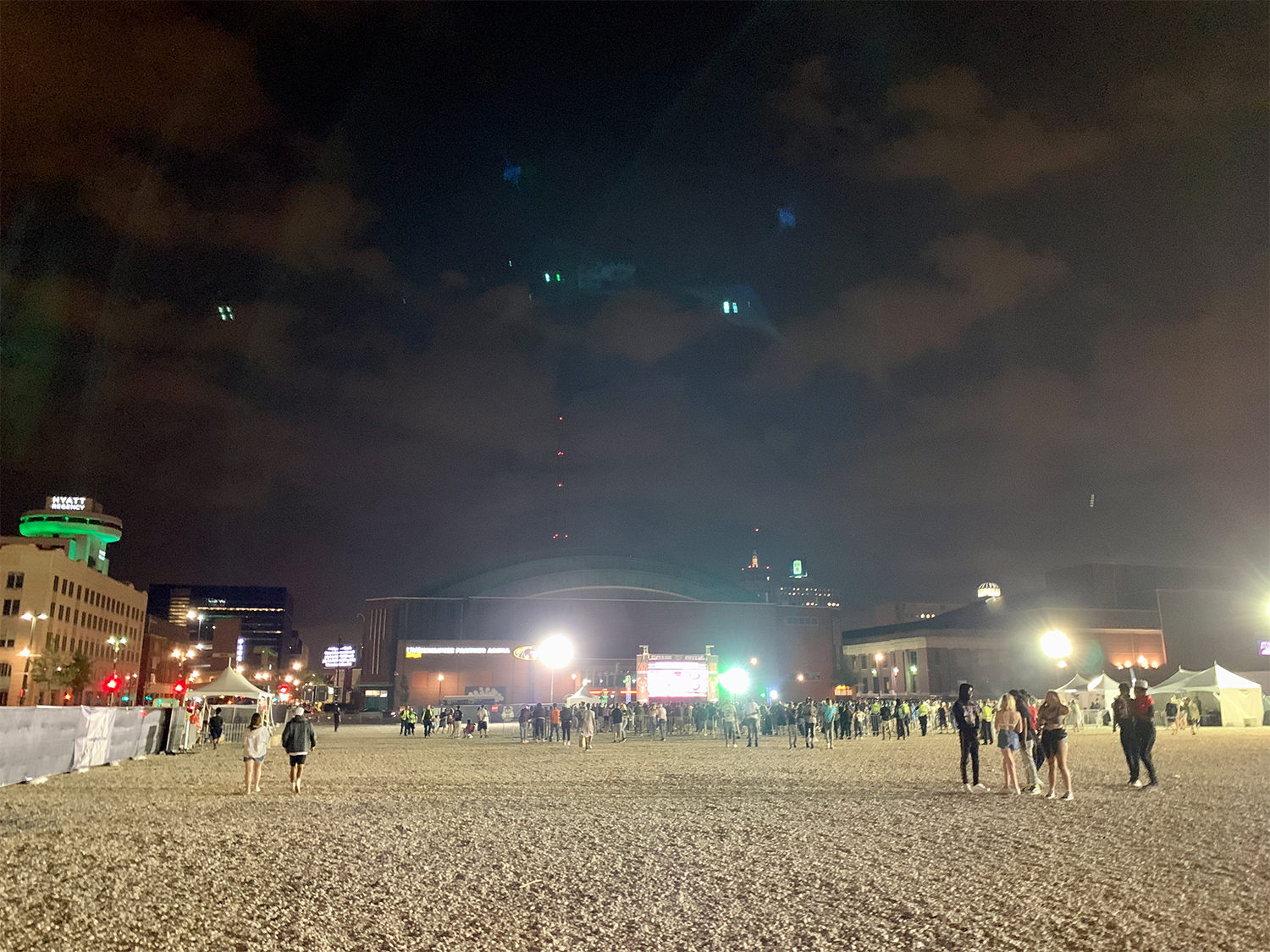 10:03 p.m. Things are not going well. The Bucks are down 92-101 and the crowd seems to be growing younger as the night progresses. Seriously, the once-college-aged sea of humanity has somehow regressed into a pimply pool of high schoolers. If things don't wrap up soon this place will eventually be overrun by straight-up babies.
10:17 p.m. DJ Shawna plays "Huffy" by WebsterX, one of my favorite Milwaukee songs of the year. It's a brief bright spot in an increasingly deflating game, which now stands at 99-113.
10:22 p.m. "Fans at the Deer District are going home," says one of the announcers over a nationally televised shot of, well, fans at the Deer District going home. I suppose that's my cue. With about 30 seconds left in the game, I file out with the rest of the crowd, glum but hopeful.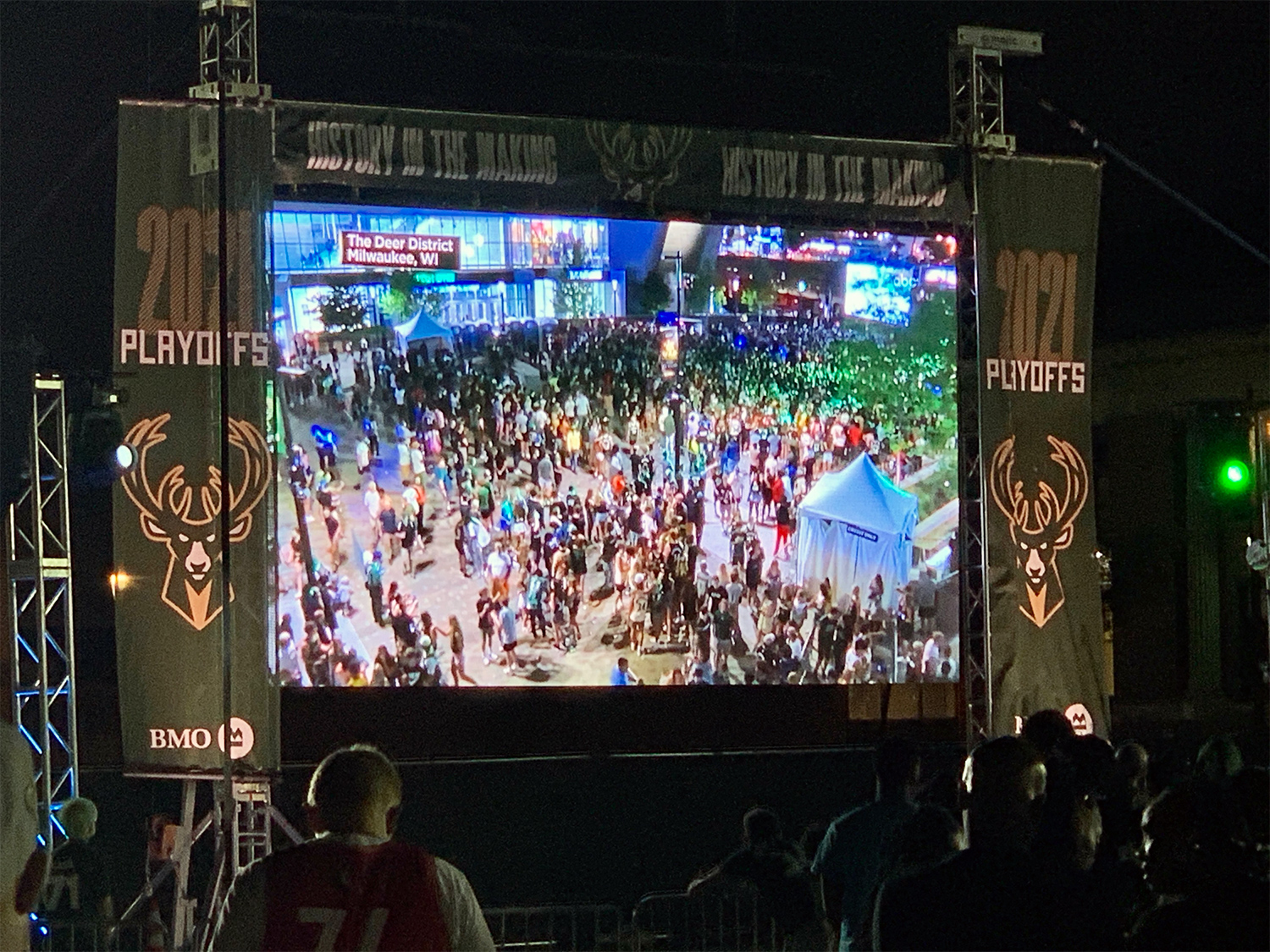 10:28 p.m. I spy one of those electric scooters outside Major Goolsby's. Do I take it on a 24-minute, 3.3-mile ride home that somehow only costs me $2.11? Yes I do. Do I constantly think to myself, "These horrible things sure are convenient and fun!" while doing so? Yes I do. Do I nevertheless almost die approximately 8,000 times? You better believe it. GOOD NIGHT, MILWAUKEE. BUCKS IN FIVE/SIX.