Sometimes things just aren't meant to be. That harsh fact of life should come as no secret to those who listen to the often-tragic, mournful sounds of Buffalo Gospel. As the Milwaukee country outfit prepares to release its long-awaited follow-up—the outstanding and emotive On The First Bell—on May 5, the band decided to extend its underlying motif of lost love and missed opportunities to the visual medium with a new music video.
The video for "18 Wheeler"—Buffalo Gospel's second single and one of the more upbeat offerings on the new record—chronicles the tough luck faced by a long haul trucker (played by bandleader Ryan Necci) and his pen pal/potential suitor at a rural motel. Set to the toe-tapping tune, the would-be lovers are victims of circumstance and poor planning, as they continually miss each other on the way to and from a motel and its neighboring tavern.
The video was shot by Rick Ebbers at Cedar Lake Pub And Motel in nearby Slinger, Wisconsin. On top of the truck-stop-crossed lovers played by Necci and Kat Wodtke, the video features cameos from the likes of Joseph Huber, Tab Conard (Holy Shit!), Steph Conard (Sugar Stems), and Milwaukee Record's own Josh Hoppert.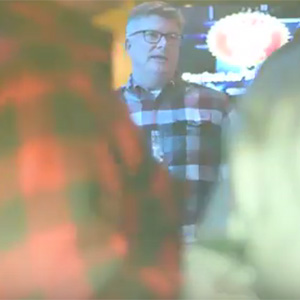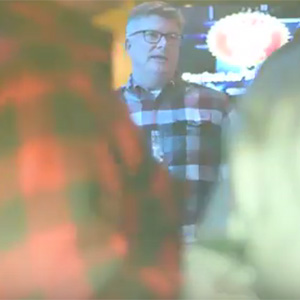 "Bubba The Dog" also makes an appearance (courtesy of Hope Animal Rescues). Best yet, beloved Milwaukee news anchor Ted Perry turns up in the role of Cedar Lake Pub bartender.
Even without the local star power, Buffalo Gospel's "18 Wheeler" music video is as enjoyable as a tale of unmet romantic potential can be.
Before Buffalo Gospel releases On The First Bell during a Saturday, May 5 show at Anodyne's Walker's Point Roastery, let "18 Wheeler" take you on an emotional ride.