Some places come and go, while some places become icons. Mandatory Milwaukee is all about the latter. Join us as we revisit beloved and well-worn local staples with fresh eyes, and explore how they might figure in the city's future. This week: the relatively new Deer District!
It's hard to remember now, but Fiserv Forum's wildly popular Deer District was initially met with skepticism. The arena itself faced the usual slings and arrows that typically accompany such projects: Wasn't the Bradley Center good enough? Why was public money being used to subsidize a pleasure palace for billionaires? Why did the thing look like the BelAir on Water Street?
But the surrounding entertainment district received its own share of criticism. Urban Milwaukee bemoaned its pre-planned and "cookie-cutter" nature, and lumped it in with other "mega-projects" that had "hurt cities with generic development." FOX6 wondered if it would take a bite out of nearby businesses and neighborhoods, and dutifully quoted the guy who wrote Field Of Schemes. Everyone tugged their collars when the whole thing was delayed by a year.
But that was 2015 and 2016. In 2021, amidst the Milwaukee Bucks' historic run to the NBA Finals, well…
Yes, in recent weeks, the Deer District has been The Place To Be, the new center of the Milwaukee universe, if you will. On any given playoff game, home or away, tens of thousands of Bucks fans have gathered outside Fiserv Forum to watch the proceedings on two—oops, make that three—giant screens. The vibes have been positive. The electricity has been, well, electric. The Deer District plaza was originally meant to hold approximately 8,000 fans. It can now hold up to 20,000, and often does.
"The Milwaukee Bucks' deep run in the playoffs has galvanized its fan base and demonstrated what team spirit and community pride are all about," goes a typical story on the Deer District. "It's been on display not only inside Fiserv Forum but outside in an ultimate game-day viewing venue that's become a household name, not only in Milwaukee, but throughout the state, country and world."
And yes, Marv Albert recently said the packed plaza was "an amazing sight."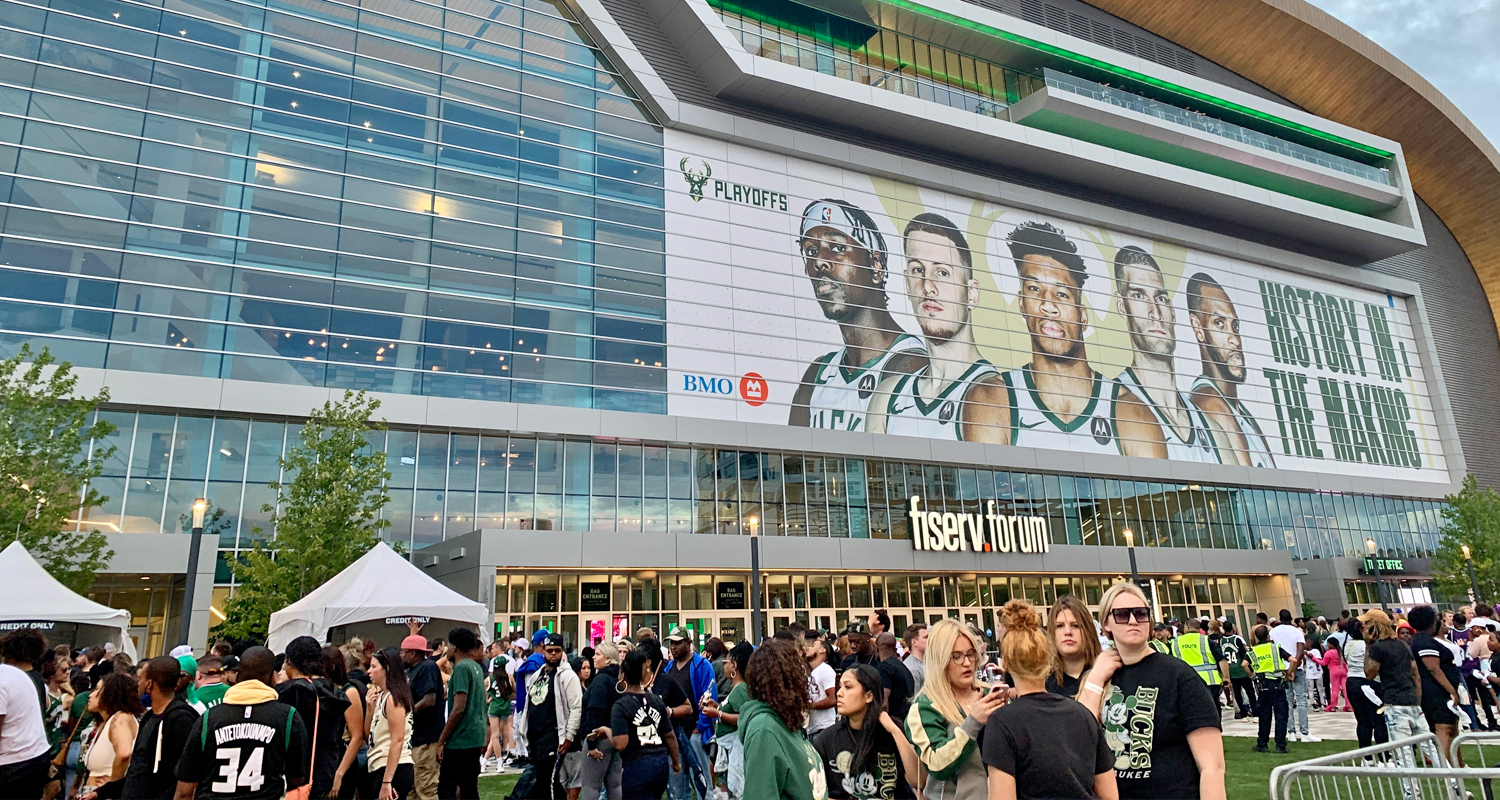 Coverage of the Deer District can get hyperbolic (OnMilwaukee on a recent night: "The soul of Milwaukee, what was a sheltered spark, burst aflame in a celebration of life, love and community,") but there's definitely something going on here. Milling through the remarkably diverse (if overwhelmingly 20-something) crowd, it's hard not to feel an overwhelming sense of Milwaukee love, a tangible swell of Milwaukee pride. Shit, remember that exhausting ESPN kerfuffle?
Me 20 minutes ago: "Gosh, Milwaukee's response to that dumb ESPN thing has been super embarrassing."

Me now: "FUCK YOU ESPN THIS TOWN RULES!" pic.twitter.com/87mrQS2h4C

— Matt Wild (@ByMattWild) June 24, 2021
The recent excitement at the Deer District recalls the excitement that accompanied the Bucks' 2019 playoff run, though this time is obviously different. The Bucks are in the Finals, of course. A long year-plus of COVID-19 has primed the city for a positive release. (The Deer District's shuttered Punch Bowl Social serves as a lingering COVID reminder; Drink Wisconsinbly, Good City Brewing, and the Mecca sports bar remain open.) The 2020 Democratic National Convention That Never Was left the city high and dry. The Bucks have given Milwaukee something to rally around, and the Deer District is the stage for that rally.
And what happens when the season ends? Events like The Bloody Mary Festival and the ever-popular Christkindlmarket will continue to set up shop in the plaza during off months. More nearby hotels, apartment buildings, and other New and Wonderful Things will continue to sprout up. No, there won't be 20,000 people shopping for Christmas trinkets on a random Saturday afternoon in December, but remember when the area surrounding the old Bradley Center was literally nothing?
"If you think about it, we're the only place where 17,000 people can be watching a game inside and another 20,000 to 25,000 can be outside watching it," Bucks co-owner Marc Lasry recently told the Milwaukee Business Journal. "Name me another city where that is happening? It is what we dreamed would happen. We hoped people would come, but I don't think we ever envisioned it like this. It is a unique experience and one that is so great for the city."
Lasry obviously has a vested interest in hyping his billionaire pleasure palace, but he's also not wrong. People are coming. It's a unique experience. It's great for the city. If you haven't already hopped on the bandwagon, now's the time. You deserve it. We all deserve it. Go Bucks! Go Milwaukee!
Exclusive articles, podcasts, and more. Support Milwaukee Record on Patreon.
---
RELATED ARTICLES
• Milwaukee Bucks to host outdoor and indoor watch parties for Games 1 and 2 of NBA Finals
• Second annual Bloody Mary Festival is (tentatively) coming to the Deer District August 21
• Fiserv Forum, and 7 other sensory-friendly Milwaukee locations and events
• The Killers, Violent Femmes, Fiserv Forum shine at first Fiserv Forum show