Summer in Milwaukee is the best; summer in the Midwest is even better. Join Milwaukee Record and Miller High Life as we search the city and beyond for the Spirit Of Summer.
The best way to experience the magic of Miller Park with a young child is to do something else. Anything. Stay home. Read a book. Go for a walk. Just watch PJ Masks or whatever. Is there any other sport that pushes its "family-friendly" angle as hard as baseball, and yet is so ill-suited to the manic whims of children? Yeah, yeah: baseball is a tradition, America's sport, and something that makes Bob Costas cry. But it's really long and dull and there's only so much big-screen distraction ballparks can throw up on their scoreboards—Dance cam! Kiss cam! Find the ball under the cap game!—before a kid starts to lose it. Again: PJ Masks.
But if you must take your kid to a ballgame in Milwaukee—and we're talking a hyperactive 3- to 5-year-old here, not an immobile newborn you can just strap to your chest and forget about—follow these tips for a chance at survival.
TAKE THE BUS
If you're not tailgating (tailgating with a kid is an entirely different article) and you're not taking a shuttle (again, an entirely different article), then skip the car and bar altogether and take the damn bus. Milwaukee County Transit System has a dedicated "Brewers Line" that runs along Wisconsin Avenue two hours before game time, every 30 minutes or so. Return rides run for one half-hour after the end of the game. It's convenient, it's fast, you get dropped off at Helfaer Field, and the characters you'll meet on the bus are priceless. Plus, kids love the bus because, hey! They're riding the bus! No car seats!
LET THEM PLAY IN THE PLAYGROUND OUTSIDE THE STADIUM AND FORGET ABOUT SEEING THE FIRST PITCH
Taking a kid to the game and hoping to get there in time to see the first pitch? Snuff out those hopes now. You know how this works—what were you thinking? Instead, plan on spending the first half inning watching your little moppet mess around on the plastic playground outside the front of the stadium. Yep, it's the same kind of plastic playground you've been sitting at every other day for the past 3-5 years. Still, there's a "Bernie's Dugout" section of this particular kiddie distraction, as well as a "Hot Corner" that kind of sounds creepy in context.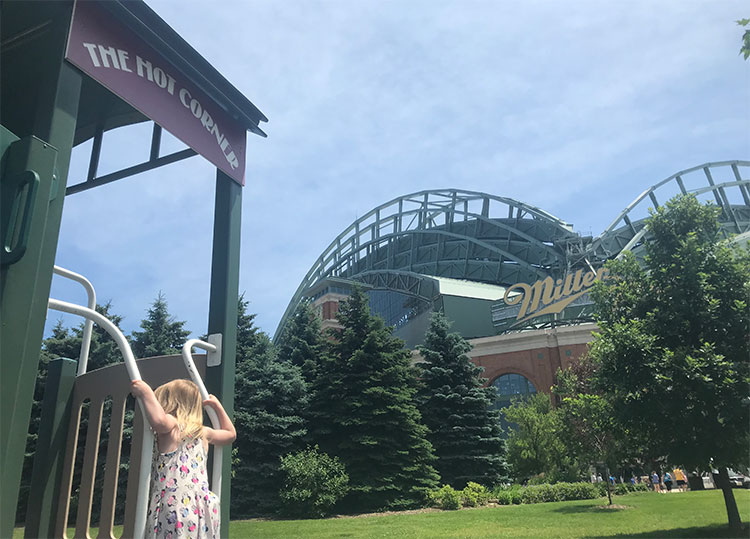 SIT IN THE NOSEBLEEDS
Hopefully you've already had the good sense to pass on seats you can humblebrag about on Instagram ("Okay seats, I guess," you say from Row 2) and have settled on something in the 400s. Good. You're halfway there. Look at your ticket. Memorize your particular Terrace-level seat number. Now forget it. Just go ahead and sit in the farthest corner possible, up where no one but the weirdos and the necking teens hang out, and let your kid have some wiggle room. Your view is partially obstructed and there always seems to be something leaking up there, but you won't be sandwiched between a bunch of other squirrelly kids (the family sections) or a bunch of squirrelly adults (everywhere else).
BEWARE THE U.S. CELLULAR POWER PLAYGROUND
Located on the Field level, this marquee "power playground" is a busy, deafening, hot mess. Avoid at all costs. Sure, there are some nifty batting and pitching cages for older kids, but the toddler set is stuck with a Jr. Bernie Slide. What's a Jr. Bernie Slide? It's an absolutely normal playground slide, except kids need to wait five minutes in line to zip down it. The disappointment on their faces won't disappoint. At least there's a nearby "Kids Cafe" with hot dogs and chicken strips, and some replica sausages for the little monsters to climb on.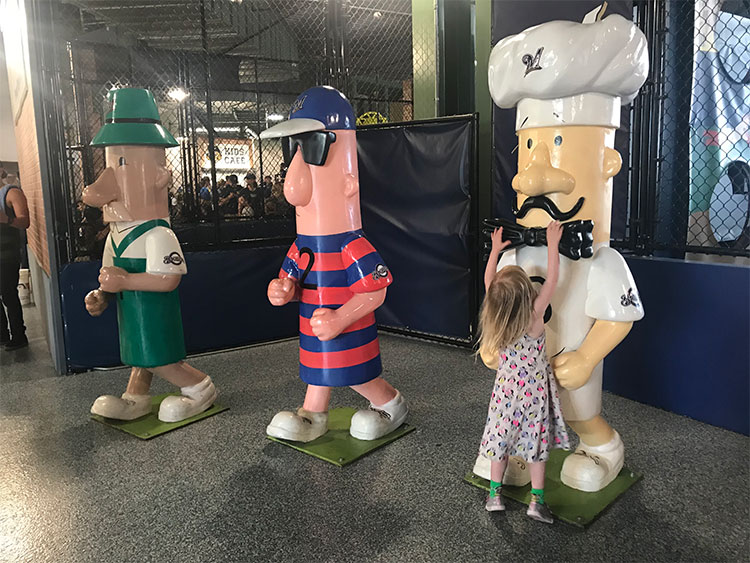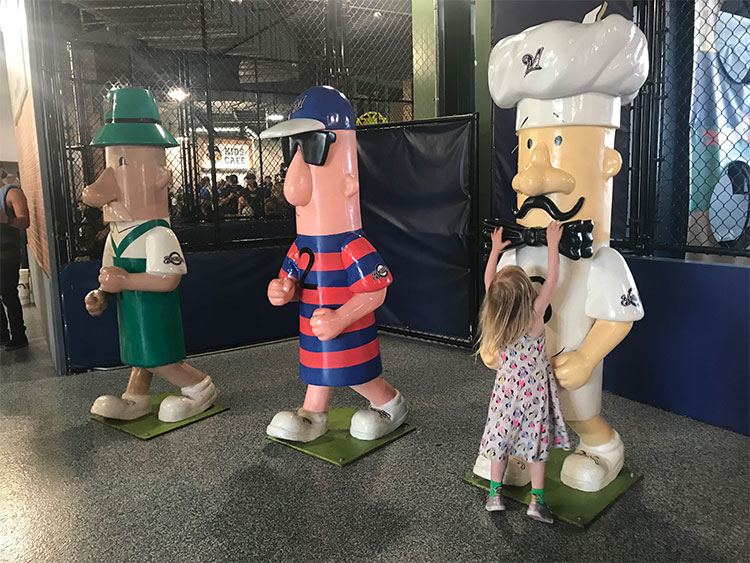 LET THEM PLAY IN THAT WEIRD KIDS ZONE ON THE TERRACE LEVEL
Part of parenthood is making peace with all the sad, grubby play areas your kid will inevitably be attracted to. Malls, airports, and Chuck E. Cheese's all have them, and so does Miller Park. The Aurora Health Care Kids Zone isn't the worst kids zone out there—it has a soft floor, a tiny clubhouse, and a giant baseball card photo-op thing—but it is strange to see dozens of kids mount a statue of Bernie Brewer sprawled out on what appears to be a pile of baked beans. Seriously: Is he supposed to be sliding into home? Sliding down his slide (covered in baked beans)? Weird.
EAT SOME STUFF AND JUST KIND OF WANDER AROUND
Speaking of food, just grab something relatively "cheap" and kid-friendly grub (Zaffiro's Pizza works in a pinch) and let your little tyke trod the lesser-trod corners of Miller Park. Those long, concrete ramps leading down from the Terrace level can easily kill 15 minutes or so, and the area outside The Selig Experience is pretty quiet and untamed. Kids love big, open spaces, and taking pictures of them next to hulking HVAC systems never gets old.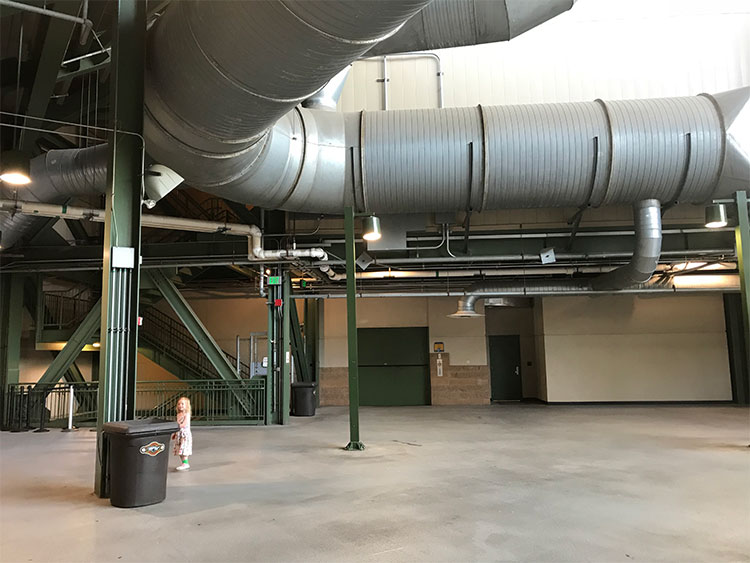 THEY MIGHT ACTUALLY GET A KICK OUT OF THE SAUSAGE RACE
This will be the only part of the game you'll see.
FREE WIFI
If all else fails, Miller Park has free WiFi, courtesy of Verizon. It works, it's relatively zippy, and there are 26 episodes of PJ Masks on Netflix. Hand over your phone and play ball.