The Green Bay Packers are bad. This season has been bad. Unless things drastically change in the next three weeks (against three opponents with winning records, mind you), the chances of a Packers postseason are—you guessed it—bad. While things have been downright terrible in Packerland and don't look to be improving anytime soon, there are still some positive things to cling to…right? As you fight to remain upbeat during the next two months of poor Packers play, here are some positive things to think about during the ongoing collapse.
Tickets to Lambeau Field are going to be cheap(er than usual)
The Packers have five home games left this season. Following Sunday's match-up against the Mike McCarthy-led Cowboys, ticket prices are sure to dip for the final four games at Lambeau Field. Now is the time to score some cheap (compared to normally, at least) seats online or ask your season ticket holder relative if they really want to bundle up to watch a Packers-Lions game in early January. Sadly, this also means you're bound to see fair weather Vikings "fans" and L.A. shitheads coming to Green Bay in droves between now and New Year's Day.
The communal experience
Even laughably awful football is still fun to watch if you're with friends, loved ones, or strangers who share your affinity for the Packers. The game might suck, but drinking too much and eating great food as you (almost sarcastically) celebrate the handful of encouraging moments in a most-likely meaningless game will never get old. Society has become so incredibly divided (especially here in Wisconsin), but Packers games are one of the few times these days when people with almost entirely differing ideologies can band together and say with one unwavering and unified voice, "What the fuck was that, Rodgers?!"
Our Halftime Show series is still happening
Win, lose, or draw…our Milwaukee Record Halftime Show concert series isn't going anywhere this season. And not just because we're contractually obligated to keep it going! We legitimately love it. While the product the Packers are putting on the field hasn't been great, we remain incredibly proud of the lineup of this FREE concerts we've booked to take place at Cactus Club between the second and third quarter of games. Between that, awesome deals on Miller Lite/Miller High Life, tasty Rehorst Vodka bloody marys, a DJ playing tunes during commercial breaks, touchdown shots, and other goodies (like raffles and occasional food offerings), you should really join us.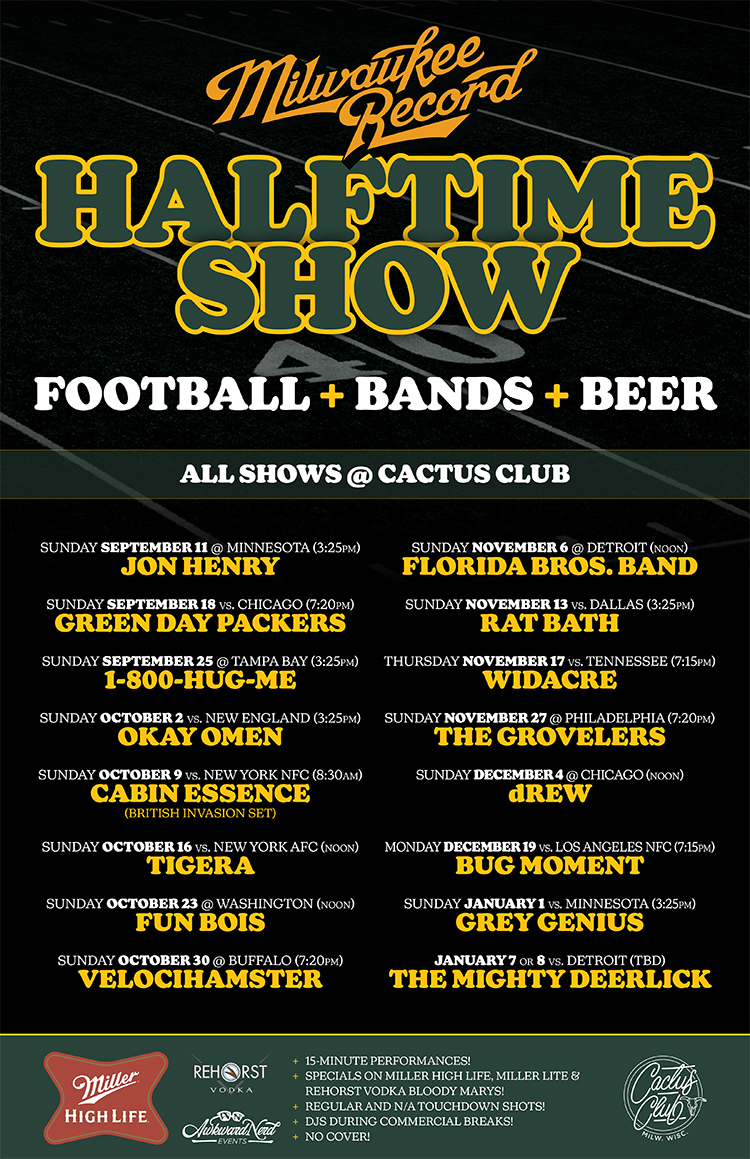 Aaron Jones
He's extremely good! Hopefully the ankle injury isn't a nagging issue and he starts to become the focal point of the Packers offense. A.K.A. run the damn ball.
Getting to see if young players show signs of development
At some point, it makes very little sense to keep trotting starters out there during blowouts or in the waning minutes of games that no longer matter to risk injury. Mathematical elimination or lopsided scores are sure to bring about more snaps for Jordan Love, more looks to lesser-known receivers, and playing time for players who'd probably be the "next man up" in the case of free agent departures (looking at you on that one, Josiah Deguara!). Personally speaking, this writer would like to see if Love could build some confidence and find an offensive rhythm with more playing time if/when the Packers are officially ousted from playoff contention.
Aaron Rodgers Success or Aaron Rodgers Schadenfreude
Until said mathematical elimination from the playoffs happens, it looks like Aaron Rodgers will remain the guy under center. As the reigning MVP who is absolutely crippling the franchise's payroll, that makes total sense…even with his truly dismal performance so far in 2022.
Forgetting that he's shown himself to be a total joke of a human being off the field over the last 12 months, we're still hoping he can add a few incredible plays to his career highlight reel and add a few more memorable wins to his Hall Of Fame resume. But if that doesn't happen, we'll just remember some of the things he's said and done (or didn't do but lied about doing), watch him blame everyone but himself for the team's poor performance, watch his various in-game tantrums, laugh at his latest attention-seeking haircut, and take some sick pleasure in the fact a guy we can no longer get behind on a personal level can no longer play at an elite level. It's really a win-win.
Game Day snacks and Touchdown Shots
Brats! Taco dip! Ham and rolls! Kringle! Cheese and sausage! Those are just some of the things that come to mind when we think about Packers game day spreads. Even if injuries are plaguing the team, Rodgers is missing wide open receivers, and everything continues to look out of sorts, you can eat well while watching the nightmare continue. Plus if (emphasis on "IF") the Packers score a touchdown in a game, you might even get to enjoy the sweet nectar of a Touchdown Shot.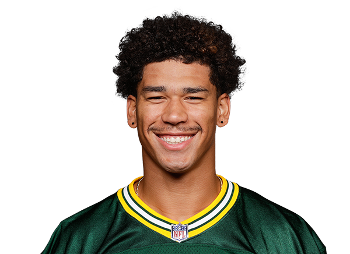 Allen Lazard
For being an undrafted receiver who the Packers picked up when the lowly Jaguars cut him in 2018, Allen Lazard has been nothing short of incredible. "Alien Lizard" is the default number one receiver now, which isn't exactly the role he's suited for. Still, he's good! We say all this because Lazard will become an unrestricted free agent after this season and other teams are also likely aware that he's good. Hopefully, the Packers can re-sign him, but it's far-from guaranteed, so enjoy him while he's still here.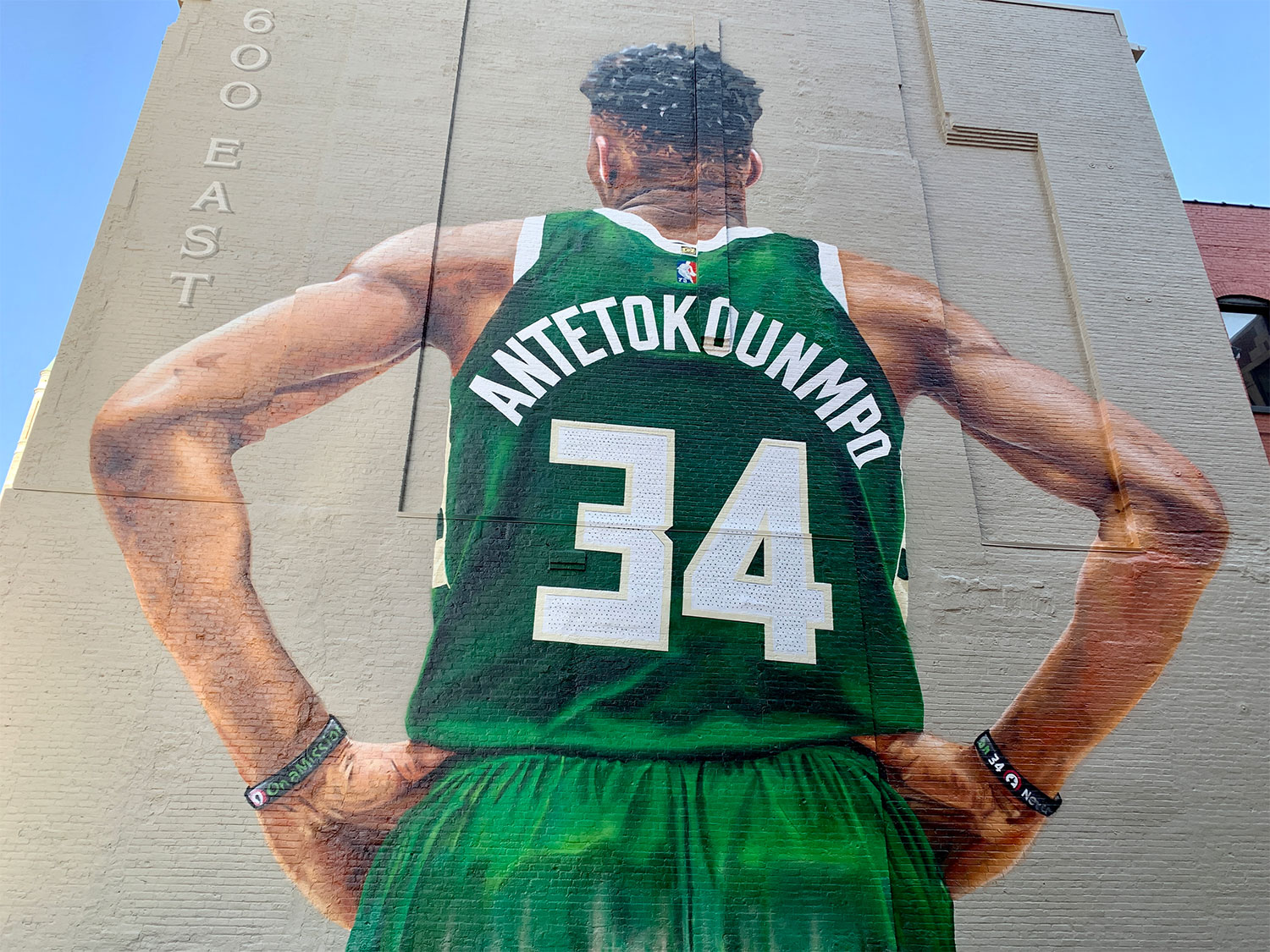 Increased appreciation for the Milwaukee Bucks
We've always loved the Bucks, but we can't say the majority of Wisconsinites share that sentiment. Until recently, the sports hierarchy has been: Packers, Brewers, Badgers, then Bucks. However, with Green Bay's current struggles and inability to win a goddamn NFC Championship Game, the Brewers front office thriftiness and unwillingness to the next step to be a true contender, and whatever is happening with the Badgers these days (lol), Giannis and the Bucks are rightfully earning lots more attention in the realm of Wisconsin sports. This team is super fun and there's plenty of room on the bandwagon, folks! Join us.
The Vikings are going to blow it
We know how this is going to end up. The Vikings will put together one of their best regular seasons in years, then they're going to absolutely blow it. Will it be a first round loss? Will they get their turn falling apart in the NFC Championship for a change? Will they actually make the Super Bowl, only to have their hearts broke for the FIFTH TIME in franchise history as Rihanna looks on and laughs? We can't say for sure, but something terrible IS going to happen to the Vikings and it will be absolutely spectacular. With every win, the inevitable dismantling of their season will only become more brutal and more crushing for them. At least that's what we're telling ourselves.
Keep watching and try your best to stay positive, people. We say this both as a means of instilling hope AND as a warning for the months ahead: there's a lot of season left.