With our "Business To Business" series, we're offering business owners in and around Milwaukee a platform to acknowledge other local establishments and area entrepreneurs they appreciate. This week: The Refinery owner/photographer Jessica Kaminski shows some love to Von Trier. Here's what Jessica has to say…
Some of my favorite Milwaukee places involve those in which, once you pass through their front doors, you are transported to a whole other world. Some wonderful examples of these lovely places are The Oriental Theatre, Swingin' Door Exchange, and the topic of today's entry, Von Trier.
From the outside, Von Trier, a German Beer Bar and Cocktail lounge, sits quietly on the corner of North Avenue and Farwell Avenue, nestled comfortably in the warm glow of the theater across the street. Once you enter the front doors, you are momentarily encapsulated in a glass vestibule, which gives you a perfect opportunity to take in the contents of the room. There is something kind of fun about being able to observe the hustle and bustle of the space, before officially entering it. This is especially satisfying when it's bitter cold outside and you get the relief of the warmth of the tavern as you enter.
While there is table service available, my partner and I always enjoy sitting at the bar. I'm happy to say that over the years, we've gotten to know the fine staff that works there, and we're always greeted with a warm welcome. I'm not sure what's more wonderfully Wisconsin than walking into your favorite bar and knowing everyone that works there.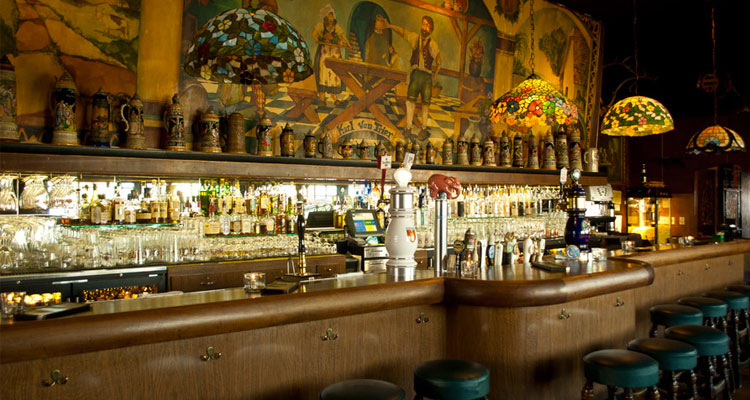 If it's busy and you have a moment before you can order your drink or some food, you have time to look around the room. Even though I have stared at it a thousand times, I'm always mesmerized by the mural that sits behind the bar. Painted in the late 1970s by the late local Milwaukee artist Mike March, the mural shows the interior of a pub and is flanked by panels of idyllic countryside. This is just the tip of the iceberg, as Von Trier is essentially its own art museum, showcasing a wrought-iron and antler ironwork chandelier, a one-of-a-kind piece of art by one of the most famous ironworkers of his time, the legendary Cyril Colnik. Additionally, throughout the space you can also see leaded stained glass windows, antique beer steins, and European skull mounts, oh my!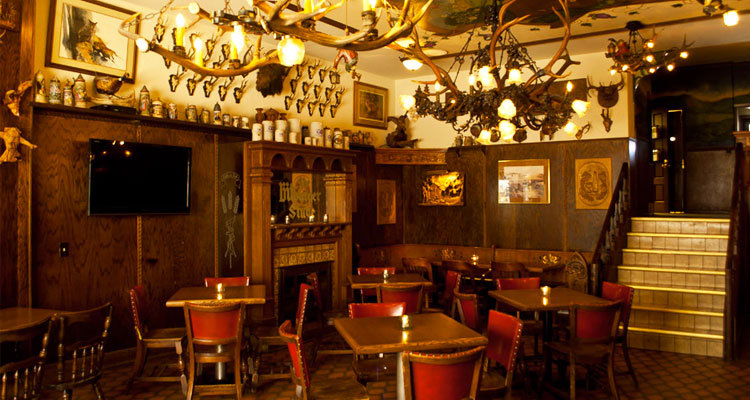 My partner highly recommends the Weihenstephaner Vitus, hailed as "The Golden Child" of the Weihenstephaner Brewery. I'm not a huge beer drinker myself, but this thing is delicious. Plus it has notes of banana, which, for all intents and purposes, is bananas! You can even get a gigantic boot of this stuff, and if you don't think you can finish it, just order a giant pretzel to help soak it up. I'm a martini girl myself, and the magicians behind the bar have never steered me wrong. They also make an excellent negroni.
This is absolutely one of my favorite haunts to visit after a long day at work, after seeing a great film, or after a nice walk through the neighborhood. There is so much more to Von Trier that I didn't even mention, so I suggest that you check it out on your own!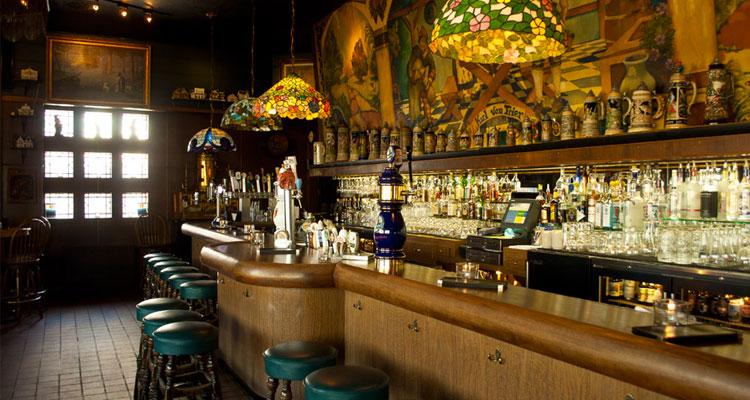 Are you Milwaukee-area business owner who wants to shout out another local establishment you love in the "Business To Business" series? Get in touch with us at [email protected]. You can check out more "Business To Business" entries HERE.