The Brewers reported to Spring Training today. While it's exciting—especially with the busy offseason Milwaukee had—to know the regular season isn't too far out, fans are still in line for about seven weeks of boring reports of players being in "the best shape of their life" and boilerplate quotes about how the team is "all in" in 2018. Barring a trade or significant injury, we've probably said pretty much all we can about the Brewers until the team returns to Miller Park in early April.
So when something even remotely out of the ordinary can break the monotony of Spring Training, it's worth mentioning. For example, when a power-hitting first baseman comes to Arizona in the biggest fucking pickup truck you've ever seen, it's news. A year after Korean Baseball Organization folk hero Eric Thames clubbed 31 dingers in his first Brewers season, he rolled into Spring Training in a Ford F-250 with a 12-inch lift and 40-inch rims. It makes the Herculean hitter look like a Junior Announcer (or Zach Davis) with a fake beard when he stands next to it.
Rollin' up to Spring Training like… #CactusCrew pic.twitter.com/J0gGWRO1e6

— Milwaukee Brewers (@Brewers) February 15, 2018
If you're thinking this is some sort of Cactus League prank Thames is playing on his teammates, think again. Thames also posed next to this monster in a January 21 Instagram post, alongside a "DEFINITELY OVERCOMPENSATING" caption.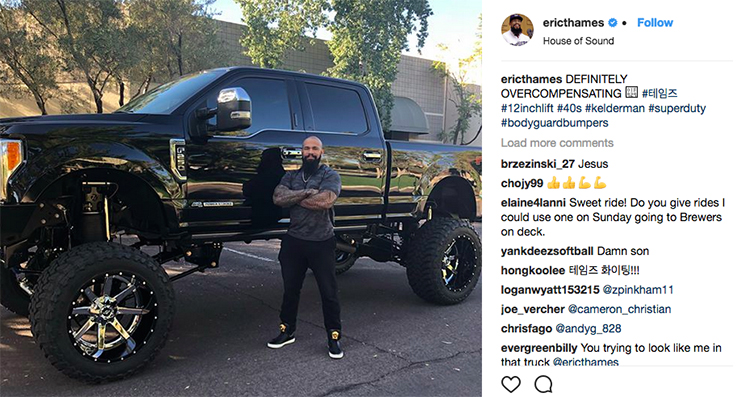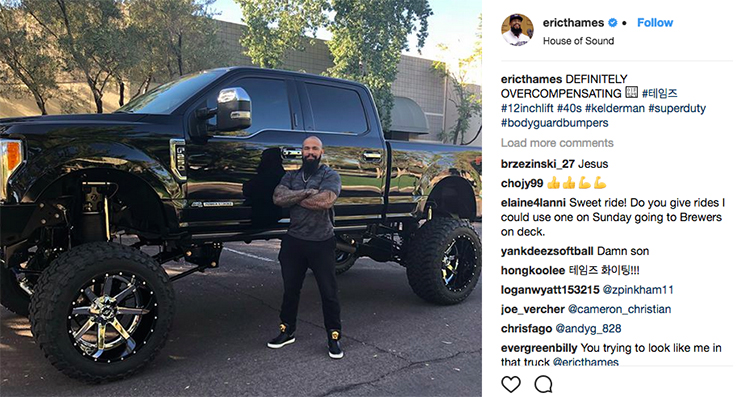 To recap: everybody is in great shape, the Brewers are all in, and the most ripped player in Brewers history apparently drives a huge fucking truck. Buckle up, fans. There's a lot of Spring Training ahead of us.