For much of the country, New Orleans is a city with an identity that lands somewhere within well-worn stereotypes of the glittery debauchery of Bourbon Street during Mardi Gras and the well-publicized tragedy of Hurricane Katrina. Between those two very different identities, there has to be more to a city as vibrant as "The Big Easy," which has seen seemingly insurmountable hardship, and has rebounded to recapture its position as a place synonymous with having a good time.
A humid coastal city with an irrepressible lust for life feels light years away in the cold of Milwaukee's lingering spring. "Creole" and "Cajun" aren't exactly the styles of cuisine one usually identifies with when they're zipping up their coat for the eighth consecutive month. Grey skies and drizzle weren't enough to stop us, however, from checking out The Big Eazy (2053 N. Dr. Martin Luther King Dr., 414-795-2773) to see if it could breathe some life into our winter-worn souls
The space: Nowhere quite epitomizes thematic on-the-nose decor more thoroughly or endearingly than Big Eazy. The unsubtle bombardment of NOLA love starts with Venetian masks and beaded necklaces festooning the makeshift balcony built in to the restaurant's southern wall. Another wall is entirely covered with a gigantic Bourbon Street print. Completing the ambiance are shimmering, ribbon-filled top hats serving as centerpieces, and, of course, some requisite Saints gear. The aesthetic might seem a little boisterous, but as we came to learn, it speaks to the owner's sincere earnestness and pride in his home and his cooking.
The service: We arrived at open, and it became evident that Big Eazy's front-of-house crew was comprised entirely of one person who had, if we were to bet, limited serving experience. A genuine attempt to give good service was evident, but despite the effort, a few things went awry. Our order of two appetizers and two entrees came out as one appetizer and three entrees, all for just two people. The relative clumsiness in the service shouldn't be a deal-breaker, though it may help to be more direct than one might be used to so as to avoid similar issues.
The food: If iffy service is the restaurant's downfall, the food does more than enough to put it on its back. Big Eazy's menu gives its name tangibility. The selection is wide, but not so much to make one wonder how the establishment could keep the seafood fresh, with a menu primarily consisting of can't-miss classics for anyone with even a rudimentary knowledge of New Orleans cuisine. After a brief perusal of the appetizers, we decided to start our lunch with "fish nuggets," which arrived in as basic and unpretentious a presentation as the name would suggest. Essentially, it was a porcelain boat with a dozen or so fried-to-order catfish bites and two small plastic containers with jalapeno mayo and ketchup sauce. The dish's blasé appearance served as a unique disguise for how satisfying and full of flavor it was.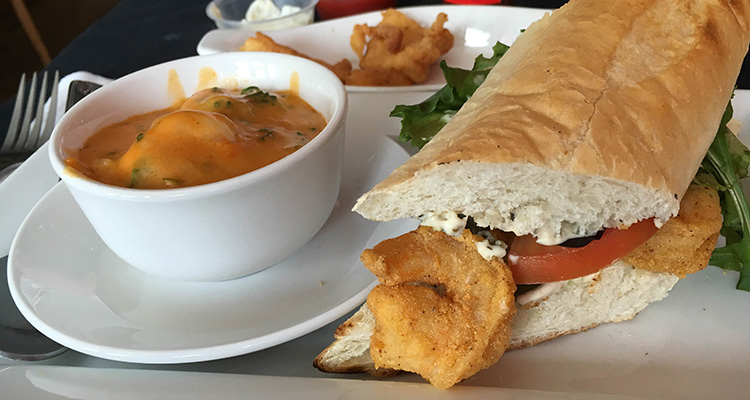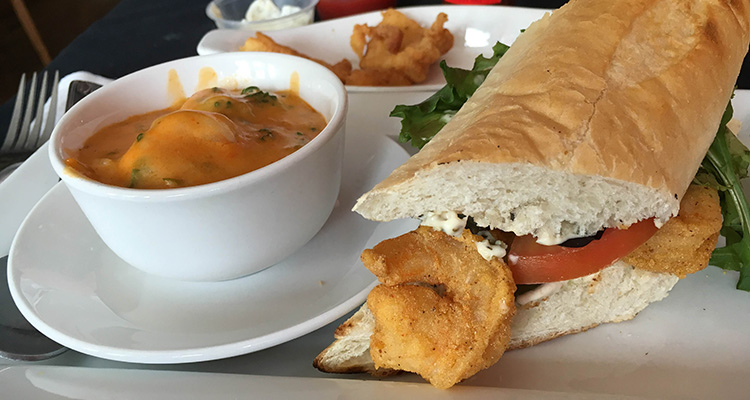 Following the appetizer was a trio of dynamic and almost shockingly delicious main courses. The jambalaya (lower left) was replete with andouille, meatballs, and even a braised bone in chicken leg. The shrimp po' boy (above) was classic, with fried-to-order shrimp putting it over the top. The shrimp and grits (lower right) had to be one of the more beautifully plated and well balanced dishes we've ever had put in front of our slovenly, undeserving maw. These were all quite good—delicious even—but the truly superlative part of our lunch was found unassumingly in a bowl next to the po' boy. Masquerading as a perfunctory side to the sandwich, Big Eazy's seafood gumbo was knee-buckling in its excellence, definitely the star of the show.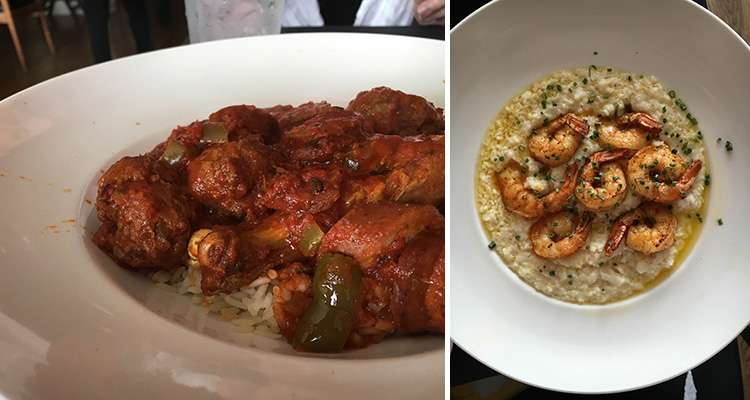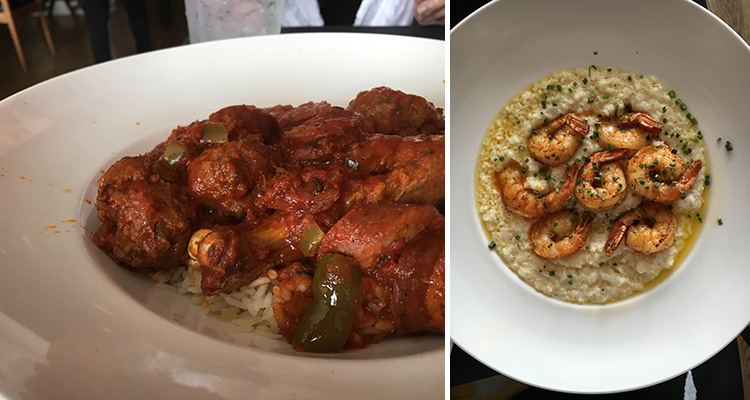 Verdict: The enormity of the flavor matched the heart at Big Eazy. As a diner, you can choose to ignore or embrace the tropes lining the walls of the restaurant as well as the presumptions lining your brain regarding the identity of New Orleans. The impact of that choice ends, however, when the food hits your table and you succumb to its sheer honesty.