Tonight, the Packers will take the field in Glendale, Arizona and face the Cardinals in a Thursday night matchup. Arizona is undefeated this season and Green Bay has, like, zero wide receivers available right now…so, uh, maybe let's not focus on the game this week. Instead, maybe we should think sweet thoughts. After all, Halloween is just around the corner, right?
Through the years, a variety of Packers players have lent their name and likeness to candy bars, gummies, sugary cereals, and other snacks. Though we're hoping for the best tonight, here are a few athlete-endorsed sweets and treats to think about if the game turns sour.

The Reggie White Bar
Yep, Reggie White used to have a candy bar. During his mid-'90s heyday, the Reggie White Bar was sold throughout Wisconsin to help raise money for things like class trips, community causes, and fan-funded mega churches that would never be built. If the memory from our childhood in the Fox Valley serves, the candy bar—that was "SACKED peanuts & caramel in milk chocolate"—was actually pretty darn good. It was kind of like a bigger, flatter Baby Ruth or something.

Brett Favre Bar
Not be outdone by a Packers star on the other side of the ball, Brett Favre also had a candy bar in the late 1990s. The Brett Favre "Signature" Bar was similar to the Reggie White Bar (right down to the blue uniform and absence of a Packers logo to avoid litigation), except there were no peanuts in it. Like Reggie's bar, sales of the candy bar helped raise money for deserving local organizations. Maybe.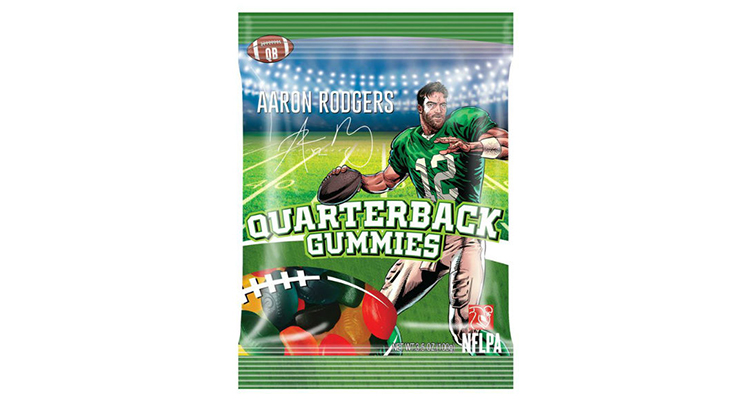 Aaron Rodgers Quarterback Gummies
These days, Aaron Rodgers has aligned his brand with a ton of chic and respected names. He endorses products like Bose, IZOD, and Zenith Watches. He invested in ventures like Super Coffee, Habit Burger, and he's part-owner of the Milwaukee Bucks. However, for a brief time in 2016, Aaron Rodgers was also the animated face of Quarterback Gummies. Well, kind of. The illustration on the package of these officially-licensed NFL Players Association gummy footballs looks nothing like Rodgers, but he still lent him name to it and he probably made some decent money in the process.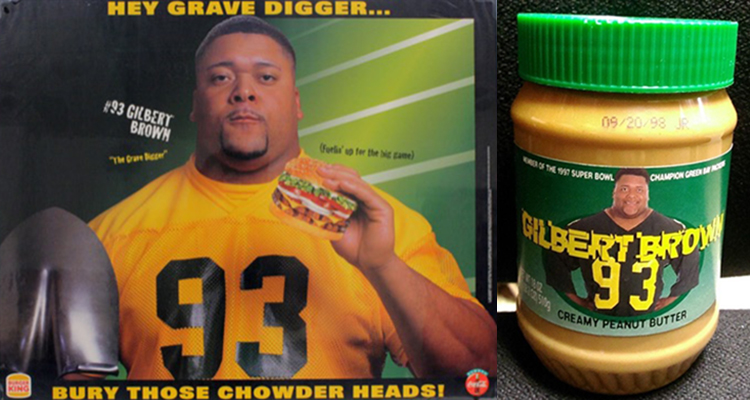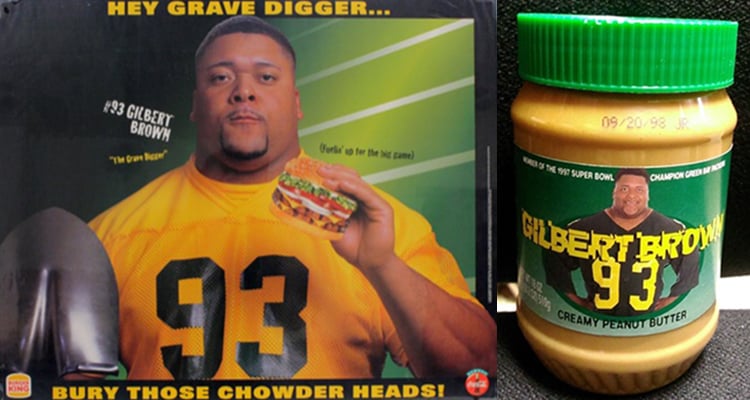 Gilbert Brown Peanut Butter
Any longtime fan with any sense of Packers-related food knowledge is aware of the "Gilbert Burger" that Burger King restaurants in Wisconsin offered during Green Bay's mid-'90s salad days. However, fewer folks are likely to recall Gilbert Brown Peanut Butter, which briefly hit grocery shelves in the state around 1997. It's crazy to see the manufacturers could use the ultra-trademarked "Super Bowl" term on the jar, but couldn't show the Gravedigger in a real Packers jersey. Oh well!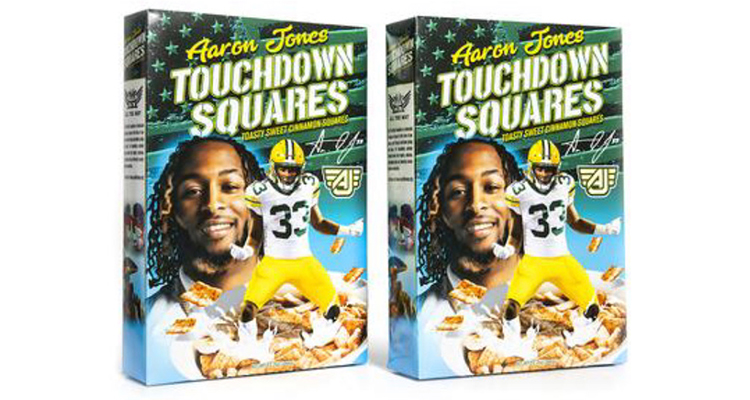 Aaron Jones Touchdown Squares
Following a breakout 2019 season, Aaron Jones absolutely earned the right to have his very own cereal. Aaron Jones Touchdown Squares hit stores throughout Wisconsin early last season. The "toasty sweet cinnamon squares cereal" bearing Jones' name was produced by a Pittsburgh-based manufacturer called PLB Sports (more on them in the next entry). Sadly, we weren't able to make it to a Festival Foods in time to pick up a box of Aaron Jones Touchdown Squares before they quietly left store shelves, but we imagine they were pretty similar to Cinnamon Toast Crunch.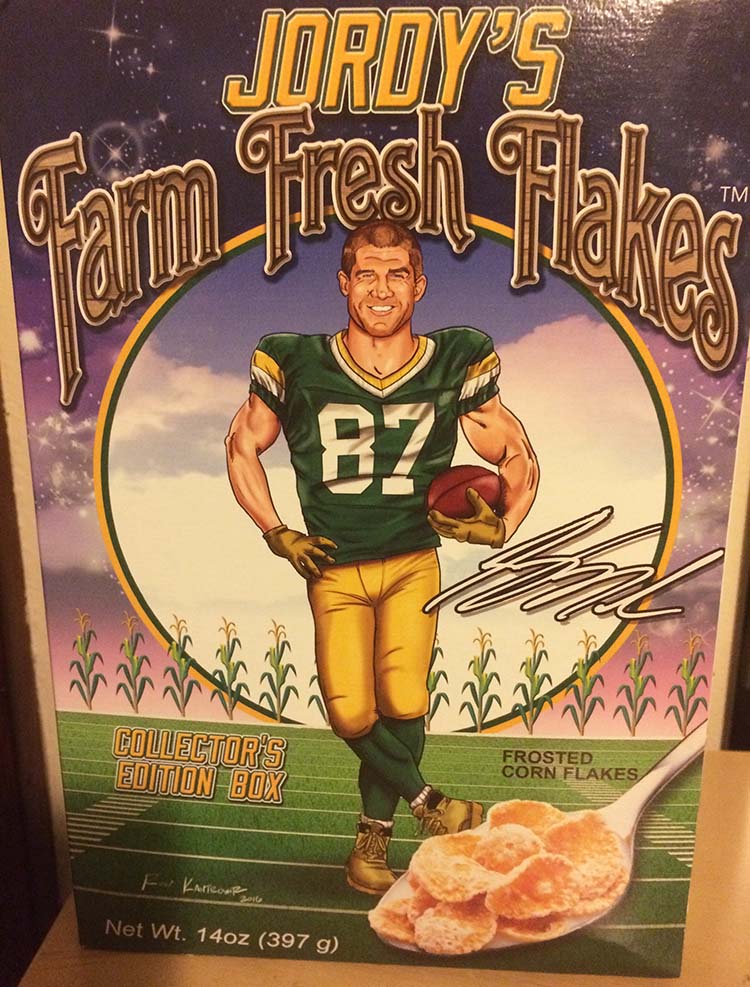 Jordy's Farm Fresh Flakes
During the 2016 season, then-Packers receiver Jordy Nelson landed an opportunity that was way cooler than holding a stick of Old Spice or hocking Fathead cutouts. He got his own cereal! Jordy's Farm Fresh Flakes briefly joined the PLB Sports product arsenal alongside Flutie Flakes and, uh, Dustin Pedroia's salsa. Through the years, the Pittsburgh-based manufacturer seems to have cornered the market on passable food items made to honor/promote players in the NFL and MLB. Nelson's unlicensed, team-implicit contribution to the line of sports edibles was a frosted corn flake. Collector's appeal and tangential Packers affiliation aside, they were pretty much just an offbrand and somehow more expensive take on Frosted Flakes. You can read our full Jordy's Farm Fresh Flakes review HERE.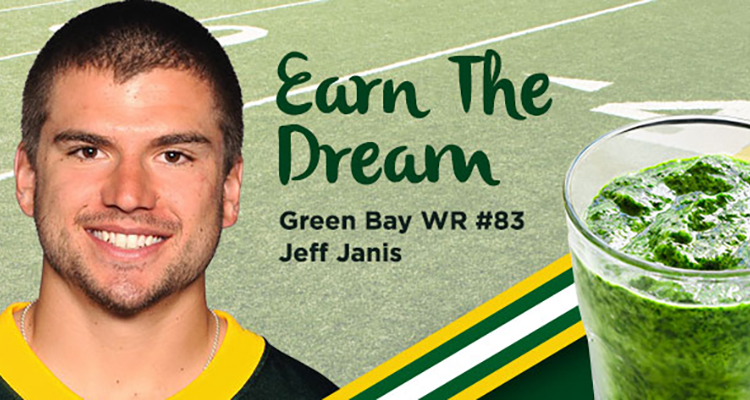 Jeff Janis "Earn The Dream" Smoothie
Yeah, smoothies are healthy compared to pretty much everything else on this list, but they can still have a surprising amount of sugar. Plus, we felt like we needed a few more players to make this article worthwhile. ANYWAY…during the 2015 season, then-Packers wide receiver Jeff Janis signed on to be the celebrity spokesperson for Refuge Cafe. Even though the now-defunct Milwaukee-based franchise had no locations anywhere close to Green Bay, that didn't stop the late-round draft pick and unlikely playoff phenom from cashing in. The Janis-inspired "Earn The Dream" smoothie was gold…in the form of green. Rife with kale, apple, grape, and banana, it was an unlikely kind of beverage that was created to fuel an unlikely Packers playoff hero who made an unforgettable Hail Mary catch as a result of sheer determination.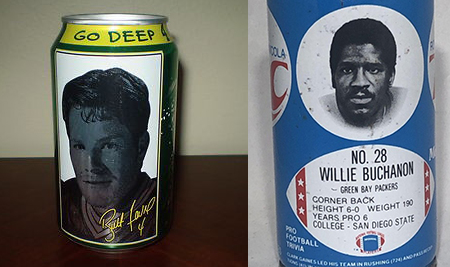 Various Player-Endorsed Sodas
This has happened a few times throughout the years. Now you know. Happy Halloween and Go Pack Go!