Sunday, a listless and banged-up 3-4-1 Packers team that's lost two straight will host the 5-4 Miami Dolphins. A loss this week could all but guarantee Green Bay will miss the playoffs for the second consecutive year and only the fifth time this century. Mike McCarthy seems to be on his way out, Aaron Rodgers seems frustrated, contributors are being traded and cut at an alarming rate, and dudes like Marquez Valdes-Scantling and Equanimeous St. Brown are getting regular playing time. In short, things aren't going great in Packerland.
As we keep our fingers crossed for things to turn around, we can't help but look back to better times. Sure, there are still a few remnants of Green Bay's last Super Bowl-winning team on the roster and in the front office, but there's also an abundance of amazing memories from the Packers squads that appeared in two straight Super Bowls in 1996 and 1997 (and won one of them) to draw from. Plus, there's one sizeable sandwich from the tail end of the 20th century that Packer Backers might remember eating.
Yes, instead of analyzing what's likely to be a forgettable Packers-Dolphins game, we'd like to take some time to remember—and to re-taste—Burger King's "Gilbertburger." Here's a quick backstory for those of you who don't recall the burger chain's short-lived promotion in northeast Wisconsin and/or who might not remember the Packers player the burger was (briefly) made to honor.
Gilbert Brown might not have the stats to warrant the special place he still holds in the hearts of fans. The former nose tackle amassed just seven sacks and a single fumble recovery over the course of 10 total seasons in Green Bay. However, the 350-pound (his listed playing weight; he was actually much heavier than that) defensive lineman was known to clog the line of scrimmage, force runners outside, and draw double-teams to let the likes of Reggie White, Sean Jones, and Santana Dotson have an easier path to the quarterback. On the rare instances the unselfish Brown would track down a ballcarrier for a tackle or sack, he'd punctuate the play by pantomiming a shovel being thrust into the dirt.
For about a year during the peak of his career and in the middle of Green Bay's mid-'90s dynasty, "The Grave Digger" became known for one other thing: his love of Burger King Whoppers. Except Brown had a special way of ordering his Whoppers. The regular customer at Green Bay's Oneida Street location would request a Double Whopper with cheese, along with extra lettuce, extra mayo and ketchup, extra tomatoes, extra onions, and no pickles.
"I don't like pickles," Brown said in an interview with The New York Times leading up to Green Bay's appearance in Super Bowl XXXI in early 1997. Fair enough.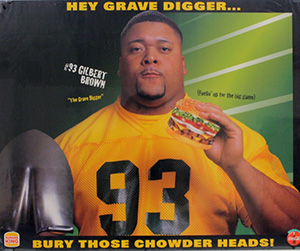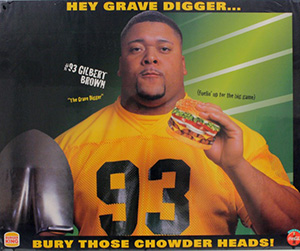 As Green Bay clobbered opponents en route to the team's first title since winning Super Bowl II, Burger King locations in Green Bay and throughout the Fox Valley started offering Whoppers made Brown's way. The Gilbertburger was born.
Prior to Green Bay's trip to New Orleans to take on the New England Patriots in Super Bowl XXXI in early 1997, Burger Kings in the region also printed and distributed posters at locations that served the dense, messy, and football-focused delicacy. The promotional posters featured the lineman (adorned in an unlicensed number 93 jersey) toting a shovel in one hand and the sloppy Double Whopper modification in the other. "Hey Grave Digger," the poster begins. "Bury Those Chowder Heads!"
Brown and his teammates made good on Burger King's request, destroying the Pats and making Green Bay "Titletown" once more. As the Pack worked to repeat in the 1997 season, the Gilbertburger remained on the menu. At the same time, Brown (who probably no longer needed to bother paying to indulge in the sandwich modification he popularized) stayed loyal to Burger King. He was one of the two or three largest players in a comparatively-puny NFL of the 1990s—for frame of reference: Sean Jones was listed at 220 pounds, which is 25 pounds less than Cam Newton's current listed weight—and there wasn't nearly as much of an emphasis on putting on weight "the right way" as there is today, so Brown was reportedly given free reign to eat anything he wanted. And he did. He continued to frequent the Oneida Street BK, and brought in sacks of burgers and breakfast sandwiches for teammates.
Of course, any Packers fan worth their weight in Whoopers knows how the 1997 season turned out. The Packers lost Super Bowl XXXII in heartbreaking fashion in early 1998. By the time that calendar year was through, Mike Holmgren and Reggie White were both gone. And so was the Gilbertburger. Brown followed suit after the 1999 season. He came back to both football and the Packers in 2001 and played until 2003. By the time his second stint rolled around, fewer graves were being dug, and local Burger Kings didn't bother bringing back the specialty sandwich in any official capacity.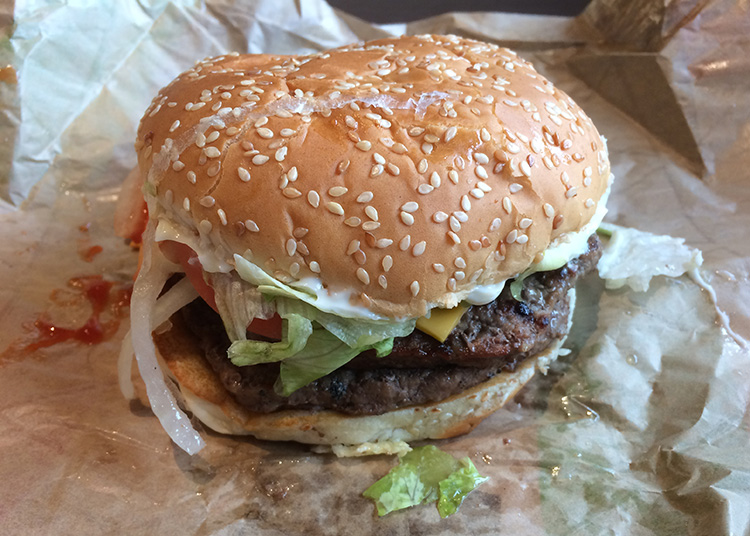 Recently, while back in our native Fox Valley, we were feeling wistful for more dominant Packers teams and hungry for forgotten flavors. We went to the Burger King in Menasha and ordered a Gilbertburger.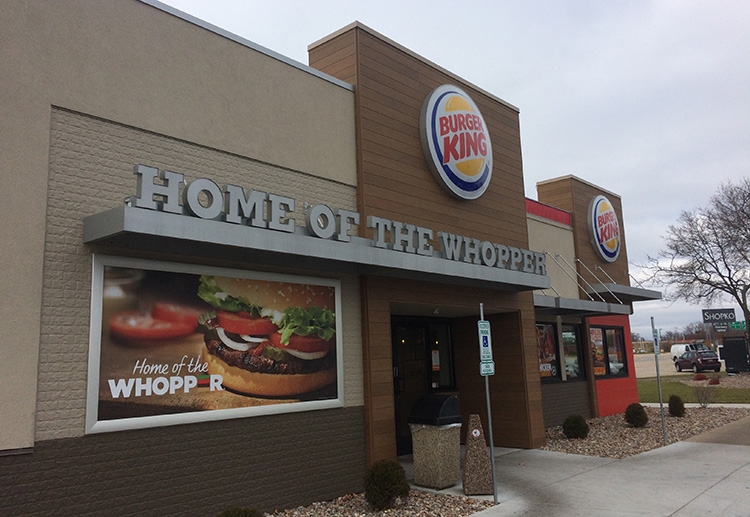 Of course, we didn't order it that way. Instead, we risked annoying the cashier by ordering a Double Whooper with cheese and double everything…hold the pickles. With the extras and add-ons, it was $6.81, compared to roughly $4.50 in the '90s, if memory serves.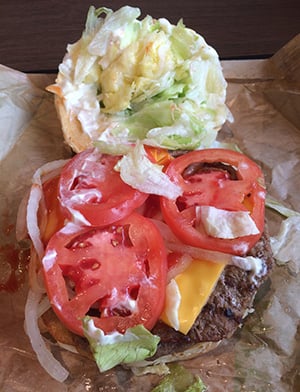 While we awaited our off-menu Gilbertburger, we looked around to find the place where we'd enjoyed the now-retired run-stopper's namesake burgers a few times in our youth had changed. In the last two decades, Burger King went from holding firmly to the second place spot on the fast food burger hierarchy to being a struggling chain with numerous closures and a continually worsening reputation. In desperate effort to reshape its image, many restaurants have been renovated, including the Menasha location.
The place we'd frequented during high school lunches was decidedly different now. Over the years, it apparently became a hangout for elderly folks. Someone was also asleep in a corner. Neither observation is intended to pass judgement on the customers or to disparage a person who might be down on his luck, but the clientele has definitely changed. We hoped that, despite the numerous alterations to Burger King's look and quality, the Gilbertburger would at least taste the same.
This Gilbertburger was a particularly messy one. The bun was partially torn, the cheese wasn't melted, and we instantly regretted the double mayo. We also wished we would've gone against Brown's method and just ordered pickles on it. Though it was extremely messy, we (no longer in middle school) made fairly easy work of the burger that seemed to be so behemoth during our adolescence. Sloppiness aside, it was fine, but not quite the way we remembered it looking and tasting.
Time changes things, both the way things actually are and how we choose to remember them. Even though the Packers are no longer the once-in-a-lifetime force they were in 1996, even though Burger King kind of sucks now, and even though the passage of two decades has impacted how things look and feel and taste, it's nice to know you're just one special order from a semi-functional portal back to more prosperous times in Packerland. Should you ever decide to take your taste buds on that trip, we recommend going light on the mayo.