With so, so many great breweries in Milwaukee and the exponential growth in excellent craft beer being made throughout the country, it's tough not to empathize with some Wisconsin brewing operations trying to establish themselves in the state's largest city (and surrounding suburbs). If you're not New Glarus—which fooled consumers into thinking Spotted Cow is in any way special—or either Central Waters or O'so (who just make plain great beer), tapping into the stubborn metro Milwaukee market requires a little innovation. Shit, even Sprecher needs a roving beer garden to help move some units in its own city! After serving as a longtime Fish Fry & A Flick sponsor and letting bars essentially give away its Point Special with generous happy hour deals for years, so-so central Wisconsin-based Point Brewery seems poised to increase its footprint. Late last month, Point Burger Bar (10950 W. Good Hope Road, 414-797-2970) filled the long-vacant site last occupied by Tumbleweed on Milwaukee way waaaay northwest side on a frontage road near the I-45 on ramp. On our way north for the holidays, Milwaukee Record stopped for a burger and a beer at the new venture spearheaded by the brewery and Ward's House Of Prime ownership.
The space: The ghost of Tumbleweed still looms large at the industrial park-adjacent eatery, though the beleaguered "West-Mex" franchise's faded red accents both inside and out have since been covered with a bright new coat of royal blue paint. Point Brewery signage—and signs of somewhat reputable subsidiary suds such as Cider Boys and Whole Hog—served as the restaurant's decor, and a less-than-subtle means of pushing Point product at the establishment bearing its name. As some may recall from past Tumbleweed visits, the entrance gives way to a spacious bar and some pub tables. The dining room is essentially a sizable square lined with booths and tables, with a cluster of four-tops situated in the middle. A secondary (or private?) dining room can be accessed past a wall of empty kegs that, true to the tenets of brand awareness, are each emblazoned with a different Point Brewery product logo.
Most of the vacant wall and ceiling space is filled with televisions (we counted more than 25 in the entire joint), each playing a different thing, all muted to allow what we deduced to be a '90s Pandora station to serve as the restaurant's soundtrack. You simply haven't lived until you've eaten a cheeseburger while watching a silent soap opera as Third Eye Blind's "How's It Gonna Be?" played.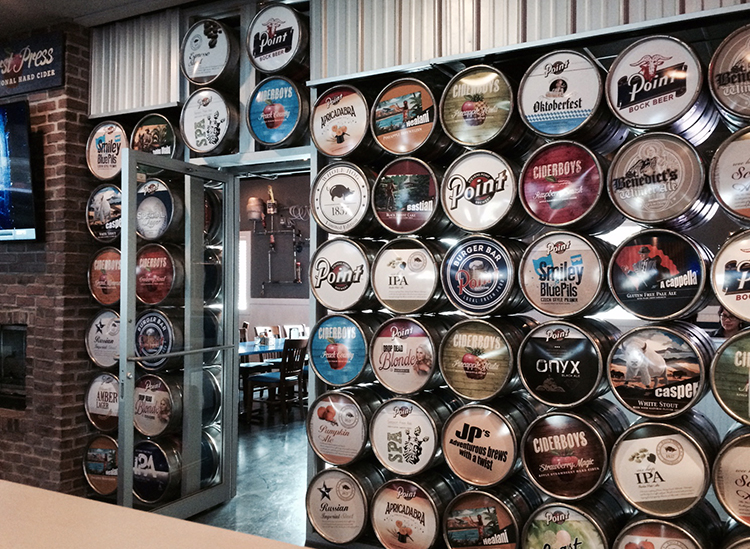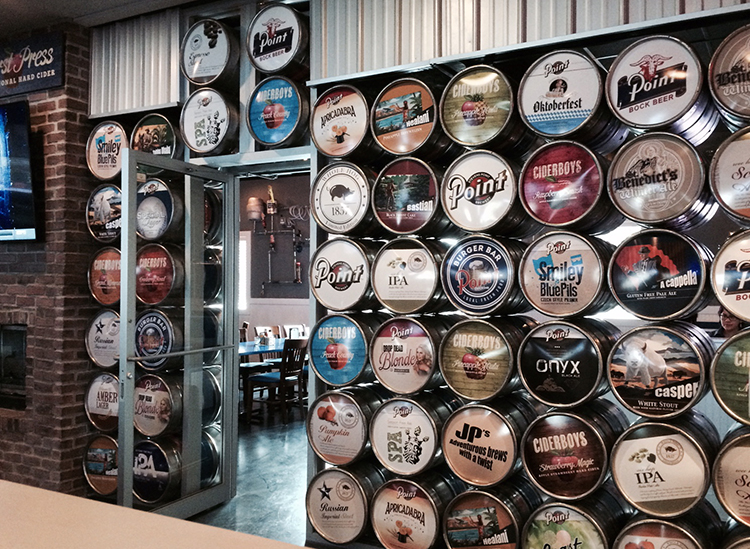 The service: Arriving at the tail end of the lunch rush, we received the full attention of our server, Heidi, whose section was rapidly clearing, as people were heading back to work. Thus, we were privy to impeccable service. She remained upbeat and helpful throughout, even when our close examination of the vast food and drink menus forced her to come by twice before we finally placed our order. Once our belated burger order was placed, our food came out remarkably fast.
Milwaukee Record's food/drink: In addition to seven sandwiches that run the gamut from Rubens to an "Adult" Grilled Cheese, and limited salads and entrees, Point Burger Bar offers a dozen specialty burgers, including a classic Angus hamburger ($9.45); lamb, duck, turkey, bison, salmon and vegan patties; the well-tread "Hangover Burger" in all its fried egg sloppiness ($13.95); and the seemingly-requisite "Heart Stopper" gluttony item ($17.95). However, we sought to test the self-annointed Burger Bar's lofty claim of being "the only place in town where you can create your own specialty burger exactly how you like it."
It might not be the only place to create your own specialty burger, but it could be one of the best, at least in regard to the number of choices on hand. The lengthy "BYO & Order Up" cards on each table feature a laundry list of proteins (nine), buns (seven), sides (nine), cheeses (eight), vegetables (12), "farm" options like bacon and a fried egg (five), and uncommon condiments (14). If our math is correct, that's…a lot of choices.
We opted for a prime Angus burger (cooked medium) with ghost pepper cheese, jalapeno, lettuce, tomato, and pickles on a pretzel bun with a side of sour cream and chive french fries. Save for our patty being charred on the outside (though still a perfectly-pink medium within), the burger was satisfying and the pepper cheese and fresh jalapenos coalesced for a building, refreshing string. The majority of any fuck-up would fall on our choice of ingredients, but Point did a fine job of making a burger selected "the way [we] like it" umm, the way we liked it. It wasn't our favorite burger of all time, but with an abundance of options, we figure one could happen upon the perfect combo after enough visits. It's been said that monkeys with typewriters could reproduce Shakespeare if given enough time, so surely we could synthesize the proper combination of meat, dairy, carbs, and vegetables to craft a perfect burger after a few visits. Next time around, we'll skip the (assuredly Sysco-procured, thin, overcooked, and crunchy) sour cream fries and spring for homemade chips.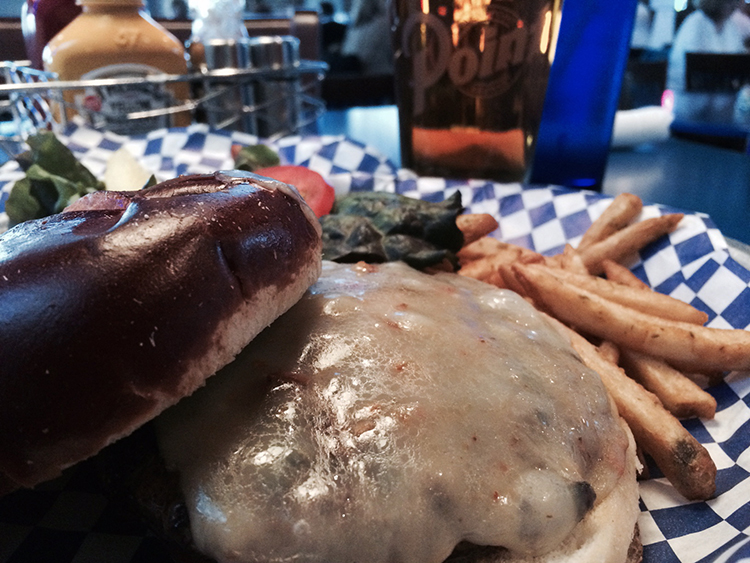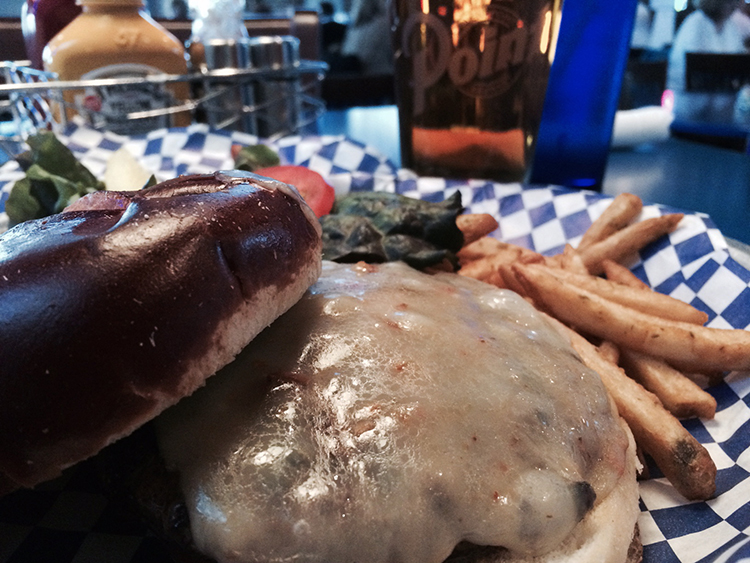 The wealth of choices extends to the beer list. Obviously, every Point product is present on the bottled beer list. However, there are also about 40 others, ranging from the respected national/international micro, expected macros, and even a handful of choices from other in-state craft brewers like New Glarus, Hinterland, and Ale Asylum (brewed and bottled in Madison, fermented in sanity!). That said, Point commands most of the draft beer lineup, with a select few out-of-state beers rounding out the list. For a place that leads with a mediocre beer's name and the word Burger, the beer selection was surprisingly great. Yet we were in Rome, so we decided to drink the crappy beer the Romans drink. With Jim Gaffigan headed to town, we foolishly bypassed Three Floyds' Zombie Dust (ZOMBIE DUST! IDIOT!) in favor of a pint of Point's Beyond The Pale IPA ($4.50).
The verdict: For those living in the heart of Milwaukee, Point Burger Bar isn't quite worth the hike. But those residing on the outskirts or for those looking to build their ideal burger and enjoy a good beer (or something Point brews, if you'd rather) before jumping on I-45, head on over to the old Tumbleweed and give it a try.