Public Market Announces 2023 Summer Concert Series Dates
Milwaukee, WISC – The Milwaukee Public Market announced today the return of the Riverwalk Commons Concert Series, an outdoor music series taking place under the I794 freeway starting Tuesday, June 20. The Tuesday night concert series will take place on 8 dates over the course of the summer at Riverwalk Commons, located across the street from the public market at 423 N. Water Street, adjacent to the Milwaukee River. The music performances will run from 6:00 p.m to 8:30 p.m. each night, with a pre-performance happy hour featuring beverage specials from 5:00 p.m. to 6:00 p.m. each night. The series will feature musicians including Joe Wray, Evan Christian, The Panoptics, and other local favorites. The full list of dates and musical acts will include:
June 20, 2023 – The Panoptics
July 11, 2023 – Joe Wray
July 18, 2023 – Evan Christian
August 1, 2023 – Learning to Fly – A Tribute to Tom Petty
August 15, 2023 – DJ Shawna
August 29, 2023 – Rob Knapp & The Soul Patrol
September 12, 2023 – Trapper Schoepp
September 26, 2023 – Radio, Radio
"The Riverwalk Commons Concert series was a great success last year and we're thrilled to expand it to 8 total dates this year. Activating the spaces under the freeway has been a key focus for us as we work with our partners to create a public space for both outdoor recreation and entertainment," said Paul Schwartz, executive director of the Public Market and Business Improvement District #2. "The Riverwalk Commons Concert Series is another layer of programming where the public can enjoy the Milwaukee summer outdoors while listening to talented local musicians."
Admission for the Riverwalk Commons Concert Series will be free and include some of the area's most popular food trucks and purveyors. Draft & Vessel, a seasonal outdoor vendor at the market, will be onsite with its RK'd van, a 1969 van that offers tapped beer and craft cocktails on one side and has a retro gaming arcade on the other.
Under freeway programming and activations have been a focus of the public market, Milwaukee Downtown, and Business Improvement District #2 in order to lessen the perceived barrier between Downtown and the Historic Third Ward, and to enhance the parcels for public enjoyment. Last summer, newly installed pickleball courts were unveiled on the south portion of the space to kick off its public activation.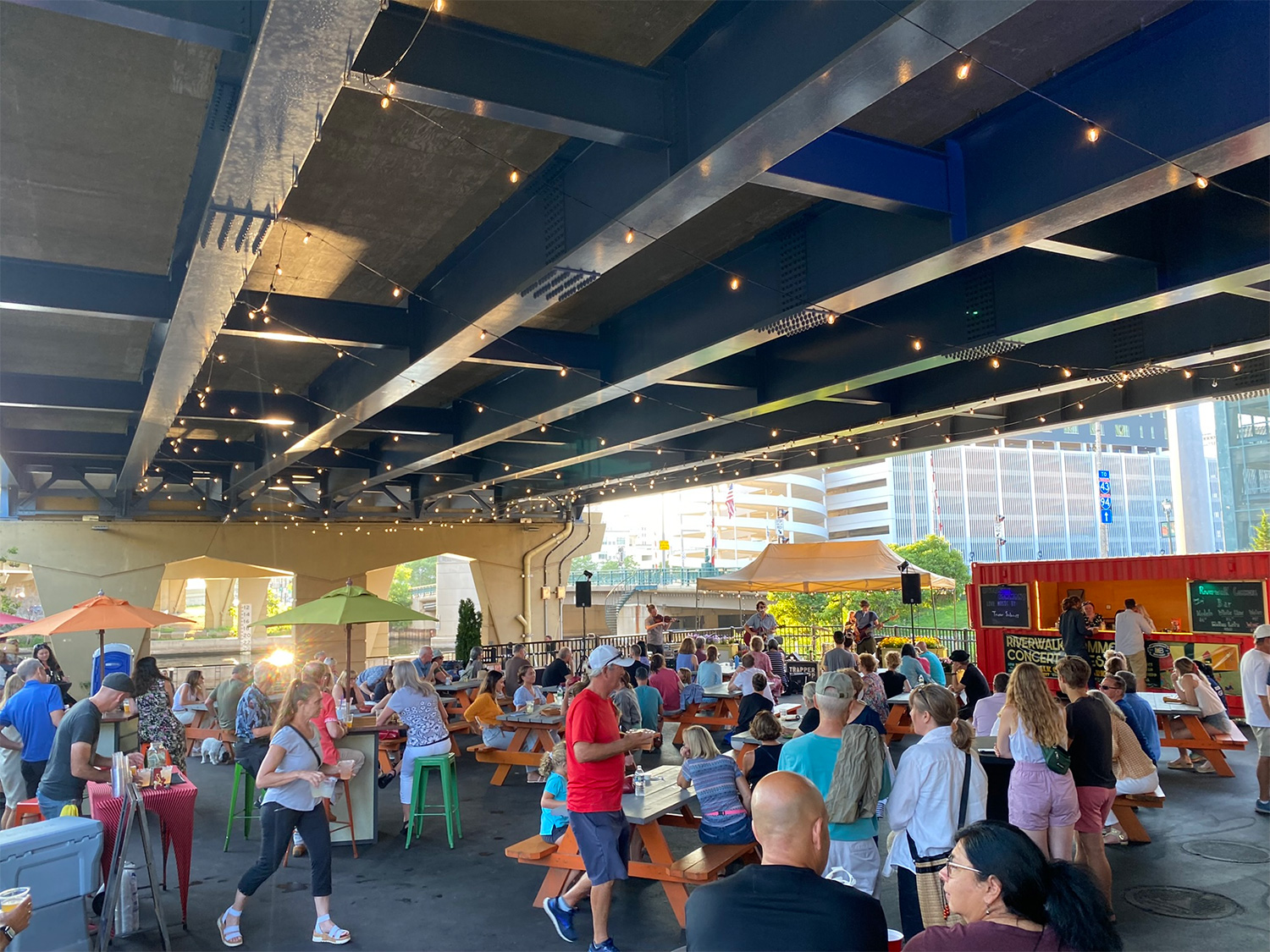 Find more press releases HERE.