It's been another uneventful year for Phish frontman Trey Anastasio. He didn't write a single Broadway musical, nor did he perform with any symphony orchestras. Phish didn't even release an album or invent an imaginary Scandinavian prog alter-ego for themselves; aside from their Mexican getaway run in February, their 26-date summer tour, another tour starting next month, and the usual New Year's run, they've been practically nonexistent. Sure, Anastasio did release an album with a newly minted band, Ghosts Of The Forest, and play a bunch of shows on the coasts with that project, as well as sporadic dates with his solo band throughout the spring and summer. He did also sit in with the Tedeschi-Trucks Band at the Lock'n Festival to perform Layla & Other Assorted Love Songs in its entirety. Big deal. Oh, and there was that bio pic about Anastasio, Between Me And My Mind, that came out over the summer, but if it weren't for his appearance with Wynton Marsalis on NPR's Live From Here and this current string of solo acoustic dates, he'd probably be spending all of October sitting on his ass, daydreaming about the reunion of his other other side project, Oysterhead, which was just announced this week. Lazy bum.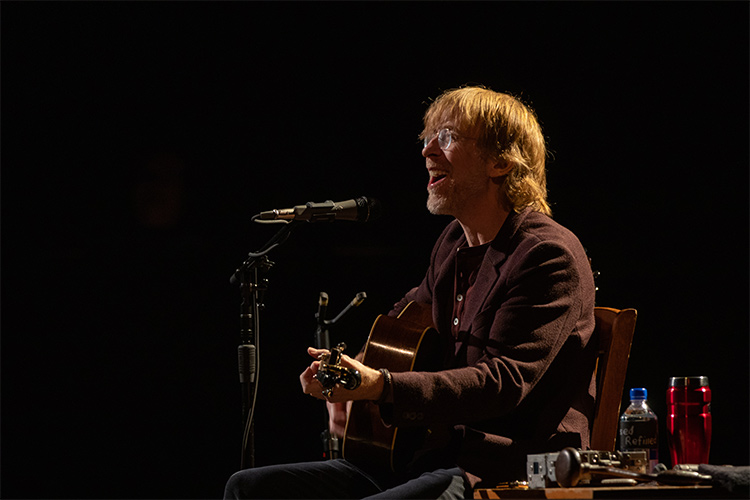 Phish hasn't played a show in Milwaukee since the infamous "OJ show" back in 1994 at The Rave, but Anastasio has made a point of stopping by almost every time his solo tours reach the Midwest. Considering also Phish's regular stops at Alpine Valley, a venue they can't come close to selling out, you start to wonder if Trey has a thing for Wisconsin. "You guys," he said during Friday night's show at Riverside Theater, "this is a nice town. I'm serious. It's just lovely, man. I walked down…" At this point, crowd banter was starting to overpower stage banter. It's just the way of things with the Phish crowd in modern times; so eager are fans to make themselves part of the show, they ruin the show.
Oddly enough, when the performance had started, the crowd was bafflingly polite. Anastasio even seemed perturbed that people weren't singing along to "Prince Caspian" as loudly as he expected, and he's probably accustomed to more sustained audience accompaniment during songs like "Limb By Limb" or "Guelah Papyrus" on the East coast. Then after "My Friend, My Friend," he asked, "Any of you guys at Alpine Valley this summer?" and got the sort of roar he was hoping for. And he regaled us with the story of the OJ show as well—"We thought he was just speeding or something." It was funny to think that anyone in attendance would be unfamiliar; then again, it was…gulp…25 years ago. "That's what happens when you live that wild life, kiddies," he chuckled; "you lose track of time."
While fans might go to Phish shows for the jams, they come to a show like this for the banter. Yet there actually were some jams; Anastasio, alone on a chair with just an acoustic guitar, was no slouch with the looping action. Right off the bat, "Caspian" was a musical highlight, a peppy little jaunt completely unrecognizable from anything that normally happens with this song. In a nod to the Oysterhead news, he turned that group's "Rubberneck Lions" into a roughshod blues number, and in between songs from Ghosts Of The Forest, Anastasio relayed a story about his dearly departed friend Chris Cottrell, the inspiration for the project. True to form, this was not a polished composition; rarely do we see an artist of Anastasio's stature let his guard down so completely onstage, yet he inspires such feverish obsession that many fans go about their lives as if they know the man personally. Throughout the ups and downs of Phish's decades in the spotlight, Anastasio has always seemed like the same person whether on or off the stage, and his utterly disarming conversation here exemplified the way he has always blurred any semblance of separation between performer and fan.
In general, though, this show felt nothing like a Phish show. Those in attendance weren't necessarily Phishheads; most of them had no appreciation for the subtle improvisation that emerged out of "Blaze On," cheering prematurely and drowning out the most musically fascinating portion of the evening, forcing Anastasio to abandon the jam. They were folks who remained seated and passive during raucous renditions of old-school Phish anthems like "Wilson" and "Cavern." They did, however, seem to get a real kick out of rarities "Windora Bug" and "Sanity" in the extended encore, and "Lawn Boy" and "Say It To Me S.A.N.T.O.S." had everyone singing along. This is a guy whose need to keep moving and creating is evidently insatiable; he could've taken it easy on this tour, sat up there and played everything straight, except spontaneity and risk are so wired into his personality that it probably wouldn't be any fun for him to play it safe. In the end, whether they appreciate it or not, it's the fans who reap the rewards every time.