THURSDAY
Thursday afternoon, with Milwaukee's air quality still hovering in the "Unhealthy" range, a thought occurred to me: I was currently pondering which form of Summerfest transportation (bike or bus) would be less damaging to my lungs, all so I could make it to the grounds in time to see Debbie Gibson at 4:15. Have you ever had one of those "my entire life has led up to this incredibly surreal and stupid moment" moments? Me too!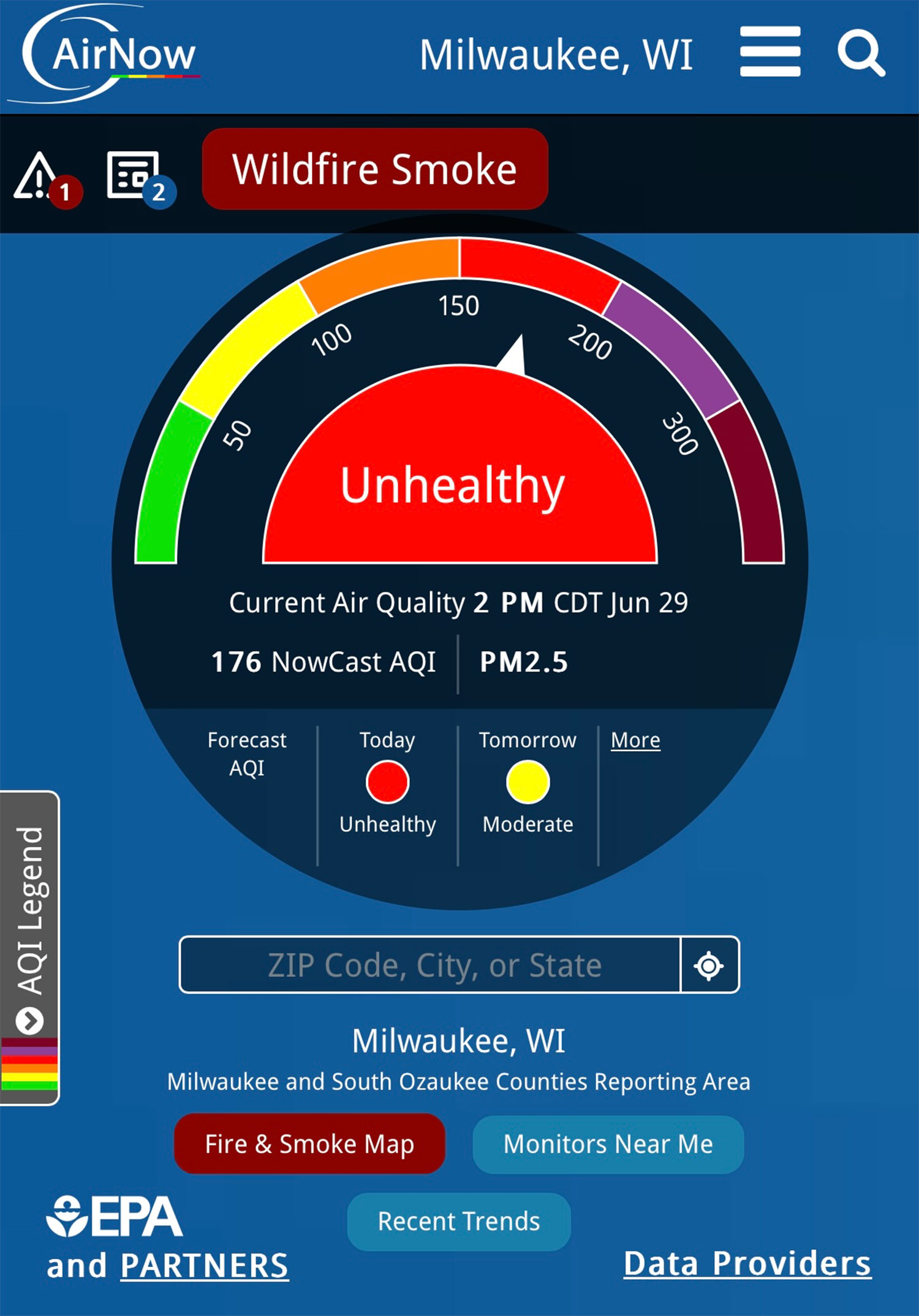 In addition to one-off gummy-infused reviews, we're doing "themed" Summerfest recaps this year. Last week, Tyler did an "entirely daytime" recap. After perusing the lineup for Summerfest Weekend 2, I decided to do an "entirely '80s" write-up. Debbie Gibson! Wang Chung! A Flock Of Seagulls! Probably a cover band in the South Party Pavilion doing "Take On Me" or something! The possibilities were endless!
So let's start with Debbie Gibson. A thunderstorm was threatening to break before Gibson's Thursday set at the Miller Lite Oasis, causing many folks to seek cover. Never afraid of a little rain—and keen to possibly see Gibson play "Electric Youth" in a lightning storm—I used the opportunity to grab a spot in the front-row pit. I was joined by a gaggle of apparent Debbie Gibson superfans; tour T-shirts, autograph books, and idle chit-chat about New Kids On The Block abounded. "Gosh, people who wait in the front row for a Debbie Gibson show sure are a strange bunch," I thought to myself as I waited in the front row for a Debbie Gibson show.

Following a 15-minute weather delay, there she was! Debbie Gibson! Singer and sole songwriter of stone-cold '80s pop classics like "Only In My Dreams," "Lost In Your Eyes," "Shake Your Love," "Foolish Beat," and more! Holder of numerous still-standing Billboard world records and Guinness World Records, all achieved before she turned 20! Trigger of personal stone-cold '80s memories like roller skating in Beaver Dam and holding hands with a girl on my hometown's infamous "Skate Bus"! (Read all about it on our Patreon!)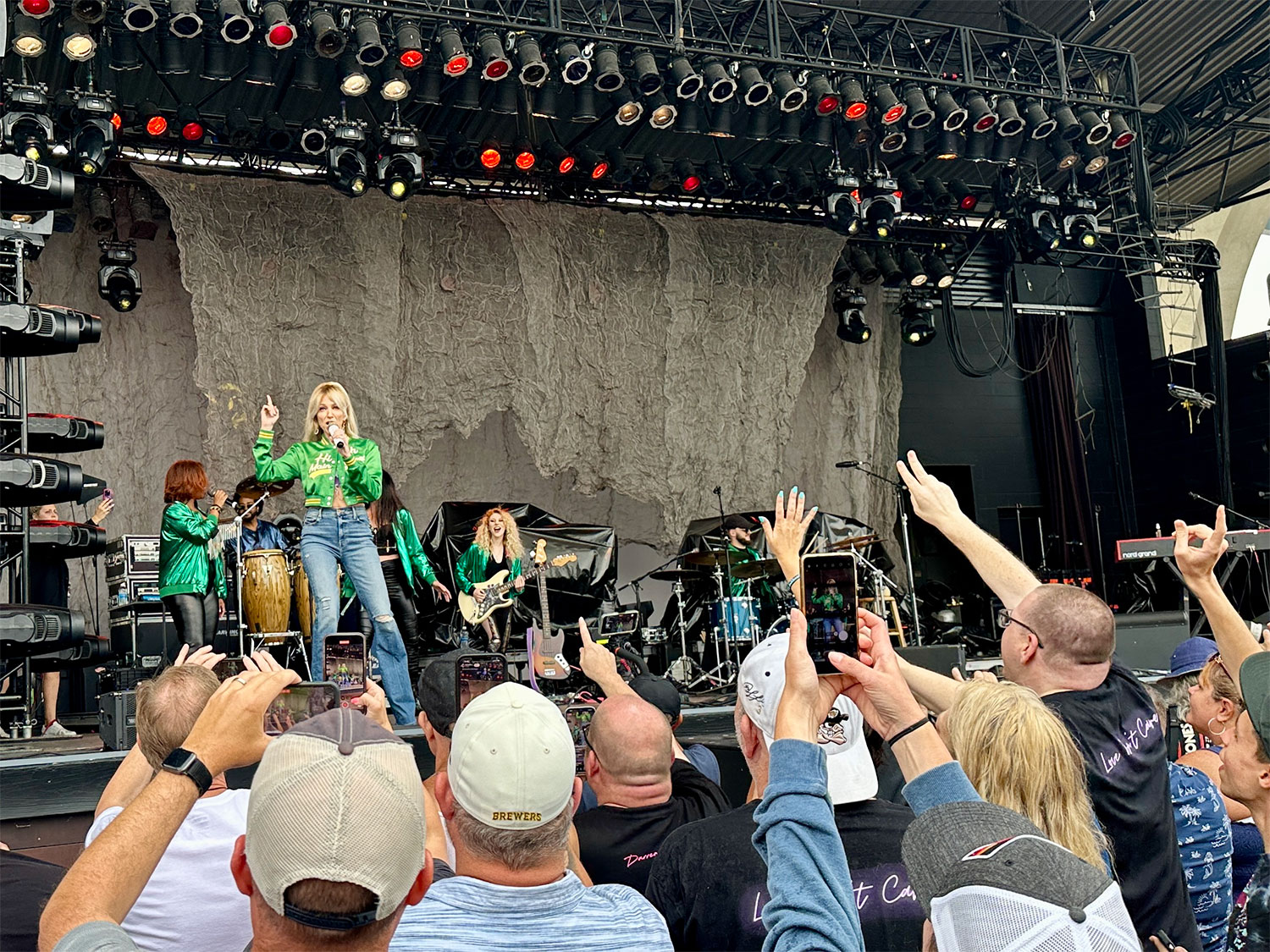 Gibson, now 52, looked and sounded great in a refreshing "I've been doing this since I was 16 and I don't give a shit what anyone thinks anymore" kind of way. She played her (totally awesome) hits. She played some (totally fun) new stuff. She did an elaborate ABBA medley. Her backup singers were great and her dancers were a hoot and her guitar player's hair was straight out of a 1987 mall photo shoot. A seemingly impromptu decision to do an acoustic version of "Shake Your Love" was a set highlight. "I need a pen!" Gibson said at the end of the show as she attempted to sign a fan's autograph book. Thirty-seven pens came flying out of the crowd.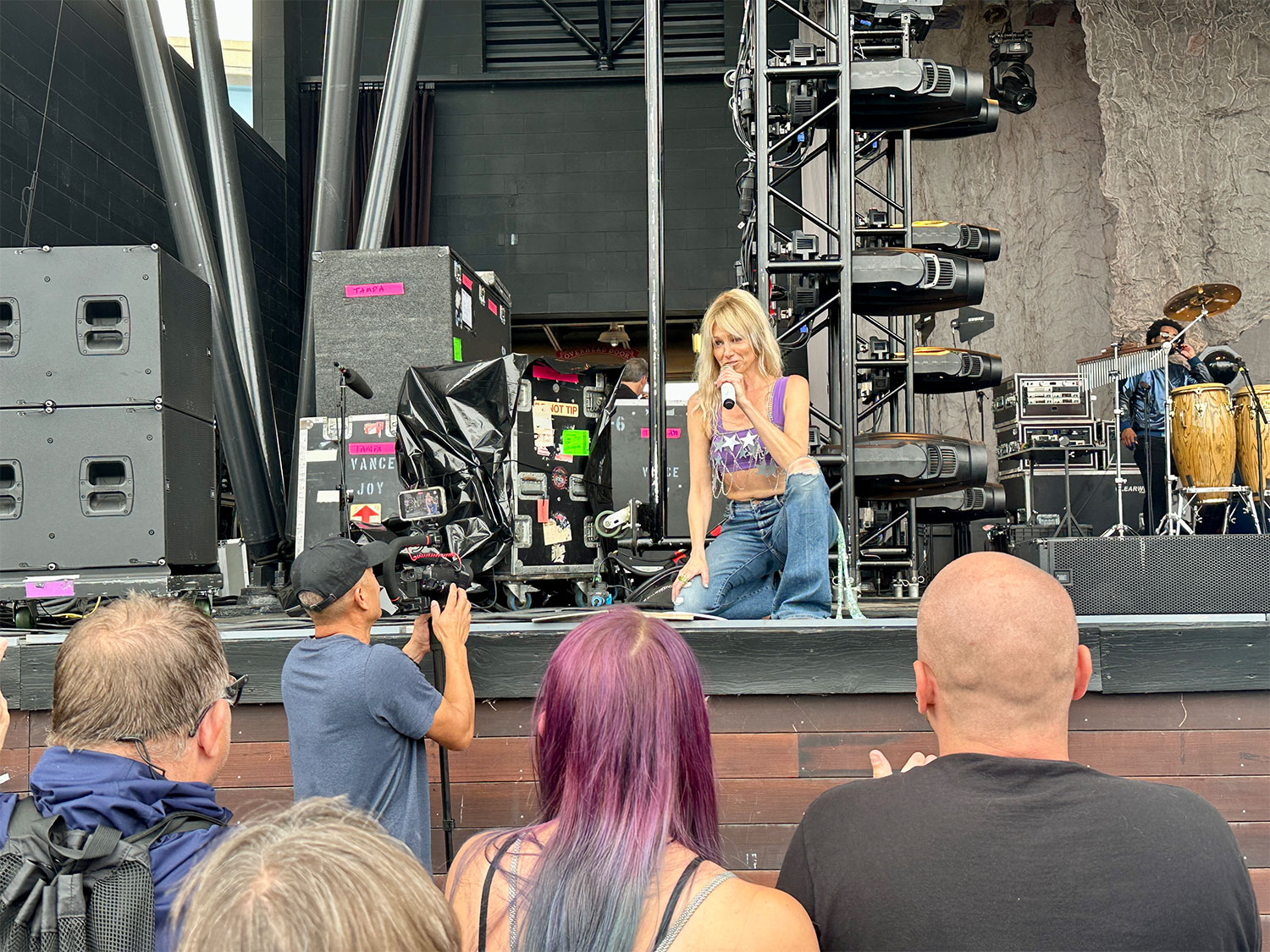 The afternoon thunderstorm a thing of the past, I grabbed a burger from Charcoal Grill, chatted with beloved Milwaukee weather expert Bert Lauderdale, and took my leave of Summerfest for the day. I had had my fill, and the increasingly young crowd was making me feel old as dirt. No matter: did I listen to "Foolish Beat"—a Debbie Gibson banger I had forgotten about until that day—three times on the bus ride home? Of course I did.
FRIDAY
Here's a Summerfest 2023 fun fact: seventy-five percent of the lineup is School Of Rock. Seriously, showcases from this kid-focused national program are everywhere this year: early in the day, later in the afternoon, on stages big and small. Not that I'm complaining. On Friday, at the Briggs & Stratton Big Backyard, I saw a bunch of kids tear through Nirvana's "Territorial Pissings," take a group selfie with the crowd, and then launch into that one Harvey Danger song. The kids, as they say, are alright.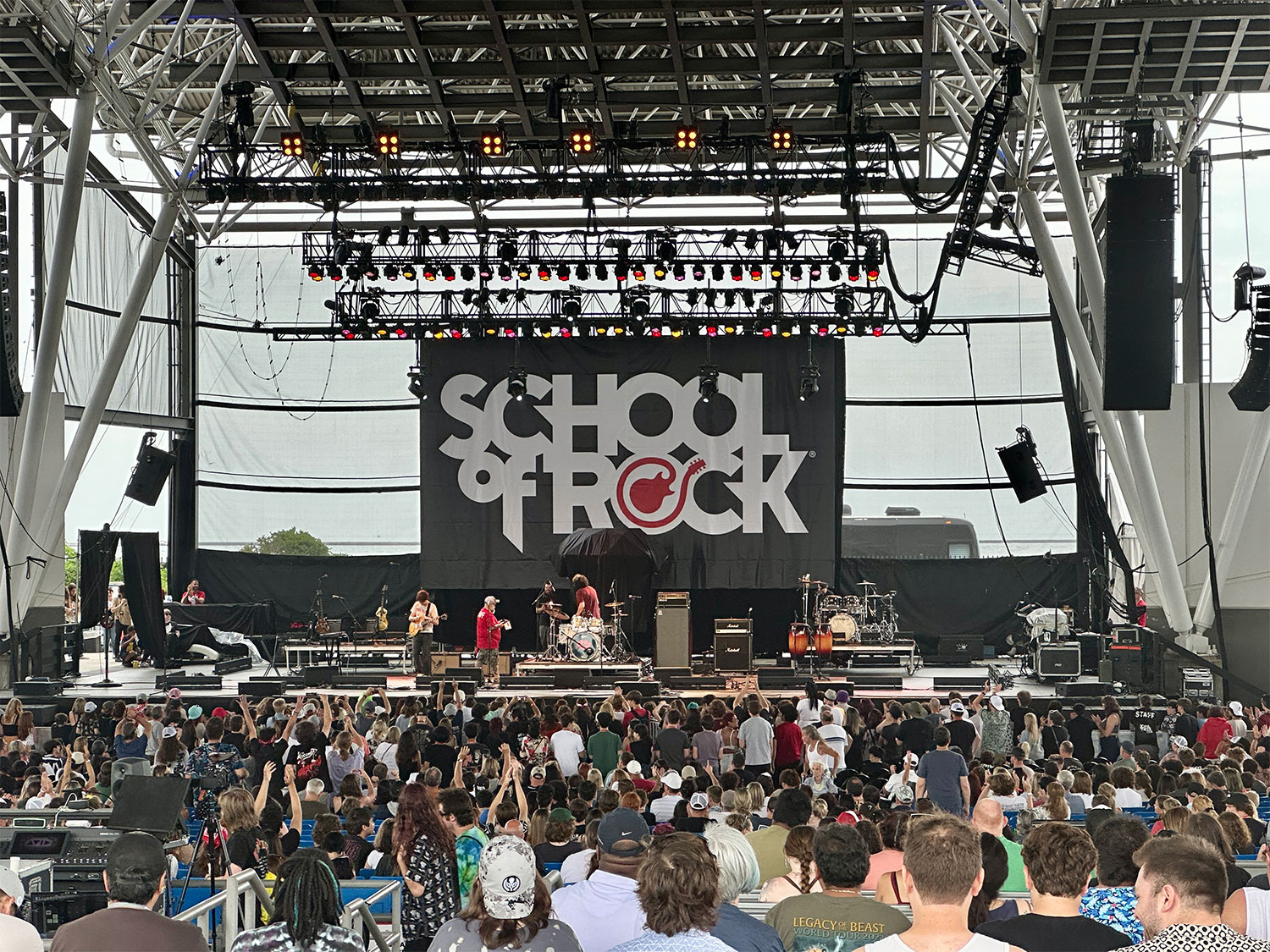 But that's '90s stuff. My '80s Summerfest adventure continued on Friday with—you guessed it!—a cover band in the South Party Pavilion doing "Take On Me." The band in question was the WAMI award-winning The Playlist, formerly known as Rabid Aardvarks. Speaking of "formerly known," when did JoJo's Martini Lounge abandon this south-grounds cover-band mecca? What happened to Pre-Recorded Music? Why did I spend $25.84 (tip included) on a single vodka Red Bull? Why?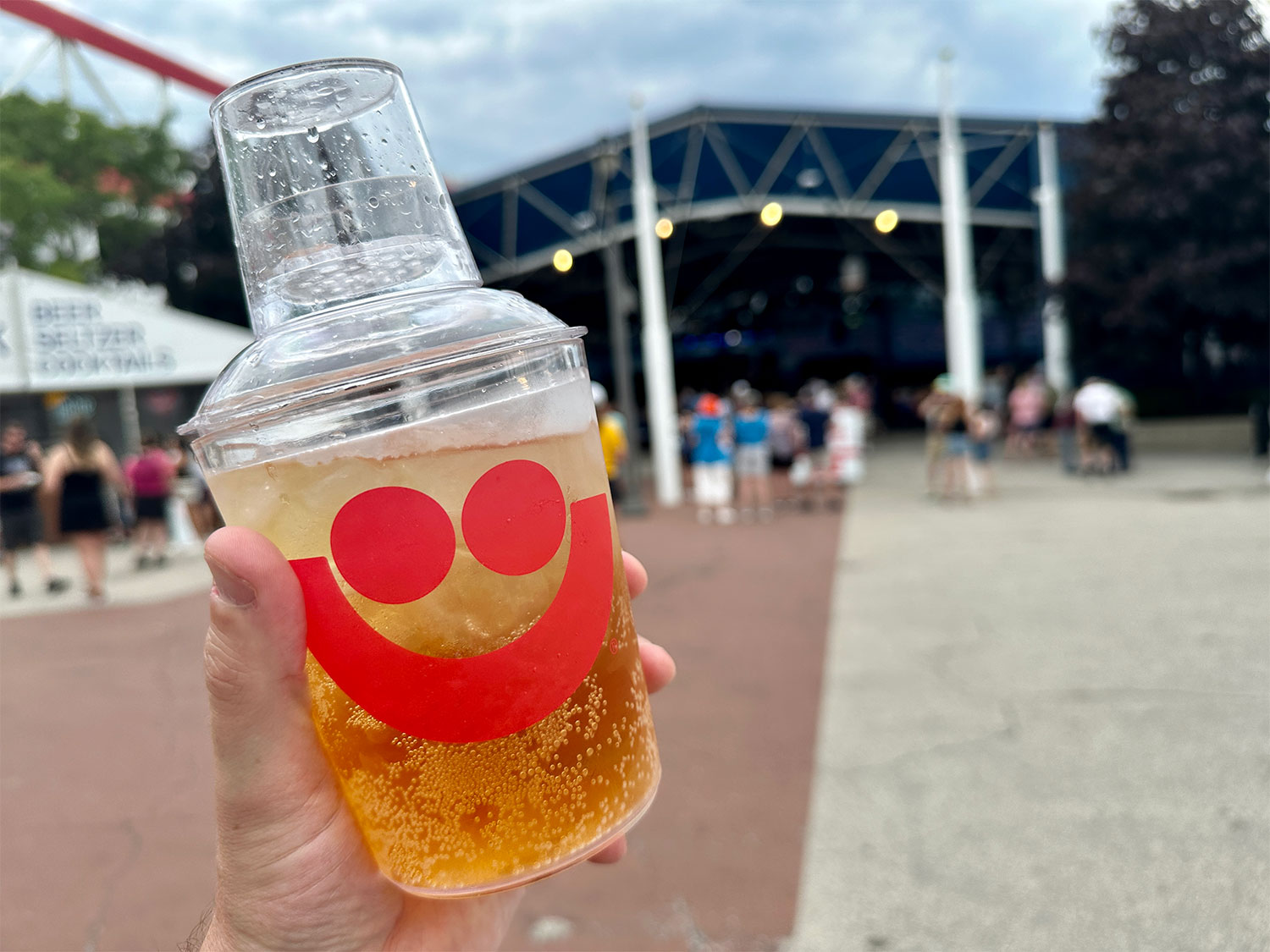 Wandering through the grounds, I spied two Summerfest legends. The first was Sigmund Snopek III, walking past the southernmost SkyGlider station and lugging his gigantic alphorn, per usual. The second was Milwaukee Journal Sentinel music critic Piet Levy, hustling past the northernmost SkyGlider station and busting his ass, per usual. If you're wondering why Milwaukee Record doesn't do more traditional artist-focused Summerfest reviews, it's because Piet and the JS hoover up pretty much all of the city's music writers for their Big Gig coverage. And that's fine! Milwaukee is extremely lucky to have someone as talented and hardworking as Piet writing for the state's newspaper of record. Piet is the best. Read his stuff HERE.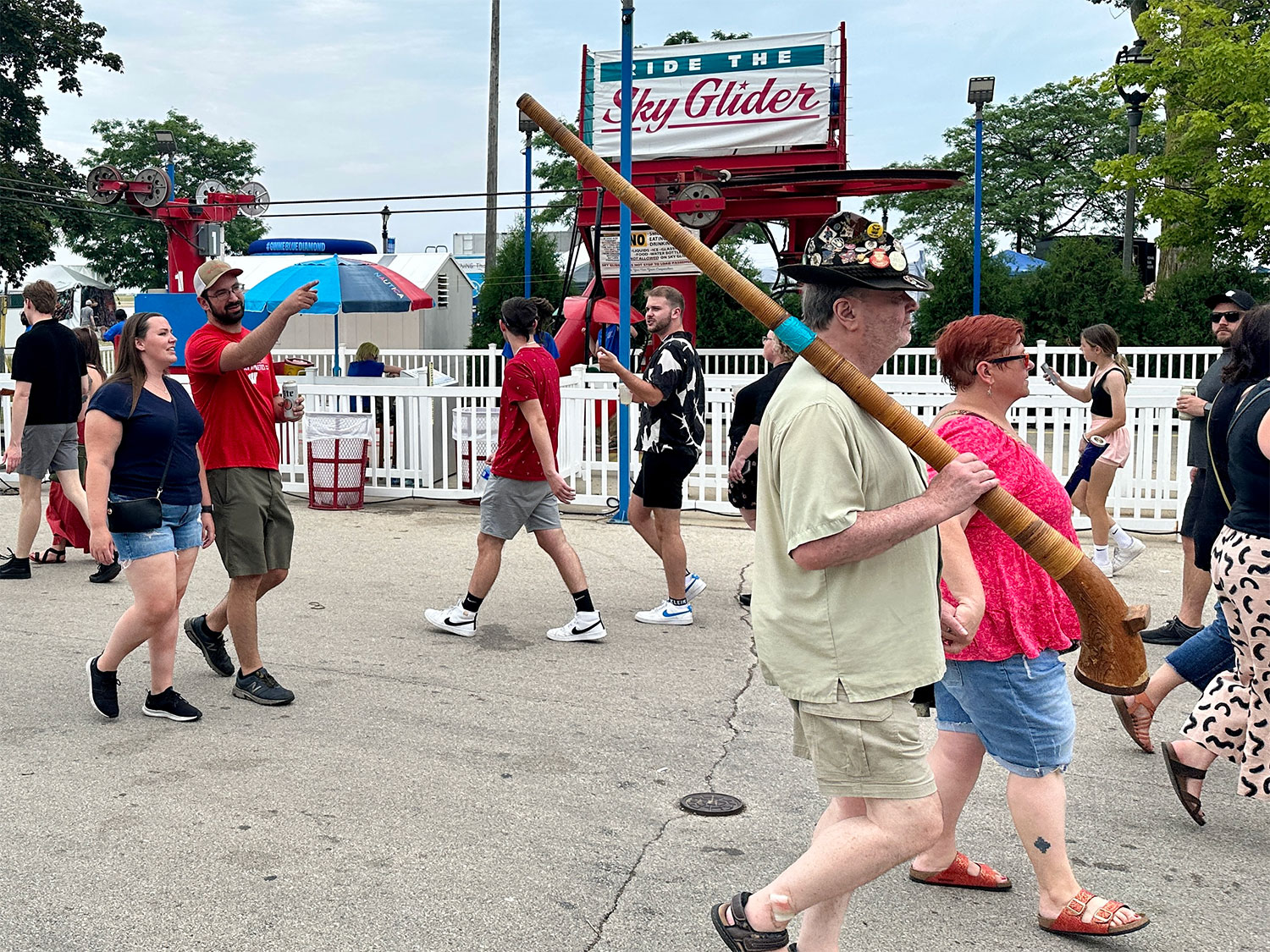 I eventually found myself at the Uline Warehouse, a cool breeze coming off the lake and making it feel less like June 30 and more like January 6. I was there to see '80s singer-songwriter John Waite, who I knew from his 1984 jam "Missing You." I love that song! Did Waite eventually play it in the middle of his set? Yes he did. Did he also play '80s monster ballad "When I See You Smile" by Bad English for some reason? Yes he did. Did I do some Googling and discover the reason Waite had played a Bad English song was because, well, he was the singer of Bad English? Yep!
As a un-ironic lover of '80s monster ballads, I was ashamed I didn't know this already. I apologized to my teenage self just as another case of "Oh god, I'm old" Summerfest vibes set in. Amidst a sudden sea of current teens, I ducked out through the North Gate, hopped on my bike, and pedaled away to the sounds of Waite doing a cover of "Whole Lotta Love" for some reason. (I checked: he was not the singer of Led Zeppelin.)
SATURDAY
"We're going to keep playing because it's the only thing we're qualified to do. Thank you. We're the Spin Doctors."
This was the first thing I heard as I locked up my bike near the North Gate on Saturday afternoon. Nick Cave famously said that any time he was wondering what was coming out of a stereo, the answer was always Red Hot Chili Peppers. Similarly, any time you're wondering who's playing at Summerfest at any particular time, the answer is almost always Spin Doctors. (Cave's full quote was a little harsh on RHCP; the Spin Doctors sounded good!)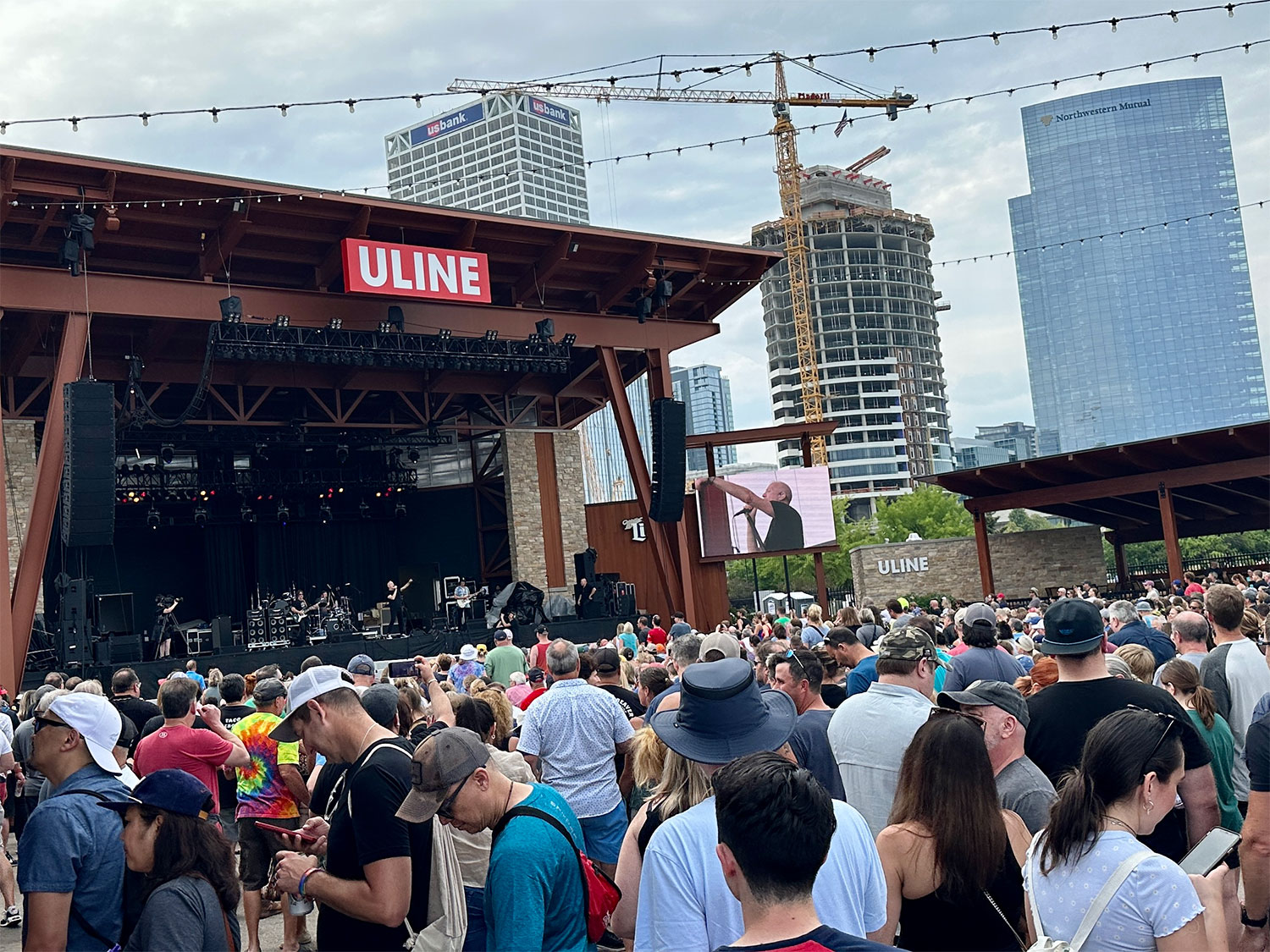 Beyond a random Spin Doctors encounter, my Saturday '80s itinerary included a Depeche Mode tribute band (Strangelove), Wang Chung, Information Society, and A Flock Of Seagulls, all at the USCellular Connection Stage. I have to hand it to the second group in that list, Wang Chung. Wow! They were great! Yes, Jack Hues and Nick Feldman played their big hits ("Everybody Have Fun Tonight," "Dance Hall Days," "Let's Go!") and yes, the relatively massive crowd responded in kind. But Wang Chung also played a never-before-played-live instrumental cut from the To Live And Die In L.A. soundtrack, that one song that was used in The Walking Dead ("Space Junk"), and a super-early song from when the band was known as Huang Chung ("I Never Want To Love You In A Half-Hearted Way"). Eighties New Wave is an easy and forever-popular genre to mimic, but Wang Chung's Summerfest set proved it's hard to top the originals. 10/10 Wangs, would Chung again.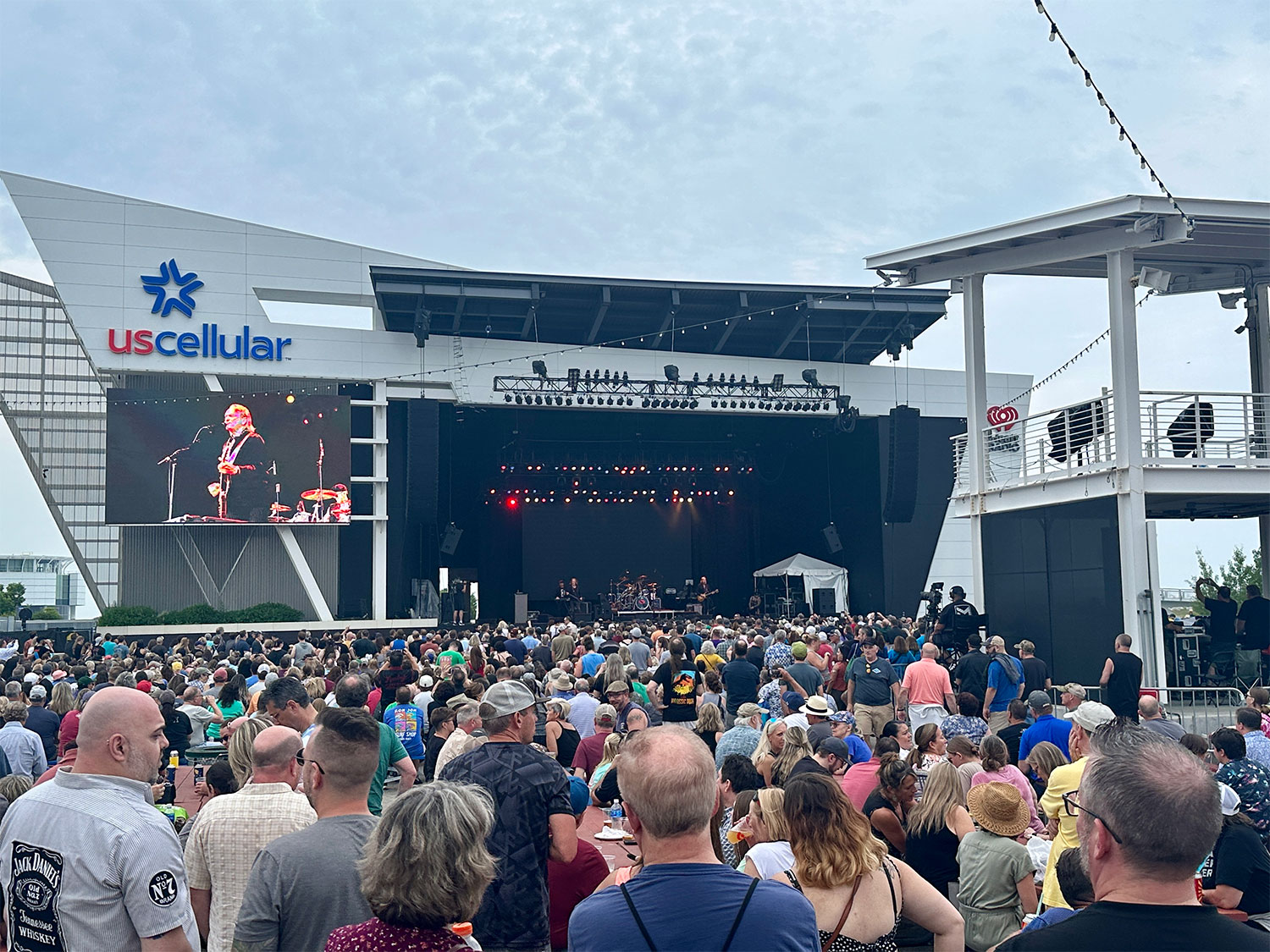 Another big surprise (at least for me): Information Society. I've always adored the group's eponymous 1988 debut, complete with unstoppable single "What's On Your Mind (Pure Energy)." But I've always pictured Information Society as a sexy/serious/mysterious electro-dance band from England, on par with acts like, I dunno, The Shamen? Wrong! It turns out Information Society is A.) originally from the Twin Cities, and B.) kind of goofy. In between jokes about having only six days to prepare for the show (the group replaced Jesus Jones at the last minute) and cracks about the Minnesota Vikings, 60-year-old frontman Kurt Harland gave off a hilarious "slightly grumpy ex-goth who teaches high school science now but still cuts loose with the local improv troupe on weekends" vibe. And I only bring up Harland's age because his final words of the night were: "That's it! I'm 60 years old and I'm fucking tired! Goodnight!"
And with that, I said goodnight, too. It was getting late, the crowd was getting young (again), and I was getting down. I biked home in the dark, my LED bike light barely piercing the oppressive gloom of the Oak Leaf Trail.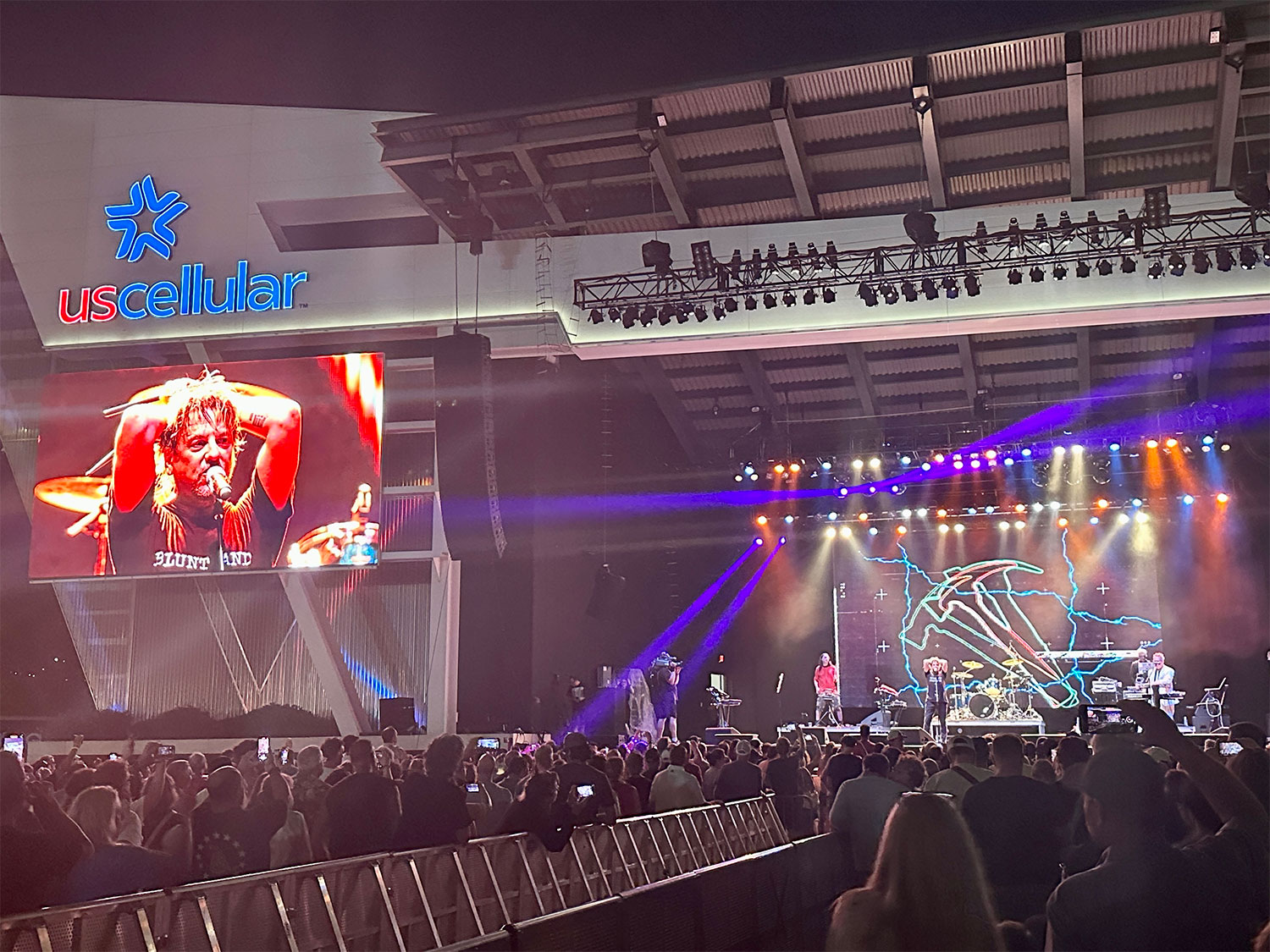 BACK TO FRIDAY
You've probably noticed that for an '80s-themed recap of Summerfest's second weekend, my coverage is incomplete. What about .38 Special on Friday? What about A Flock Of Seagulls on Saturday? The answer to these questions is simple: I didn't cover these bands because I didn't feel like it. As each day wore on, I started feeling tired, old, and lonely. I enjoyed my time at Summerfest, but I eventually left early because I wanted to go home. Simple as that.
Biking home on Friday afternoon, I felt a little guilty and embarrassed about this. But then I bumped into an old neighbor, Milwaukee legend Aaron Boyd. We caught up for a bit before the conversation turned to Summerfest:
"You look great!" Aaron said. "Do you ever age?"
"Funny you should mention that," I said. "I left Summerfest early just now because I felt like I was 8,000 years old. Pretty silly, huh?"
Aaron smiled. "Well Matt, that's one of the best things about getting old. You recognized that you felt a certain way, and you knew you could take certain actions to stop feeling that way." His smile widened. "That's wisdom."
And you know what? He's goddamn right. So let that be the Big "Big Gig" Takeaway here: Do Summerfest however you want to do it. See who you want to see, or don't. Stay until midnight, or don't. See some new stuff, see some old stuff, or just enjoy some cover bands. And realize that just because you're not into something, it doesn't mean there aren't a bunch of folks who are. Simple as that.
See you next weekend, Summerfest. And buckle up for my "entirely '90s and '00s indie-rock" recap. I can't wait.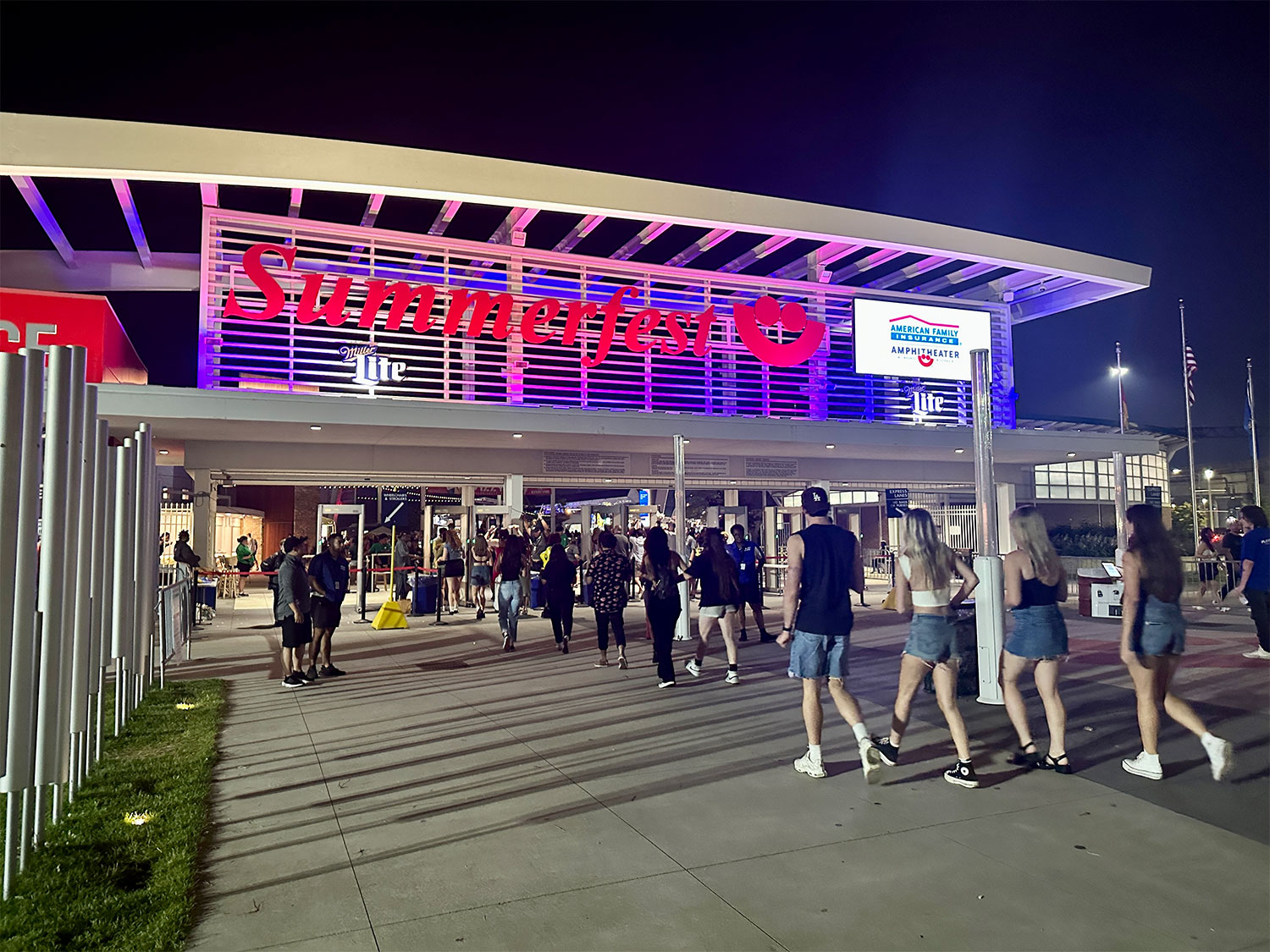 Exclusive articles, podcasts, and more. Support Milwaukee Record on Patreon.
---
RELATED ARTICLES
• Hey! Here's the 2023 Summerfest lineup!
• I took a Milwaukee Record gummy and saw Greensky Bluegrass at Summerfest
• Take me back to Summerfest 2017: Tom Petty and The Heartbreakers at Summerfest amphitheater
• Take me back to Summerfest 1995: Hootie & The Blowfish at Marcus Amphitheater
• We tried 8 new food items at Summerfest (2023 edition)
• A guide to Milwaukee acts playing Summerfest
• Summerfest Weekend 1 Recap: The entirely daytime edition!
• Brewed City: Sil's (Summerfest)
• We ranked all the bleachers at Summerfest in advance of tonight's Bleachers show
• Hey! Here are the Summerfest 2023 admission promotions!
• Summerfest's "smallest stage" will feature acoustic sets from Jenny Lewis, Digable Planets, more
• Record Recommended: Summerfest Weekend 1