In our MKE Music Rewind series, we revisit notable Milwaukee music that was released before Milwaukee Record became a thing in April 2014.
When I think of garage rock songs from the 1960s that have a conspicuous anti-drug theme, "Kicks" by Paul Revere & The Raiders is the first that comes to mind. But there was a song from the era from a garage rock band right here in Milwaukee that touched on the same topic. Released as a single by Capitol Records in September 1967—just over three months after the Beatles released Sgt. Pepper's Lonely Hearts Club Band, and on the heels of the Summer of Love—"Stop and Listen" by The Shag features vocalist Ray McCall―who also wrote the song and contributed its fuzz-tone guitar—repeating the lines, "Everybody's goin', everybody's trippin' / Everybody tells you what ya been missin'."
The song's protagonist talks to Charlotte, who tells them they are "wrong about the thing" and that "she was reading people's minds" while tripping. The protagonist also talks to Phil, who "Came up and told me he decided he would do it / With everybody going well there must be something to it." It is later revealed, "he tried it not too long ago and scared himself then / but you know that in a month or two he'll take it again." The song ends with its chorus: "It was all just happening in a dream / Oh, can it really be as real as it seems? / Oh, stop and listen."
The Shag, originally called The Shags, were formed in Milwaukee in 1963 by Layton School Of Art students Paul "Green" Greenwald (drums, vocals, flute), John Sahli (guitar, vocals harmonica), Mike Lamers (various instruments), and Don Luther (bass). According to Greenwald, with whom I was able to correspond with for some information used in this article, Sahli was the only musician when the band formed, "But upon hearing the Stones, then the Beatles, we had to be a band."
Given this timeline, it means the band started working together before the Fab Four ever stepped onto Ed Sullivan's stage and into the living rooms of 40 percent of the country. "I'm pretty sure we were the first band to not wear uniforms in Milwaukee, and being in art school, we already had the long hair and scruffy look," Greenwald recalled. He also said they wrote their own songs because they couldn't play any others.
They put out "Cause I Love You," backed with the Bo-Diddley-beat driven "Dance Woman" on Milwaukee's Raynard label in 1965. Later that year, Ray McCall joined the band, replacing Sahli. A student at UW-Milwaukee's School Of Fine Arts (now named Peck School Of The Arts), McCall sang, played guitar, and wrote songs for the ensemble.
By this time, the group had become the house band at O'Brad's, a basement-bar venue that was located at 827 E Locust St., in the area that is now Garden Park, next to where Riverwest Public House Cooperative now stands. (The venue became Humpin' Hanna's in 1972, closed in the late 1970s, and was torn down in the early 1980s.) Although the owner of O'Brad's had at first turned away the group because of their appearance, they eventually were given the keys to the place, could decorate it as they pleased, and played gigs there five nights a week—Wednesday through Sunday.
According to Greenwald, Sunday's performance included a "special psychedelic third set," where the band would surround the stage with wet sheets, shoot food dye, and use pulsing lights and impromptu sounds. Both RCA Records and Chess Records came to see them there and wanted them to record, but the band did not accede to their overtures, as they wanted to do a live recording—something the record companies were not keen on.
Greenwald mentioned that some time after McCall joined the group, everyone in the band was going to try a "psychedelic experience." Although I was not told the specifics of this "experience," Greenwald went on to say that "Ray had a bad time and wrote 'Stop and Listen' about not taking those kinds of drugs." After the band drove out to New York City to open for The Blues Project, they were signed to Capitol Records. The band eventually relented on their insistence on only putting out a live recording, and Capitol released "Stop and Listen"—backed with "Melissa," a Greenwald composition—as a single. The songs were recorded in a studio in New York City. It was at this time that The Shags became the "The Shag," so they wouldn't be confused with some other groups with the same name.
A review of the Capitol release in the September 17, 1967, edition of the Milwaukee Journal said "Judging by live performances, though, this deck is a lame rendition. It doesn't have the animation of the stage." Being that I view the studio recording as a rollicking version that still holds up some 52 years later, it makes me wonder just how entrancing and spellbinding the band was live. Although it made it on Billboard's September 16, 1967, "Spotlight Singles Of The Week" list—a list of songs with the "strongest sales potential of all records reviewed this week"—"Stop and Listen" failed to chart on the Billboard Hot 100 or the Cash Box Top 100. It did, however, chart in the Milwaukee area. For example, it cracked the top #20 on WOKY's weekly chart.
According to Mark Shurilla, in his 1990 essay "The Progressive Rock Explosion in Wisconsin," Atlanta and Philadelphia were two other cities where the song charted. The single would prove to be the pinnacle of The Shag's recording career. Ray McCall soon left the band and was replaced by Gordon Elliot. The group visited, and later made the move to California. In 1969, they recorded at San Francisco's Pacific High Recording Studios, where the Grateful Dead would soon record Workingman's Dead and Van Morrison would cut some of Saint Dominic's Preview. Shag's material did not see the light of day until Gear Fab Records put it out in 2005.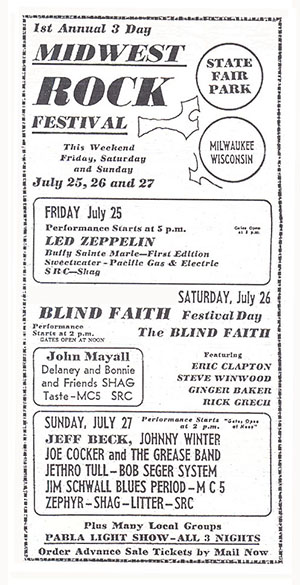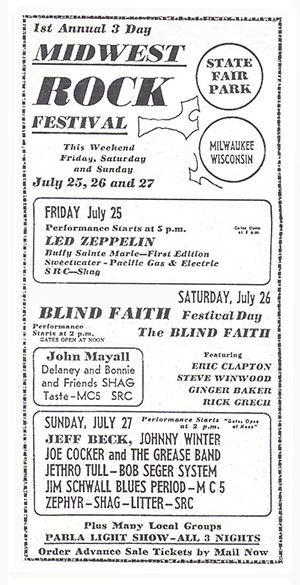 In July of 1969, three weeks before Woodstock, The Shag was back in Milwaukee—or West Allis, rather—to play all three days of the Midwest Rock Festival at State Fair Park, sharing the stage with bands like Led Zeppelin, Blind Faith, and the MC5. The July 26 edition of the Milwaukee Journal reported, "The Shag, a group that got its start in Milwaukee and now mainly works on the west coast, received a hearty welcome home." (The festival is also where Sigmund Snopek's band, Bloomsbury People, were discovered, which led to a recording contract with MGM Records.)
Within a few years, The Shag would split. Paul "Green" Greenwald would go on to focus on making paintings and sculptures, and for a time was a disc jockey at WQFM. After leaving The Shag, Ray McCall played in Ray McCall And The Earth, designed and built an innovative guitar prototype, and earned a PhD in architecture at the University Of California, Berkeley. After working for a time on issue-based information systems in West Germany, he followed in his father's footsteps, who was a professor at Marquette University, and became a professor at the University of Colorado Boulder, working there for 35 years.
The legacy of "Stop and Listen" continues on. Since its release, it has appeared on numerous garage rock compilations, such as High In The Mid Sixties Volume 10: Wisconsin, the CD release of
Pebbles, Volume 5, and Acid Dreams. When I saw the Mighty Mighty Bosstones at The Rave this past summer, the song was played before they took the stage. I contacted the band and was told that they sometimes pick intro songs that have local significance, and that the use of the song was "special just for that show."
A few years back, I found a copy of it on 45 at a resale shop in Fond du Lac for 50 cents (copies regularly go for about $40 online). I often spin it when I DJ around Milwaukee. The fact that I am sometimes playing it just a few blocks from where The Shag once reigned at O'Brad's is not lost on me. Frankly, it gives me chills, and all I can do is stop and listen.