Since playing Milwaukee Record's stage at last year's Bay View Bash, Los Angeles (by way of Wisconsin) musician Mike Krol has been busy putting the finishing touches on his new album. Last month, Power Chords—Krol's fourth album and second on Merge Records—came out and has already earned him oodles of positive press, including "Man Of The Moment" honors in Penthouse Magazine.
Before the accomplished Milwaukee area expat kicked off a lengthy U.S. and European tour (which includes a February 27 show at The Back Room @ Colectivo), we spoke to Krol about the differing approach he applied to Power Chords, what it's like to be featured in Penthouse, places he's excited to visit on tour, and what Milwaukee bands he's listening to at the moment.
MR: It's currently a blizzard here. Are you excited to be venturing back to your home state in in late February?
Mike Krol: No! Short answer: no. Other than the weather reasons, yes, of course. I love coming back to Milwaukee and I haven't played the Colectivo Back Room before. I haven't even seen it, so it'll be exciting for me to see a new space. I've just only been playing Cactus Club forever. Not that I won't play Cactus Club again, but it almost feels like a graduation and like I'm stepping things up a little with this run, so I'm excited to see what happens. Hopefully people come out.
MR: You'd mentioned to me over email recently that you're excited about this new record and that you've been happy with the reception early on. I've read some of the reviews and it's been almost entirely positive. What's it like to have and album you're so proud of also be so well-received?
MK: It's really humbling. I wouldn't put out anything that I wasn't 100 percent in love with and believe in. While the other ones I put out I thought were great and they got, you know, mostly positive reviews, I've stated to temper my expectations a little bit. Maybe the rest of the world doesn't really see things the way I see it, as far as the way music should be or sound. I kind of set my expectations pretty low for this one, so to have so many reviews come back pretty positive has been surprising. It feels great that it seems like something is resonating and clicking with people. I'm excited to see how that translates into shows and if people who haven't seen me play before will come out. That's all exciting. It's been an entirely different experience. People are listening and they're getting it, and I can't really ask for anything more than that.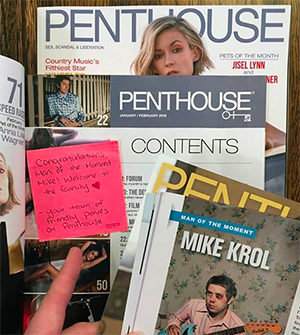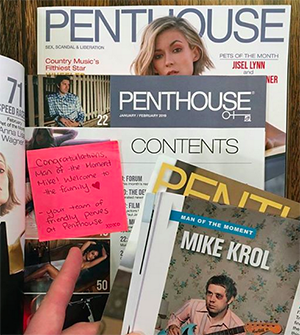 MR: But you got more than that! You were recently named "Man Of The Moment" by Penthouse Magazine. How did that come about and how does it feel to be the Man Of The Moment?
MK: The moment is still happening and it feels pretty good. That [opportunity] was through Bailey [Sattler of Grandstand Media]. Her friend has kind of has taken over Penthouse and made it more feminist, with more of a feminist approach. When I was approached and asked if I'd be interested in doing it, I ran it past my girlfriend Allison—who's kind of my voice of reason now for a lot of things, and I bounce a lot of ideas off her—and was like "Is this something you're cool with if it happens?" and she said, "Oh yeah, you gotta do that!" I'm excited to be part of it. It's really cool. I've never owned a Penthouse before this and now I have two.
MR: Now people can really mean it when they say they read Penthouse for the articles. But back to the record, other than lowering your expectations, was there any difference in your approach to making this album?
MK: Yeah. The idea with this one—and it seems to be working a little bit—is I was basically taking the feedback and the criticism I've had with my other albums. Not that it's all been bad, but the main feedback I got my other albums is "It's too short. I wish it was longer." I always thought that was a good problem, but I do understand how if it's too short, people don't really treat it as a full-length of view it as a full piece of work. With this one, I was just trying to give people what they wanted. I wanted to write longer songs, write a longer album with more instrumentation. I still feel like I kept the lo-fi vibe that I got on the other ones and the immediacy approach with the lyrics and singing, but I definitely filled out the sound a lot more. Again, I'm not losing the lo-fi approach, but it sounds better.
MR: So it's a matter of refining what you already do and elongating it. You didn't really change what you're doing, you're just adjusting the presentation slightly and giving people more.
MK: Yeah, that's true. Exactly. I couldn't say it better.
MR: You're about to hit the road for a while. You'll be hitting the U.S. hard, then heading to Europe. Is this your longest tour and are there any places you're especially excited to play?
MK: I think when I did the tour for Turkey, the U.S. was about the same length, but Europe was shorter. But I did two runs of Europe. I'd say this is the longest consecutive run of touring that I've done. We just had a phone interview with someone in Savannah [Georgia] and I'm excited to play there. I've never played in New Orleans or even been to New Orleans, so I'm excited to play there. It's cool to be hitting a few places in the U.S. where I've never played before.
Then in Europe, I'm really love Vera, the club in Groningen in the Netherlands. It's, like, a famous alternative rock mecca. Kurt Cobain hung out there and Dead Moon played there a bunch. It's just an incredible venue-artist collaborate space that's owned by the city where everyone volunteers and they make their own posters and cook you meals and do your laundry. It's just an incredible, awesome venue. And we're also playing this show in Malmö, Sweden for my friend Carlo's birthday. He runs a club there called Plan B. He's trying to do what Vera has done in the Netherlands and create a space in Sweden that's based around volunteers and the love of music and providing touring bands the best possible situation. I'm excited to go back to Europe for sure.
MR: And, of course, you have this Back Room show in Milwaukee. As we speak, The Platinum Boys have just been added as the opener. Are you a fan of theirs? And who else are you listening to from Milwaukee these days?
MK: I normally have Sat. Nite Duets play with me because I think they were the first band that I played with when I started playing Milwaukee. We kind of became friends and those guys are all so sweet. They're great, but a couple of the guys live in different cities now, so I wanted to try something different. Platinum Boys are cool. I'm friends with the Paper Holland guys. Mark Waldoch is an old friend and anything he does is always great. And my brother still plays with Trapper Schoepp and he plays with another band.
MR: Rx Drugs?
MK: Yeah, Rx Drugs. That's it. And Trapper just played [The Back Room] and he sold it out as far as I know. I'd love to play a show with him and with my brother. My brother keeps me updated with the hot bands there. He's the one who suggested the Platinum Boys and put me in touch. I've never seen them play before, but I've been hearing their name for years, so I'm excited to watch them.
Mike Krol will headline a show at The Back Room @ Colectivo on Wednesday, February 27. Steve Adamyk Band and Platinum Boys will play in support. The all-ages show starts at 8 p.m. (7 p.m. doors).