Isn't it strange how a bar can have an identity? Depending on any combination of factors like the decor, the selection, the neighborhood, the clientele, the type of music that's played, and innumerable other intangibles, an inanimate edifice—a property with a liquor license—can be succinctly reduced to being a dive bar, a sports bar, a hipster hangout, a hole-in-the-wall, a bro bar, a gay bar, (ugh) a gastropub, and an infinite number of nouns set beside the "bar" suffix. In a city with literally hundreds of places to grab a drink, how many of them can just be considered just a "bar" bar? The Pub Club (1103 N. Old World Third St., 414-270-9650) just opened last weekend, so it's too early to call it. However, the new watering hole could be closer to being a theme-free, plain old bar than any other drinking establishment on the notoriously contrived Old World Third Street.
The space: As recently as last September, the prime corner real estate on the downtown main drag belonged to Suite, a "Las Vegas style" nightclub known for bringing in nationally known DJs (that's an oxymoron, right?) and occasionally giving away free vodka in 90-minute spurts. Thankfully, those days are over. Somehow, renovations managed to tear away most of the evidence that a nightclub had ever awkwardly existed to pay the likes of Snooki and Jwoww to party in the Midwestern mini-metro. The Pub Club seems to land somewhere between cozy and chic, betwixt inviting pub and posh club.
A pristine wood bar is set beside an interior wall, which is outfitted with windows to display some of the 18 kegs in the bar's tap beer rotation. A small cluster of pub tables line the windows on the entire eastern end of the property and part the south end. The rest of the south (Highland Avenue) side gives way to additional seating and, even further, a dance floor and/or room that can be reserved for private functions. Reclaimed beer and whiskey barrels are artfully mounted above the windows and atop the back of the bar. A host of TVs all showed the same ESPN feed. In terms of ambiance, the one major qualm was the music selection, which was unabashedly and unironically nestled deep in the confines of 1990s radio rock.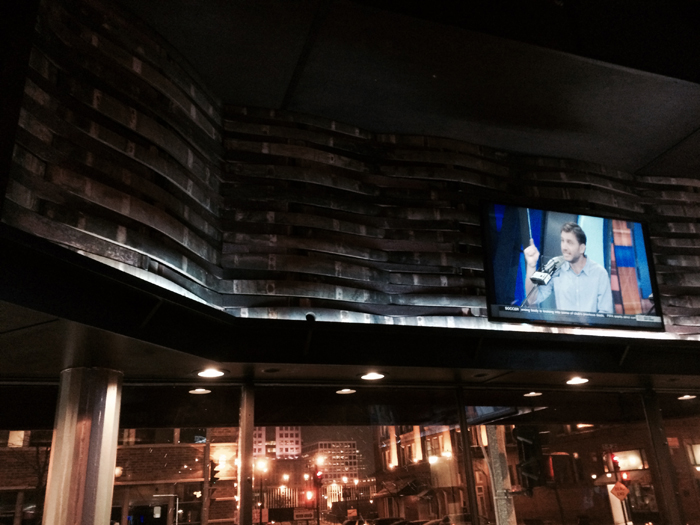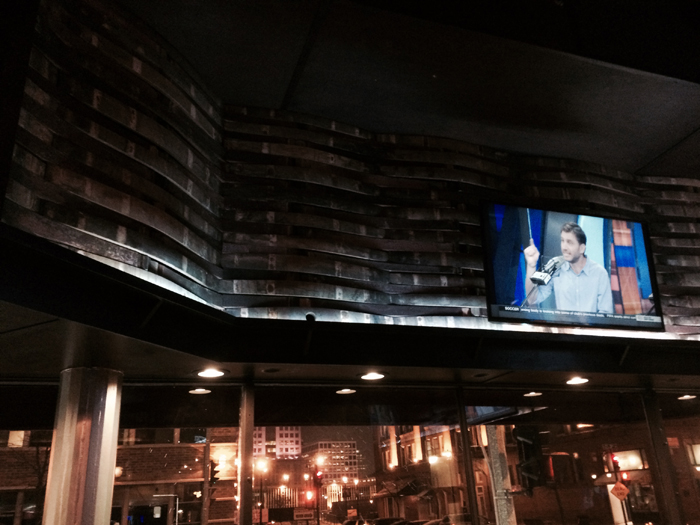 The service: Arriving around happy hour on a snowy Monday (which doubled as the bar's first weeknight in business), only a handful of other patrons were present. Whether it was a product of 5 p.m. boredom or sheer professionalism, our bartender—a young, refreshingly bubbly woman named Samantha—was very friendly and talkative for the entirety of our visit. At one point, General Manager Steve Miick came by to check on us and was quick to tell us details about some food and drink selections that would be available within the coming days. Both staff members were courteous.
Milwaukee Record's drinks: Prior to our visit, we'd examined The Pub Club's list of 12 specialty cocktails. Honestly, we had our mind set on "The Admiral" (Bombay Sapphire Gin, Sprecher Cherry-Cran soda, and lime juice), but were told just one in-house cocktail was available during the bar's first days. So we settled for a "Tennessee Uppercut" ($9), which is a mason jar brimming with Ole Smokey White Lightnin' Moonshine, Ole Smokey Hunch Punch Moonshine, apple juice, apple cider, a Granny Smith apple wedge, and a cinnamon stick Miick just picked up from The Spice House down the block. While it sounds wussy on paper and it went down incredibly easy, the Uppercut (true to its name) packed a punch. Halfway in to the drink, we were straight up buzzed. To prevent getting full-on fucked up, we eased back into sobriety by nursing a Spotted Cow, one of TPC's 18 tap selections (six of which are local micros), next. Three Lakefront taps, a Milwaukee Brewing handle, and Ale Asylum's Hopalicious rounded out the half dozen. As we slowly sipped our pint of sub-5 percent ABV New Glarus, we watched the snow fall silently to the city street below and took in the sounds. What ever happened to Vertical Horizon anyway?
The verdict: Without a full cocktail menu and no food items available, we can't confidently declare how much we like this bar quite yet. That said, judging by our first visit, The Pub Club just seems to be a no-frills bar within a sea of Third Street counterparts that have forced-ass motifs and big(ger) city delusions. That's refreshing.