Is it over? Is it really over? Boo. Yes, after 15 days, 444 public screenings, 349 films, and enough Ian's Pizza to last us a lifetime (don't worry, we'll probably be back this weekend), the 2019 Milwaukee Film Festival is officially in the books. The 11th annual fest was an absolute blast, and it's sure to stick in our cinema-addled brains as we patiently tick off the days until the 2020 installment. Here are just a few of the many, many standout moments from MFF2019.
Opening Night
This year's Opening Night film, I Want My MTV, was a fun and nostalgic look back on the origins of the culture-changing music video channel. (Score: 8,000,000 points for an interview with Michael Nesmith; negative 8,000,000 points for no interview with Martha Quinn.) But the real highlight of Opening Night was a bit of pre-film Personal News from director Tyler Measom. Measom sang the praises of Milwaukee Film and recounted meeting a fellow filmmaker when he was in town with his 2014 James Randi documentary, An Honest Liar. Cue an adorable family photo on the big screen, and…that fellow filmmaker was now his wife, and the two were proud parents! Not even a heartwarming look back on that Run-DMC and Aerosmith video could top that.
Coven
Mark Borchardt fans braved the dreary, rainy night to attend the 10:45 p.m. weeknight screening of Coven at the Oriental's Main Theater. The black-and-white film, originally released in 1997, was followed by a Q&A with Borchardt who brought along a rad merch set up. He admitted some shortcomings of the film but said that certain scenes, including the opening scarecrow shots, stood the test of time. We agree—the opening sequence and the establishing shots are eerie and well-framed. Borchardt also gave fun facts about the production, including a story of offering a guy at a gas station $20 to let him use his muscle car in a shot and that there might be an entirely different cut of the movie with different actors stowed away somewhere. As always, Borchardt's candor, comedic timing, and Midwest accent make him one of our favorite (if not our favorite) local figures.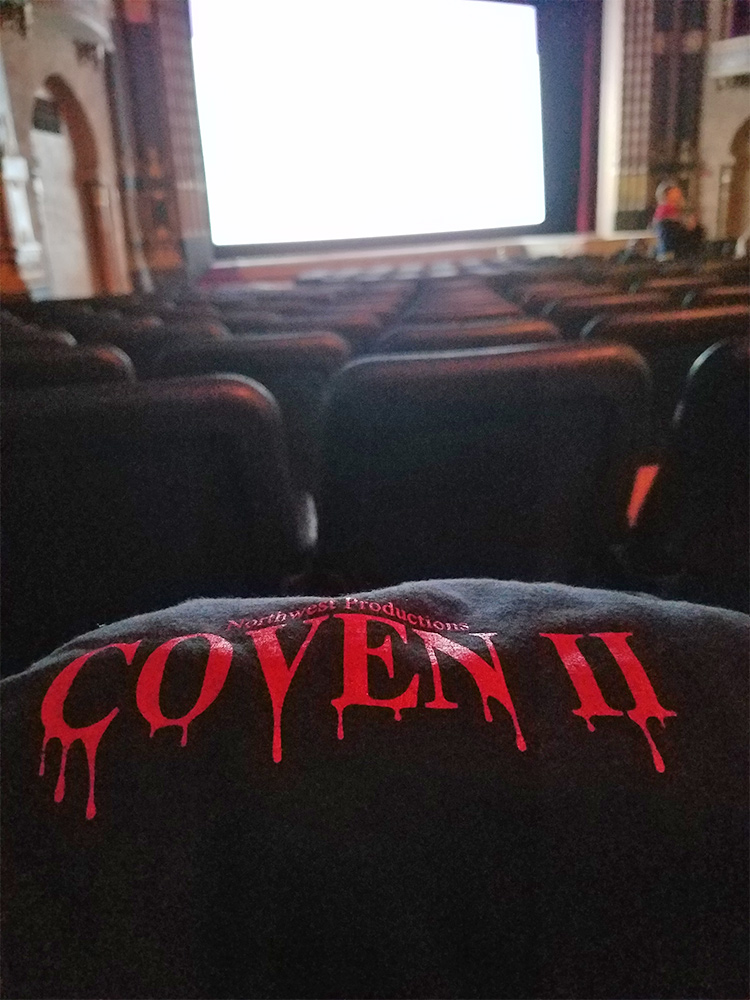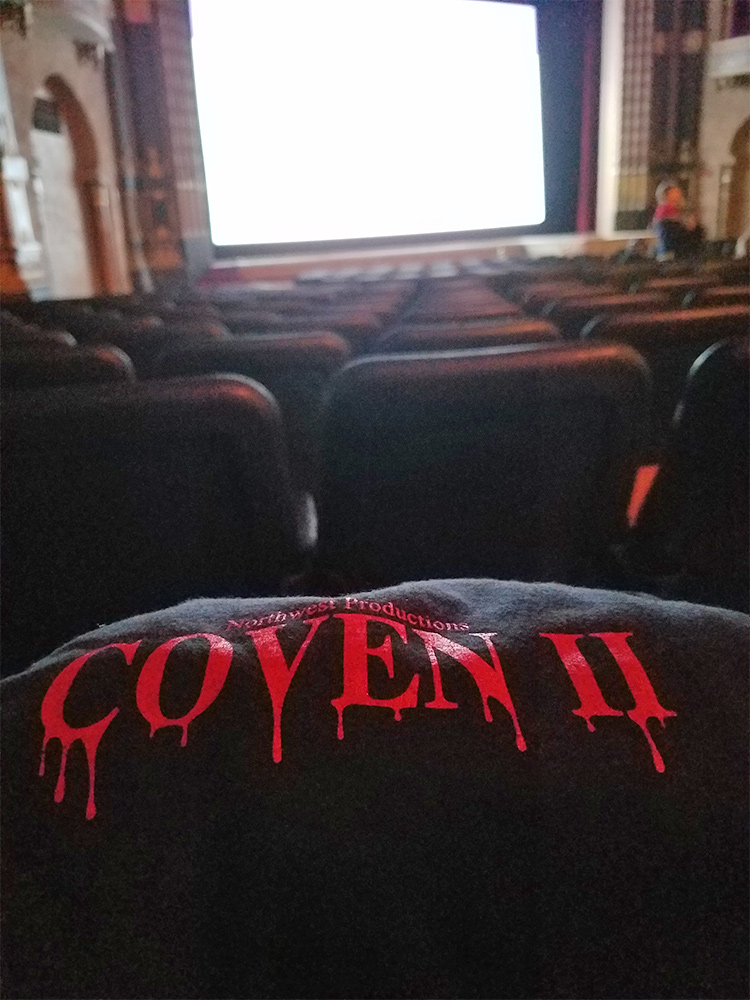 Who Let The Dogs Out
If you've been anywhere near the orbit of western culture over the past two decades, you've undoubtedly heard the question asked time and time again: Who let the dogs out? However, who is actually responsible for the song that briefly-yet-firmly grasped mainstream attention is a far more compelling question, with a significantly more confusing—and widely disputed—answer. Self-appointed "Who Let The Dogs Out?" expert and historian Ben Sisto leads a humorous-yet-surprisingly important quest to uncover the ironic and iconic hit's true origin. Over the course of 70 minutes, Who Let The Dogs Out takes viewers to the Caribbean, the UK, Canada, throughout the U.S. (including a rural Michigan town), and traces more than 30 years of recordings, home videos, never-before-seen performances, and legal battles. Though you could live happily without hearing the song ever again, you'll need to know who really let "Who Let The Dogs Out?" out by the end of this lighthearted doc.
Twin Peaks: Fire Walk With Me
It was easy to get excited for the MFF2019 screening of David Lynch's 1992 Twin Peaks prequel film Twin Peaks: Fire Walk With Me. Whoa, Twin Peaks on the big screen! A post-film Q&A with Laura (Sheryl Lee) and Leland (Ray Wise)! A post-Q&A meet-and-greet at Good City Brewing! YES! But actually sitting down and watching Fire Walk With Me was an entirely different matter. In short, this remains a deeply upsetting, deeply unpleasant film. Is it delightfully maddening and often brilliant? Yes. Is the whole Deer Meadow prologue absolutely terrific? Yes. Is watching the main character lose herself in a graphically rendered storm of rape, incest, sexual abuse, psychological abuse, human trafficking, drugs, and eventually murder particularly fun? Nope. We're still glad we revisited the film, but damn. Happily, the cherry pie at Good City was heavenly.
Setting The Bar: A Craft Chocolate Origin Story + Film Feast Decadence
We knew we would leave the Setting The Bar screening hungry, but didn't realize we would leave learning so much. The impeccably made documentary covered all of the hot topic issues (living wages for Central and South American farmers, Amazon rainforest preservation, the dangers of coca farming) and broke down the process of creating small batch chocolate (did you know there's fermentation involved?). Complete with beautiful animated infographics and a cute stop motion intro, it presented the notion that environmentally friendly and socially responsible business practices positively impact everyone.
After the screening, we walked down the block to wine and cheese bar Charles E. Fromage ("fromage" is French for cheese; you can put two and two together) for their post-screening event. Partnering with Wauwatosa's own Tabal Chocolate, guests were served nine different chocolate and wine pairings. The hands-on experience allowed us to crack open a cacao bean and taste raw nibs, learn proper chocolate tasting technique, and sample some of Tabal's specialties. We liked the masala chai and huckleberry varieties the best.
Greener Grass
Random Fest-Goer: "So what's the best movie you've…"
This Author: "GREENER GRASS."
Yes, this was one of those film fest films, a film fest film that immediately springs to mind whenever the dreaded "So what's the best movie you've seen so far?" question arises. Co-directors/writers/stars Jocelyn DeBoer and Dawn Luebbe were in attendance to talk about their absurdist comedy, which…well, just watch the trailer. And then immediately rent this masterpiece online. For fans of Welcome To The Dollhouse, Wet Hot American Summer, Blue Velvet, and the Brady Bunch movies.
Miles Davis: Birth Of The Cool
We were astounded by how packed the Times was at 9 p.m. on a Tuesday for Miles Davis: Birth Of The Cool. One of two films in the festival directed by Stanley Nelson (Boss: The Black Experience In Business being the other), this documentary covers the entirety of Davis' life—an impressive undertaking for a busy filmmaker. They collected interviews from his colleagues (Quincy Jones, Ron Carter, and Wayne Shorter to name a few) and lovers (focusing on the incredibly strong and charismatic Frances Taylor). The windy weather of the evening managed to cut the power to the Times in the middle of Davis' performance at the 1991 Montreux Jazz Festival. Despite it being close to the end of the film, almost the entire audience stuck around the five minutes it took to reboot the projector to watch the final five minutes.
Olympic Dreams
Less than two weeks removed from packing the Pabst Theater for a live stand-up performance as part of his Middle-Aged Boy Tour, Nick Krol returned to entertain Milwaukee—this time on the silver screen as one of the leads in Olympic Dreams. The sporty romantic comedy, which takes place during the 2018 Winter Olympics in Pyeongchang, features the actor and comedian starring opposite fellow thespian—and actual Greek olympian—Alexi Pappas. In spite of the characters' difference in age (15 years), background (he's a dentist volunteering at the games, she's an Olympic cross-country skier), and country of origin (she's from Greece, he's American), the unlikely pair manages to craft a sweet friendship that teeters into romantic territory and brings about personal discoveries over the course of the fun, loose, and uplifting feature that's far more heartwarming than you'd expect a film based in the harsh Korean winter to be.
Well Groomed
A quirky doc about the bizarre world of competitive creative dog grooming, Well Groomed gives you a behind-the-scenes look at a competition circuit you probably didn't know existed. Following groomers of all skill levels nationwide on their journey to compete in Hershey, Pennsylvania at the pinnacle of this art, it touches on the moral gray area of ethics despite the full market of pet-friendly dyes, and acknowledges the absurdity of sculpting the faces of E.T. and ALF into a poodle's fur. Producer Justin Levy was in attendance at the Oct 19 screening at the Oriental, and told viewers that this film originated as a short and was rejected from the film fest in its abbreviated form. After developing it into a feature this year, it was accepted. The screening was followed by a visit outside of the theater from JR's Pups and Stuff with some very adorable and adoptable puppies.
The Wind
It's a good year for atmospheric horror, and The Wind is no exception. Pioneer woman Lizzy Macklin (impeccably played by Caitlin Gerard) gives us a look into the story of two isolated couples on the frontier. Making the most of its modest operating budget, the film was shot in two cabins and in a prairie with five actors. It kicks off with a gut punch of a death; as the terror progresses, it is bloody at times but never gory. The reliability of Macklin becomes more and more erratic as the movie goes on, culminating in an ending that is up to the viewer to decipher. The psychological twists and turns kept us entertained and enthralled, even at the Avalon's midnight screening.
Jay Myself
Famed photographer Jay Maisel spent decades piling his passion and his life's work into an 80-some-room, six-story, 36,000-square-foot building in the ever-changing Bowery neighborhood of Manhattan. With upkeep expenses on the rise and gentrification encroaching on his sprawling personal paradise, Maisel is forced to sell his longtime home and, in doing so, part ways with many of his belongings. Shot and directed Stephen Wilkes (a friend and pupil of Maisel's), Jay Myself thoughtfully introduces viewers to the icon in the months leading up to his departure from the structure, and grants a room-by-room tour through the masterful mind that manages to find beauty in the banal and acknowledges art exists everywhere around us. Much like Maisel's body of work and the contents of his perplexing former residence, Jay Myself is whimsical, gorgeous, inspiring, hilarious, and profoundly moving in alternating pangs. By film's end, you'll fall in love with the photographer's creative process and mourn the loss of a place you've never visited, but somehow feels like home.
In Fabric
And the award for the biggest "WTF" film of MFF2019 goes to…In Fabric! If you caught the trailer during the fest, you were undoubtedly intrigued by the tale of Marianne Jean-Baptiste facing off against a killer dress. But that's only half the movie—literally. To say more would spoil things, but expect a vibe somewhere between Dario Argento and David Lynch (more on the latter in the next blurb), and wonderfully weird dialogue like "Did the transaction validate your paradigm of consumerism?" Just when you thought it was safe to go back in a department store…
Mister America
In a time when it's simply too easy to parody the government, Tim Heidecker's Mister America masters bureaucratic satire. The mockumentary follows Heidecker's ill-fated run for San Bernardino district attorney, despite not living in the county (he temporarily relocates to a hotel) or having any semblance of a law degree. Tackling the topics of unqualified politicians, the dangers of vaping, and the blind confidence needed to run for office, the situational dry humor is unparalleled in its discomfort and hilarity. Weaving in elements from On Cinema and Heidecker's other web exploits, it could be written off as fan service, but we laughed all the way through.
Shorts: The Best Damn F*#@ing Program
The midnight shorts program this year had a fairly even split between horror/thriller live-action and vibrant animation. The program kicked off with How To Be Alone, starring Maika Monroe (It Follows) and featuring Joe Keery (Stranger Things). From writer/director Kate Trefry, the dark and saturated film illustrates the terrors and anxiety that can be born from loneliness. Knock Strike (directed by Genis Rigol, Pau Anglada, and Marc Torices) is a primary-colored, retro-feeling cartoon of a mysterious suitcase swap that we'd be lying if we said we understood. Wild Love employs Pixar-style animation to show a vengeful uprising of woodland creatures against a couple of glampers. Our favorite, however, was Other Side Of The Box. Possibly the scariest reveal in a short we've ever seen, the film follows a man who is gifted a mysterious box that defies our world's physical limitations and is full of unpleasant surprises. We hope to see more for the writing/directing team of Caleb J. Phillips and Nick Tag in the future.
Parasite
To call Bong Joon-ho's critically praised black comedy/thriller Parasite an "upstairs-downstairs" exploration of class and family almost counts as a spoiler. We won't say much more, but know that the praise is justified, that the film is wickedly funny and a blast to watch, and that it's still playing at the Oriental as part of the Best of the Fest program. See it now.