The Figgs have been a motivating and binding force in the Wisconsin/Midwest music scene for over two decades. They travel exclusively to satiate the Wisconsin audiences with multiple back-to-back shows every few years; we lovingly call it "Figgsmas." This year, they almost skipped Milwaukee, yet Andy Junk and I nabbed them for an intimate performance at Circle-A on Wednesday, August 7.
With the 25th anniversary of The Figgs' influential album Lo-fi At Society High set for this summer, it is (Couldn't Get) High time to do an oral history of sorts of the band and its influence on our local music community. (For all the Figgs future fans reading about them for the first time right here, Couldn't Get High is one of my favorite albums by them and I encourage you to hear it.)
But first: why am I writing this article? The Figgs have been a bonding force in my own life. I actually met everyone that I know in the Wisconsin music community via a single Figgs show I saw at the Uptown Bar in Minneapolis in 2003. The series of friendships that developed from that show eventually landed me in Milwaukee in 2010 where I made it my adopted home. There, I started up a few bands—The Spectras, No Bueno, Winter Bear—with the latter opening for The Figgs this Wednesday! This all motivated me to reach out to others and try to share some of our stories.
I asked a handful of friends, fans, musicians—and superfans—to recount their stories and comment on the steady influence the band has had on local music as we prepare for Figgsmas 2019. The following brave folks answered the call:
Tom Smith, a.k.a. Timebomb Tom (Green Bay, WI) | My contribution to the Green Bay music scene has been as a promoter of shows the last 31 years and working in Record Stores in Green Bay since 1984.
Amos Pitsch (Appleton, WI) | Bands (past & present): Tenement, Dusk
(Other musical collaborations): Crutch Of Memory Enterprises
Connor LaMue (Milwaukee WI) | Bands (past & present): Sex Scenes, Bad Wig, Hughes Family Band
Other musical collaborations: The Sleepwalkers, The Midwestern Charm
Joshua "Tito" Skog (Neenah, WI) | Bands (past & present): Roadie/Hanger-On with Yesterday's Kids & The Obsoletes
Andy Junk (Poygan > Green Bay > Milwaukee) | Bands (past & present): Fragments, Chinese Telephones, Holy Shit!
Other musical collaborations: Nobunny
Tim Schweiger (various, WI) | Bands (past & present): The Obsoletes, Midwest Beat, Yesterday's Kids, Tim Schweiger & The Middlemen, & The Poison Hearts
Other musical collaborations: guitar for: Tommy Stinson, Paul Collins Beat, Peter Case, Pete Donnelly!, Kepi Ghoulie, & Trapper Schoepp
Justin Perkins (Milwaukee, WI), Bands (past & present): Bash & Pop, The Obsoletes, & Yesterday's Kids
Other: Mystery Room Mastering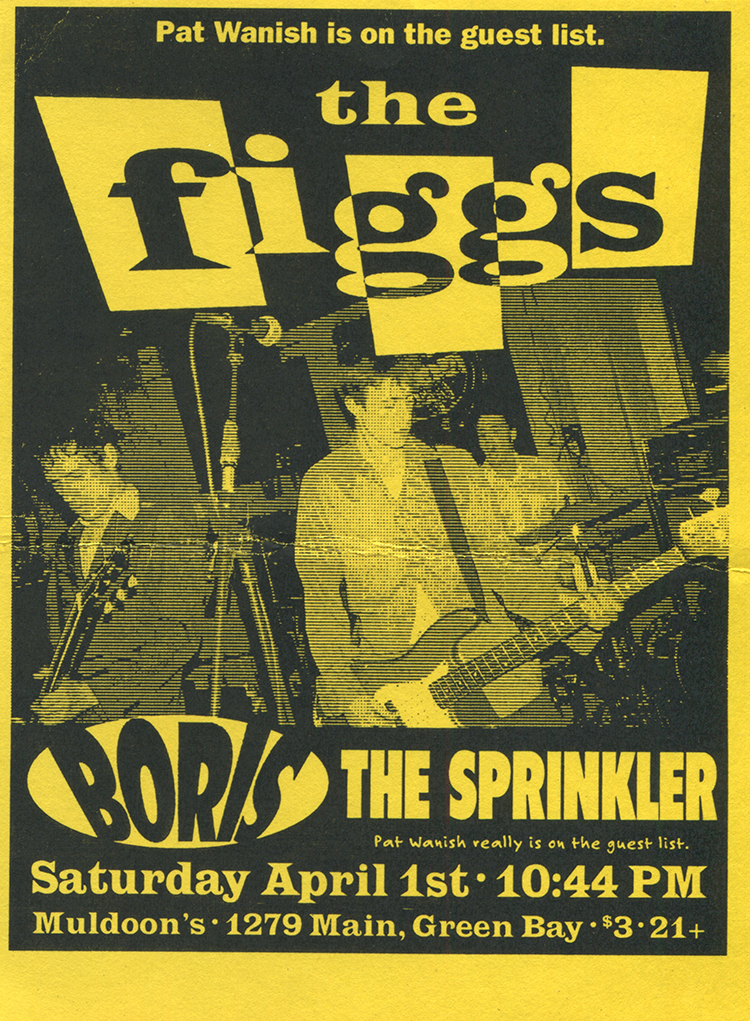 Let's start this off. First of all, Figgs fans travel. We rack up the miles and should have some sort of rewards card for the thousands we've driven. The Figgs themselves hail from Saratoga Springs, New York, and individual members live scattered across the East Coast, coming together to consistently write, record, write, record some more, and occasionally tour. After asking the superfans to name all of the locations they've seen The Figgs perform, we came up with this list:
Green Bay, Oneida, Appleton, Milwaukee, Madison, Chicago, Austin, Kalamazoo, MI, Exeter, NH, Albany, NY, Newburyport, MA, Green Bay, WI, Milwaukee, Madison, Minneapolis, Ames, IA, Saratoga Springs, New York City
Erin Dorbin: What's the furthest you've traveled to see The Figgs over the years? What's the craziest or most impulsive decision you've made to catch a Figgs set?
Timebomb Tom: I went on a long break from work in Green Bay at the Exclusive Company and drove to see them play 25 minutes at the second Warped. I arrived shortly before they played and left instantly after they finished to drive back to Green Bay to go back to work. This is the only time I went to the Warped tour and The Figgs are the only band I have ever seen perform at the Warped Tour.
[Pete Donnelly (bass, The Figgs): The headliners were NOFX, Pennywise, and Fishbone. A lot of SoCal punk bands. Tattooed boys who liked to pump iron back stage. We felt completely out of place. There were a handful of "rock" bands that we felt a little more simpatico with (Rocket From The Crypt and Red 5). It was pretty difficult for us to connect with the crowds. Most of the bands on the tour fit a criteria of what "punk" was supposed to be at that time. I joked that the Clash may as well have been BTO at this kind of thing. Classic rock!]
Joshua Skog: I drove 1,200 miles to see them play on a farm in Massachusetts. I decided to drive all the way to NYC to pick up my pal Justin Perkins (who was working in there at the time). We concocted this insane plan to go see The Figgs play in their hometown that very night in Saratoga Springs, NY. I drove the three-hour trip to Saratoga in hopes that we'd make it in time to catch the set. When we pulled into the venue, the band had just started their encore. We were able to experience the band on their own turf for a handful of tunes. We drove home the next day with no regrets.
Andy Junk: I saw their 30th anniversary shows in Saratoga Springs on New Year's Eve, 2016.
Erin Dorbin: I was out on the East Coast for grad school in the late 2000s and I caught them whenever I could. They just referred to me as "Green Bay" when they'd see me pop up at shows since they'd seen me before in the Midwest. "This song's for Green Bay!" they'd say when I'd request a song.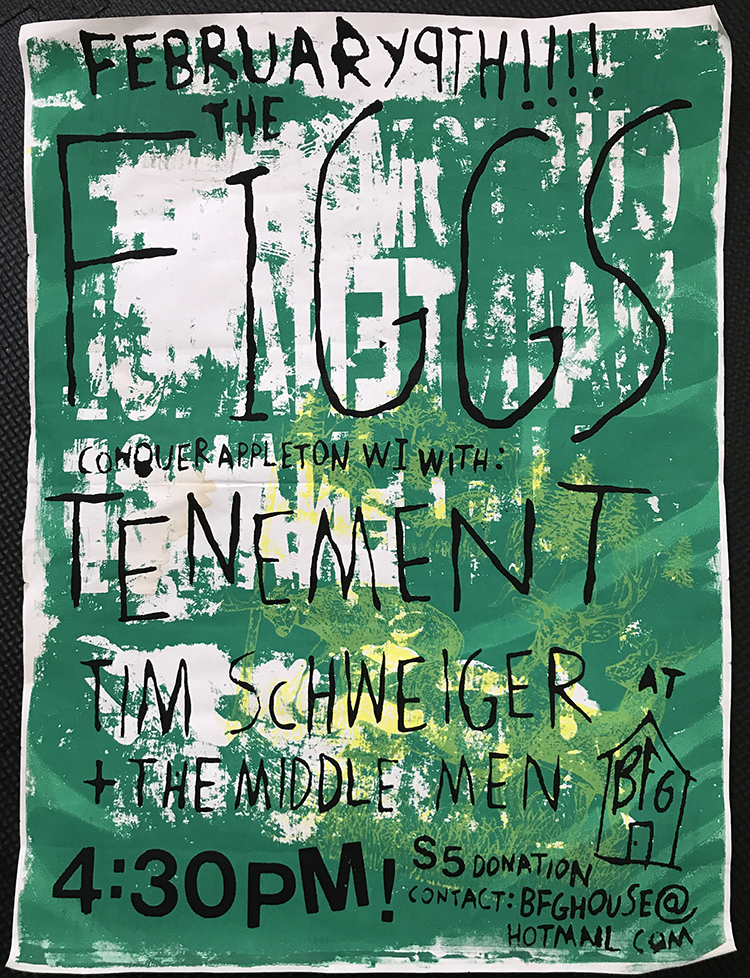 Erin Dorbin: Why The Figgs? What draws you in to their music?
Amos Pitsch: I was like 14 or 15 at the time [I first heard them]. Their whole sound was kind of enigmatic to me; definitely a rock and roll band, but their melodic ideas were really poppy and kind of complex sometimes. For some reason, punks dug 'em! And that left a big impression on me. I could be a punk rocker and still like this stuff.
Tim Schweiger: They improv more like a jazz combo than a power trio and it's a treat to watch. Their command of the audience is inspiring. Feels more like a Stax/Motown performance than an indie band. They somehow bring aspects of all my favorite music to the table without coming off as generic or derivative.
Andy Junk: They are amazing songwriters with superb musical tastes. They bleed rock 'n' roll.
Erin Dorbin: How many shows do you estimate you've seen, total?
Andy Junk: Hard to count. Gotta be around 50 at this point.
Justin Perkins: A dozen? More?
Joshua Skog: I'd estimate a safe 50 shows, plus Graham Parker & The Figgs, and their solo [Mike Gent & Pete Donnelly] shows
Connor LaMue: Probably 10?
Tim Schweiger: One hundred. I've called in sick to work many times with Figgs fever. Always worth it.
Amos Pitsch: Maybe I've seen 10 shows? And played half of 'em.
Erin Dorbin: Has there been a favorite show, or set of shows?
Amos Pitsch: Seeing The Figgs at The Eagles Club in Green Bay in 2007 was one of the more memorable shows I can think of—that musty little bingo hall filled to capacity and everyone bouncing and singing along at eye-level with the band. I can't think of a better way to see my favorite band. They also played in my living room once in 2009. I convinced them to drive to Appleton and play a punk house in between their casino gigs.
Andy Junk: April 1st, 2000 at Muldoon's in Green Bay was the most memorable set. They were just starting to hit their prime as a solid trio. I snuck into the bar with my fake ID the eve before my 21st birthday. They knew what was up and wished me a happy birthday onstage!
Erin Dorbin: The first time I saw The Figgs was in 2000 in Kalamazoo, Michigan. My brother booked them at a bar in town, but I was still 18. He snuck me in and everything was great until I made the mistake of ordering a Coke from the bar. Luckily, he was able to smooth it over and I wasn't kicked out.
Timebomb Tom: One of my favorite shows by them was at the Main Stage in Green Bay, on the night that daylight savings ended. With the extra hour we were able to get The Figgs to play over 2.5 hours. Justin Perkins has a recording of this.
Joshua Skog: That was the October 28, 2006 show at the Main Stage in Green Bay. My golden birthday. It was daylight savings and we got an extra hour (or so it seemed) of Figgs action. I remember Gent surfing the crowd and a chick working her finger down the back of his pants. When the song was over he told her to sniff her finger. Timebomb Tom was out of his mind and kept grabbing the mic pleading for the band to play more. Eventually the sound guy turned off the mic.
Before The Figgs set, Tom observed that all three Obsoletes were in attendance and talked them into doing a few songs. It was an amazing golden birthday to have. I'll never forget it.
Tim Schweiger: They played at my friend Andy Junk's basement earlier in the evening before they played all night at The Globe in Milwaukee. Then for an afterbar, everyone at the bar went to Andy's basement for another couple hours. I got to see them three times in one night!
Andy Junk: They played their first house show in over a decade in 2003 at my house in Milwaukee, Endless, Nameless. The promoter at The Globe was kinda pissed and threatened to rescind on their guarantee if I didn't take my flyers down, but The Figgs played a 6 p.m. show anyway. I booked them all-ages basement shows in Milwaukee the next handful of times they came through.
Justin Perkins: I remember they played Sea Cruise during the second basement show of the night.
Erin Dorbin: What is it about their live set that has hooked you?
Connor LaMue: I love how they open up the set at a certain point and we can yell out requests. That's why you gotta see them multiple times because you won't get the same show twice.
Tim Schweiger: A lot of times I see them once or twice in the area and just wanna keep seeing them. You never get the same show twice!
Timebomb Tom: Seeing them live before hearing them was and is still one of the greatest moments of my life. I have never been stunned into instantly loving a band like that. A rock 'n' roll moment that changed my life. To me, that night The Figgs became my generation's Beatles. Sights and sounds from that night are burned into my memory banks.
Amos Pitsch: [The first time I saw them] I stood front and center and they sounded EXACTLY like the records, but loud as hell. My mind was completely and utterly melted. There was no question that this was now my favorite band. The Figgs' great appeal to me has always been the sheer power of their performance. Their solid performances are probably a result of the three of them all having a very natural sense of rhythm. They're a rhythmic powerhouse.
Joshua Skog: I just love how they can cater to whatever audience it is they're playing to and completely win them over. I've witnessed them at a casino playing in front of a ton of senior citizens and they were killing it so much an old grandma stormed the stage to dance.
Erin Dorbin: There is an undeniable connection between The Figgs and the local music scene. Tell me why you think their music has resonated so powerfully with us in Wisconsin/the Midwest.
Amos Pitsch: I think the Midwest in particular tends to champion earnest music. Most iconic American rock bands built their following in the Midwest. The Figgs, above all things, were always a really genuine rock 'n' roll band in my eyes—they appeal to an audience that generally doesn't bat an eye at gimmicks or abstract flair.
Joshua Skog: Wisconsin rockers seem to be drawn by authenticity and no-frills. We don't typically take to excessive theatrics and pretentiousness. The Figgs seem to fit right in with us.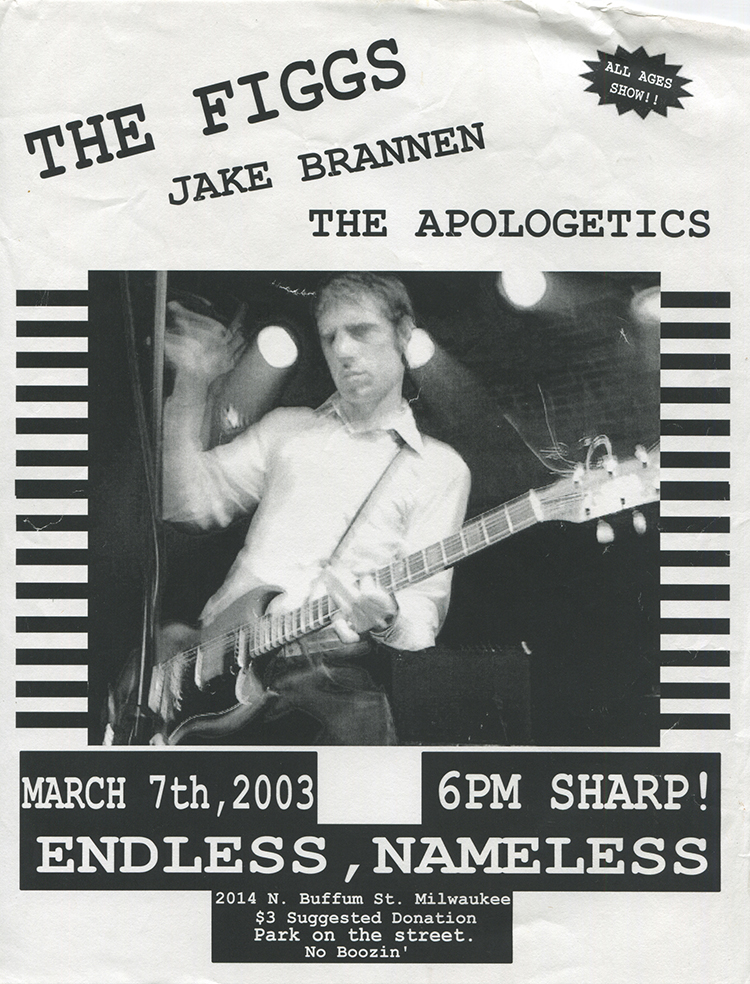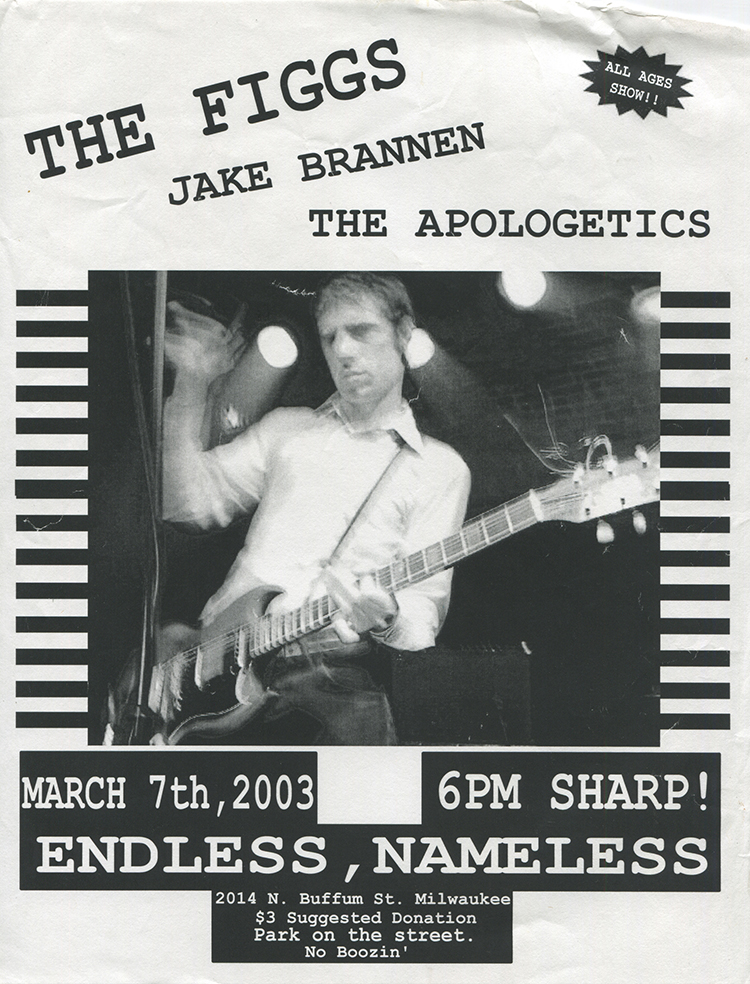 Erin Dorbin: How did "Figgsmas" start? How many have you attended?
Timebomb Tom: Domenic Marcantonio of Beach Patrol and Pierre Jacque of Green Bay started referring to it as "Figgsmas" first when The Figgs did a three night stand at the Oneida Casino in Green Bay. I have attended every Figgsmas.
Tim Schweiger: I've been to every Figgsmas so far.
Erin Dorbin: As I said, The Figgs are my main connection to Wisconsin. At that show I referenced above at the Uptowner in Minneapolis, The Figgs were playing as Tommy Stinson's backing band, while opening on the tour with a powerful Figgs set. A guy leaned over between songs and said to me, "Yeah, they're really good this tour." It was Justin Perkins. Justin and I stayed in touch and he introduced me to his bandmate, Tim Schweiger. At the time, there was a solid music community established in Neenah, Wisconsin. Later, Justin was one of the first folks I knew to set up home base down in Milwaukee where he started mastering releases for local bands like The Midwest Beat. After Justin prompted me to check out the band, I saw my first Midwest Beat show in Green Bay when they opened for The Figgs at the Eagles Club. (I asked them to tour with my band The Cave Weddings in 2009.)
In 2004, I caught a ride from Minneapolis to Milwaukee to see The Figgs play in a filthy, hot basement in Riverwest. It's where I experienced the neighborhood for the first time. And, it turns out that basement was Mr. Andy Junk's. (*Sorry, Andy. I do remember the toilets being filled with puke in the afternoon.)
Erin Dorbin: Have you formed any friendships as a result of The Figgs or their music?
Connor LaMue: My relationship with Ian Olvera definitely has been impacted by The Figgs. We played in the Sleepwalkers for seven or so years. I remember the first time we listened to [their album] The Man Who Fights Himself in his Ford truck.
Tim Schweiger: Absolutely! I've met friends, girlfriends, bandmates, and have become close with all three band members. We all have kids the same age and stay with each other when in town.
Joshua Skog: Well I think we formed our friendship that way, Erin! [It's true, we did.] But the coolest one I've made was during the MySpace days when this lady, Mika, from Japan became active on the Figgs' MySpace. It blew my mind that their music made it that far across the planet and resonated. I quickly friended her and sent her recordings of The Figgs and in return she'd send gifts and snacks from Japan. Eventually in 2011, I was able to meet her when I visited Japan. We still keep in contact and I order an extra copy of every piece of Figgs vinyl that comes out so I can send her a copy.
Erin Dorbin: Has their music influenced your sound, your approach to being in a band, or how you developed as a musician?
Tim Schweiger: Big time. Most notably my guitar playing. Mike is one of my favorite guitar players in both his skill and tone. He taught me that there is more to rock music than the power chord. Pete is one of the best bass players there is. I'm always trying to emulate him on the bass. Recently, I went out to Pete's recording studio, Westmont Station, to record a new record. I was lucky enough to get him to play some bass on it.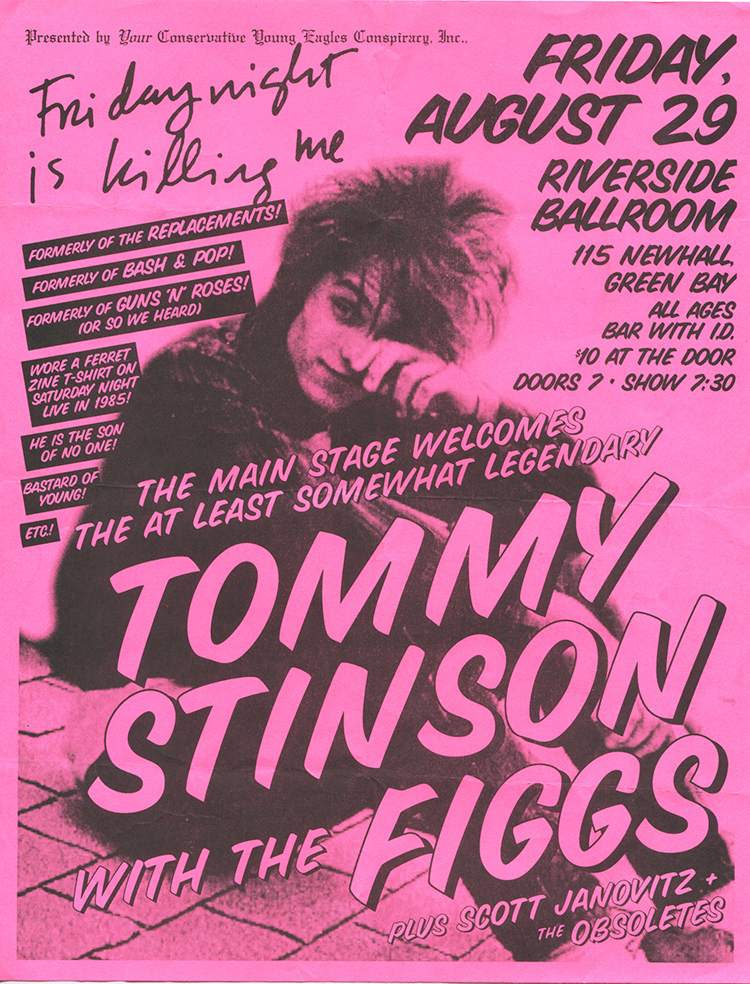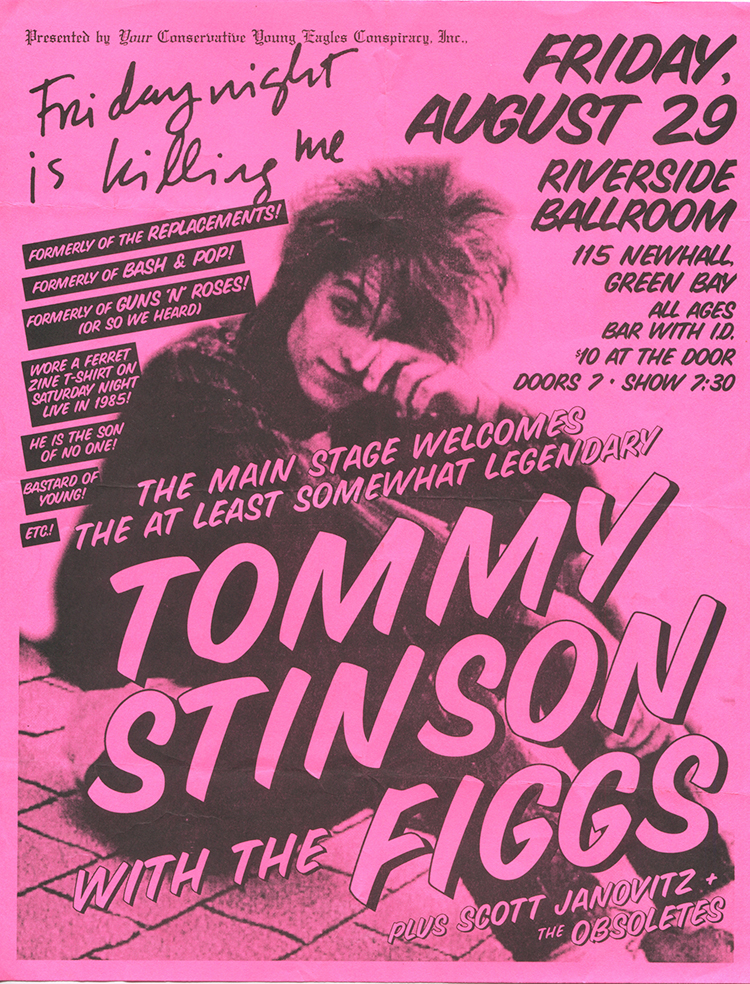 Erin Dorbin: Do you have a favorite album or era of The Figgs? Is there one song that you can hit repeat on over and over? (Pssst! Here are some recommendations for you all to catch up on for Figgsmas.)
Timebomb Tom: Low-Fi At Society High is my favorite album by them and if I could only own 10 albums this would be one of them. I think this album is a force of nature that can not be stopped. More hooks than a tackle and bait shop.
Amos Pitsch: Rejects is my favorite Figgs album. It really encompasses everything I love about them individually as songwriters. Mike writes these razor sharp rock 'n' roll songs that clobber you over the head without being cock-rock, and Pete's songs always seemed more harmonically colorful—and also more subdued.
Connor LaMue: Honestly, their current stuff is doing it for me the most. I guess, Palais-present, but I enjoy all of it for their "evolution in sound"—whatever the hell that means.
And song? Jesus. There's like a million. "All The World Will Fall," "Jumping Again," "Excuse The Lame Excuse," "Riding On You," "The Trench," "Gone Spent," "Ravena," "Rollerskate," "Waltz For Bob," etc. I've all had times with those songs for sure that I just played on repeat for at least a day. There's more but I've……Said Enough. [Hey, that's another Figgs joke. "Said Enough" is a great opening track on the album Couldn't Get High. Really check it out.]
Andy Junk: I really like Badger, For EP Fans Only, into Sucking In Stereo era. They really just hit a stride as songwriters and realized a better groove as a three-piece than a four.
And song? "Are You Still Mine," "Go Before," "The Trench," and their cover of "Starstruck" by The Kinks.
Tim Schweiger: My favorite changes—always. Depends what's going on, but the catalog is so vast that there's a Figgs track for every occasion. I discovered them during the For EP Fans Only-era, so that and Sucking In Stereo have big-time sentimental value, and certainly are two of their best releases.
And song? There are a lot. I'm gonna choose "I Thought I Drank The Drink But The Drink Drank Me." Fantastic harmonies throughout the song, Mike and Pete both sing a verse, and a kick-ass guitar solo. Power-pop perfection.
Erin Dorbin: I'm going to have to echo what Tim said: "There's a Figgs track for every occasion." For EP Fans Only is definitely up there. Lately, since acquiring the CDs, I've been listening pretty consistently to The Day Gravity Stopped and 1000 People Grinning: The Figgs Anthology while repeating what I think are the Pete Hayes demos of "We'll Be Doing Time" and "1000 People Grinning."
Justin Perkins: Sucking In Stereo is my favorite sounding record of theirs, and also some of my favorite songs.
Erin Dorbin: Some of you have actually performed with members of the band in other bands. Can you explain how that happened? What are some highlights from working with them?
Justin Perkins: One time, The Obsoletes were backing up Tommy Stinson for a few shows and Mike Gent was opening the Boston show. When we found out he was just doing it solo/acoustic. Text messages were sent and we (The Obsoletes) joined Mike as his backing band on a few songs, without any rehearsal.
Tim Schweiger: I played with Mike and Pete [Donnelly] in Tommy Stinson's band, and I also back both guys at solo shows. I even get invited to play bass during "Pete Hayes Time" when I'm at a show. Quite an honor!!!
[Don't know what "Pete Hayes Time" is? Experience it at an upcoming show this week!]
08.07.19 Milwaukee, WI – Circle A w/ Winter Bear
08.08.19 Madison, WI – The Sessions at McPike Park 2019 co-bill w/ the Bottle Rockets
08.09.19 Madison, WI – Kiki's House Of Righteous Music
08.10.19 Green Bay, WI – Exclusive Co. Green Bay (4:00 show)
08.10.19 Green Bay, WI – Lyric Room Live Music w/ Beach Patrol and Trolley
08.11.19 Chicago, IL – Montrose Saloon