There are Milwaukee musicians who are "busy," and then there are Milwaukee musicians who are LUXI. The DIY electro artist has been a consistent and relentlessly productive presence in the local scene since 2013. Her output has included numerous LPs and EPs, oodles of singles, plenty of videos, and even her own video games. And because it's Tuesday (or whatever day you're reading this), LUXI has just gone ahead and released another album and accompanying video game. What have you done this week? (We haven't done shit.)
Blooming After A Cold Dark Night is a collection of five synth-drenched tracks that range from poppy and dance-happy ("Love Each Other," "Textures") to ethereal and enigmatic ("Never Understand," "Truth Seeker"). It's super good:
The Blooming After A Cold Dark Night game, meanwhile, takes the form of tripped-out single-player racing game. You can download it for Windows HERE.
"I created this game during the Epic Mega Jam 2023 using Unreal Engine 5," LUXI says in the game's description. "The music was completed during this time though some of the songs were started as far back as 2020. This game jam was a perfect excuse to finish the album. I created the illustrations for game assets and the points / health systems with the help of some tutorials.
"Use WASD keys to drive around and collect the coins or pizza and soda," she adds. "The mushrooms are poisonous."
And good lord, if that wasn't enough, LUXI recently opened a brick-and-mortar vintage store called Wicked Alley. The funky shop is located at 317 N. Broadway, below Pink Moon Bay Boutique. (It's the big building anchored by The Wicked Hop.) It looks amazing:
View this post on Instagram
Looking for an excuse to drop by Wicked Alley? Check it out during the next Third Ward Gallery Night, October 20, when it hosts an "Extraterrestrial Adventure." Will there be original artwork from LUXI? Yes. Will there be secondhand clothes? Yes. Will there be a DJ set from The LOL? HELL YES. See you there!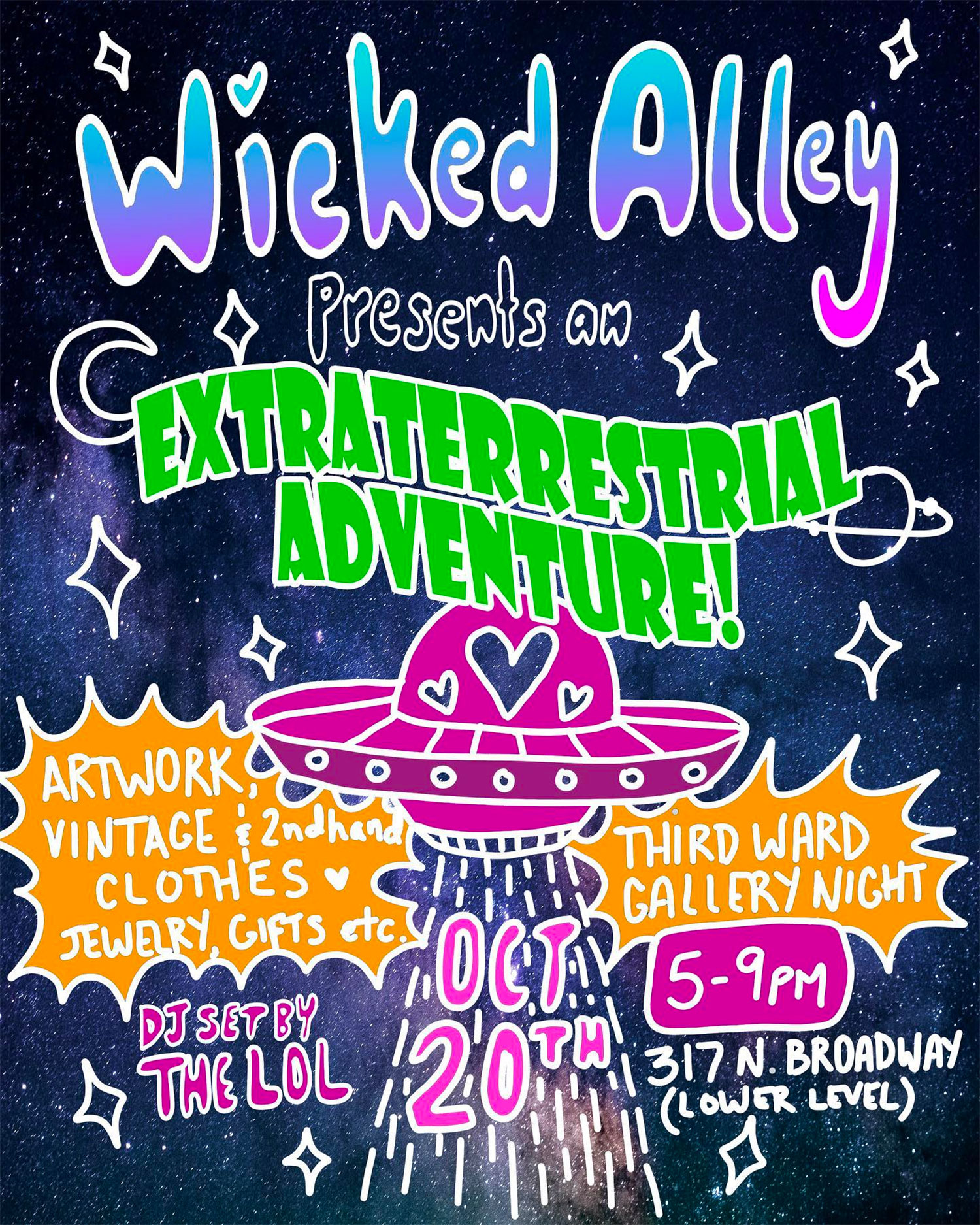 Want more Milwaukee Record? Subscribe to our free weekly newsletter and/or support us on Patreon.
---
RELATED ARTICLES
• LUXI dials up the Valentine's Day spirit with "Call Me"
• Lauryl Sulfate and LUXI team up for "Basement Show"
• Soar into the weekend with LUXI's animated "Fly Away" video